The Golden State Warriors Visit the Brooklyn Nets: 3 Matchups to Watch as MVP Frontrunners Kevin Durant and Stephen Curry Collide
The Golden State Warriors visit the Brooklyn Nets on Nov. 16 in a matchup of two of the NBA's hottest teams. The Warriors opened a four-game Eastern trip with a loss on Nov. 14 at Charlotte, snapping a seven-game winning streak that ranked among the best in league history. Brooklyn returns to Barclays Center off a 5–1 road swing.
At 11–2, Golden State still owns the NBA's best record. The Nets are 10–4, a half-game behind the East-leading Washington Wizards (yes, it felt as strange to write it as it is to read it). Brooklyn has won eight of its last nine games after a 2–3 start. While it's only mid-November, this is a matchup with great expectations and a playoff feel for several reasons. Here are three matchups to watch during TNT's national broadcast.
3. James Harden against the Golden State Warriors' vastly improved defense
It's not a mystery why the Golden State Warriors own the best record in the NBA. They've been elite at both ends of the court, entering the game second in the NBA in offensive efficiency and leading the league at the defensive end.
The statistical coincidence is eerily like Golden State's 2014–15 championship season. That year, the Dubs finished second in offense and first in defense. The deadly combination sparked their recent winning streak. Not only did Golden State win seven straight, but they won each game by double digits. It's the longest such streak in the NBA since the Philadelphia 76ers ran off eight consecutive double-digit victories from March 19-April 3, 2018.
Enter James Harden. The Warriors frustrated Harden before when he was with the Houston Rockets and was unable to dethrone Golden State as the kings of the West. Harden is off to a sub-par start in 2021–22, averaging 19.5 points per game on 42.6% shooting. He has improved to 39.3% from long range after a horrific opening salvo.
The Warriors do two things well that Brooklyn does not. Golden State owns the defensive backboard. Not only are they holding opponents to 42.6% shooting, but the Warriors also close out possessions with rebounds. They also lead the NBA in steals at 10.6 per game.
Harden is the Nets' primary playmaker, with Kyrie Irving sitting out, and he's prone to turnovers. Harden set an NBA record with 464 giveaways in 2016–17 and averages a hefty 4.9 turnovers a game. If the pilfering hands of Golden State can disrupt Harden, it could make for a long night in Brooklyn.
2. The Brooklyn Nets will have a different starting unit
Per Brian Lewis of the New York Post, sharpshooter Joe Harris is out against the Golden State Warriors after spraining his left ankle early in the win at Oklahoma City on Nov. 14. At first blush, that's not a huge problem, as the Brooklyn Nets could opt to turn to backup point guard Patty Mills, who hit 9-of-12 from downtown against the Thunder and is shooting 48.1% from deep this season.
However, that will force coach Steve Nash to alter his rotation. If Mills starts, Harden shifts over to the 2. That means more of Jevon Carter, who averaged 22.6 minutes per game through the first three games and has only topped 20 once since. Carter hasn't been able to throw a rock in the ocean without bouncing it off the beach, hitting just 26.5% overall and 30.3% from 3-point range. In a game where points will be at a premium, that won't get it done.
Bruce Brown may also see more time at the 2. He's been starting at small forward the last 11 games, during which Brooklyn is 9–2. That came after he played only four minutes in the opener and took a DNP-Coach's Decision the following game.
Harris averages 11.3 points per game, fourth-best on the Nets but his constant motion and the threat he creates coming off screens opens a ton of floor space for Kevin Durant and the rest of the offense. Replacing that will be tricky.
1. The battle of the former MVPs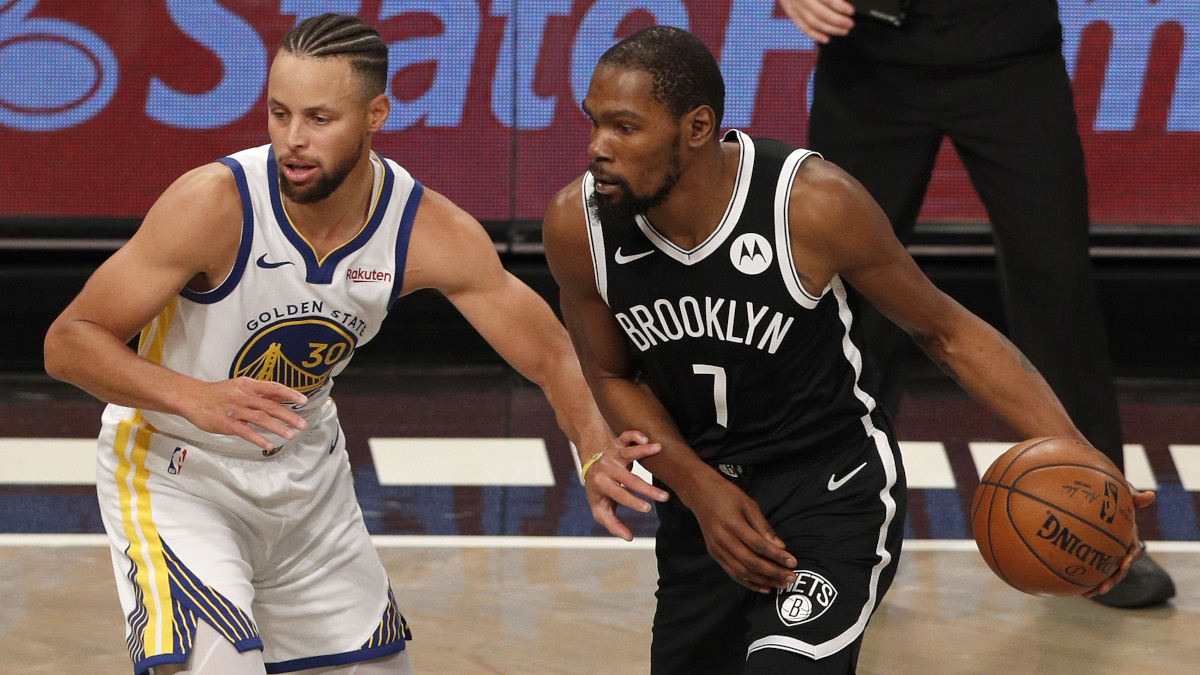 Technically, Durant and Stephen Curry don't match up directly. But they are the two leading scorers in the NBA — Durant is No. 1 at 29.6 points per game, followed by Curry's 28.1 — and are the reigning Players of the Week in the East and West, respectively.
Of course, what might be overlooked (we kid) is that Curry and Durant have a bit of history. They were teammates for three seasons and two championships in the Bay Area before KD opted to leave the Golden State Warriors to sign with the Brooklyn Nets as a free agent in July 2019.
In essence, Durant traded Curry for Irving when he left the Warriors to join forces with Kyrie. Now he faces Curry without Irving available, and while the Warriors are playing better than they have at any point since KD headed east.
Curry led the NBA in scoring last season in his age-32 season and is closing in on Ray Allen's career record for made 3-pointers. He's also not shooting well by his standards; Curry is hitting just 44.2% overall and 38.7% from deep. Imagine how good the Warriors will be if he gets back to his 50/40/90 form.
One game early in the regular season doesn't mean much in the overall scheme of an 82-game season. But for the Brooklyn Nets and the Golden State Warriors, the matchup at Barclays Center serves as an early feeling-out period, sort of the first round of a heavyweight fight that might not be decided until the NBA Finals in June.
Statistics courtesy of Basketball Reference and Stathead.