Golf: Lee Ann Walker Received 58 Penalty Strokes For Breaking This Rule
Lee Ann Walker used to be a competitive tournament golfer on the LPGA Tour, but she hasn't been active in competitive golf in recent years. Walker decided to participate in the Senior LPGA Championship this week in French Lick, Indiana. She figured it would be a good opportunity to catch up with friends and play on what she'd heard was a beautiful golf course.
Walker's last full season on the LPGA Tour came back in 2008. There have been significant rule changes to the Rules of Golf in recent years; Lee Ann Walker was aware of some of these new rules, but not all of them. One of the rules that she was unaware of wound up costing her a remarkable 58 penalty strokes in less than two days of action.
Lee Ann Walker broke the same rule 29 times
In 2019, the Rules of Golf added Rule 10.2b(4), a new rule that would prevent a caddie from standing behind a player to help the player line up their shot. This was never illegal before and used to be common practice on the LPGA Tour.
On Monday, Lee Ann Walker played her first round with Jackie Gallagher-Smith and Cathy Johnston. Neither of them noticed that Walker was breaking the rules, so she unknowingly used her caddie to help her line up a shot on 21 different occasions. She shot an 85 on the day.
In her second round of action on Tuesday, Walker was paired with Laura Baugh and Laura Shanahan Rowe. They noticed that she was breaking this caddie rule in the back nine, and let her know about it on the 14th or 15th hole. Lee Ann Walker called the rules official to ask what she should do, and was instructed to play on while they figured out what to do. She finished the day with a 74, bringing her two-day total to 159.
It was eventually decided that Walker would be asked to add the standard penalty of two strokes per infraction to her scorecard. Walker recalled 21 instances of breaking the rule on Monday and eight in Round 2 on Tuesday. 29 penalties of two strokes each worked out to a whopping 58 penalty strokes. When added to her scores, Lee Ann Walker ended the tournament with official scores of 127 in Round 1 and 90 in Round 2, combining for a staggering 73-over-par score of 217.
Walker has taken the penalties in stride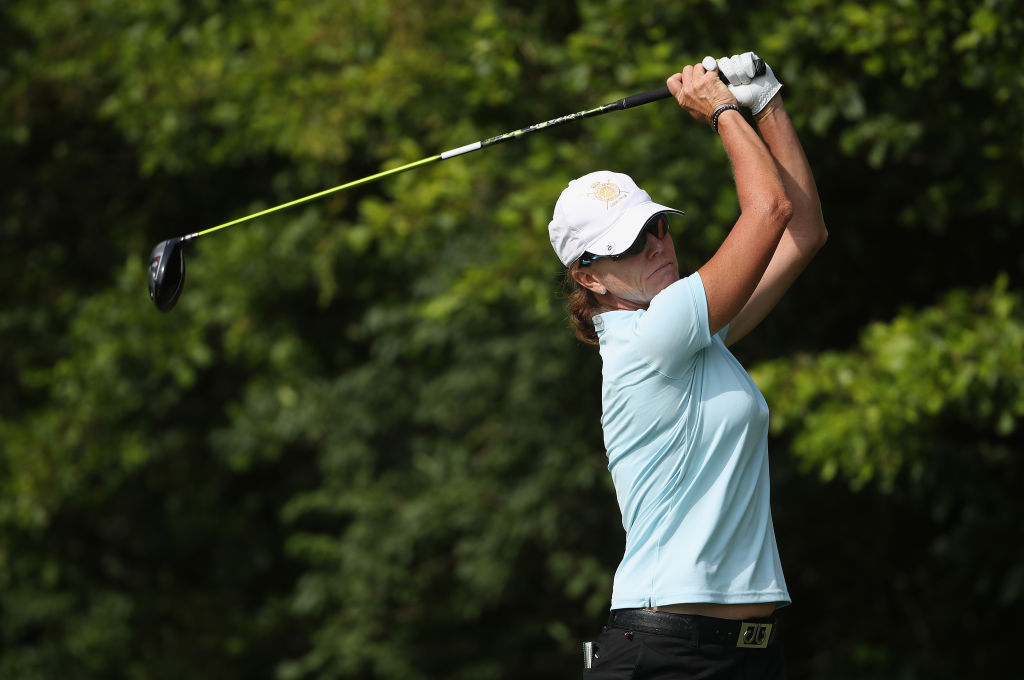 Lee Ann Walker accepts full responsibility for the penalties assessed to her. "This is my first competitive round since 2011 or 2012," Walker explained. "Now that I don't play the LPGA anymore, I don't watch golf. I knew there were rules changes. I just honestly didn't know 'em. Just plain and simple. My stupidity for not going over the rules changes."
Walker has taken the whole thing in stride, even claiming that this event might get her into the Guinness Book of World Records. "This may be my claim to fame," she said. "Not exactly how I was looking to do it."
Despite the bizarre way that things turned out, Lee Ann Walker has no regrets. "I'm glad I went. I got to see a lot of great friends, it was a great golf course, great event," she said. "Everything was great, except for my penalties."
A different rule allowed her to finish the tournament
In the past, realizing that she should have been assessed penalty strokes and signing an incorrect scorecard at the end of Round 1 would have resulted in Lee Ann Walker's disqualification. But thanks to another new rule, Rule 3.3b, a player can continue on if they did not know about the penalties at the time they signed their scorecard.
Without any penalties tacked on, Walker finished up her day with four straight pars on holes 15 through 18. Lee Ann Walker would have missed the cut in this tournament by only one stroke had lining up shots with her caddie's help still been legal.
But it wasn't, and without a disqualification to make her scorecard unofficial, it goes in the books that she missed the cut by 60 strokes.