Golfer Joel Sjoholm Just Had a Bizarre Golf Moment With a Water Hazard
A water hazard can be the most frustrating obstacle in golf. Not only do you lose your shot and take a penalty, but you often have to play the ball from a position that isn't any better than where you started. John Daly's legendary 18 score on a hole occurred due to water hazards, and he's also shot a 14 and a +7 — leading to a disqualification — on other holes with water hazards.
Daly is unapologetically one of the game's biggest characters, but water hazards are tough for all. For a moment during the European Open recently, it looked like one got the best of Swedish golfer Joel Sjoholm.
Joel Sjoholm's adventure on Henderson's Island
Sjoholm's second shot on the 17th hole landed him on Henderson's Island. The tiny man-made isle resides in the middle of a water hazard. Technically, the island is still in play since it's only the surrounding water that's the hazard. In a series of tweets by @EuropeanTour, the account cataloged Sjoholm's brilliant strategy to avoid a penalty.
He began by taking a small boat to the island, dragging four of his clubs with him. As the bemused spectators laughed, Sjoholm got out of the boat and moved the sponsor's signs that blocked his swing. Once he finally got the signs out of the way, Sjoholm found an uncomfortable position to attack the ball.
His swing worked, however, even as he drove it significantly past the hole. Sjoholm managed to finish the hole in another three strokes, escaping with a bogey. It wasn't the best finish to the hole. If Sjoholm had put a little more finesse on his island shot he might've landed on the green without rolling past and even one-putt for a birdie. But he avoided the absolute worst of it.
Sjoholm's golf career
RELATED: John Daly's 4 Divorces Forced Him to Take a Huge Financial Hit
Prior to the boat incident, Sjoholm was a relatively unknown golfer outside the European Tour. He scored a win in 2017 on the Italian Challenge Open and made a few playoffs in other events. Born in Chile, Sjoholm grew up in Sweden and attended school in the U.S. He played college golf at Georgia State before graduating and moving back to Europe to play the European Tour.
The 2017 Italian Challenge is the greatest accomplishment of his career so far. But we bet his boat trip turns a few more heads, even if Sjoholm kept his pants on (unlike James Heath a few years ago hitting out of the water).
Sjoholm will probably be remembered for this boat episode for a long time. He made the best of it, even going so far as to paddle a boat to the island. Things could've gone better with a tighter shot, but Sjoholm still managed to bogey. Many other golfers would've given up as water hazards are a constant source of frustration.
Why golf is more important than ever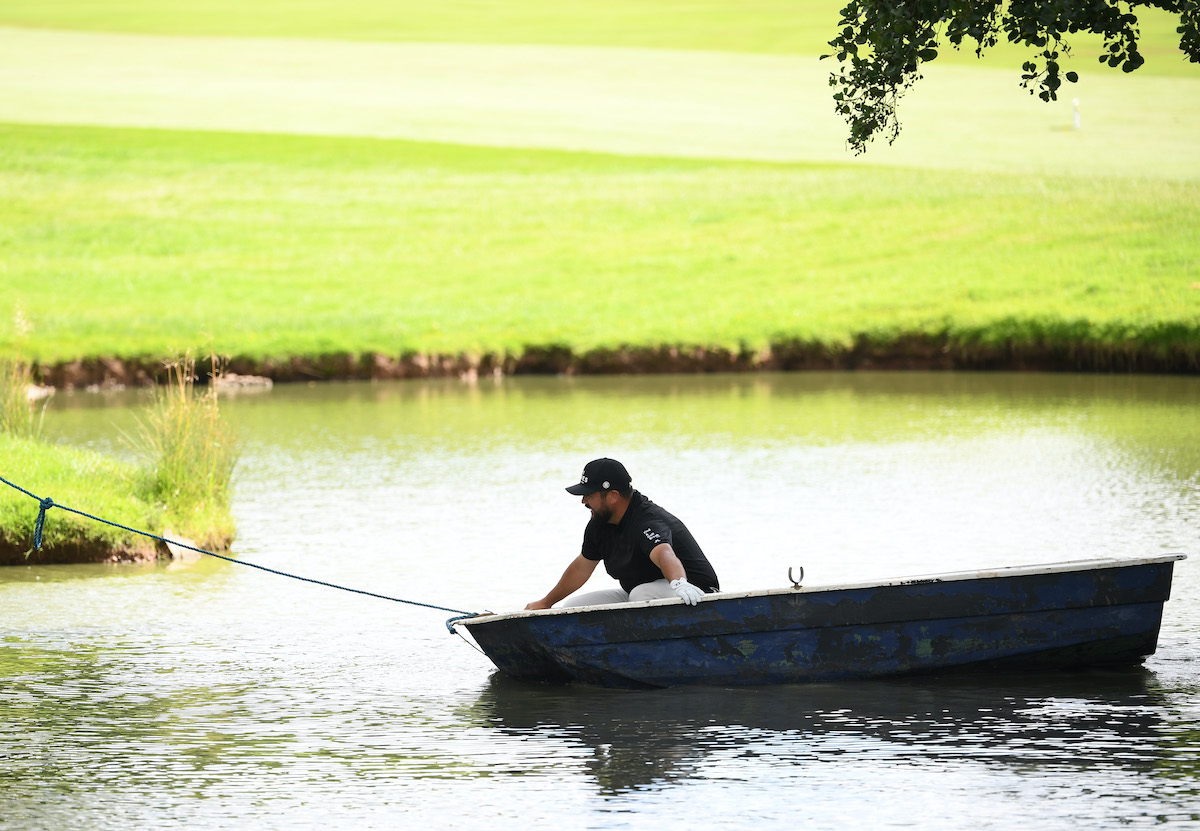 Golf is one of the few sports that's remained largely unaffected by COVID-19. Aside from a few PGA players pulling out of events, the rest of the tournaments have gone on with few issues. In Europe, things are even better. During a time when the world is watching whatever sports they can, Sjoholm's water adventure went a long way toward giving sports fans something to laugh about.