Gordon Hayward Highlights: Top 3 March Madness Performances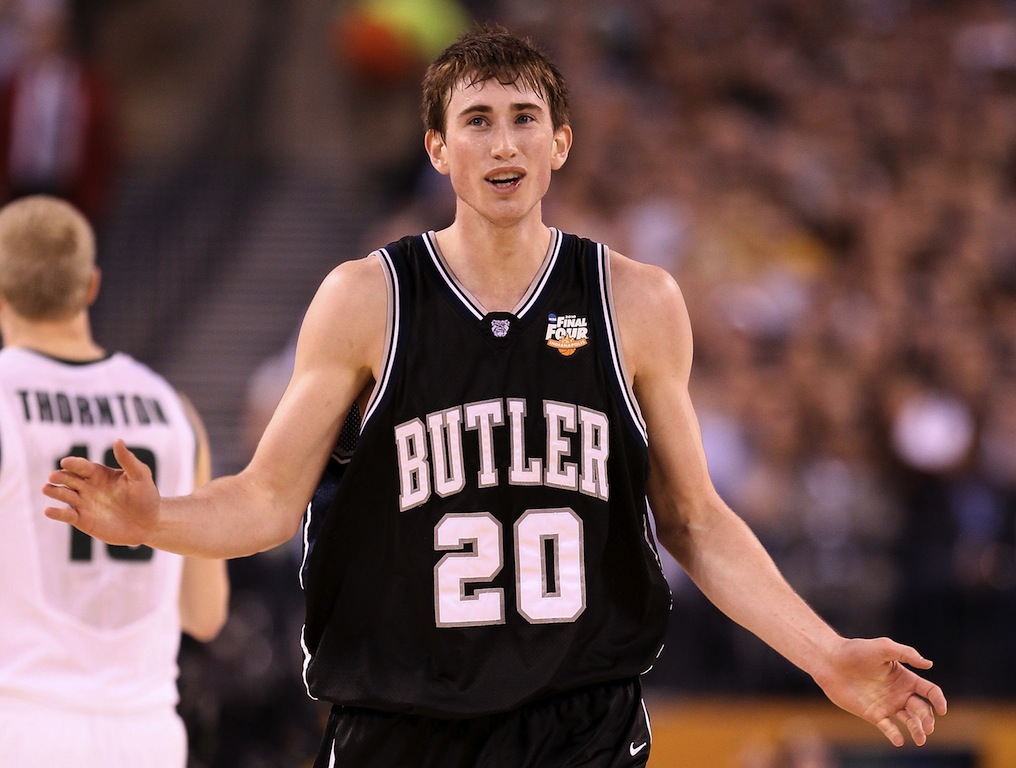 For all the excitement it brings, the NCAA tournament isn't always filled with insane upsets. Sometimes, the seeding holds and the bigger programs flex their proverbial muscles. But honestly, that doesn't really do it for us. We love the upsets. We crave the shock factor. We need the drama. Which is why we always remember it when those unsuspecting schools come out of nowhere to bust the bracket. And in the 2010 NCAA tournament, we were fortunate enough to bare witness to one of these incredible runs. For that's when the world was officially introduced to the Butler Bulldogs.
It's not everyday that a mid-major program — holding a No. 5 seed — takes center stage and knocks out one big school after another. But that's what Butler did. Let's just say "David" had nothing on these guys. Of course, in any Cinderella run, there's usually one player who ends up leading the way. For the Bulldogs, that individual was sophomore superstar, Gordon Hayward. And here's a look at three epic performances that put him on the map.
3. 2010 West Regional Semifinal: Hayward vs. Syracuse
While the Butler Bulldogs entered the big dance with a perfect 18-0 record in conference play, they had yet to receive their proper due. Of course, the best way for a dark horse to make a splash in the NCAA tournament is to knock off a No. 1 seed. Enter the Syracuse Orange; the top seed in the West Region and a team that would soon realize that this small school from Indiana and its sophomore standout, Gordon Hayward, were the real deal.
Hayward was completely unfazed by the bright lights of the Sweet 16 stage. He went four of seven from the field, knocked down two of three from beyond the arc, and hit seven of eight free-throw attempts. The Horizon League's Player of the Year finished the game with 17 points, five rebounds, and two steals, and the Bulldogs pulled off a major upset, defeating Syracuse by the score of 63-59. It's safe to say that Butler had officially received everyone's attention.
2. 2010 National Semifinal: Hayward vs. Michigan State
Despite both clubs entering the Final Four as No. 5 seeds, you'd be shocked to find anyone who believed Butler was going to take down Tom Izzo's mighty Michigan State Spartans. After all, this is usually the point in the tournament when the blue bloods step up their game. However, Hayward and his teammates had different plans. They were not ready for their Cinderella story to come to an end.
Behind a 42.9% (6-14) shooting night, including three for eight from three-point range and four for six from the charity stripe, Hayward led all scorers with 19 points to go along with nine rebounds, two steals, and two blocks. Thanks to another improbable victory, this time a gritty 52-50 win over the Spartans, Butler advanced to the first national championship game in the school's history.
1. 2010 West Regional Final: Hayward vs. Kansas State
After sending Syracuse packing, the Butler Bulldogs had an eye on an even bigger prize. Standing between this group and a date with destiny were the No. 2-seeded Kansas State Wildcats. A tough matchup, for sure. But for Hayward and the rest of the Bulldogs, what was one more upset on the road to glory?
The sophomore standout connected on seven of 14 shots, knocked down two of four from beyond the arc, and hit all six of his free throw attempts. On a night when Hayward would lead the way with 22 points, nine rebounds, and one block — on his way to being named the West Region's most outstanding player — the Butler Bulldogs would once again pull off a monumental upset, defeating the Wildcats 63-56 to earn a spot in their first-ever Final Four.
Statistics courtesy of SR/College Basketball.