Grading Team USA: How Good Are the Basketball World Champs?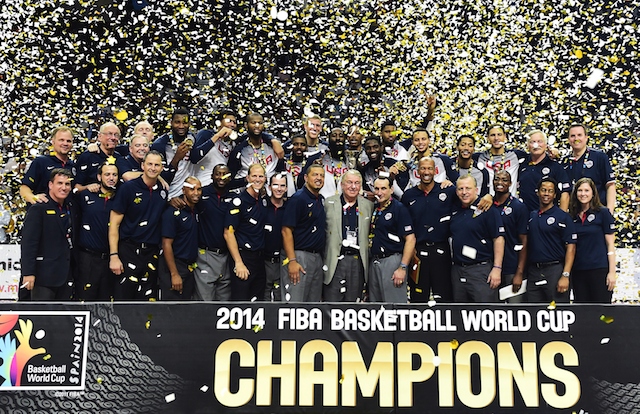 Team USA finished an unbeaten run through the 2014 FIBA World Cup on Sunday, defeating Serbia in emphatic fashion, 129-92. The Americans won their nine games in Spain by an average of 33 points per contest and extended their international win streak to 63 games en route to repeating as world champions. They were never seriously challenged, with a 21-point win over Turkey representing the closest margin of victory.
Here are our grades for each USA Basketball player's performance in the just-concluded tournament.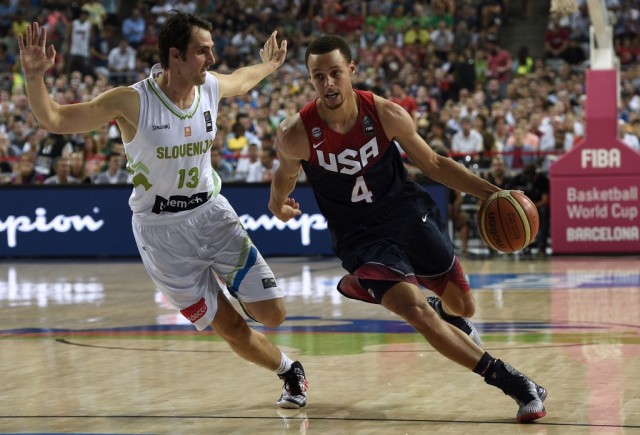 DeMarcus Cousins, A

Cousins was a revelation for Team USA this summer. Just two years after USA Basketball chairman Jerry Colangelo publicly criticized Cousins for a lack of maturity, the Sacramento Kings star not only made the national team but led the Americans in field goal percentage (70.2 percent). Cousins' blistering shooting was good enough for the second-best individual field goal percentage in the tournament.
Stephen Curry, B+

Curry's job on this team was simple: hit three-pointers. He delivered, draining a total of 21 in nine games at a clip of 43 percent. Part of a starting lineup that remained intact for every game of the tournament, Curry (pictured above) also went the entire two-plus weeks in Spain without missing a free throw.
Anthony Davis, A

Davis was an undeniable force in the middle for coach Mike Krzyzewski and seems to have an unlimited future, both for the national team (we'd be shocked if he wasn't on the 2016 Olympic roster) and in the NBA, as well. The man in the middle averaged over 12 points and 6 rebounds a game, in addition to a tournament-best 19 blocked shots (along with countless more altered ones).
DeMar DeRozan, C+

The 10th man on this team put up decent numbers when he got a chance to contribute, averaging 4.8 points per game in less than 12 minutes of playing time. DeRozan's highlight was 11 points in a group stage game against the Dominican Republic, punctuated by this memorable dunk.
Andre Drummond, C

Drummond was the only player on the roster to not appear in every game. He saw the floor for a team-low average of 5.8 minutes per night. Drummond made his presence felt in the opener against Finland, going 4-4 from the field in limited minutes, but wasn't really needed to make a major impact as the tourney unfolded.
Kenneth Faried, A+

Faried was a standout for the red, white, and blue and did everything Coach K could have asked or hoped for and more. The Nuggets forward scored 12.4 points a game (better than his NBA career average), shot 63 percent from the floor, pulled down almost 8 rebounds a game, and was third among all players at the World Cup with 3.9 offensive rebounds per contest. Night after night, Faried's energy was critical to the Americans' tempo and success.
Rudy Gay, B-

Gay was a late addition to the player pool after Kevin Durant and Paul George were no longer available, and ended up making the team. Gay provided valuable depth on the wing and scored 6 points per game for USA Basketball this summer. He finished in double figures in a lopsided win over Mexico.
James Harden, A

Dubbed the leader of Team USA by Colangelo, Harden (pictured above) stepped up to the challenge. The Houston Rockets star led the national team in scoring with 14.2 ppg, one of six players on the World Cup roster to average double figures. While not known for his defense, Harden finished the tournament with a team-high 19 steals, or 2.3 per game — good for third in the World Cup.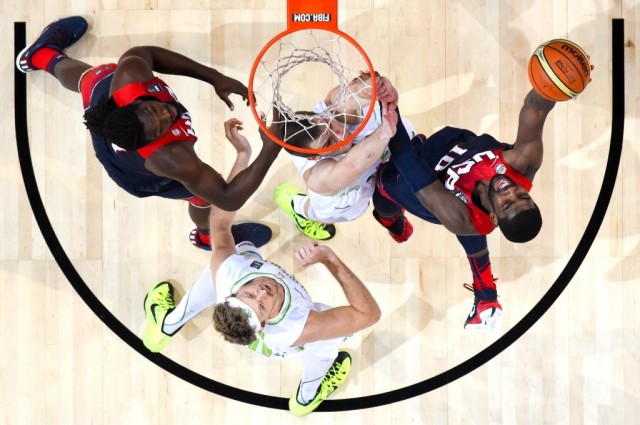 Kyrie Irving, A+

Let's just say LeBron James had to enjoy watching these games. His future running mate with the Cavs, Kyrie Irving (pictured above, on the right), was named the tournament MVP and looked unstoppable once again running the point for Duke mentor Krzyzewski. Irving, a career 37.8 percent shooter from the three-point line, shot a jaw-dropping 60 percent from behind the slightly closer arc, including 6-6 in the final. He also led Team USA in assists.
Mason Plumlee, C

After receiving some early criticism regarding how he made the team in the first place, Plumlee was serviceable for Team USA in a very small sample size. He finished last on the team in scoring (only 2.3 ppg) but also averaged less than 7 minutes per contest. Still, he did his part to earn a gold medal, which seems like a successful summer to us.
Derrick Rose, B-

Rose didn't blow anyone away with his stat lines in Spain, as the Bulls star backed up Kyrie Irving at point guard. However, just being out on the floor playing and contributing after his injury history over the past couple of NBA seasons has to be considered an accomplishment. Rose's rust showed most in his shooting, as he only made 25 percent of his field goals and really struggled from deep (1-19 behind the arc).
Klay Thompson, A

Many people (this writer included) were baffled by the Warriors' unwillingness to include Klay Thompson in any potential Kevin Love deal this summer. Thompson proved his value at both ends of the floor for Team USA, though, coming off the bench to bury a team-high 22 three-pointers (on 41 percent shooting) and using his length to frustrate opponents every night. When all was said and done, Thompson played more minutes in the tournament than any American not named Kyrie Irving, despite not starting a single game.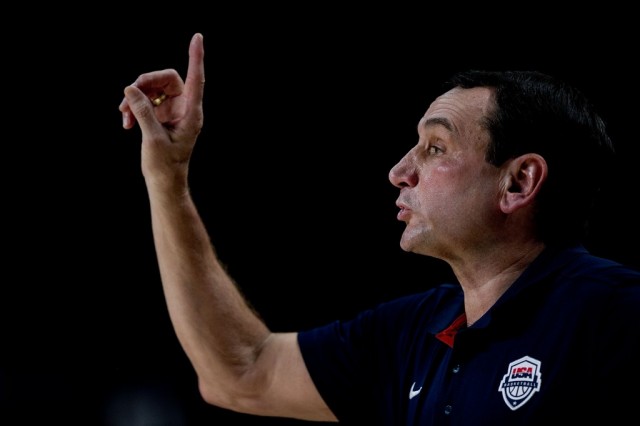 Mike Krzyzewski, A+

Last, but not least — and even though he's not a player — these grades would be incomplete without a nod to head coach Mike Krzyzewski, who did a remarkable job with what seemed from the outside to be the United States' B- or C-team. Even though the likes of LeBron James and Kobe Bryant weren't expected to participate in the World Cup, Coach K still had to assume, even as of earlier this summer, that his rotation would include talents like Kevin Durant, Paul George, Blake Griffin, and Kevin Love. He had no such luck.
And while Team USA caught a break with host Spain's surprising quarterfinal exit, the Americans' World Cup roster still looked — on paper — like one of the more beatable versions in recent history. Instead, the United States cruised unchallenged to another world title, improving its record under Krzyzewski to a zillion and one (this is an approximate stat).
While Coach K gave all the credit to his players ("They stayed focused on the team that they were going to play next," he said after the final), our assessment differs from his just a little bit.
If anybody associated with USA Basketball most deserves an A+ grade, it's Coach K.