Grayson Allen Has Found Redemption in Milwaukee, Completing His Transformation From an NCAA Villain to a Legitimate $20 Million NBA Pro
Grayson Allen was a big name at Duke. He was a good player — good enough to become a first-round draft pick, No. 21 overall by the Utah Jazz in 2018. But in college, Allen was known for his dirty play as much as he was for his shooting. It took him a while, but at age 26, Allen has seemingly found a home beside Giannis Antetokounmpo with the Milwaukee Bucks.
The former Dukie's minutes increased each of his first three years in the league. He became a key role player for Ja Morant and the Memphis Grizzlies in 2020-21, starting 38 of the 50 games in which he played.
This year has seen Allen take another leap, though, as he's become an indispensable piece for the defending champions.
Grayson Allen was a villain in the college basketball world
Allen is one of the most hated Duke players of all time (which is a long list). He rather quickly developed a reputation as a dirty player during his time in Durham.
As a sophomore under legendary coach Mike Krzyzewski, Allen was caught tripping a player twice within the span of a month. Then he explained during an interview how he was ready to prove he had matured as both a person and a player and was prepared to turn the page on those types of antics.
A few months later, Allen went ahead and tripped another player. And in the 2016-17 ACC Tournament, the Jacksonville native decided he'd hip-check North Carolina forward Garrison Brooks for good measure.
For context: he and JJ Redick — likely the single most hated player in Blue Devil history — even had a debate as to who was more despised.
During the NBA Summer League following his rookie season, Allen committed two flagrant fouls back-to-back and was ejected from the game as his hijinks continued into his NBA career.
Still, Allen remained a talented player who was continuously given chances. And slowly but surely, he developed into a solid role player in the league.
But this year in Milwaukee, he's been something more.
Allen has been a constant in the Bucks' lineup and is now $20 million richer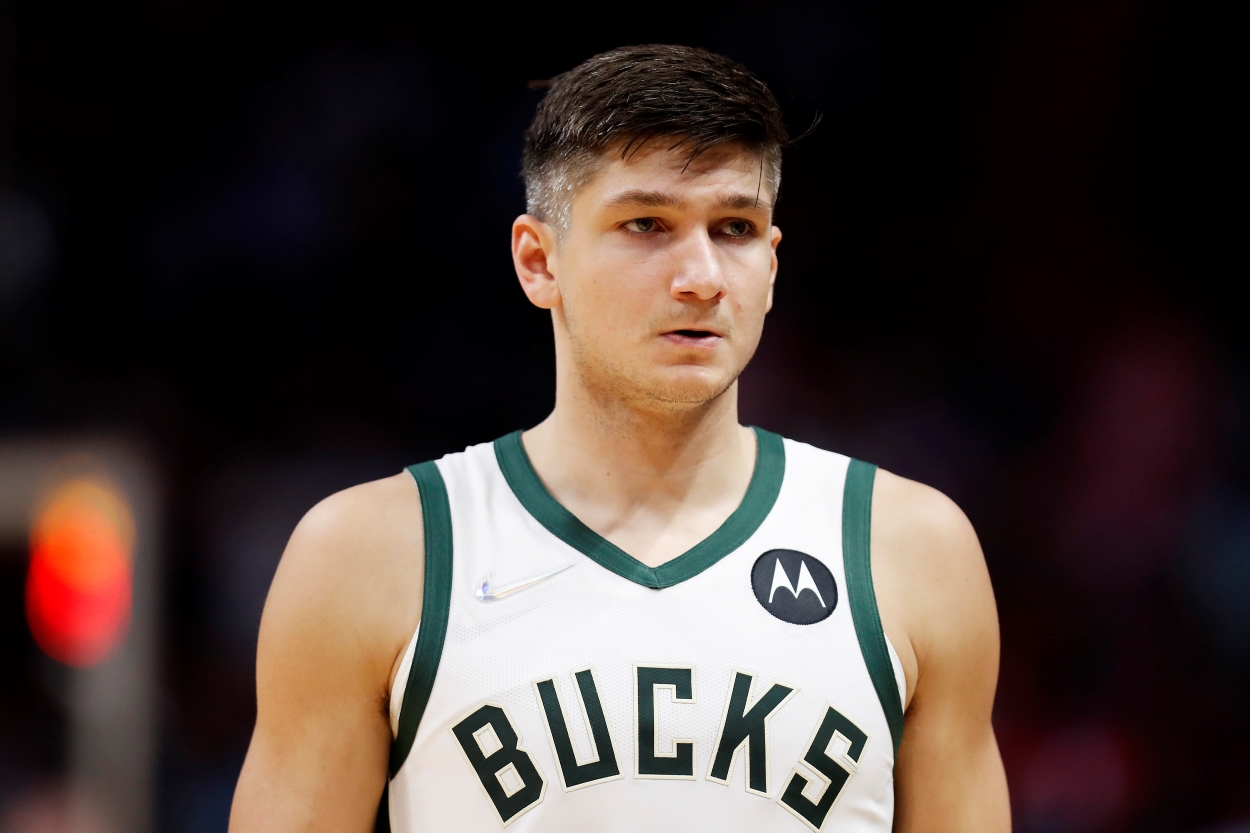 Before the season, Allen was somewhat surprisingly offered a two-year contract extension to remain with Milwaukee through the 2023-24 season. He put pen to paper and has — maybe even more surprisingly — lived up to every penny of it.
Injuries have decimated Milwaukee through the first three weeks of the year. But the fourth-year guard has been one of the defending NBA champion's few constants.
Allen has been part of the Bucks' most-used lineup so far in 2021-22. A five-man lineup consisting of him, Jrue Holiday, Khris Middleton, Pat Connaughton, and Antetokounmpo has played 12.4 minutes together, according to NBA.com. (If that doesn't seem like a lot of minutes, it's because it isn't. Middleton has played six of 10 games and Holiday only four).
As of right now, the 6-foot-4 shooting guard appears to be entrenched in Milwaukee's starting lineup.
Allen is fourth on the team in minutes and is scoring a career-high 14.5 points per game. He's also blown past his previous career-highs in shot attempts and 3-point attempts.
The Providence High School alum has also seen an uptick in efficiency, despite a career-high usage rate. Allen is shooting 43.2% from the floor and 40.0% from three.
He's gone from college villain to first-round draft pick, from first-round pick to NBA role player, and now from role player to crucial piece of a team looking to win back-to-back championships.
The sharpshooting guard has seemingly flipped the script on his basketball career
Allen's tomfoolery at Duke and his college reputation will never completely fade from memory. But the longer he continues to produce on the court and remain in the background off it, his approval rating will only increase.
Grayson has always had potential as a basketball player. If he hadn't, he wouldn't have starred at a college blueblood and wouldn't have been a first-round pick. He certainly wouldn't have forced his way into an NBA rotation.
Now that he's firmly established in not just any NBA lineup but the lineup of the reigning NBA champs, it seems like Allen's time as a villain has come to a close, and his time as a real, reliable source of production on a title contender has begun.
He likely won't be kicking and screaming about adding $20 million to his wallet either.
All statistics, unless otherwise noted, courtesy of Basketball Reference.