28 Greatest Chicago Cubs Players in Modern History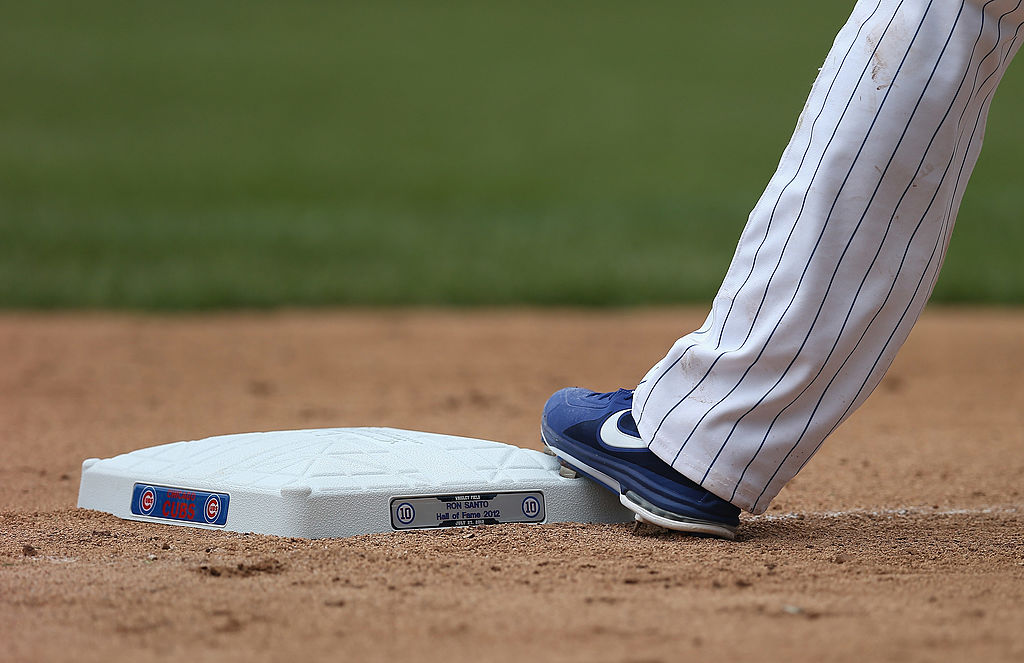 The Chicago Cubs have a long and storied history. Some of the greatest players to ever put on a baseball jersey have stepped up to the plate at Wrigley Field — home to the Cubs for the last 102 baseball seasons. Of course, they hadn't won a World Series championship since 1908 — until this past season. The Cubs have had some pretty good teams, including the 2016 team. We've put together the 28 greatest Chicago Cubs players based on game stats, going back to the beginning of integration in the late 1940s.
1. Ryan Dempster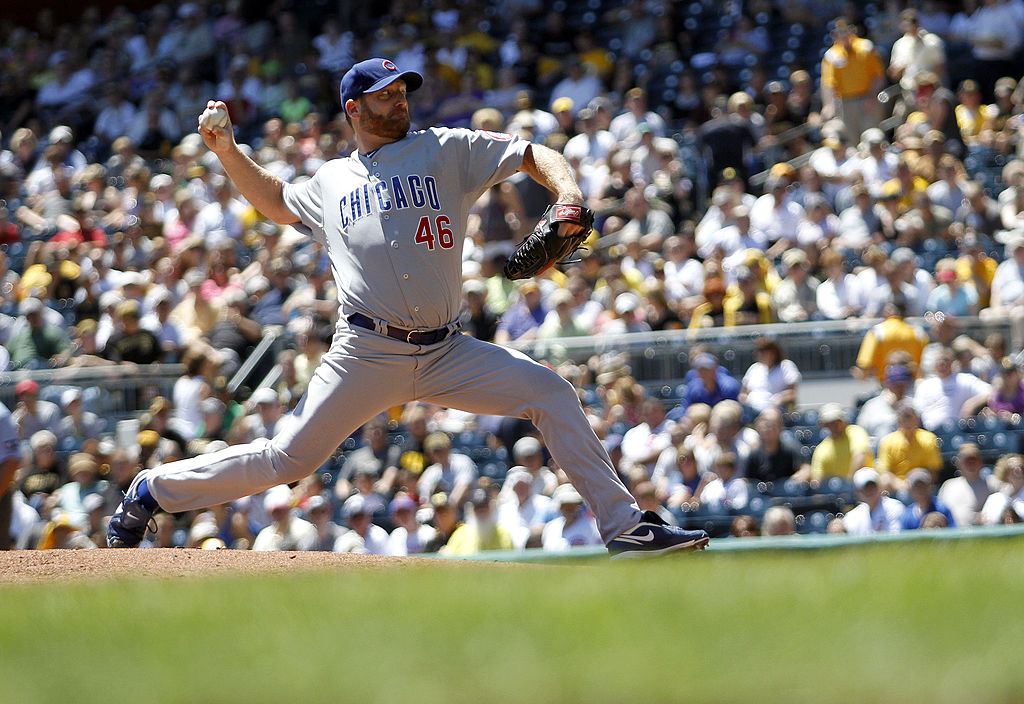 Ryan Dempster came to the Cubs in 2004 after having ulnar collateral ligament reconstruction (or Tommy John surgery) end his 2003 season with the Cincinnati Reds. He appeared with the team in August, coming out of the bullpen for the first time in his career. That's where he stayed, taking over the closer role for the next three seasons, until he got a shot at starting again in 2008 — his best season with a 2.96 ERA in 206 2/3 innings. He stuck around with the Cubs until being traded in 2012 and had a 3.74 ERA over 1,182 2/3 career innings with Chicago.
2. Kris Bryant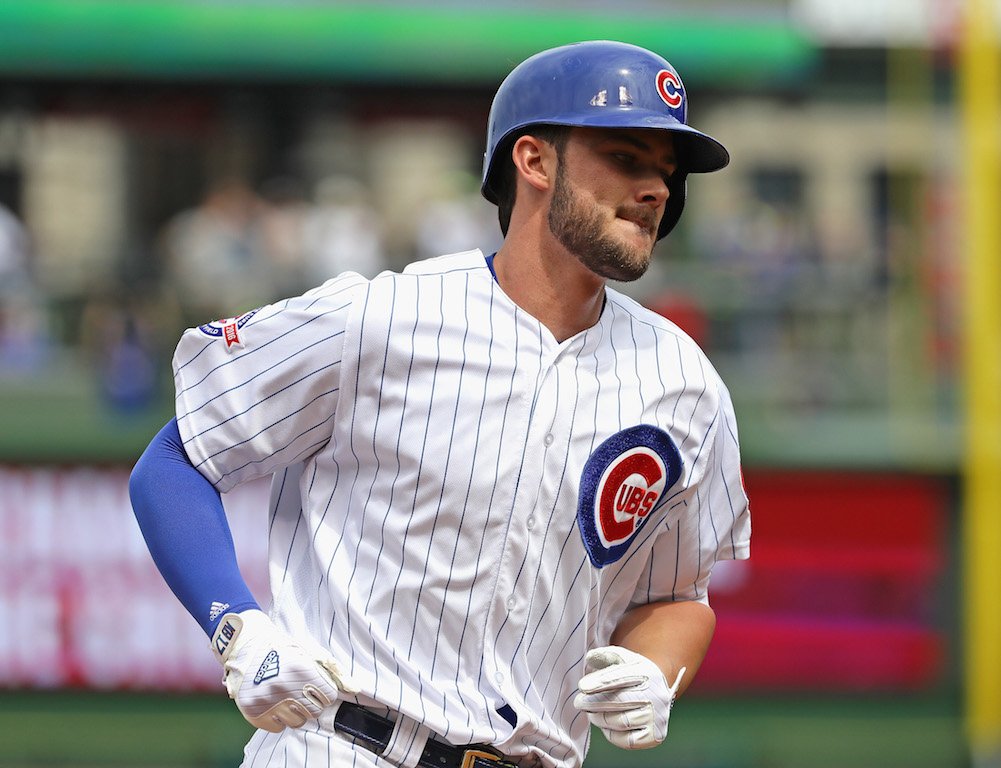 Although his career is just getting started, third baseman Kris Bryant is already on this list. He came up just a few days into the 2015 season, hitting 26 home runs and taking a major roll on a team that went on a huge second-half run to the NLCS. His performance won him the National League Rookie of the Year award and he actually improved in his second season in the big leagues. He cut down on his strikeouts, picked up the power with his homers, and participated in the Cubs' first World Series win in nearly 100 years.
3. Ted Lilly
Left-handed starter Ted Lilly came to the Cubs prior to the 2007 season and he was a big part of two division championship teams. His best season in Cubs uniform came in 2009 when he had a 3.10 ERA in 27 starts and made his second All-Star appearance. He only pitched in four seasons for the Cubs, but he was very good in that time — compiling 15.4 WAR with the Cubs. Unfortunately, due to some quick exits from the postseason, he only got one start in the playoffs — he allowed six earned runs in 3 1/3 innings against the Arizona Diamondbacks in '07.
4. Andre Dawson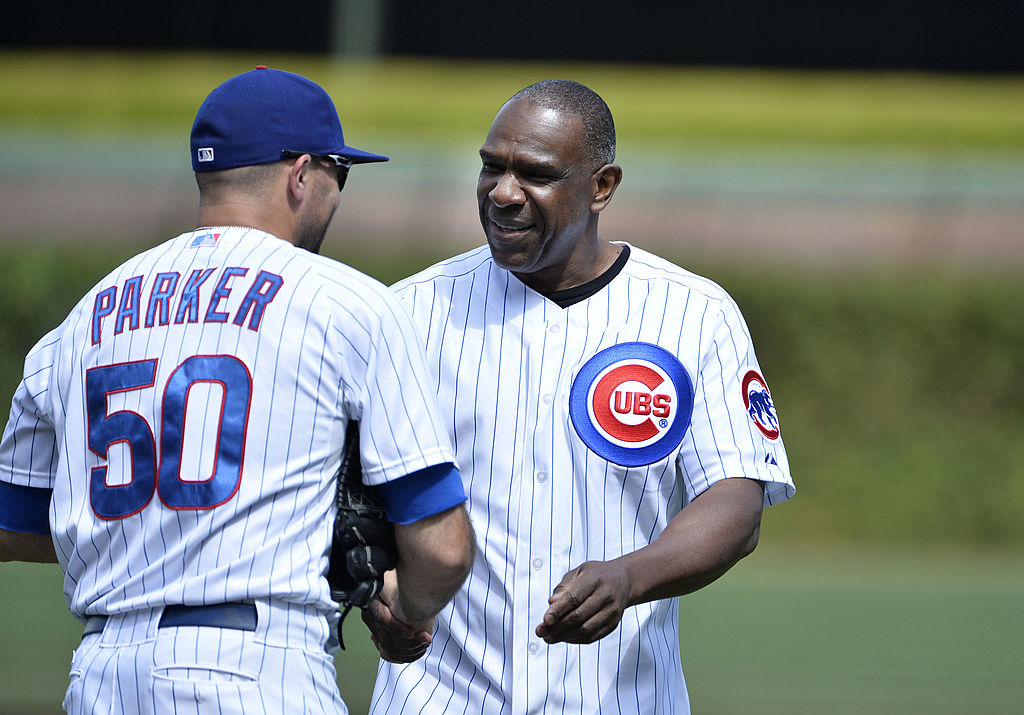 Andre Dawson came to the Cubs toward the end of what is traditionally considered a player's prime, playing his first season at Wrigley Field at 32 years old. That also happened to be the best year of his career, leading the National League with 49 home runs and 137 runs batted in. That helped him earn the MVP award, despite playing for a team that finished in last place. Dawson played in Chicago for six years, helping the Cubs make the playoffs in 1989, making five All-Star teams, and winning two Gold Gloves in right field.
5. Jody Davis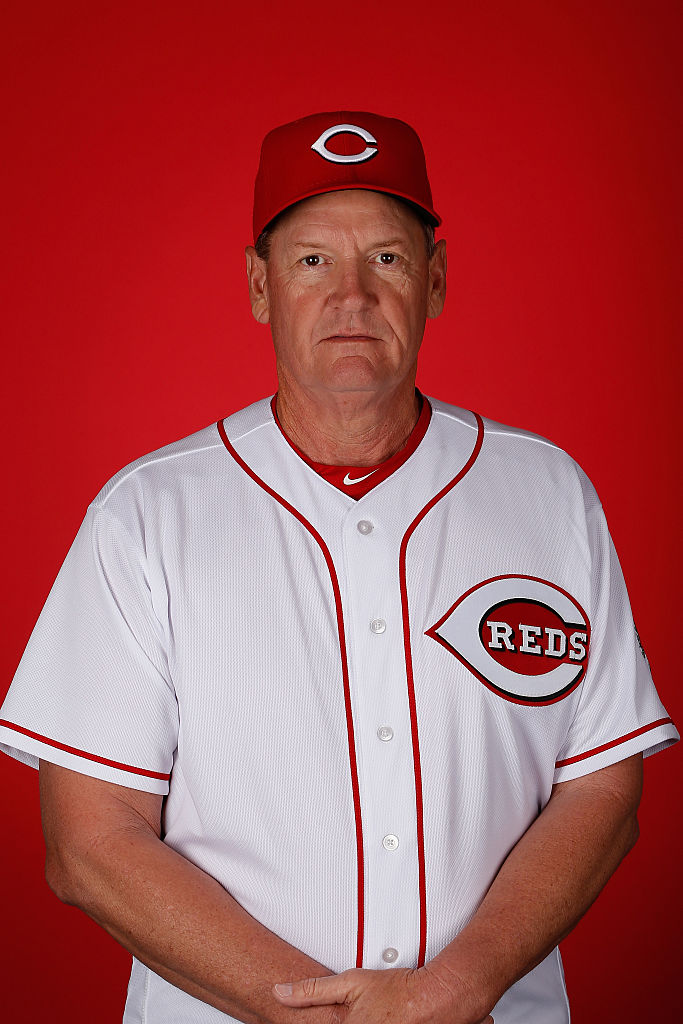 A fan favorite from the 1980s, Jody Davis was a solid-hitting catcher that played in an average of 144 games per year from 1982-1986. A fun fact about Davis is that he was actually with the St. Louis Cardinals until the Cubs stole him away in the 1980 Rule 5 Draft. In eight years with the team, Davis hit .251 with a .729 OPS and 122 home runs. He was an All-Star in 1984, playing a big role on a team that won 96 games and got within one victory of making it to the World Series.
6. Ken Holtzman
Right-handed starting pitcher Ken Holtzman started his career with the Cubs, pitching there in his first seven seasons. During that time, Holtzman had a 3.59 ERA in 1,276 1/3 innings, playing a big part on the 1969 Cubs that went 92-70 and held onto first place in the NL East for a large portion of the season. He moved on to play for the Oakland Athletics in 1972, winning three World Series rings. He pitched well, totaling a 2.30 ERA in 70 1/3 innings in the three combined postseasons.
7. Hank Sauer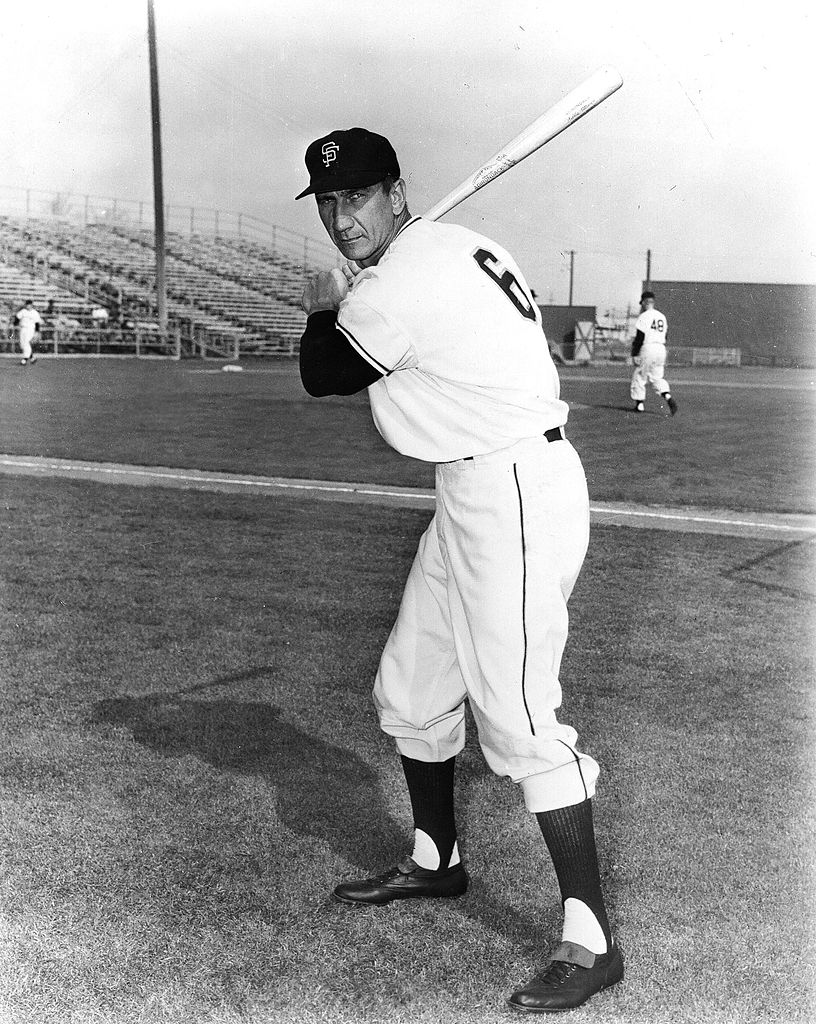 Because of military service, outfielder Hank Sauer's career didn't really get going until he was already into his 30s. He came to the Cubs at 32 years old in 1949, and he immediately took off with the bat. In his first three full seasons in Chicago, Sauer hit 30 or more home runs, leading the league with 37 in 1952 and winning the National League MVP award. He stuck around with the Cubs until 1955, hitting 198 home runs in seven seasons with the team.
8. Jake Arrieta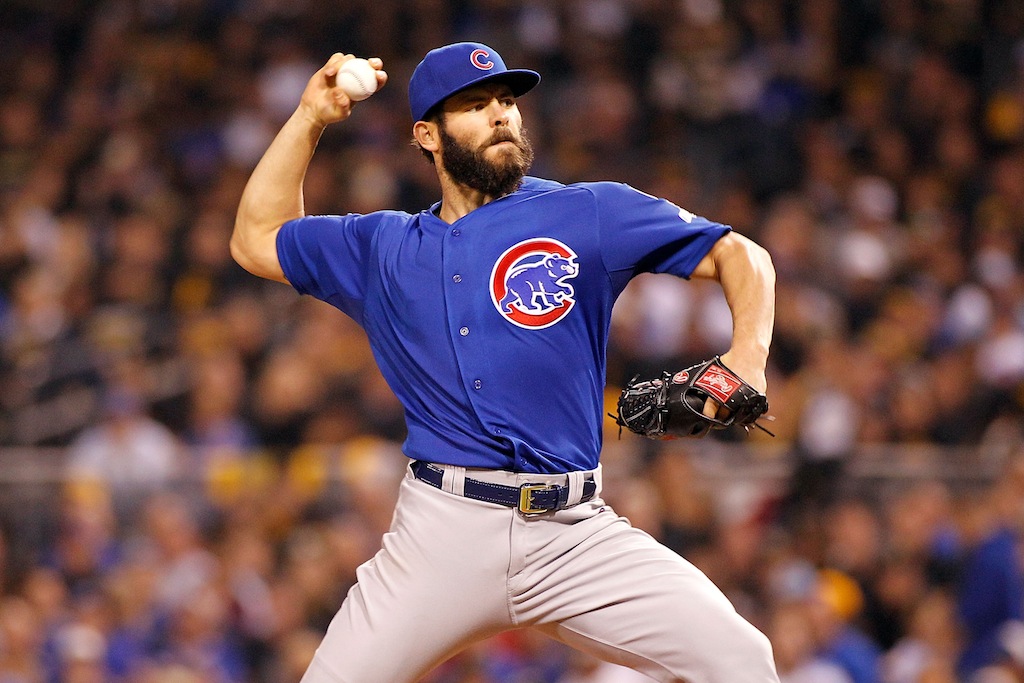 Arriving to the Cubs in 2013 after a deal with the Baltimore Orioles, starting pitcher Jake Arrieta almost immediately transformed into a stud. In 98 starts with the team, he has a 2.52 ERA and 630 strikeouts in 634 2/3 innings. With his historic run in the second half of the 2015 season, Arrieta finished the year with a 1.77 ERA in 229 innings and won the National League Cy Young Award. He regressed a bit in 2016, with a 3.10 ERA in 197 1/3 innings, but he threw two no-hitters and overall did enough to justify ranking on this list.
9. Alfonso Soriano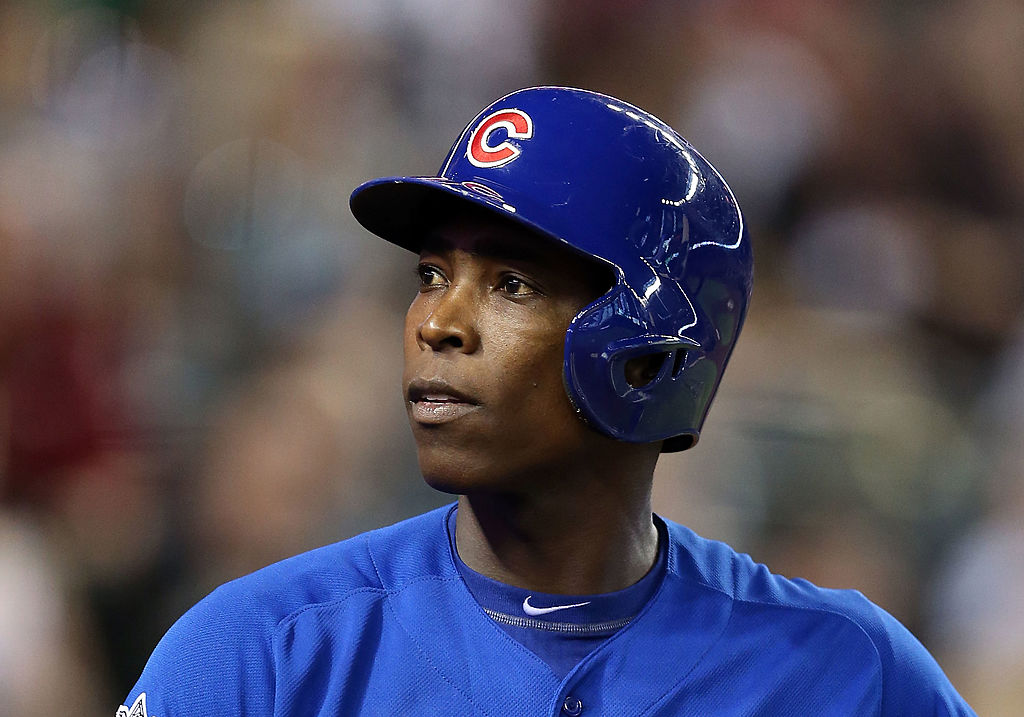 The Cubs spent big money in the offseason prior to the 2007 season, bringing in outfielder Alfonso Soriano to be their leadoff hitter. He had two great years for the Cubs, helping lead them to back-to-back division championships in 2007 and 2008 with 33 and 29 home runs, respectively. He spent seven years with the Cubs in total, hitting for a .812 OPS and 181 home runs during that period. His career with Chicago will be most remembered for the awful stretch the Cubs went through from 2010–13, but he did enough to put himself on this list.
10. Rick Sutcliffe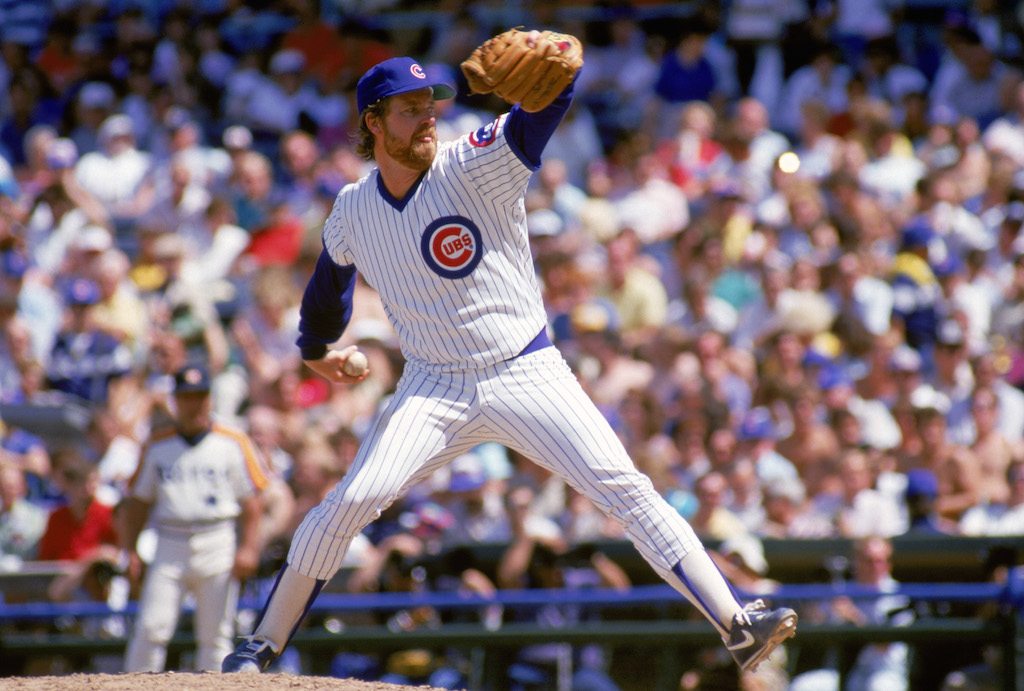 Tall right-hander Rick Sutcliffe came to the Cubs in 1984 in a midseason deal involving future Hall of Fame outfielder Joe Carter. It was a fine price to pay at the time, as Sutcliffe went 16-1 in 20 starts for the Cubs with a 2.69 ERA, helping push that '84 team to the postseason. He even hit a home run in the NLCS against the San Diego Padres and won the National League Cy Young Award. Sutcliffe stuck around with the Cubs until 1991, helping them make the playoffs yet again in 1989, and had a 3.74 ERA in 1,267 1/3 innings with the team.
11.Phil Cavarretta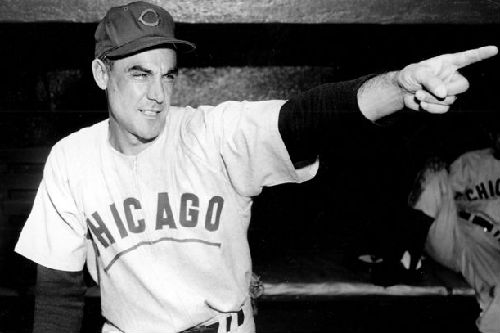 Although the majority of his career was played prior to integration, it's hard to keep first baseman Phil Cavarretta off this list. First coming to the big leagues with the Cubs in 1934 at the age of 17, Cavarretta was a part of three World Series teams with the Cubs. His best season came in 1945, leading the league with a .355 batting average and .449 OBP and winning his only career National League MVP award. He played 20 total seasons with the Cubs, hitting .292 with a .371 OBP in that time and totaling 34 WAR before moving on to play out the final two years of his career with the White Sox in 1954 and 1955.
12. Anthony Rizzo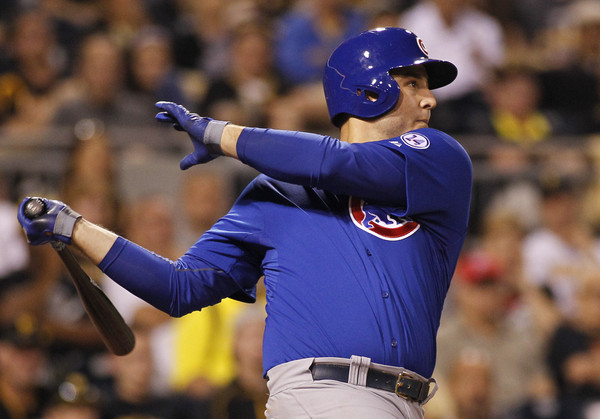 First baseman Anthony Rizzo came to the Cubs in a deal with the San Diego Padres involving starting pitcher Andrew Cashner. He made his Cubs debut in June 2012. Since then, he's been one of the best first baseman in all of baseball, putting together a .861 OPS in five seasons with the Cubs. At just 27 years old, he's made three All-Star teams, hit 30 or more home runs in each of the last three years, and has accumulated 22 WAR in a Cubs uniform.
13. Kerry Wood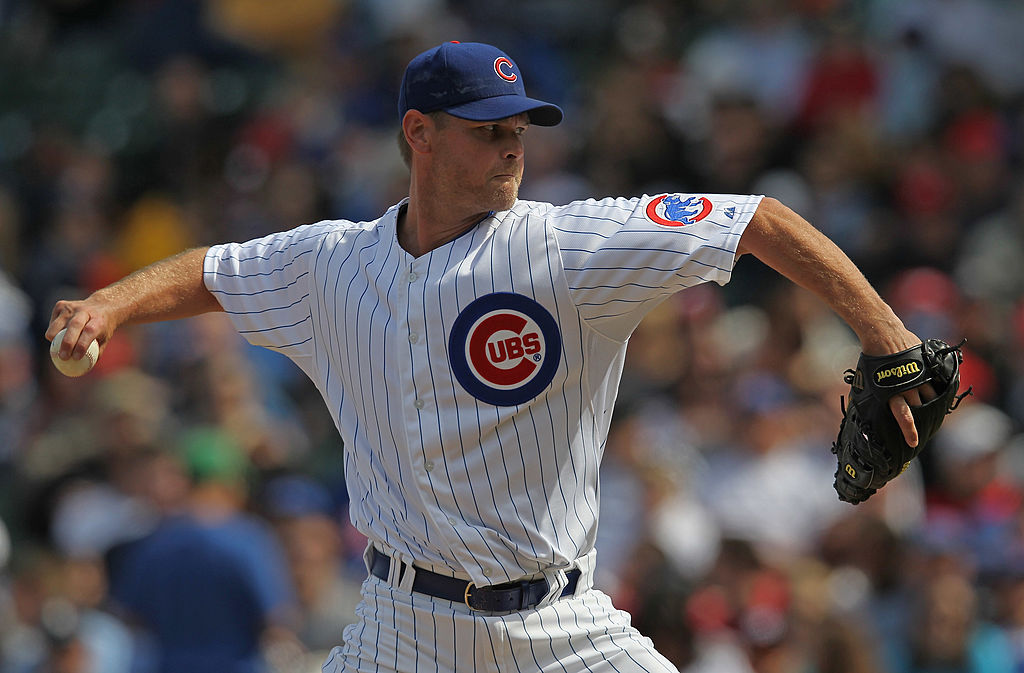 A 20-year-old right-handed starter when he made his debut, Kerry Wood took the world by storm in just his fifth big league start. Facing the Houston Astros, Wood struck out 20 batters and tossed a complete-game shutout, allowing just one hit. It's still one of the most dominant games ever pitched. As for his career, injuries got in the way for Wood. He had great seasons in 2002 and 2003, but basically was never a full-time starter again after 2004. He pitched 12 seasons in total for the Cubs in his career.
14. Bill Hands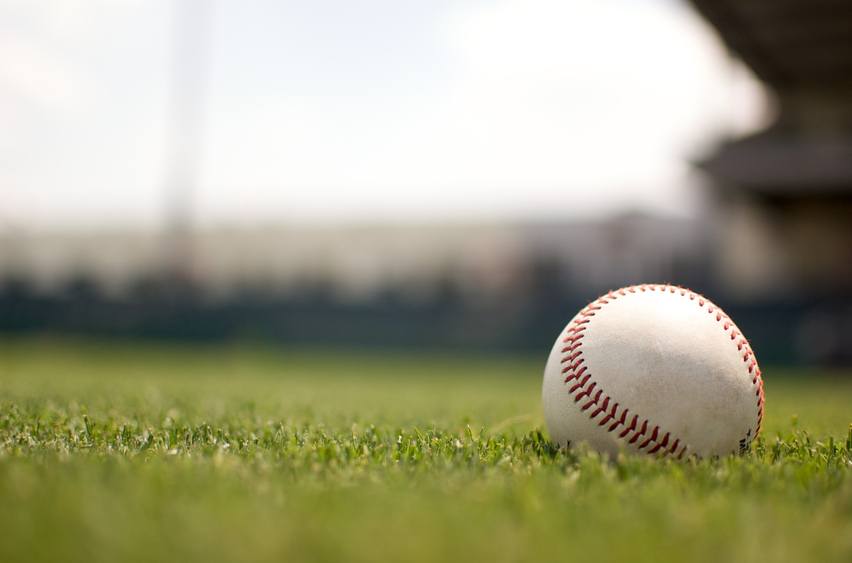 Bill Hands was a right-handed starter with the Cubs in the 1960s and 1970s, playing with the team for seven seasons and accumulating 27.2 WAR during that period. He was huge on the 1969 team, starting 41 games and pitching 300 innings with a 2.49 ERA — including a career-best 18 complete games. He finished his Cubs career with 1,564 innings and a 3.18 ERA, moving on to finish out his career with the Minnesota Twins and Texas Rangers before retiring after the 1975 season.
15. Carlos Zambrano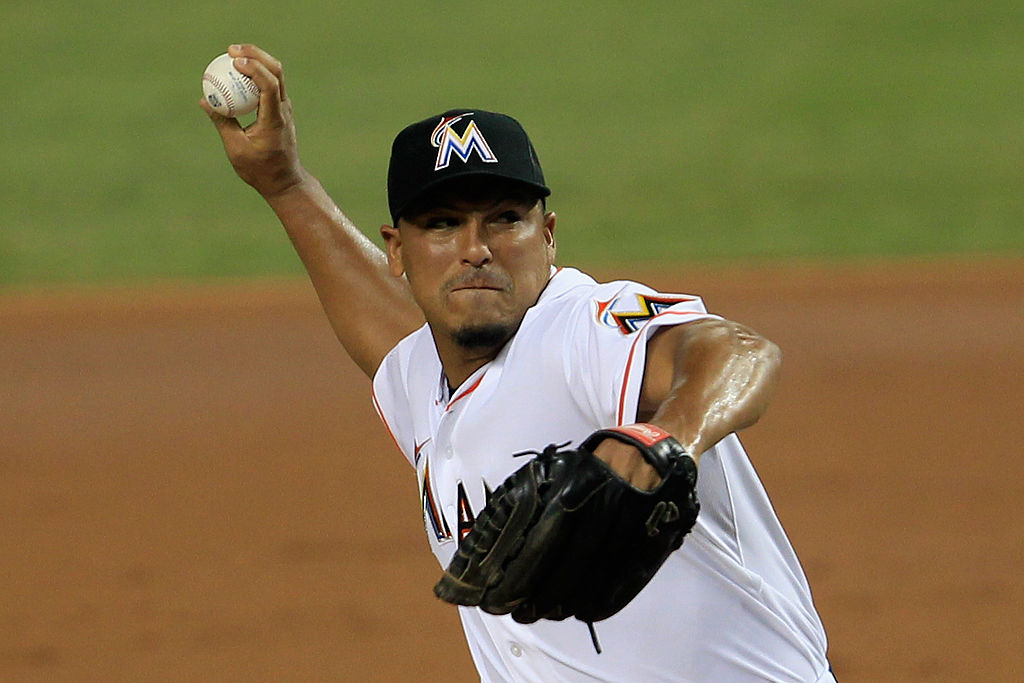 Hard-throwing sinkerballer Carlos Zambrano came up with Cubs in 2001 at just 20 years old. He really came into his own in 2003 with a 3.11 ERA in 214 innings. The best season of his career came in 2004 when he was just 23, with a 2.75 ERA in 209 2/3 innings and his first appearance on the All-Star team. In total, he made three All-Star teams in 12 seasons in a Cubs uniform and pitched in the postseason three times. Zambrano had a rough breakup with the Cubs in 2012 after some blowups in the clubhouse and his career came to an end when he was just 31 years old.
16. Derrek Lee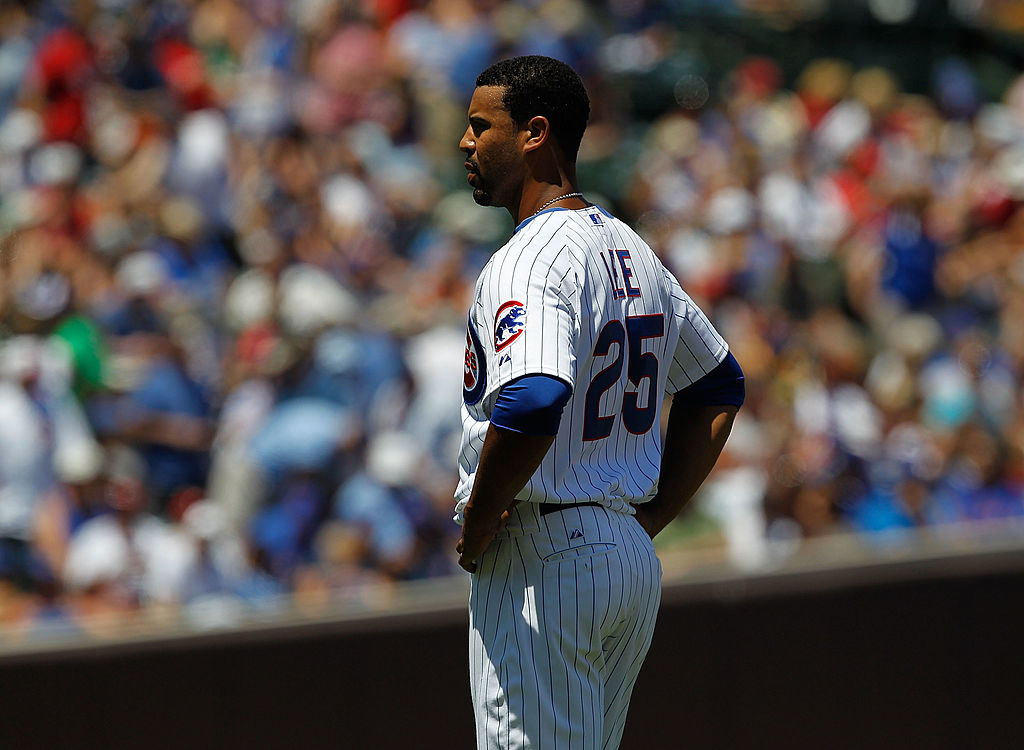 After losing the 2003 NLCS to the Florida Marlins, the Cubs made a deal to acquire one of the players from that very team — first baseman Derrek Lee. He played seven years in a Cubs uniform, putting together one of the greatest offensive seasons of recent memory in 2005 when he hit .335 with 46 home runs and a 7.7 WAR. A wrist injury in 2006 really took a toll on his power stroke, but Lee ended up being one of the better first baseman in Cubs history by the time he left in 2010.
17. Andy Pafko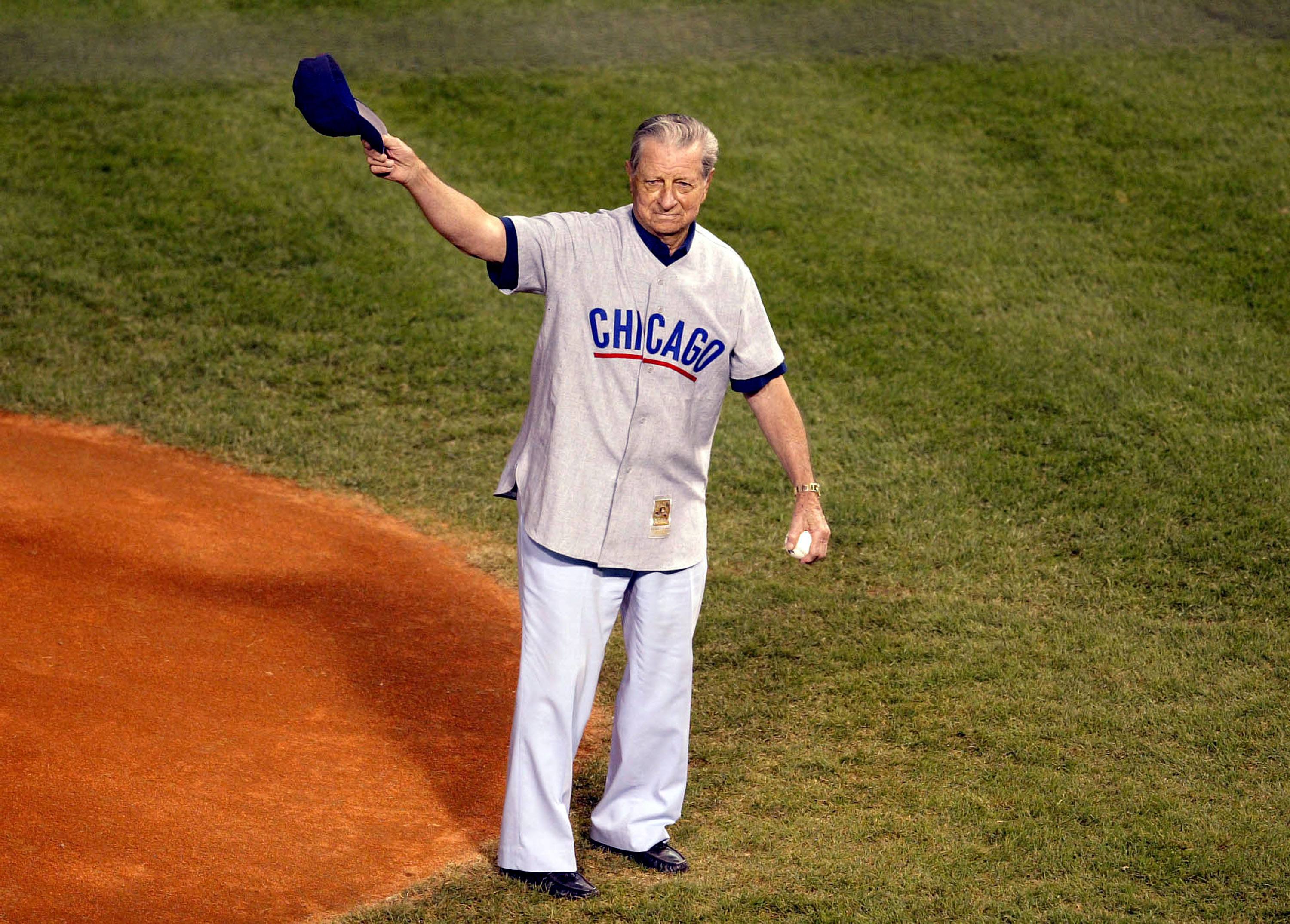 Outfielder Andy Pafko started his Cubs career as a 22-year-old in 1943. Hecame in fourth in the MVP voting in 1945, after helping lead the team to the World Series against the Detroit Tigers. Pafko made four consecutive All-Star teams from 1947-1950 and finished his nine-year career with the Cubs with a .829 OPS and 27.2 WAR. He was the last living member of a Cubs team that had played in the World Series until his death in October 2013, at the age of 92.
18. Bob Rush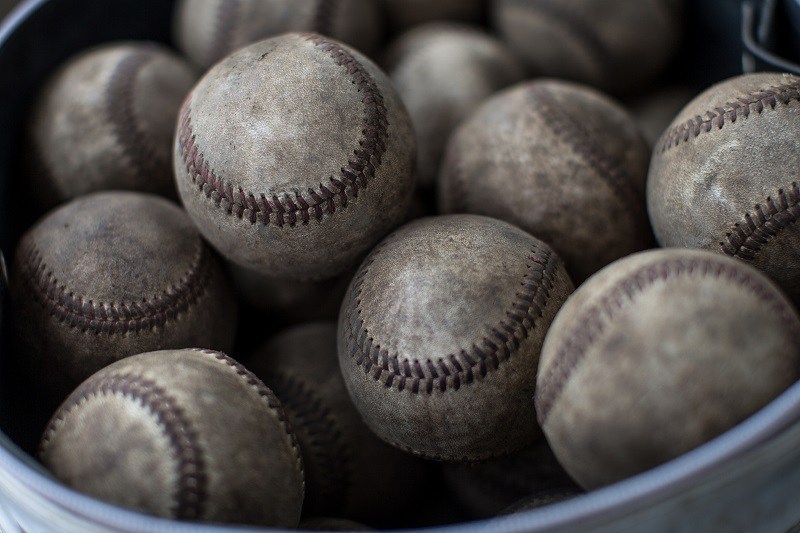 A right-handed starter in the late 1940s and '50s, Bob Rush was one of the more consistent starters the Cubs have ever had. He topped 200 innings in eight of nine years from 1949-1957, putting together a 3.69 ERA during that stretch in 1,999 1/3 innings pitched. He made two All-Star teams in his tenure with the Cubs, including his best season in which he had a 2.70 ERA in 250 1/3 innings pitched in 1952.
19. Aramis Ramirez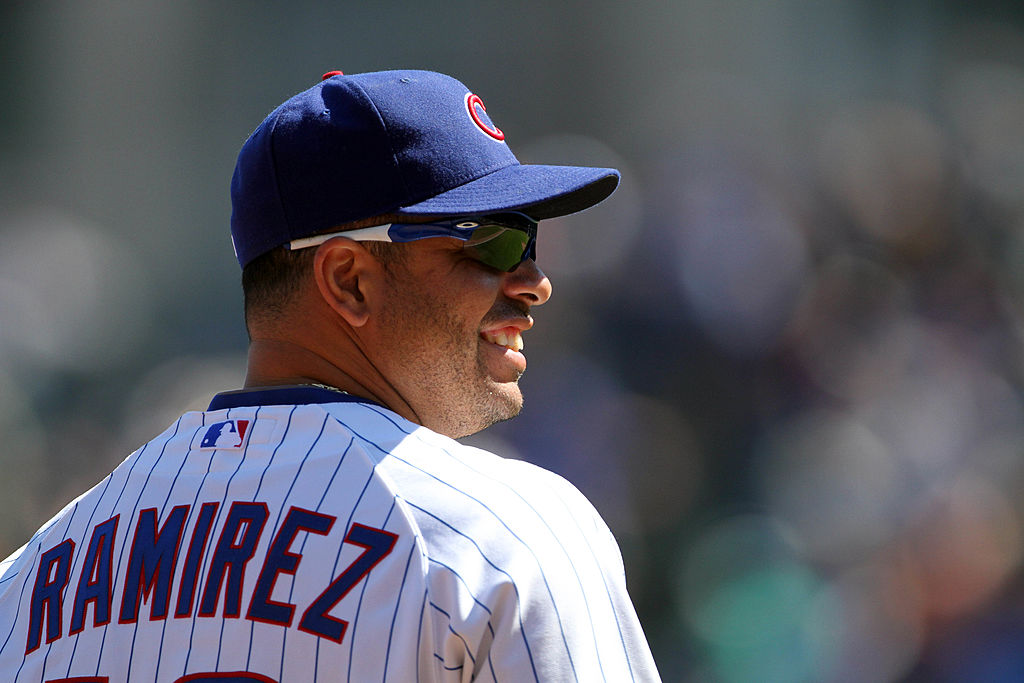 The Cubs made a deadline deal in 2003 to help them get to the postseason, but it would really end up bringing them one of the best players they've had in recent memory. 23-year-old third baseman Aramis Ramirez was in that deal, and in nine years with the team he'd hit for a .887 OPS, 239 home runs, and 23.8 WAR. Ramirez was part of three playoff teams in Chicago, hitting well in '03 — he had three homers against the Florida Marlins in the NLCS.
20. Greg Maddux
Hall of Fame pitcher Greg Maddux is best remembered for his time with the Atlanta Braves, but he actually spent 10 seasons in a Cubs uniform as well. He started his career with the team, winning his first Cy Young Award in Chicago back in 1992. After 11 seasons with the Braves, he returned to Chicago for a final go-round with the Cubs, pitching in part of three more seasons. Overall, he had a 3.61 ERA in 2,016 innings as a Cub, knocking down 133 of his 355 career wins.
21. Mark Grace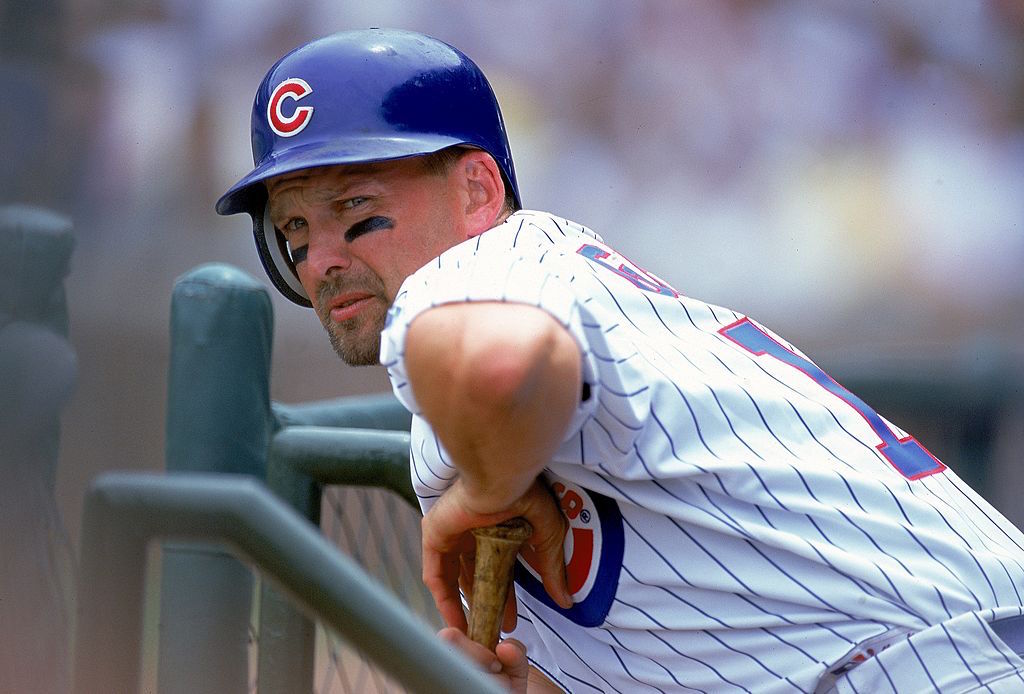 First baseman Mark Grace was never a big power hitter, but he was an excellent player for the Cubs in the 1990s. His best season came in 1995, when he led the National League with 51 doubles and had a .911 OPS. He made three All-Star teams with the Cubs, won four Gold Gloves, and played in the postseason twice. After his career in Chicago ended in 2000, he moved on to play for the Arizona Diamondbacks and won a World Series in 2001. He finished his career with a .308 batting average and .386 OBP in a Cubs uniform.
22. Rick Reuschel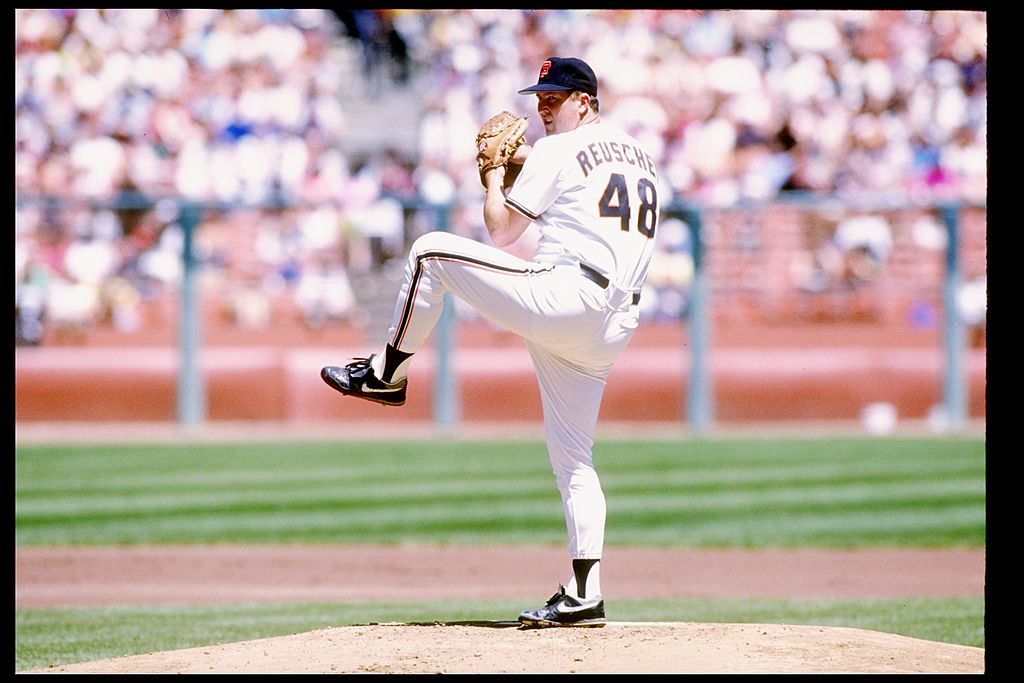 Right-handed starter Rick Reuschel wasn't ever the kind of guy you considered one of the best pitchers in the game, but he was consistently good for the Cubs in the 1970s and early '80s. In nine seasons, from 1972-1980, Reuschel totaled 2,091 1/3 innings with a 3.43 ERA and 63 complete games. His best year came in his only All-Star season in a Cubs uniform, when he had a 2.79 ERA in 252 innings in 1977. He played 12 total seasons in a Cubs uniform, compiling 48.1 WAR with the franchise.
23. Billy Williams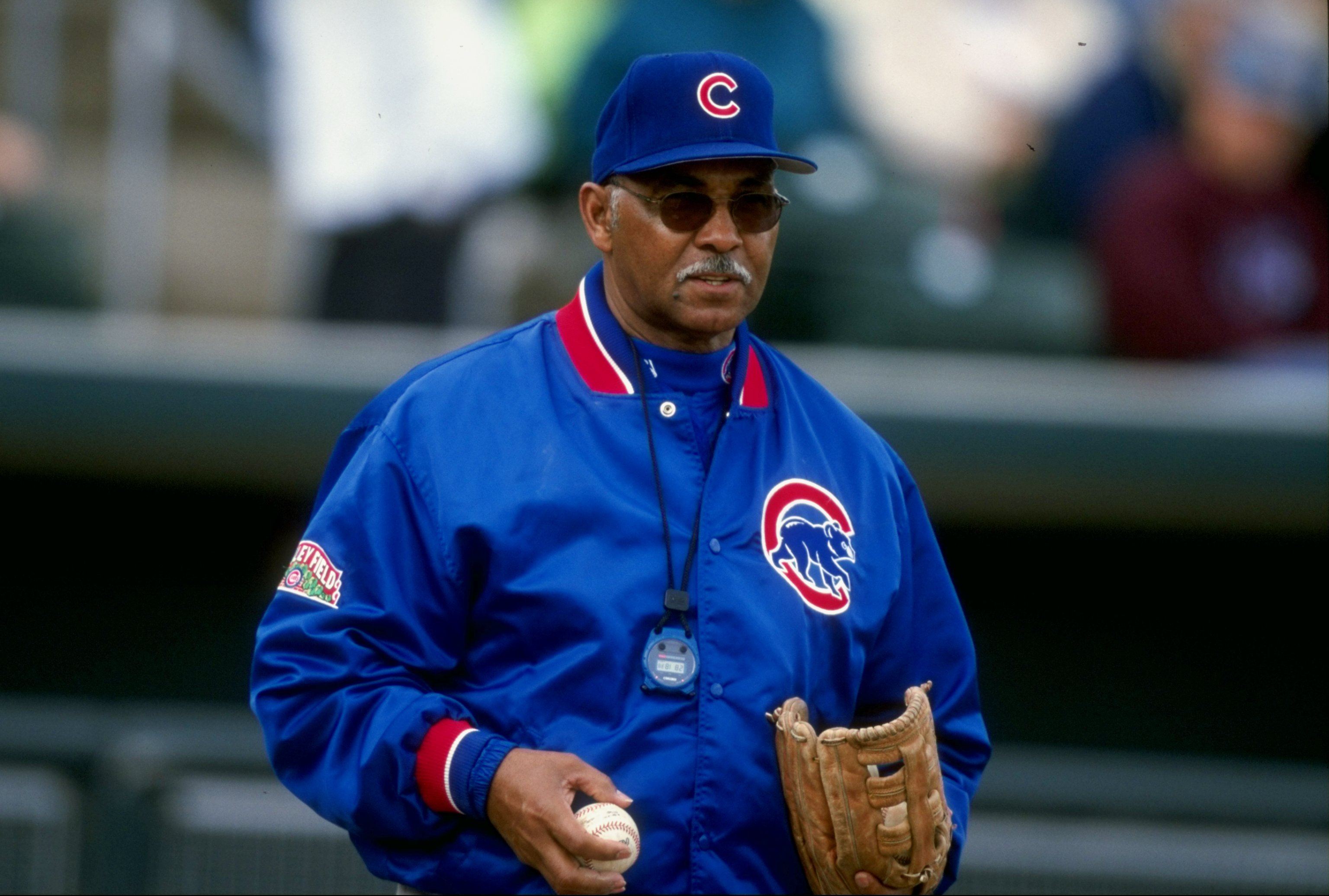 Sweet-swingin' Billy Williams came up with the Cubs in 1959 as an outfielder. He took over a starting role on the team in 1961 and won the National League Rookie of the Year. He quickly developed into one of the best hitters on the team, making six All-Star teams in 16 seasons with the Cubs and clubbing 392 home runs. His best season came in 1972 when he led the league with a 1.005 OPS. Williams is in the Hall of Fame and the Cubs retired his number 26 uniform.
24. Sammy Sosa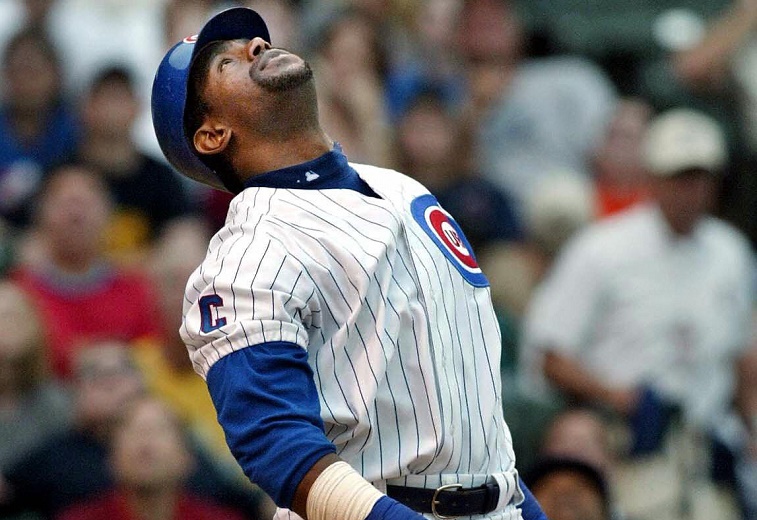 The Cubs acquired outfielder Sammy Sosa in a deal with the White Sox in 1992, and he developed into one of the best hitters on the team fairly quickly. It wasn't until 1998 that he became a true star, hitting 66 home runs that year. Sosa is the only player in the history of the game to hit 60 or more homers three separate times. He was traded after the 2004 season to the Baltimore Orioles after a falling out and he finished his 13-year Cubs career with 545 home runs.
25. Ryne Sandberg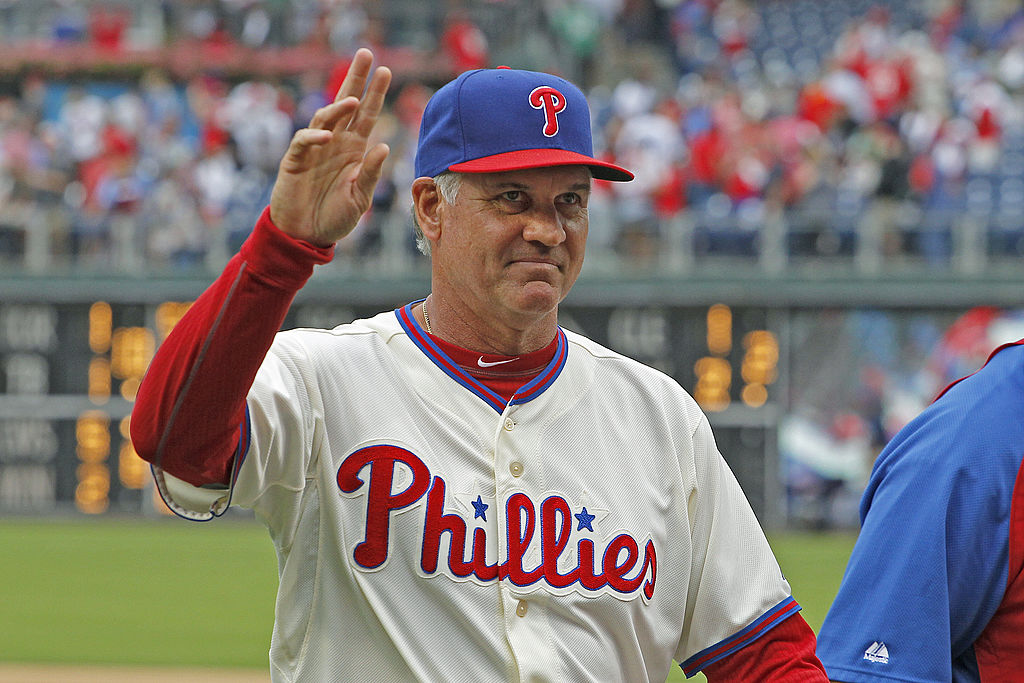 One of the very best second basemen to ever play the game, Ryne Sandberg is a Cubs legend. He won the National League MVP in 1984 as a 24-year-old and made the first of 10 consecutive All-Star games that year. Sandberg won nine Gold Gloves at his position during his time with the Cubs and hit 282 career home runs. He retired in the middle of the 1994 season while dealing with personal problems, but returned to the field to play two final years with the Cubs in 1996 and 1997.
26. Fergie Jenkins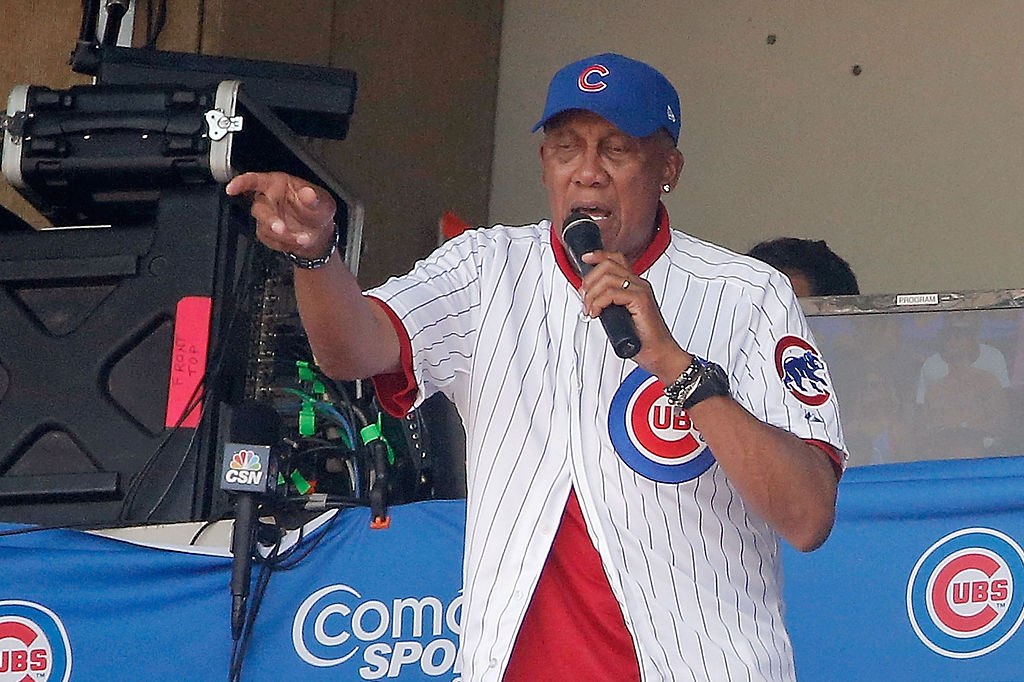 The Cubs acquired pitcher Fergie Jenkins from the Philadelphia Phillies when he was 23 years old and watched him transform into one of the best pitchers of his generation. In 10 total seasons with the Cubs, Jenkins had a 3.20 ERA in 2,673 innings, but his best seasons were greater than that number would appear. He had a 2.63 ERA in 308 innings in 1968 and a 2.77 ERA in 325 innings in 1971, winning his only Cy Young Award in the latter season.
27. Ernie Banks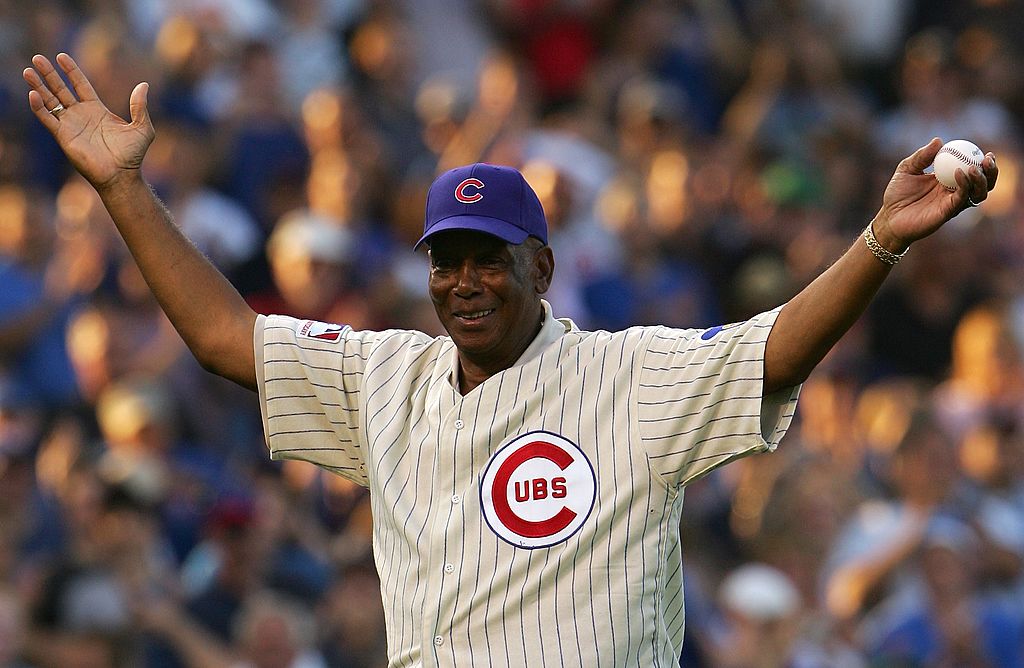 Known as "Mr. Cub," shortstop and first baseman Ernie Banks is one of the most iconic players in the history of the franchise. He played all of his 19 seasons with the Cubs, hitting 512 career home runs and winning back-to-back MVP awards in 1958 and '59. He finished his career in 1971 at the age of 40 with 67.4 career WAR, and he remained beloved among Cubs fans until his death at the age of 83 in January 2015.
28. Ron Santo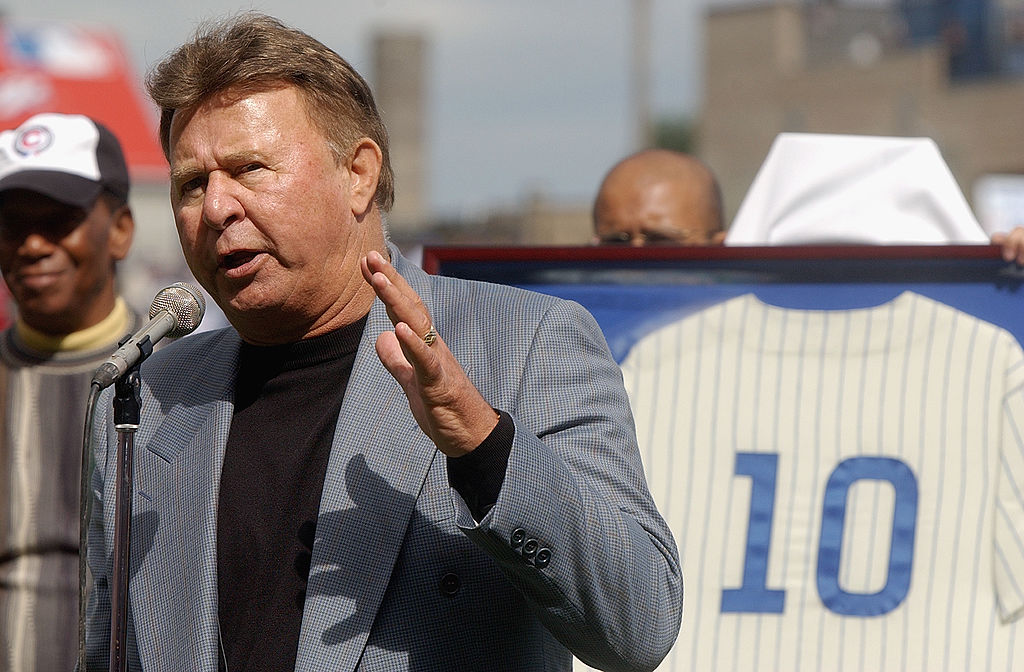 Ron Santo might've been better known by the younger generation as the broadcaster on the radio with Pat Hughes until his passing in December 2010, the third baseman was outstanding in all aspects of the game. Santo hit for a .904 OPS during his prime from 1963-1967. He won five Gold Gloves in his career and totaled 72 WAR in his 14 seasons in a Cubs uniform. The best season of Santo's career came in 1964, when he had 30 home runs, a .962 OPS, and 8.4 WAR. He was finally inducted into the Hall of Fame in 2012.
Statistics courtesy of ESPN and Baseball-Reference.