5 Greatest Head Coaches in Texas Longhorns History
The 2016 college football season is still going on, yet we can't help but turn our attention to the impending head-coaching carousel. Thanks to less-than-stellar performances by many of the nation's big-name programs, top coaching positions are either available for the taking or heading toward a potential vacancy. And already, the first — if not the biggest — domino has fallen.
After two successful seasons as the Houston Cougars head coach, Tom Herman has decided to leave his post and take his talents to the University of Texas. In a statement, Herman had this to say about becoming the next Longhorns head coach:
The opportunity to come back to Texas is a dream come true for me and my family, and I can't thank President [Greg] Fenves and [athletic director] Mike Perrin enough for providing me with this incredible opportunity. Longhorn football has been — and always will be — a national power, winning and playing for national championships with great pride and passion, supported by an unbelievable fan base.
You can't fault Herman for seizing this opportunity. Aside from his obvious history with the program, the coaching gig at Texas is easily one of the top positions in all of coaching football. Of course, it's safe to that "with great power comes great responsibility." That and the immense pressure and lofty expectations that come with this particular job.
Houston is a solid program, but it's not UT — not even close. Herman will be under the microscope from the onset. He'll have boosters breathing down his neck and diehard fans calling for his head if he can't turn the team around. Forget about the last couple of seasons — the Longhorns have a rich tradition of excellence and a history of coaches who have brought pride and success to the university. Should Herman hope to become the next great coaching legend at the University Texas, these are the five names he'll need to emulate, ranked.
5. Berry Whitaker
Berry Whitaker coached the Texas Longhorns from 1920-22, putting together one of the most successful runs in school history. In his first year on the job, Whitaker led the team to a 9-0 mark and the Southwest Conference (SWC) crown. He followed that campaign up with a 6-1-1 record in 1921 and a 7-2 mark in 1922. Whitaker left the position with an impressive 22-3-1 record and one of the top winning percentages (.865) ever compiled by a Longhorns head coach.
4. Blair Cherry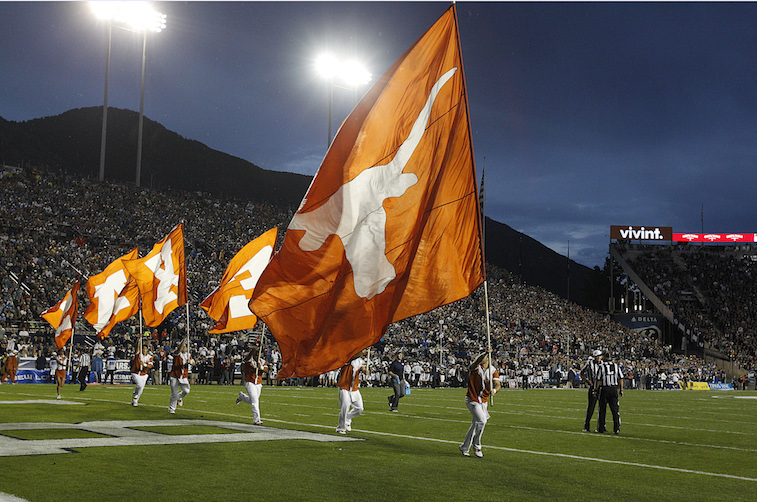 As the Longhorns football coach from 1947-1950, Blair Cherry helped the program remain among the college football elite. In his four seasons on the job, Cherry compiled a 32-10-1 record, a .756 winning percentage, and went 2-1 in bowl games. Under his guidance, the Longhorns twice finished the season ranked in the top 5 of the AP poll: No. 5 in 1947 and No. 3 in 1950
3. Dana X. Bible
Although the Texas Longhorns struggled during Dana Bible's first two seasons on the job, the legendary head coach quickly turned things around. From 1937-46, Bible compiled a record of 63-31-3, a winning percentage of .665, and finished 2-0-1 in three Cotton Bowl appearances. For his efforts, Bible was inducted into the College Football Hall of Fame 1951 as well as the Longhorn Hall of Honor in 1960.
2. Mack Brown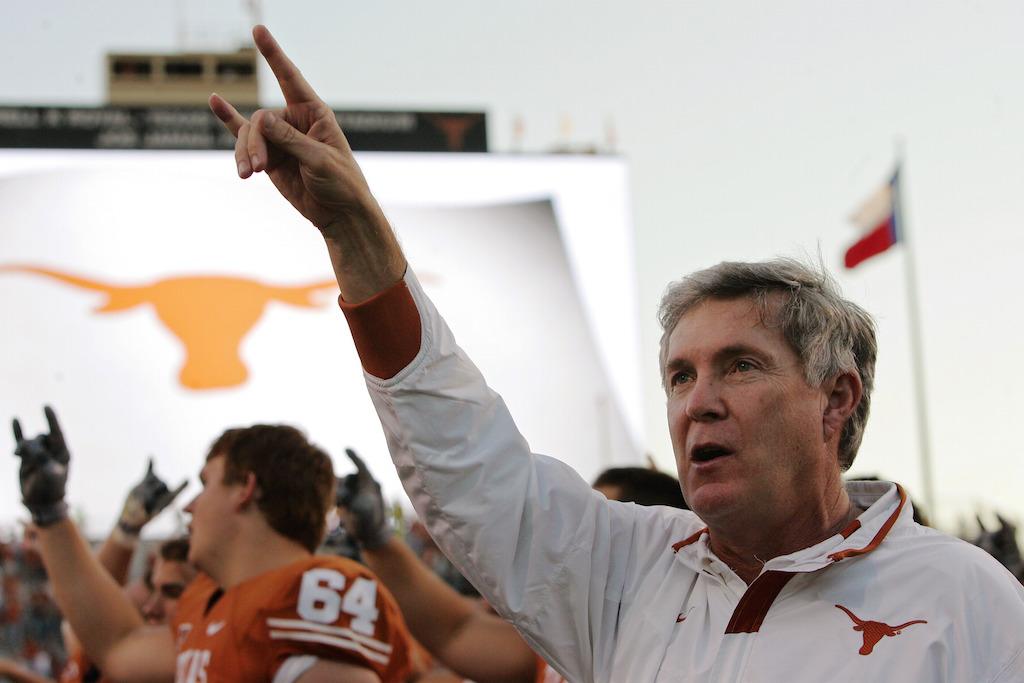 If you're a college football fan, then you know how instrumental Mack Brown was to the success of the Texas Longhorns football program. During his 16 seasons (1998–2013) as the team's head coach, the Longhorns went 158-48 (.767 winning percentage), finished with nine double-digit win seasons, and went 10-5 in bowl games, including two Rose Bowl wins, a Fiesta Bowl victory, and the 2005 BCS National Championship. As it stands, Brown remains one of the winningest coaches in college football history.
1. Darrell K. Royal
Texas Longhorns football is Darrell K. Royal. From 1957–1976, the legendary coach compiled 167 victories (the most in school history), amassed a .774 winning percentage, led the Longhorns to three national championships, and never had a losing season on the job. There's a simple explanation for why Texas' football stadium is named after him — he was the best.
Statistics courtesy of SR/College Football, ESPN, and TexasSports.com.