The 10 Greatest NBA Nicknames of All Time
What's in a name? To a man, earning a transcendent nickname is a literal rite of passage during the journey from raw athlete to living legend and global icon. The best NBA nicknames of all time, of course, are driven by consistently spectacular on-court play — to the point where millions identify with a player on a first name basis.
From here, the legend can even work to establish his own brand, and ultimately, his empire, as he reigns supreme above loyal fans and corporate sponsors. Here are the 10 greatest NBA nicknames of all time.
10. The Mailman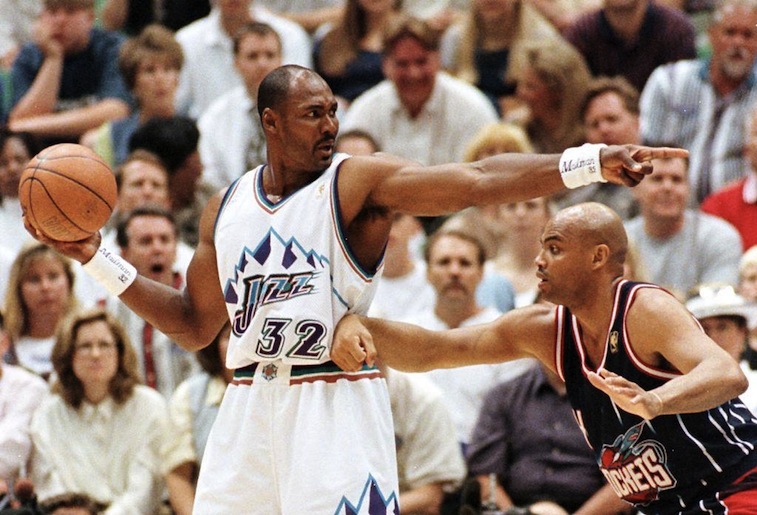 The Mailman always delivers come rain, shine, sleet, or snow. As a model of consistency, Karl Malone dropped 25 points and 10 rebounds per game over the course of 19 NBA seasons. As part of this run, the durable Malone started all 82 games through 10 separate seasons.
At 39, Malone started 81 games and still rang up 21 points, eight boards, and five assists each contest for the Utah Jazz. In all, The Mailman racked up 36,928 total points, good for second of all time behind Kareem Abdul-Jabbar. Malone, of course, was at his best working out of the pick-and-roll with John Stockton, who tallied 15,806 career assists in his own right.
As a physical specimen, Malone could establish position with ease and was a load on the low block. After forcing the defense to commit, the Mailman would often pop out into space, and was all but automatic to knock down mid-range jump shots. Still, The Mailman nickname degenerated into something of an albatross to the mocked during the postseason.
In Game 1 on of the 1997 NBA Finals, Scottie Pippen reminded Malone that the Mailman does not deliver on Sundays, before the big man clanged two free throws off the back of the rim. Moments later, on the opposite side of the floor, Michael Jordan hit the game-winning shot to seize control of the series.
One year later, the Mailman relived this nightmare, after being stripped by Jordan beneath his own basket. From there, MJ crossed over Byron Russell from right to left, before hitting another dagger and winning his sixth championship. Apparently, this Mailman only delivered during the regular season.
9. The Ice Man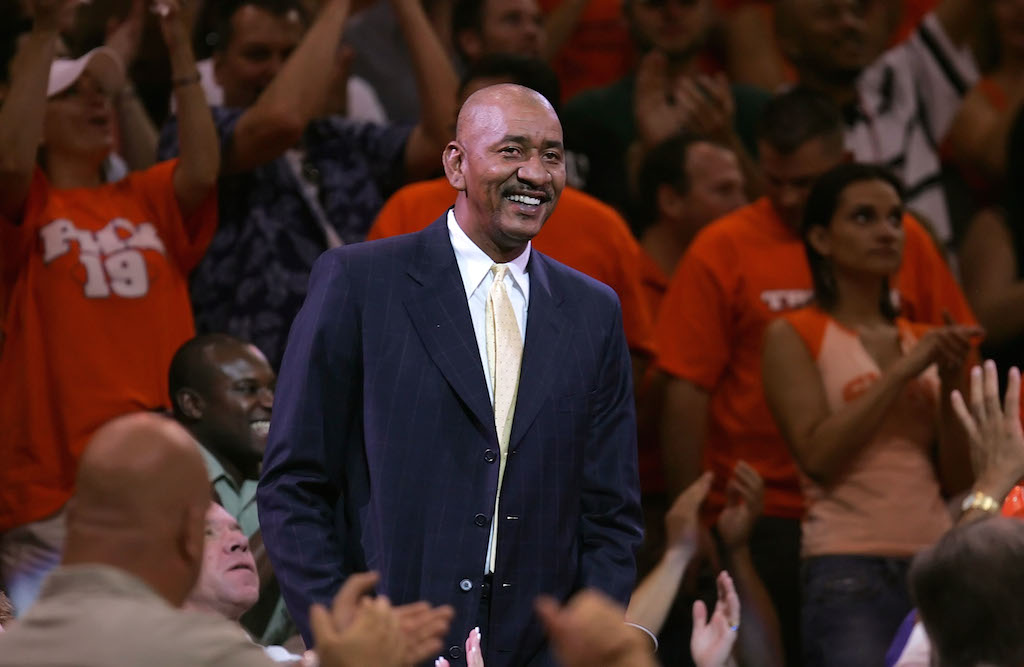 George "The Iceman" Gervin could finger roll. As the epitome of 1970s cool, the Ice Man was a smooth scorer who never appeared hurried on drives to the hoop. At any moment, Gervin could get hot from the outside to loosen up the defense, before working his way inside for easy scores.
The Ice Man would effortlessly drop 30 — without breaking a sweat. As a pioneer, he ultimately meshed ABA showmanship with NBA professionalism. Gervin, as a San Antonio Spur, led the NBA in scoring four out of the five seasons spanning between 1978 and 1982.
In 1980, Gervin filled it up for a career-high 33 points per game. In all, the calm, cool, and collected Iceman dropped in 25 points per game over the course of 14 professional seasons.
8. The Glove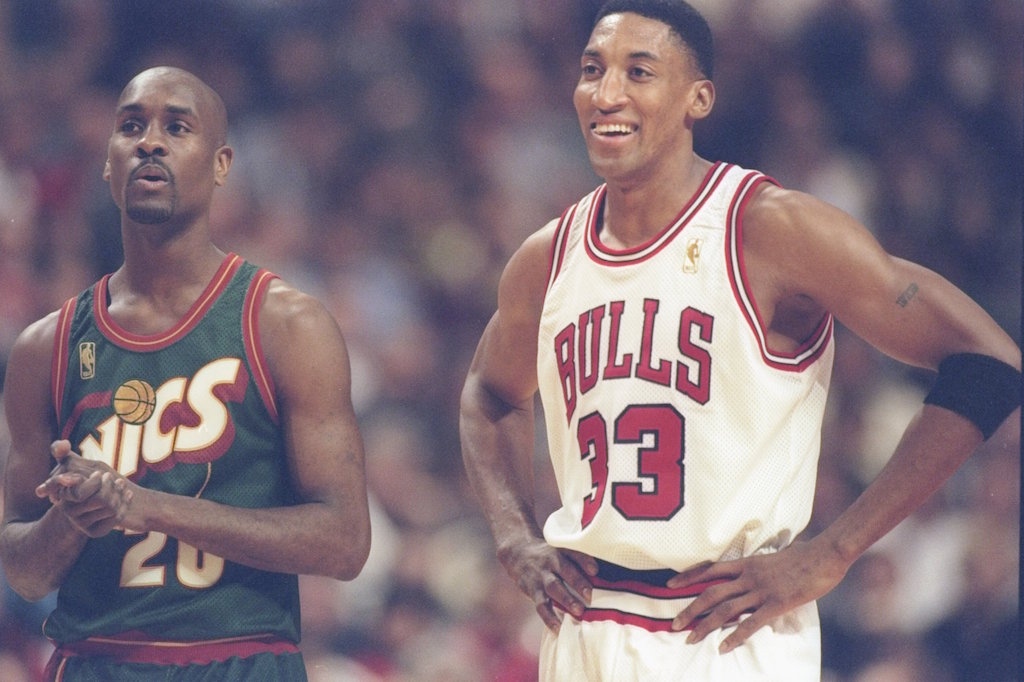 Gary Payton is often cited as the greatest defensive point guard of all time. GP earned his nickname, The Glove, for his ability to shut down the likes of John Stockton, Steve Nash, Tim Hardaway, and Kevin Johnson out of the Western Conference.
As the ultimate ballhawk, Payton featured a toolbox of wiry strength, quick hands, and non-stop trash talk to intimidate opponents, fight for position, and own the passing lanes. For his part, The Glove came up with 2,445 steals over 17 seasons.
In the 1996 NBA Finals, he hounded the Great Michael Jordan into subpar 23-, 26-, and 22-point performances, after coach George Karl made the switch and gave The Glove this assignment. In Game 1 of those NBA Finals, GP came up with the strip against Jordan, outraced him down the floor, and threw down a tomahawk jam, before turning back down-court to jaw at his Airness.
Last February, Payton returned to a standing ovation at his alma mater, Oregon State, before settling in to watch Gary Payton II play his last home game on senior night. The Mitten came out wearing his father's retired No. 20 jersey and filled up the stat sheet with 13 points, eight assists, seven rebounds, and, of course, two steals.
7. Pistol Pete
"Pistol" Pete Maravich was one of the most prolific scorers in the history of basketball. Maravich first made a name for himself as a sophomore at LSU (freshman were ineligible), where the coach's son torched defenses for 44 points per game. From there, Maravich went on to close out his three-year varsity career averaging 44 points per game — without the benefit of a three-point line.
Vintage Pistol Pete would throw on a pair of droopy, gray socks, before casually stepping onto the floor, taking an outlet pass, crossing over between the legs, going behind the back, and raining in a deep jump-shot from the wing. As a showman, he electrified crowds at all levels and took the scoring crown in 1977, when he torched defenses for 31 points per game.
Critics, however, have repeatedly ripped Pistol Pete as an unabashed gunner, who "failed to make his teammates better." He did lead the league in field goal attempts twice and was a 44% career shooter. These numbers would make the Black Mamba proud.
6. Penny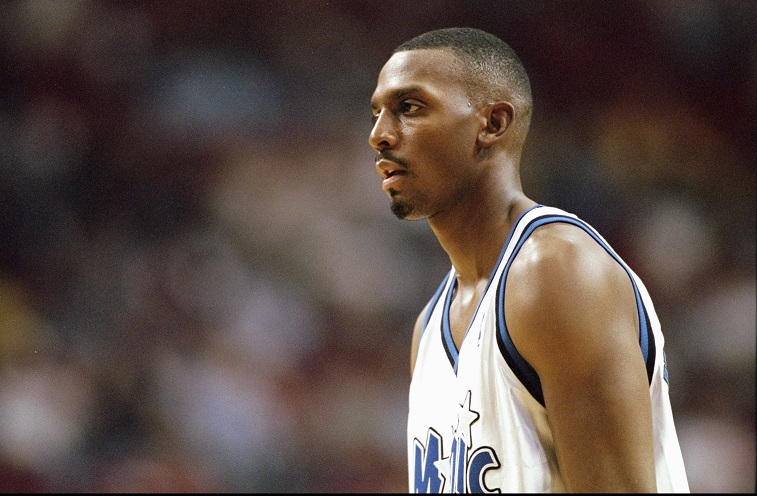 In her Memphis drawl, Louise Hardaway would often refer to her grandson as "pretty." The neighborhood kids, however, mistook the drawl for "Penny," and unwittingly laid the groundwork for one of the more successful marketing campaigns in the history of sports.
In 1993, Golden State and Orlando swapped draft rights for Chris Webber and Anfernee Deon "Penny" Hardaway, right before Penny traded in his college No. 25 for his trademark No. 1 jersey. Penny teamed up with a young Shaquille O'Neal as the most devastating inside-out combination in the league at that time.
The comparison to Magic and Kareem began immediately. By his sophomore season, Penny was putting up 21 points, while hauling in four rebounds and dishing out seven assists per game. Meanwhile, Shaq was emerging as an unstoppable force, dominating the interior for 30 and 11.
This young Magic squad even gave Jordan fits, as they dispatched the Bulls 4-2 in the 1995 Eastern Conference Finals. This miracle run, however, proved to be short-lived. The Magic were swept out of the 1995 NBA Finals, before a reinvigorated Jordan swept them out of the Eastern Conference Finals the following season. From there, O'Neal moved on to greener pastures in LA, right before Penny Hardaway's body began to fall apart.
5. Dr. J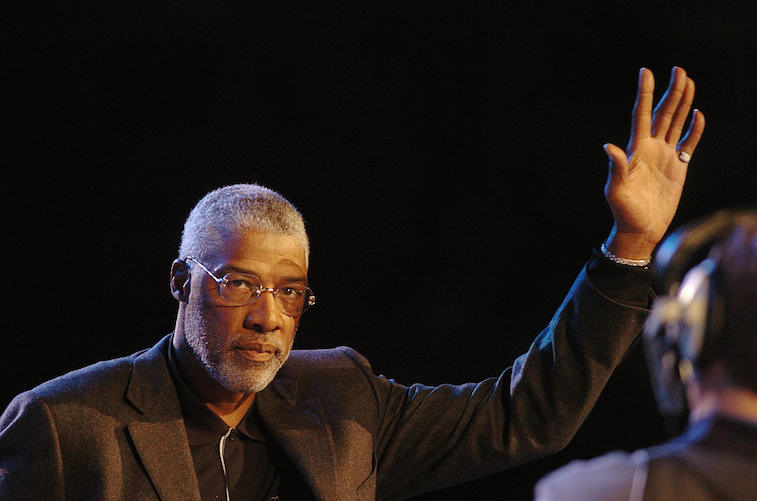 Julius Erving anointed himself the good Doctor, creating his own nickname on the playgrounds of New York City after sifting through numerous attempts to classify his high-wire act into one single catchphrase. As an icon, Dr. J was the first superstar to successfully integrate his street-ball style within the professional ranks.
With time, basketball junkies have become familiar with various images of Dr. J and his well-coiffed hair taking flight from the foul line, wrapping around the basket support to finger roll, or going Rock-a-Bye Baby to throw down a cradle dunk over Michael Cooper in transition.
Aside from the acrobatics, Julius Erving was a fundamentally-sound basketball player, who put up 24 points, nine rebounds, and four assists per game through 16 professional seasons. In 1983, Dr. J headlined a stacked Philadelphia club that went 65-17, before ripping through the postseason at 12-1 and claiming the NBA championship.
From here, Erving grudgingly handed the Eastern Conference torch over to Larry Bird, aka the Hick from French Lick.
4. Shaq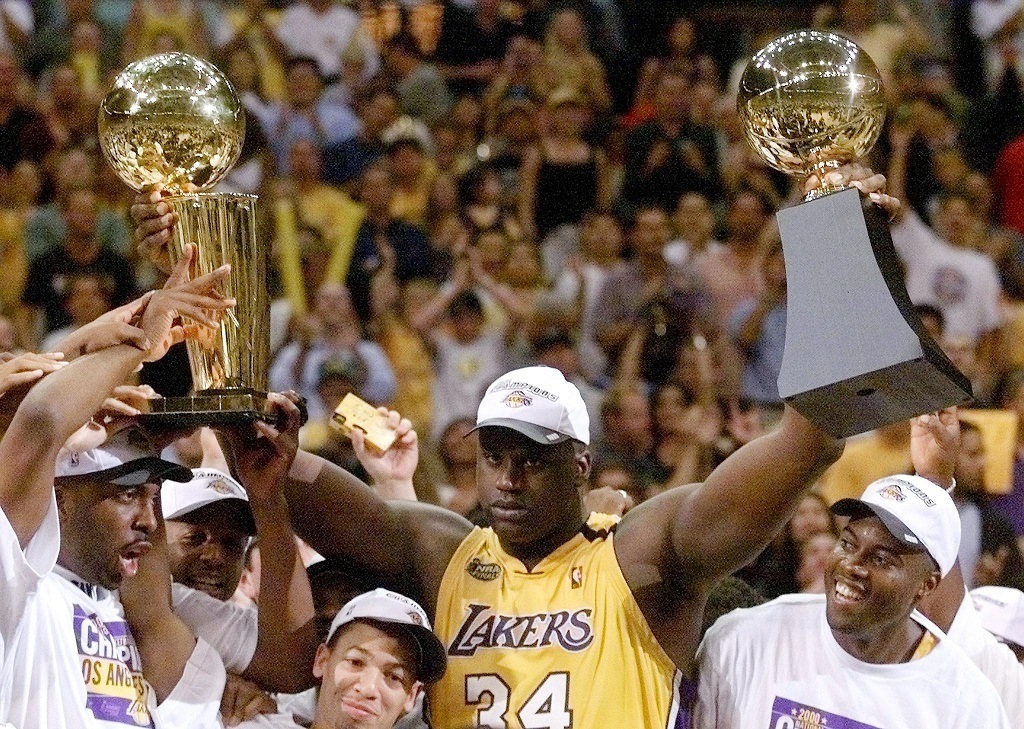 In shorthand, Shaq was the perfect shorthand descriptor for a 7-foot-1, 325-pound center. As an immovable object, Shaquille O'Neal would simply camp out in front of the basket, take in entry passes, gather himself, and overpower the defense with explosive dunks right at the front of the rim.
As a young star in Orlando, Shaq made a name for himself as a must-see-event after repeatedly tearing down entire basket supports. With time, he integrated spin and drop-step moves within his arsenal, to further torment the opposition. After leaving Orlando, O'Neal ultimately joined forces with Kobe Bryant in Los Angeles.
This duo won three consecutive titles together between 2000 and 2002. This original LA cast of characters featured the likes of Shaq, Kobe, Big Shot Rob, and Phil Jackson, before management went on to sign the aforementioned Glove and Mailman, who were then chasing rings at the ends of their respective careers.
This high-drama experiment, however, proved disastrous, with Kobe and Shaq battling for control over the team, while Malone apparently made a pass at Vanessa Bryant. Ultimately, Lakers brass sided with the younger Bryant, and Shaq moved on to Miami, where he joined forces with Dwyane Wade to win one more championship.
Today, Shaq's nickname and legacy live on, in the form of "Hack-a-Shack," or an intentional foul against an unstoppable big man who struggles at the charity stripe. O'Neal was a 53% free-throw shooter and every trip to the line was an adventure.
3. Magic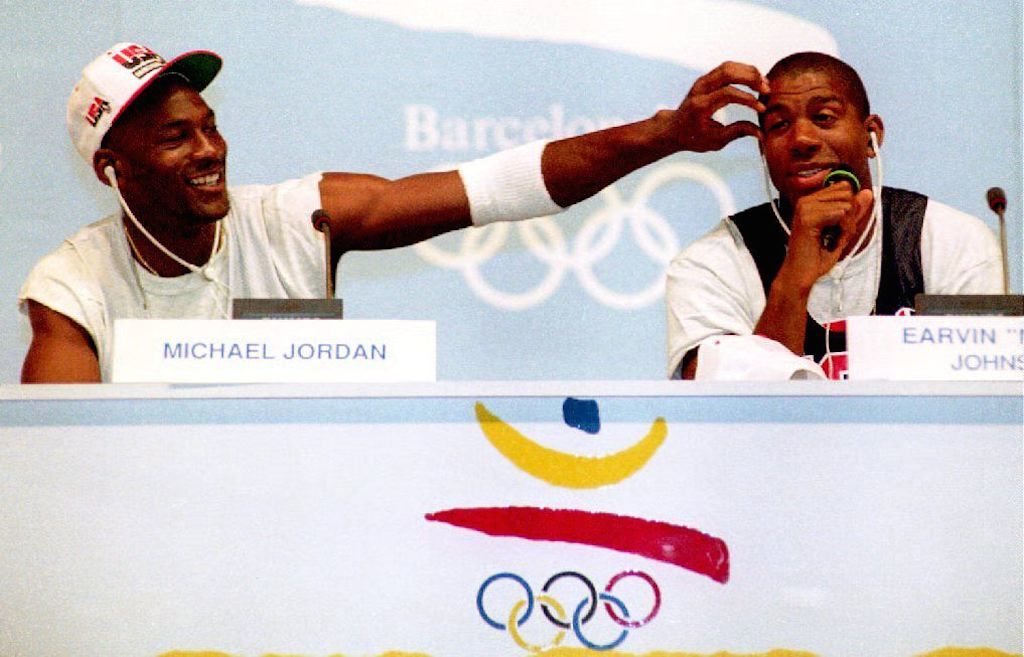 Magic Johnson, at 6-foot-9, was the rare athlete that could perform at all five positions at an All-Star level. As a rookie, Magic subbed in for a hobbled Kareem Abdul-Jabaar at center, and lit up the Philadelphia 76ers in Game 6 of the 1980 Finals for 42 points, 15 rebounds, and seven assists.
After claiming Finals MVP honors, Johnson claimed five more titles as a Laker. The Magic Man simply defied the laws of physics. As the focal point for Showtime, he was a one-man fast break who would crash the boards, control the basketball, and push the tempo.
In the open floor, Magic would appear to have eyes at the back of his head to thread the needle through impossible angles to the likes of James Worthy, Byron Scott, and A.C. Green for easy scores.
Magic's radiant smile, uptempo style, and megawatt personality were the perfect fit for Hollywood, where the Lakers were a must-see event. This marquee showmanship emerged as the perfect contrast for a classic rivalry against Larry Bird and his gritty Boston Celtics.
2. King James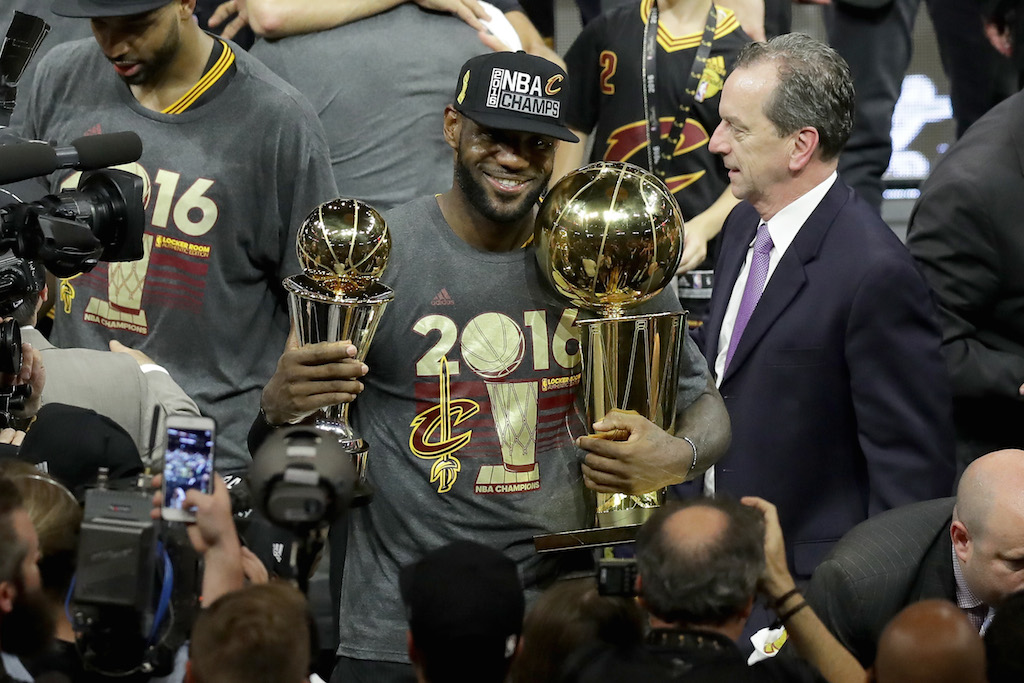 LeBron James wore a "Chosen One" tattoo as early as high school, when he had already been anointed as The King. As a high school senior out of Akron, Ohio, his games were already televised to national audiences on ESPN.
From there, in biblical fashion, King James was immediately crowned as the savior of his hometown franchise when the Cleveland Cavaliers were awarded with the first overall pick in the 2003 NBA Draft. Like Lew Alcindor before him, LeBron James proved to be the real deal and immediately dominated all phases of the game.
By his second season as a professional, James was filling up the stat sheet for 27-7-7; he was league MVP by the age of 24. In 2010, James broke the collective heart of the Cleveland faithful with The Decision to take his game to South Beach and team up with Dwyane Wade and Chris Bosh.
LeBron James won two titles with the Miami Heat, while his old No. 23 Cavaliers jersey burned in the streets of Cleveland. After four years in Miami, James shocked the world again, and announced that he was coming back home, with the sole intent of bringing championship hardware back to Northeast Ohio after a 52-year spell.
The King, earlier this month, made good upon this promise, while also vanquishing Stephen Curry, his apparent heir to the throne, in the 2016 NBA Finals.
1. Air Jordan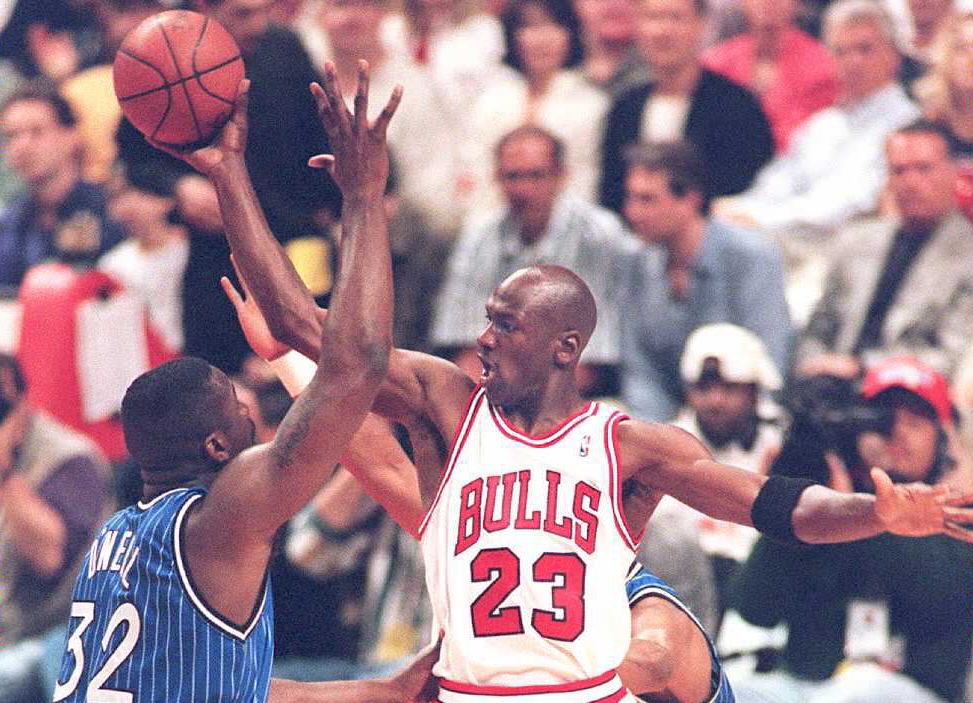 Jordan announced to the world that he could fly, in winning back-to-back slam-dunk titles in 1987 and 1988. To take both events, Michael wore his signature Air Jordan shoes and stared down a heated challenge from Dominique Wilkins, with an array of windmill, cradle, and kiss-the-rim jams.
The image of MJ taking off from the top of the key still graces his multibillion dollar shoe line and greets all visitors to the United Center in Chicago. With time, Jordan added a deadly jump shot, crafty post game, timely playmaking, and tenacious defense to his high-flying acrobatics.
Jordan, after finally dispatching of the Bad Boy Pistons, went on to win six NBA championships. These Finals moments were punctuated by Jordan taking flight and switching hands against the Lakers, burying six three-pointers against the Blazers in the first half, and clearing out space against Byron Russell to nail a game-winning shot at the elbow in Utah.
Air Jordan will forever be associated with basketball Nirvana. Larry Bird, in awe, once compared Jordan to God playing basketball. It's gotta be the shoes.
Statistics courtesy of ESPN and Basketball-Reference.