The 15 Greatest NFL Linebackers of All Time
At the start of any given play, NFL linebackers stand ready near the line of scrimmage, run full speed ahead at the snap of the football, and tee off on any opponent who dares to cross their paths. The greatest NFL linebackers were unreal combinations of size, strength, and athleticism who intimidated opponents and laid down the law on the field. Throughout its history, the NFL has seen many great individuals at the linebacker position. However, in our opinion, these 15 players stand out from the rest.
We'll start with the most retirees as we count down to No. 1. These men played in different eras, but they're all Hall of Fame players (including the men at Nos. 5 and 4 who dominated at the same time).
15. Ray Lewis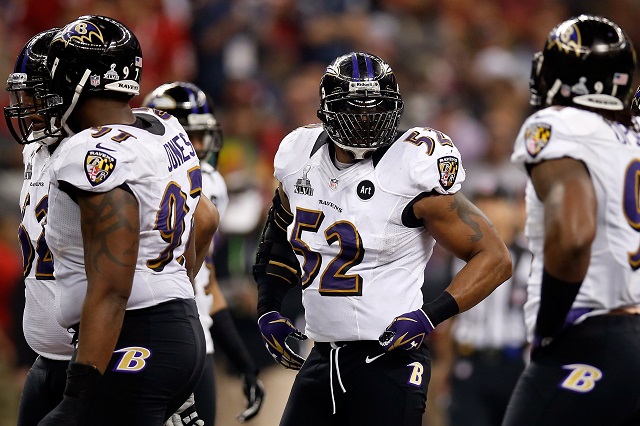 Retired: 2013
Ray Lewis was a machine. In Baltimore, he was the traditional centerpiece for a Ravens franchise that has prided itself on stout defense. At 6-foot-1 and 250 pounds, Lewis was arguably the most physically gifted linebacker to ever suit up in the NFL. He was unblockable in the box and ran downhill to punish running backs in the hole.
Lewis was a defensive coordinator in a linebacker's body. Through careful study, he was always one step ahead of the competition. In the clutch, he rose to the occasion to diagnose plays, stuff the run, bat down passes, and get stops.
In 2000, Lewis willed the Baltimore Ravens to their first Super Bowl win by limiting opponents to a measly 10 points per game. In 2012, Lewis's career ended with a 34-31 victory over the San Francisco 49ers in Super Bowl XLVII.
Next: He made a lot of opponents say 'Ow.'
14. Junior Seau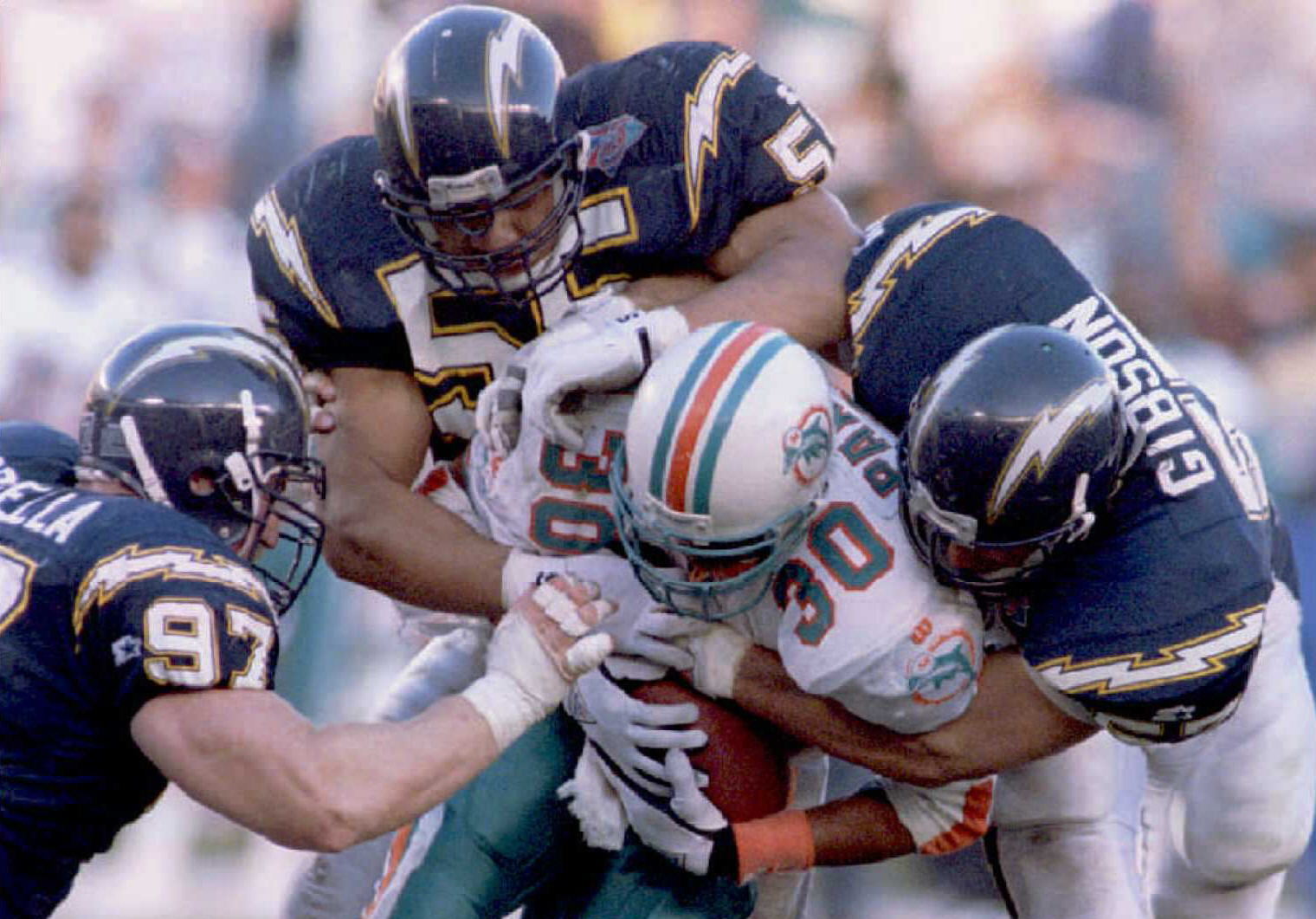 Retired: 2009
The late Junior Seau was the reason that USC went on to supplant Penn State as Linebacker U. for today's generation of football fans. In San Diego, Chargers fans delightfully exclaimed that Junior made opponents say "ow" at the point of attack. With his speed and anticipation, Seau was a tackling machine who went on to record more than 100 tackles in six consecutive seasons between 1991 and 1996. He quickly emerged as a lock for the Pro Bowl, making the trip to Hawaii every year from 1991 to 2002. He entered the Hall of Fame in 2015.
Next: One of the best players in his team's history.
13. Derrick Brooks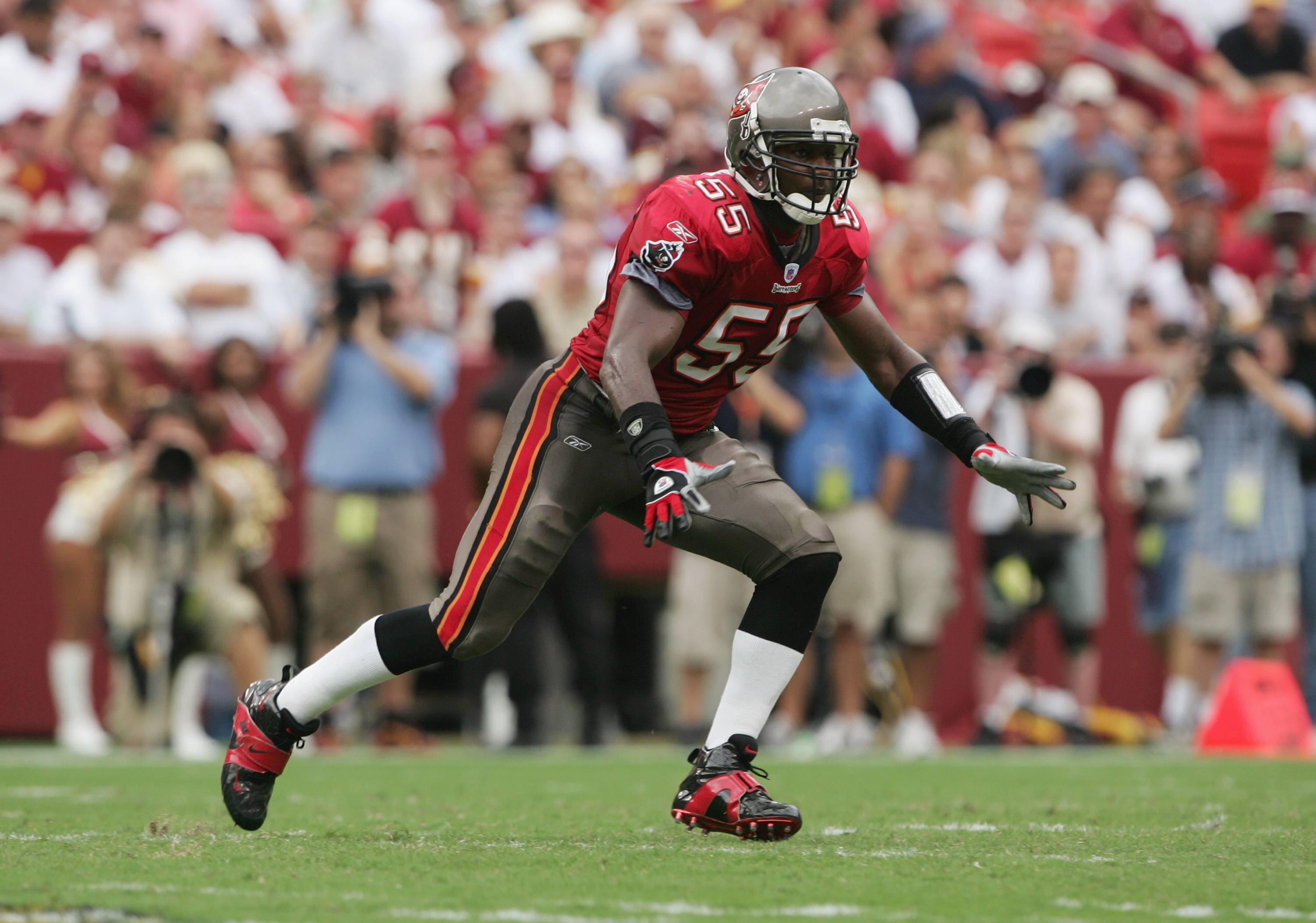 Retired: 2008
One of the greatest Tampa Bay Buccaneers players is also one of the greatest NFL linebackers ever. He did a little bit of everything on defense. The Hall of Fame player racked up 1,297 tackles during his career, but he was a dangerous pass defender, too. He finished with 25 interceptions, including three returned for touchdowns in 2002, the season in which Tampa's defense powered the team to a Super Bowl win.
Next: His stats prove he was one of the best.
12. Kevin Greene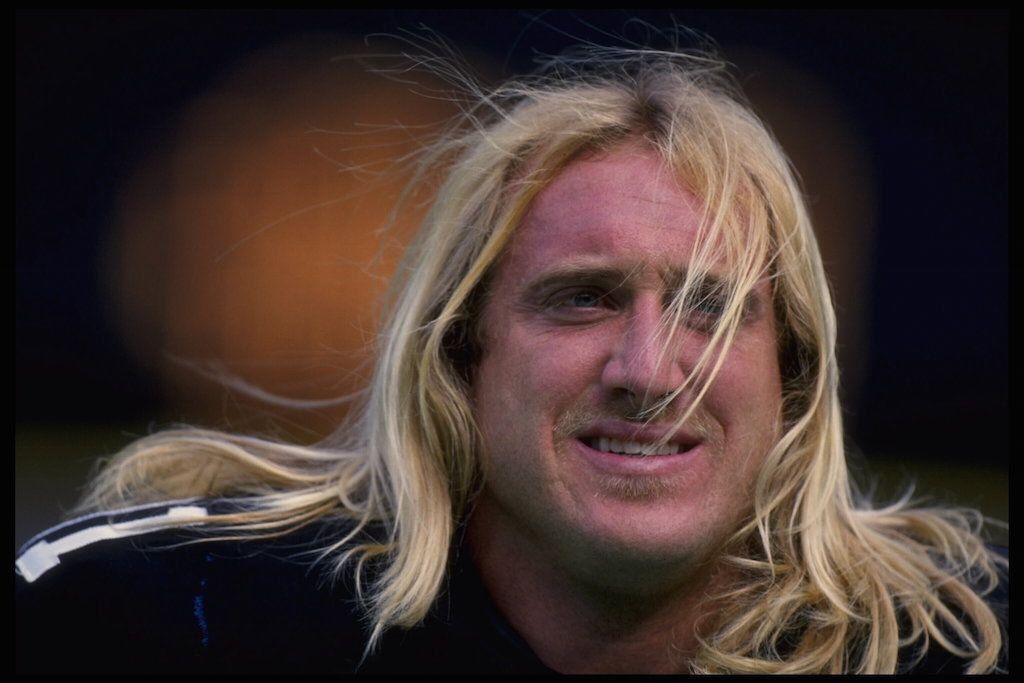 Retired: 1999
Kevin Greene played in the league during a golden age for linebackers, so it's easy to overlook him, but he's one of the best linebackers the NFL has ever seen. He was versatile, able to line up as a linebacker or a defensive end, but he primarily played linebacker during a career spent with the Rams, Steelers, Panthers, and 49ers. Though he never had more than 87 tackles in a season, he's one of the all-time sacks leaders with 160 quarterback takedowns.
Next: He was a one-man wrecking crew.
11. Derrick Thomas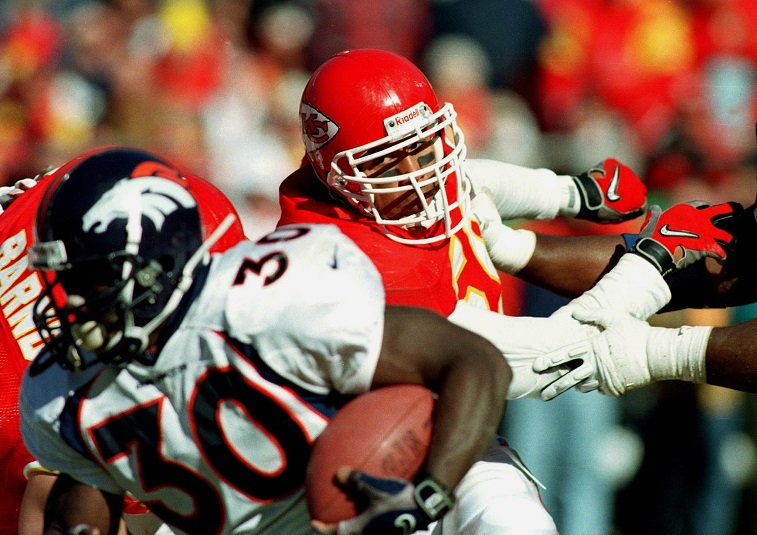 Retired: 1999
Quarterbacks and running backs had good reason to fear seeing Derrick Thomas on the other side of the line of scrimmage. He was a one-man wrecking crew at linebacker who dominated the game on defense. The nine-time Pro Bowl player, two-time All-Pro, and Hall of Fame is one of the all-time sacks leaders with 126.5, and he also forced 41 fumbles during his 11-year career. His 1989 rookie season was one of the best the NFL has ever seen.
Next: A dangerous combination.
10. Lawrence Taylor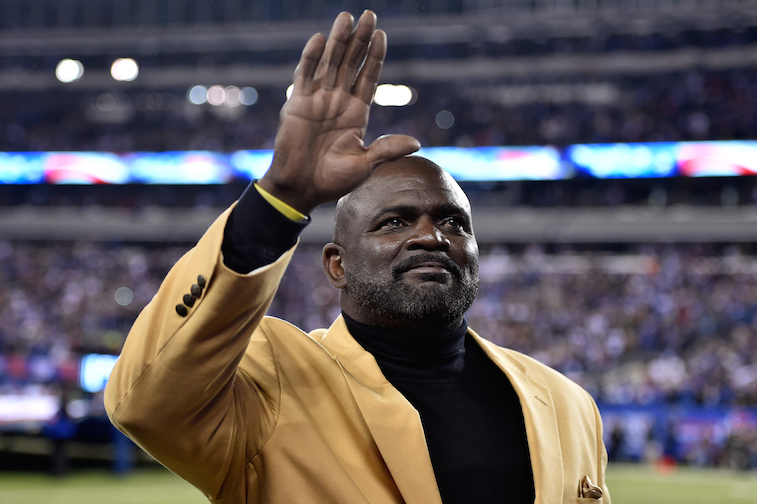 Retired: 1993
Lawrence Taylor was an unreal combination of size, strength, and speed who was in full-blown attack mode at all times. Backed by the perfect storm of prowess, intensity, and strategy, Taylor was named the NFL Defensive Player of the Year three separate seasons and took home League MVP honors in 1986.
As a ruthless pass rusher, not only was Taylor built to wreak havoc but No. 56 also mastered the timeless art of the strip-sack, where he would crush a pocket passer and hammer out the football in one fell swoop; a play which usually resulted in him scooping up the loose ball and galloping toward the end zone for six. As a sack artist, L.T. finished up his career with 132.5 sacks. Opposing offenses quickly discovered it was impossible to scheme against this kind of greatness.
Next: He made 10 straight Pro Bowls and led a stingy defense.
9. Mike Singletary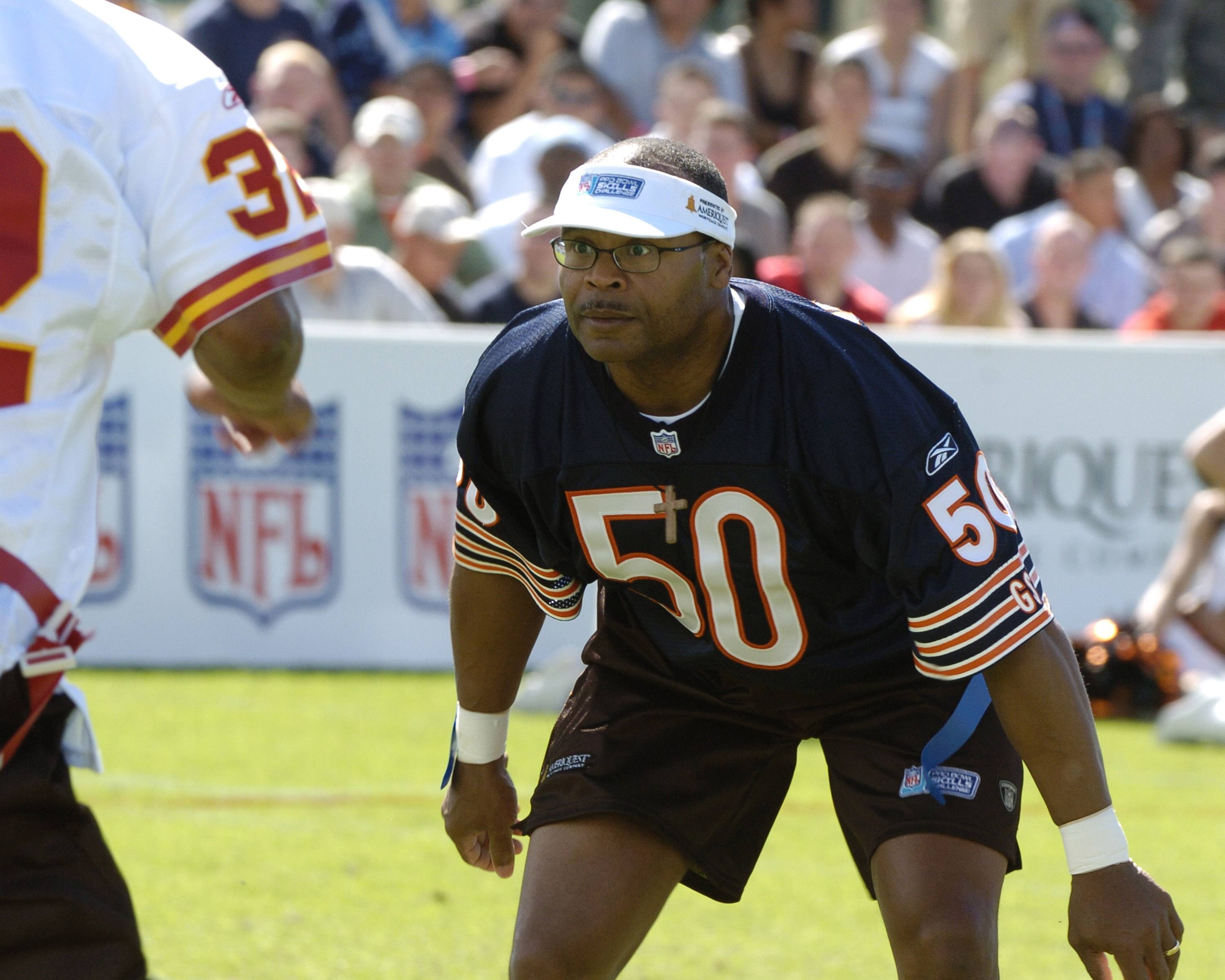 Retired: 1992
Mike Singletary was the face of the Chicago Bears' 46 defense run by coordinator Buddy Ryan. In this scheme, the Bears overloaded the line of scrimmage in all-out attack mode — so Singletary could roam free and take out the trash. As a 6-foot, 230-pound bowling ball of intensity, Singletary owned the box from tackle-to-tackle to blast ball carriers into the next week. Over the course of his 12-year career, Singletary earned 10 consecutive trips to the Pro Bowl alongside two AP Defensive Player of the Year awards.
With the 1985 Bears, Singletary helped limit offenses to a miserly 12.4 points per game and steamrolled opponents to a 15-1 record on the way to 46-10 win in Super Bowl XX.
Next: He was always ready to play.
8. Harry Carson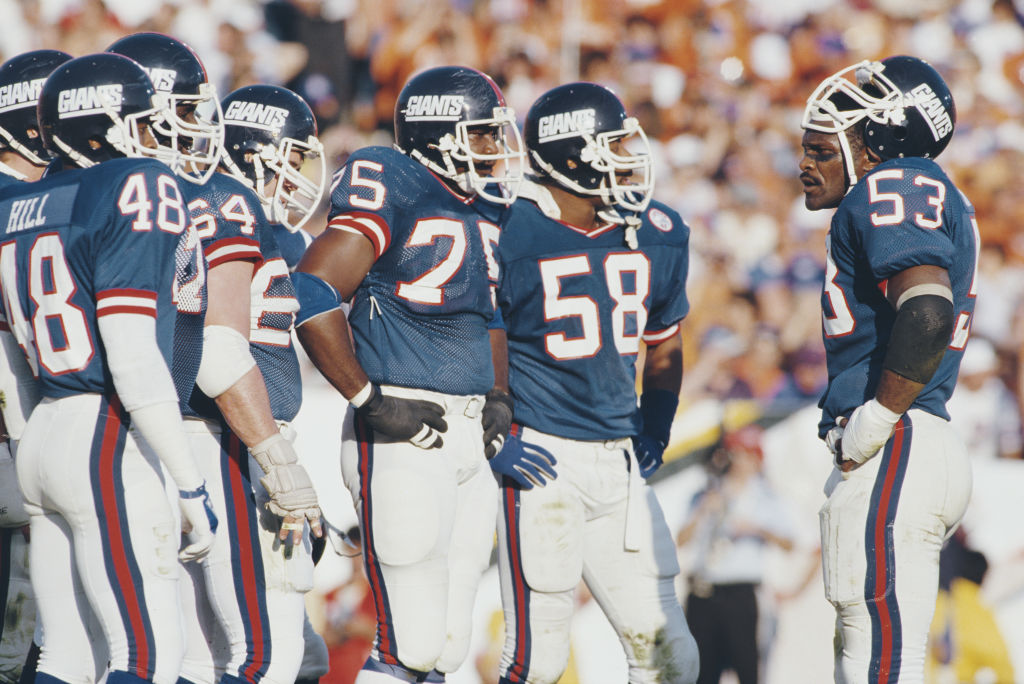 Retired: 1988
Harry Carson's career stats don't jump off the page — 11 interceptions, 14 fumbles recovered, eight sacks — but he's still one of the greatest NFL linebackers. He started 167 of a possible 173 games during his 13-year career, so he was always ready to play. Eight of his seasons with the New York Giants overlapped with Lawrence Taylor, and the duo formed one of the best LB tandems in league history. Carson was a nine-time Pro-Bowler, including seven straight from 1981-1987, and he went into the Hall of Fame in 2006.
Next: He led one of the greatest defenses of all time.
7. Jack Lambert
Retired: 1984
At middle linebacker, Jack Lambert set the tone for the gritty Pittsburgh Steel Curtain defense. As an eight-year captain, Lambert led a cast of characters that included L.C. Greenwood, Mean Joe Greene, and Mel Blount. In the huddle, he commanded respect due to his fearlessness and tenacity, which more than made up for his lack of size.
Standing 6-foot-3 and weighing in at a relatively light 220 pounds, Lambert prided himself upon taking on blockers and dishing out punishment. In the running game, Lambert was prone to launch himself into the action and crumple opponents into the ground, before standing over them with a menacing glare and authoritative finger-point. Defending against the pass, Lambert had both the speed to go man-to-man with tight ends and running backs and the awareness to sit back in the soft zone to crush wide receivers across the middle. In drop back coverage, Lambert's soft hands took down 28 interceptions over the course of his 11-year career that saw him make nine Pro Bowls.
Next: Another Steel Curtain standout.
6. Jack Ham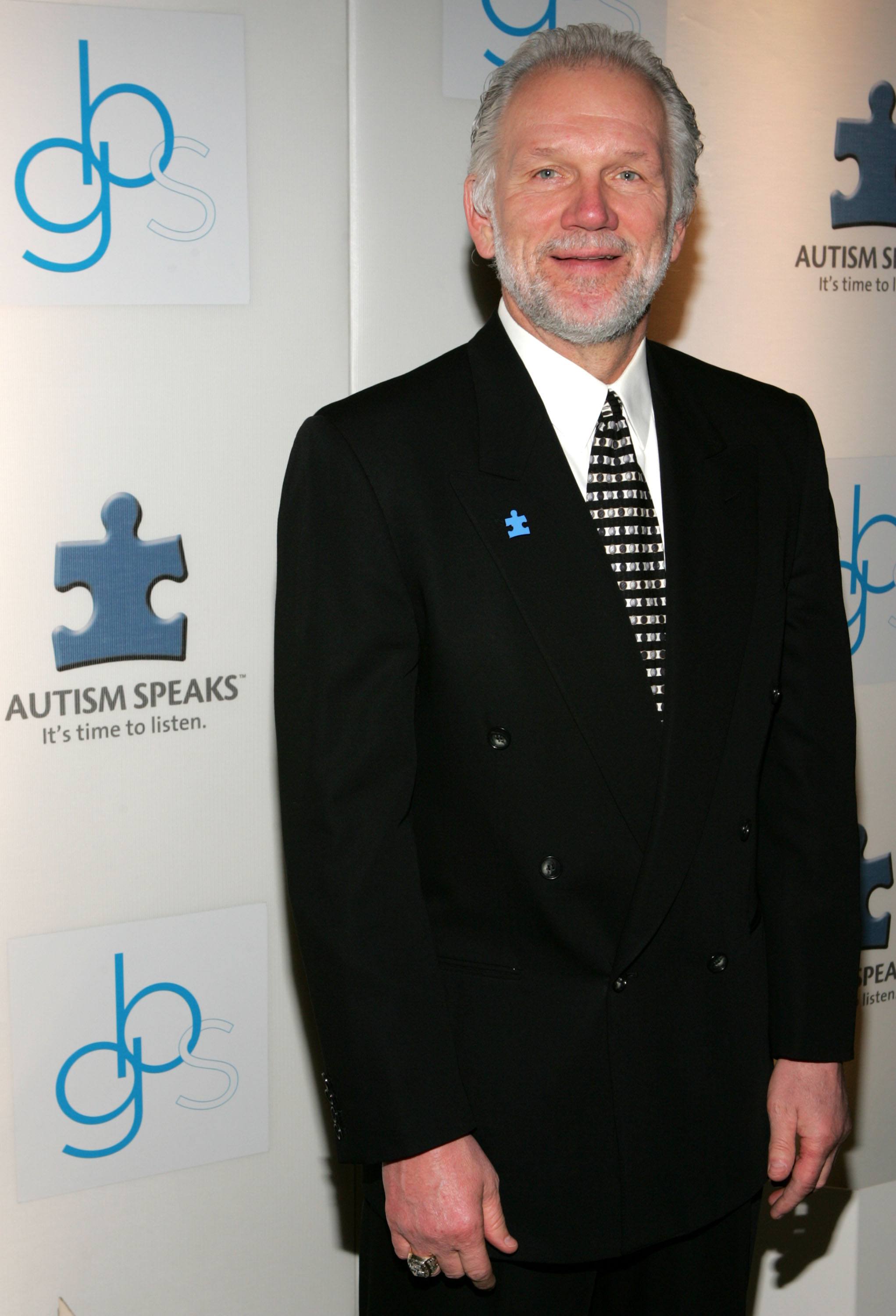 Retired: 1982
Pittsburgh's Steel Curtain had a pair of Jacks who were defensive aces, the aforementioned Jack Lambert and Jack Ham. Both are among the greatest NFL linebackers ever. Ham was the most technically proficient linebacker of all time. His technical know-how and workman-like approach to the game of football were the perfect fit for the blue-collar Steel City. In 1975, Ham earned the Defensive Player of the Year award as a member of the Steel Curtain.
He was stellar in pass coverage, and over his 12-year career, Ham snagged 32 interceptions – often after baiting quarterbacks to throw the football into the flat where he lay in wait. Ham's two interceptions versus the Oakland Raiders in the 1974 AFC Championship live on in Pittsburgh lore as the beginning of the Steelers' dynasty.
Next: He broke a barrier when he started his pro football career.
5. Willie Lanier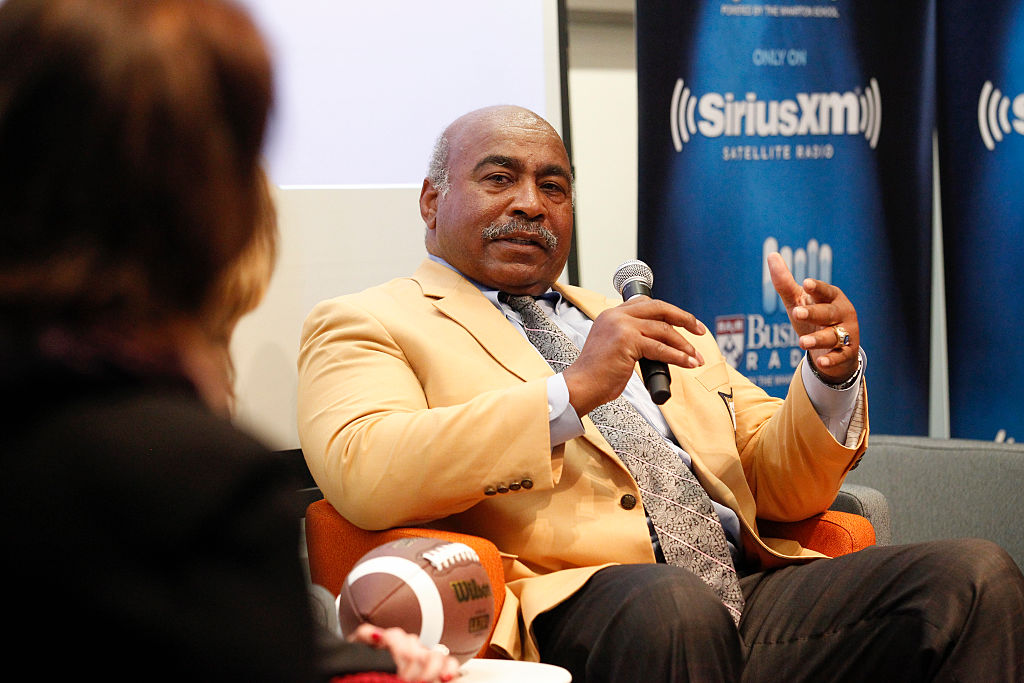 Retired: 1977
According to the Pro Football Hall of Fame, Willie Lanier was the first African-American to start at middle linebacker in professional football. At middle linebacker, Lanier quarterbacked the defense for his Kansas City Chiefs between 1967 and 1977. Lanier, alongside Bobby Bell and Jim Lynch, formed one of the most devastating linebacking units in the history of football.
In 1969, Willie Lanier's emotional leadership sparked his defense to a goal-line stand in a win against the Jets in the AFL divisional game en route to the Super Bowl IV title. In the Super Bowl win over the Vikings, Lanier put on an epic defensive performance with seven tackles and one interception. He finished his Hall of Fame career with 27 interceptions, all of which came between 1968 and 1976.
Next: A name that rings a Bell.
4. Bobby Bell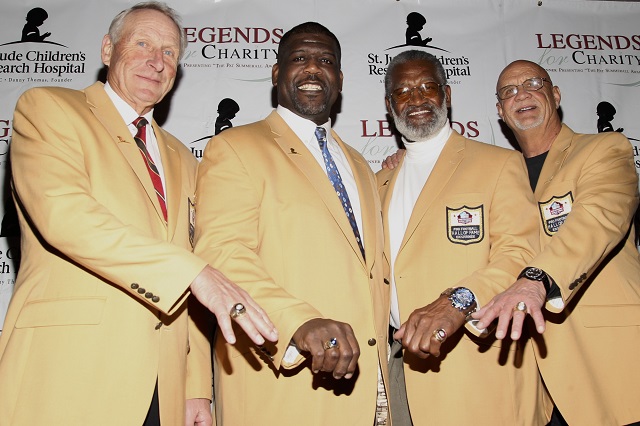 Bobby Bell (third from left) is among the greatest NFL linebackers ever. | Joe Kohen/Getty Images
Retired: 1974
Bobby Bell was one of the greatest athletes ever to play professional football. At the high school and collegiate levels, Bell was an award-winning halfback, quarterback, and tackle. As a University of Minnesota tackle, Bell finished third in the 1962 Heisman Trophy voting. After college, he was drafted by Kansas City Chiefs. At that time, it was somewhat of a surprise that the AFL would win out against the NFL in a bidding war for players.
At 6-foot-4, 228 pounds, Bell reportedly clocked a 4.4 in the 40-yard dash while wearing tennis shoes. His combination of size and speed helped blaze the trail for the likes of Charles Haley, Derrick Thomas, DaMarcus Ware, and Lawrence Taylor. As a hybrid defensive end/outside linebacker, Bell could rush the passer, control the edge, and drop back into coverage. In pass coverage, Bell was at his best, as he recorded 26 interceptions for six touchdowns over his 12-year career with the Chiefs. Before retiring, Bell went on to win two AFL titles and one Super Bowl championship.
Next: Absolute dominance during a somewhat short career.
3. Dick Butkus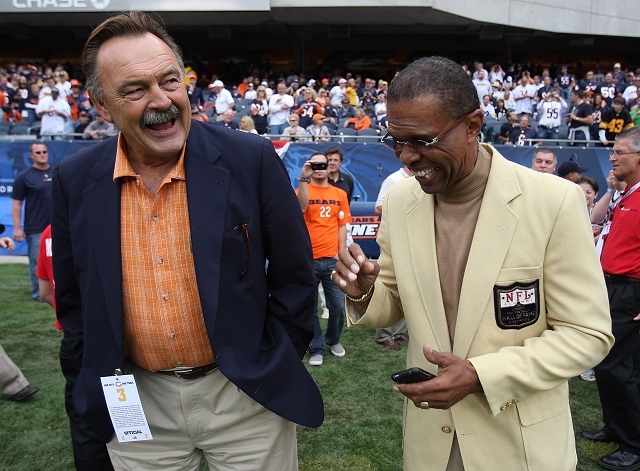 Retired: 1973
With his buzz cut, reliability, and proclivity to inflict pain, Dick Butkus was a true Monster of the Midway. Throughout his career, Butkus stalked the line of scrimmage in his oversized No. 51 jersey and grotesque padding — to blow up ball carriers and strike fear in the hearts of the opposition.
Unfortunately, Butkus was never part of a winning regime during his nine seasons with the Chicago Bears. Yet, as the team's lone playmaker, Butkus was still able to answer the bell time and time again. Between 1965 and 1972, Butkus was sent off to the Pro Bowl after each season and was a first-team All-Pro on five separate occasions. Butkus fell victim to his own recklessness and the limitations of medical science of the day. Felled by injuries, he retired from the game of football as the greatest middle linebacker of all time — having mastered his position with a controlled rage.
Next: A goon who was one of the greatest NFL linebackers of any era.
2. Ray Nitschke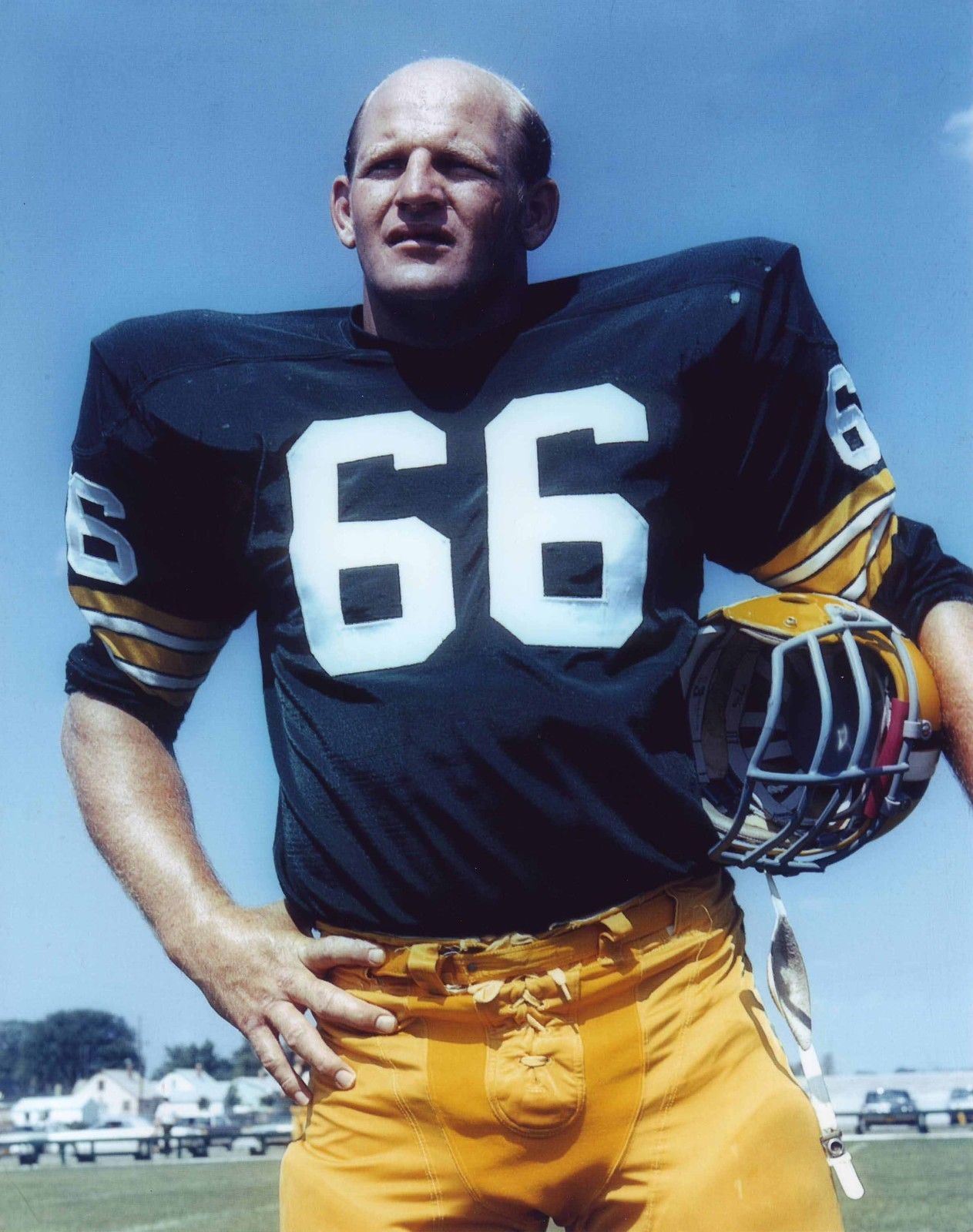 Retired: 1972
Ray Nitschke was your classic NFL goon and a complete linebacker. Imagine a 6-foot-3, 235-pound man wearing a No. 66 Packers jersey wagging an unforgiving finger on the Frozen Tundra of Lambeau Field while bearing a toothless scowl. Nitschke was quick to deliver a forearm shiver and brawl at the point of attack. He seemed to relish inflicting physical pain on every opponent.
Between the tackles, Nitschke controlled the front seven for Vince Lombardi during a dynasty run that resulted in three NFL Championship wins and the first two Super Bowl victories over the course of his 15-year Hall of Fame career. For Nitschke, the dominance included his very own MVP performance in the 1962 NFL Championship Game, when he recorded several tackles, two fumble recoveries, and one batted ball that led to an interception in a 16-7 win versus the New York Giants.
Next: So good they named an award after him.
1. Chuck Bednarik
Retired: 1962
How good of a football player was Chuck Bednarik? So good they named an award after him. The Chuck Bednarik Award goes to the best defensive player in college football, but he was also one of the greatest NFL linebackers ever. During a 14-year career spent with the Eagles, Bednarik lined up at center, left side linebacker, and middle linebacker. He started 166 of a possible 169 games during his career, during which he snagged 20 interceptions, was an eight-time Pro-Bowler, a five-time All-Pro, and a 1967 Hall of Fame selection.
Statistics courtesy of Pro-Football-Reference.com.
Additional reporting by Jason Rossi.
Read more: NFL: 10 Records That No One Has Been Able to Break He