10 Greatest NFL Tight Ends of All­ Time
The NFL tight end has ultimately emerged as the Jack­ of ­all trades, the Renaissance man. Within increasingly complex passing schemes, the most productive NFL tight ends motion out of formations, run crisp routes, and catch the football with the grace of a wide receiver. In recent times, Antonio Gates and Tony Gonzalez both worked to solidify their names atop the "greatest NFL tight ends of all time" list. In 2007, the Dallas Cowboys' Jason Witten defined tight end grit, with his 53­-yard, helmet­-less catch and romp in Philadelphia.
As receivers, elite tight ends are match­up nightmares. In single coverage, the greatest NFL tight ends are too big and strong for defensive backs, but also too fast for linebackers. At the line of scrimmage, the craftiest tight ends may also pass protect for one count, before settling into the soft zone to make a play and move the chains. Of course, old­-school sports buffs will point out that a good tight end also keys the ground game. The greatest NFL tight ends hold the edge at the point of attack and free up space for running backs to burst into the clear.
Many football diehards of the John Madden camp long for the days of jumbo packages, two to three tight end sets, three yards, and a cloud of dust. The best NFL tight ends of all­ time will smack you upside the head at third and inches, and then turn around and beat deep coverage on the very next play. Here's a look at the 10 individuals who played their way onto this list.
10. Ben Coates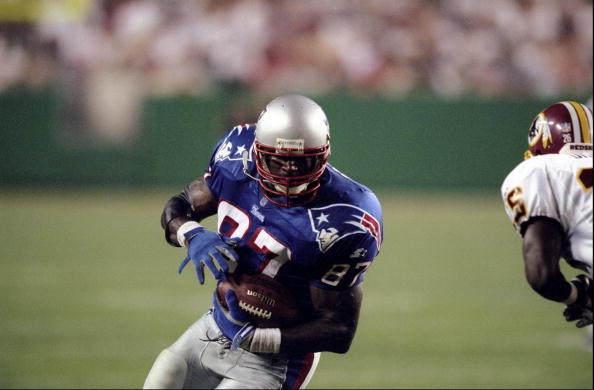 A late bloomer, Ben Coates completed his 10-year NFL career with 499 total receptions, 5,555 receiving yards, and 50 touchdowns. Upon his retirement, Coates's reception totals placed him fourth on the all-­time tight end list. In 2004, Coates set a then-single­-season record with 96 catches at tight end. In retrospect, few NFL observers would have ever believed that a 1991 fifth-round draft pick out of Livingstone College would emerge as a perennial Pro Bowl tight end and all­-time great.
Coates opened up his career at New England with a pedestrian 30 catches for 266 yards­ in two years of action. In 1993, Coates joined forces with Drew Bledsoe and Bill Parcells in Foxborough, Mass. The Tuna, having groomed smash mouth Mark Bavaro as a Giant, quickly installed Coates as part of his winning game plan.
In response, the man they called "Winter" became the ultimate security blanket for a young Drew Bledsoe. At 6-foot-5 and­ 245 pounds, Coates relied on his big body to clear space in the short zone, shield linebackers, and rack up catches. In 2000, the twilight of his career, Coates walked away with a Super Bowl trophy­ with the Baltimore Ravens.
9. Antonio Gates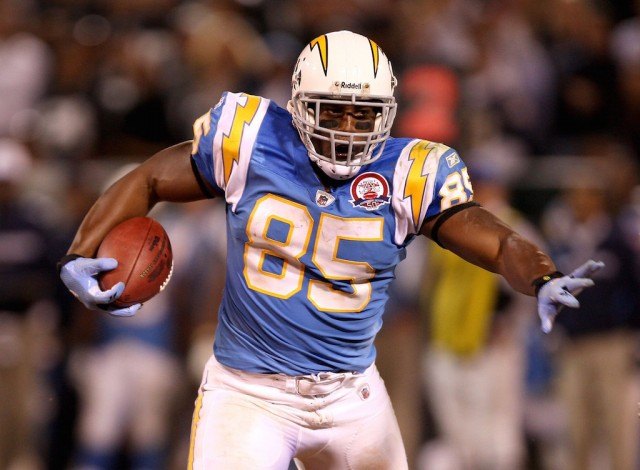 Antonio Gates is a product of the basketball­-player­-turned­-tight­-end movement. His career is that of storybook legend; he showed up at a San Diego tryout ­without ever playing a snap of football for Kent State. In camp, Gates put his basketball skills to work and impressed scouts with his ability to box out in space and battle for deep bombs.
On the field, Gates plays as an extra wide receiver and is often motioned out of the formation to match ­up against cornerbacks. For a tight end, Gates is about the big play. In his 14-year career, Gates has averaged 12.5 yards per reception and caught 109 touchdowns. At this point he has 883 receptions and a total of 11,032 yards receiving. Is it any wonder quarterback Philip Rivers likes having him around?
8. Ozzie Newsome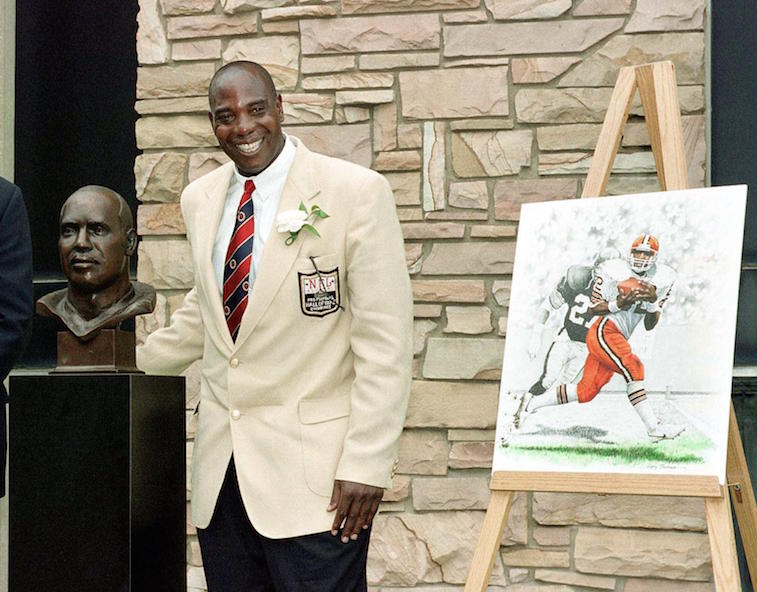 After Paul Brown and Art Modell, Ozzie Newsome is arguably the greatest contributor to the Cleveland Browns/Baltimore Ravens organization. After performing as one of the all­-time great NFL tight ends, he is now one of the most revered general managers in the game of football.
During a career spanning from 1978 until 1990, The Wizard of Oz rivaled Kellen Winslow for the title of greatest pass-catching tight end of his era. He retired atop the NFL tight ends' receptions list ­with 662 catches. From tight end, Newsome finished second in the league in receptions in 1983 and 1984 ­with 89 catches both years.
7. Todd Christensen
As a former star BYU running back, Todd Christensen may be described as the precursor to the NFL H­-back, or tight end/fullback hybrid. In the '80s, Joe Gibbs and his Hogs popularized the H­-back, ­with Terry Orr, Clint Didier, and ultimately Chris Cooley filling this role. For a versatile attack, an H-back may either appear in the backfield or at the line of scrimmage as a lead blocker or pass-­catching receiver.
For his career, Christensen parlayed his ability to make quick cuts into 461 catches and 5,872 receiving yards. In fact, he actually led the NFL in receptions in '83 and '86 with 92 and 95 catches respectively. He went to five straight Pro Bowls between 1983 and 1987, and he also won two Super Bowls. As an offbeat intellectual, Christensen was one of the many characters cast to don the Silver and Black.
6. Dave Casper
Dave "The Ghost" Casper is best known for his quirky sideline antics and masked grin as an Oakland Raider. Behind his smiles, however, Casper served as a devastating blocker within the run-oriented schemes of Oakland and Houston. In terms of physicality, the former Notre Dame offensive tackle rivals Mark Bavaro for the belt as the game's greatest goon at tight end.
As a pass protector, Casper often dominated larger defensive ends and outside linebackers. In the running game, Casper plowed holes for the likes of both Mark van Eeghen and Earl Campbell at the point of attack. Beyond punishing defenses at the line, Casper also found time to get open. In the Raiders' vertical offense, Casper often worked the intermediate routes on curl and seam patterns. Casper finished his 11-year Hall of Fame career with 378 catches, 5,216 receiving yards, and two Super Bowl rings.
5. Kellen Winslow
One of the most memorable scenes in all of sports: when Kellen Winslow's teammates carried him off the field in Miami. In "The Epic in Miami," he turned in one of the greatest individual performances of all time, with 13 catches, 166 yards receiving, and one blocked field goal for a 41­-38 San Diego win over Miami.
Winslow revolutionized the modern passing game, as a member of the Air Coryell attack in San Diego. These '80s San Diego clubs featured a trio of Hall of Famers who teamed together Dan Fouts and Charlie Joiner alongside Winslow. In 1980, Winslow put together the greatest statistical season of all­ time for NFL tight ends when he amassed 89 catches for 1,290 yards.
At 6-foot-5 and 251 pounds, Winslow used his long strides to consistently burn opposing defenses for big plays. Still, his body of work is somewhat marred by a lack of Super Bowl titles and prime longevity. In 1987, at 30 years old, Winslow retired with a total of 541 catches and 6,741 receiving yards.
4. Shannon Sharpe
Shannon Sharpe was one of the few NFL athletes who could match big talk with big game. As a backdrop to his intense motor and smack talk, Sharpe also represents one of the greatest NFL rags­-to-riches stories of all time. According to Sharpe, on his Georgia upbringing, "We were so poor, a robber once broke into our house and we ended up robbing the robber."
In 1990, the Denver Broncos drafted Sharpe in the seventh round as a wide receiver. Shortly thereafter, coach Dan Reeves moved Sharpe over to tight end to serve as another weapon for John Elway. Through his insatiable hunger and work ethic, Sharpe steadily improved into the complete package of size and strength at the position.
His 14-year totals of 815 catches for 10,060 yards and 62 touchdowns compare favorably to any man who has ever caught a football. As a winner, Sharpe laid claim to three Lombardi trophies after winning two Super Bowls with the Denver Broncos and one title with the Baltimore Ravens.
3. Tony Gonzalez
In 2013, Tony Gonzalez hung up his NFL cleats as the owner of every significant record applicable to NFL tight ends. He closed out his 17-­year career having taken down 1,325 receptions for 15,127 yards and 111 touchdowns. These numbers include individual seasons of 93, 102, 99, and 96 catches in 2000, 2004, 2007, and 2008, respectively.
In 2004, Gonzalez actually led the NFL in catches ­with 102 receptions for 1,258 yards as a member of the Kansas City Chiefs. His numbers, longevity, and consistency shaped him in the mold of Peyton Manning. Yes, Gonzalez had been so good for so long that his production became somewhat boring.
Despite operating as the focal point of defensive game plans, Gonzalez seemed to always be open ­through a combination of head fakes, feints, and shifts. Once open, he had the softest hands in the business, snagging anything thrown his way. He was also a willing blocker, despite his reputation as a finesse player. At tight end, Gonzalez would throw his weight around to pave the way for 1,000-­yard rushers in Priest Holmes, Larry Johnson, and Michael Turner.
2. Mike Ditka
Mike Ditka means football. Before he was "Da Coach," Iron Mike simply ran over and through people for the Chicago Bears as a crew cut kid from Pennsylvania. Ditka changed the tight end game, proving that he could both maul people at the line of scrimmage and also emerge as a viable threat within the passing game.
As a rookie in 1961, Ditka hauled in 56 passes for 1,076 yards and 12 touchdowns over the course of a 14-­game regular season. For his career, Ditka caught 427 balls for 5,812 yards and 43 touchdowns. In comparison, these numbers look pedestrian against today's high­-powered offenses. As a basis of comparison, Ditka finished as a top­-10 NFL pass catcher for four straight years between 1961 and 1964. This production is unprecedented for a tight end of any era.
1. John Mackey
Between 1963 and 1972, John Mackey added an element of speed to the Ditka formula of raw toughness. In fact, Mackey actually put in spot duty on special teams for the Baltimore Colts ­as a kick returner. A man among boys, Mackey destroyed the competition for 331 catches, 5,236 yards, and 38 touchdowns during his 10-­year career.
Perhaps most impressively was the fact that Mackey averaged 15.8 yards per catch, which would still trump the statistics of many speedster wide receivers. On November 20, 1966, Mackey caught a five-­yard-out pass in the flat. From there, vintage Mackey turned up field to juke, spin around, ran over, and glide past eight different Detroit Lions ­en route to a 64-­yard touchdown completion. The NFL Network defines this sequence as "the number one play in NFL history."
Statistics courtesy of Pro-Football-Reference.