Green Bay Packers QB Aaron Rodgers Explains His 'Mind-Meld' Connection With Davante Adams
Green Bay Packers quarterback Davante Adams and Aaron Rodgers are the best quarterback/wide receiver combo in the NFL right now.
Sure, Matthew Stafford and Cooper Kupp have put up some incredible numbers and Patrick Mahomes and Tyreek Hill may be the most explosive combo, but in terms of pure raw talent and connection, there's no combo better than the one currently playing in Green Bay.
For those looking to replicate the success the duo has found on the field, Rodgers recently explained his almost telepathic connection to Adams. Good luck making it happen though. These two have been developing this chemistry for years.
Aaron Rodgers and Davante Adams have unreal chemistry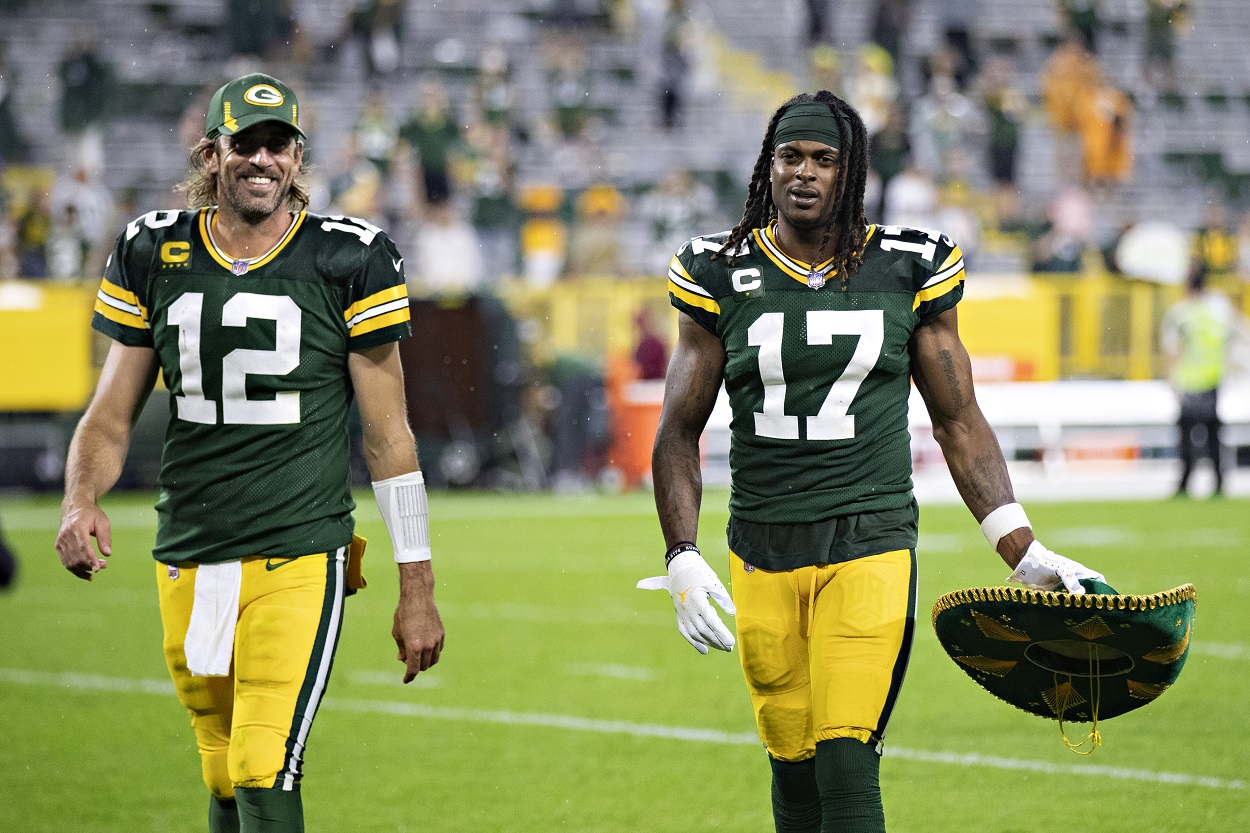 Adams was drafted by the Packers in the second round of the 2014 NFL Draft. As good as he is, it's somewhat shocking to remember that he's only been in the league for eight seasons.
In those eight seasons, he's really only known one quarterback, and that's Rodgers. Sure, he had a season that saw him catch passes from Brett Huntley when Rodgers missed much of 2017 with a collarbone injury, but for a large percentage of Adams' career, he's been playing pitch and catch with No. 12.
In that time, he and Rodgers have not just got on the same page, but they've basically written the book. They've found creative ways to use Adams' unique skillset. He's arguably the best route-runner in football, and he and Rodgers exploit that skill every chance they get.
Recently speaking on The Pat McAfee Show, Rodgers related that he and Adams are almost automatic on certain route concepts because of No. 17's ability to be creative and their shared experiences on the field.
"It's him and I being on the same page," Rodgers explained, talking about a few plays he and Adams made in Green Bay's Christmas Day win over the Cleveland Browns. "The back shoulder run solution that we hit goes back to a conversation three players earlier where he said, 'Hey, I think I can get this run solution on him because he's playing off coverage on me.' I called a run play in that situation, he had a run solution on, and he took the fade.
"The cool thing is talking to him afterward, [it was] him and I just being on the same page intuitively. He said, 'I knew you were coming my way.'"
Rodgers always seems to have one receiver he can trust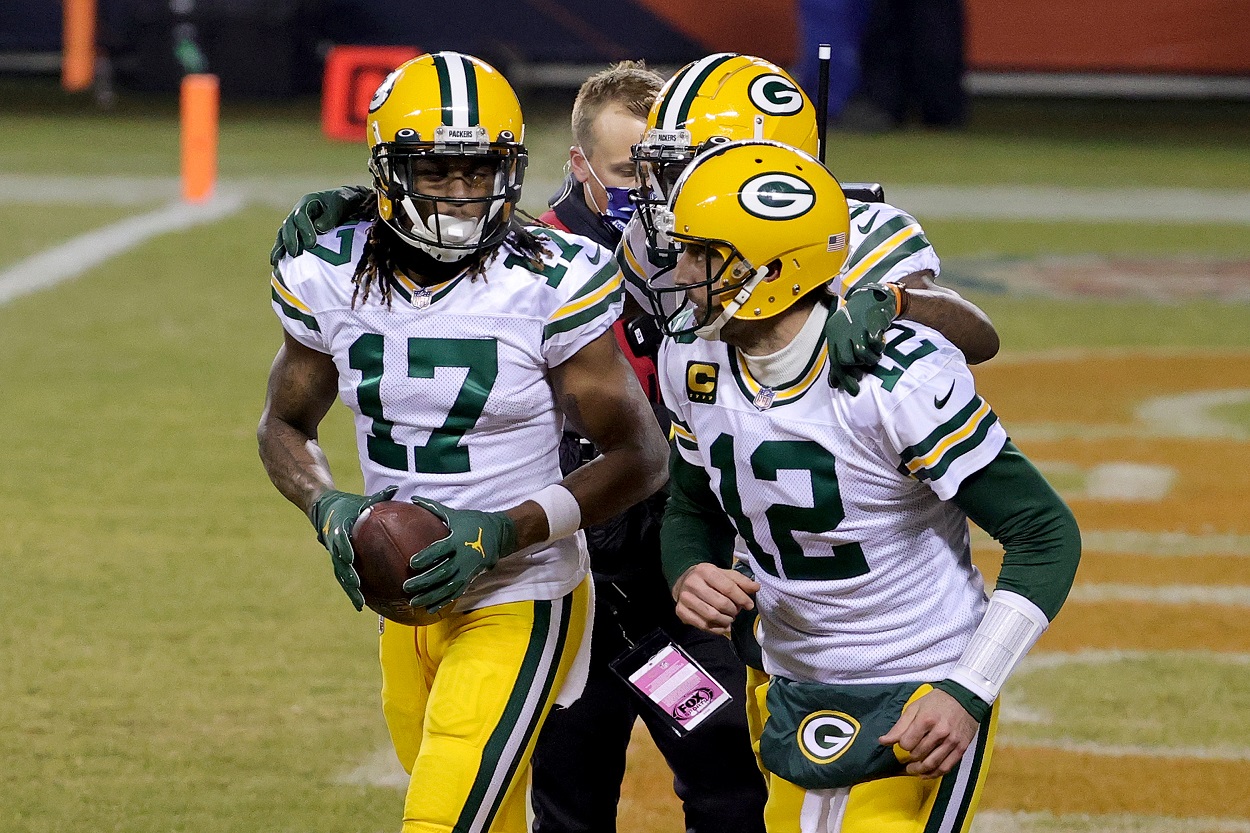 As a quarterback, Rodgers has extremely high expectations for himself as well as for those he throws the football to. It's hard to gain his trust as a young receiver. That's been a consistent theme throughout the years in Green Bay.
He expects his receivers to be where he wants them to be when he wants them to be there. It takes a ton of reps and experience to get on the same page with Rodgers, but if you're able to make it happen as a receiver, lots of success should come your way.
Talking to McAfee, the three-time MVP recounted two specific wide receiver relationships that were special to him. The first was his connection with Jordy Nelson.
"I always felt I could throw to [him] blindly because I knew exactly where he was going to be," Rodgers said.
Rodgers also felt a connection with Randall Cobb, saying that he and Cobb were able to "mind-meld" on the field.
If you're a casual watcher of "Aaron Rodgers Tuesdays" on the McAfee Show, you might think that all the quarterback does is show up and give his thoughts on COVID-19 and vaccinations. After all, his rant back in November is quite infamous at this point. He also recently unleashed another manifesto on the show.
Rodgers has gotten some heat for things he's said while on the show, but he'll never be criticized for going deep on football, and that's exactly what he did with McAfee while breaking down another one of his touchdown throws to Adams.
It was pure football talk from one of the best minds to ever play the game. It's why many people fell in love with his weekly segment on the show in the first place.
"They brought empty pressure and before the snap, I was looking over at him [Adams], and he had a route that we call against two-high safeties where you attack the Mike [linebacker] and climb. It's a route that everybody around the league runs," Rodgers explained. "I looked at him and based on the coverage, running that route wouldn't have worked because if he had inside released his defender could just squeeze down and because it was man-to-man empty and he was playing inside leverage — it would have been a dead route.
"I almost signaled him something that I wanted, but I looked over at him and he looked at me and [and] in that moment I knew exactly what he was going to do, and there was no need to cloud any of our judgments and give him a signal. Sure enough, he freelanced on his own, went up, made a move on the guy. It looks like an easy touchdown pass, where there's so much mentally going on before the snap, and there [are] so many years of banked reps and trust that goes into that specific split-second decision to not signal anything," Rodgers said.
"Whatever look he was giving me made me feel completely confident that he was going to do exactly what he did, and then you have what looks like an easy touchdown that actually goes back to years and years and years of conversations and plays on the field and banking those memories in your mind."
Davante Adams deserves a ton of credit for becoming a dominant player
While Rodgers is the three-time MVP, and he's in the running for his fourth and second straight, let's not give him too much credit. Yes, he's tremendous at reading defenses, and yes, he's probably the most cerebral quarterback in NFL history not named Peyton Manning. With that said, it's still Adams running these routes and making fantastic catch after fantastic catch. It's still Adams who is demanding double and even triple teams on a weekly basis.
With Kupp having the season that he is in LA, Adams will probably not get the credit statistically this season. Still, most people who watch the league closely will tell you that there's no wide receiver playing the game at Adams' level right now. He's averaging over a first down per catch (12.8 yards) and nearly 100 yards per game (97.3). Again, this is despite the fact that most defenses have given up on covering him with one player and are instead deploying advanced coverages to try to stop him.
This is also despite the fact that everybody in the stadium knows the football is going to Adams more often than not. He's hands down Rodgers' favorite weapon, and the Packers aren't shy about forcing him the ball. Heading into Week 17, Adams leads the team with an eye-popping 148 targets. Running back Aaron Jones is second on that list with 59.
Adams has built quite a name for himself in the NFL. Not bad for a second-round pick who had a bad case of the drops over his first few seasons in Green Bay. His production has been impressive enough. The fact that he's earned the trust and found a way to "mind-meld" with his MVP quarterback is just as impressive, though.
Stats courtesy of ESPN and Pro Football Reference.