Green Bay Packers QB Aaron Rodgers Needs to Re-Evaluate a Risky Decision Heading Into Week 18 Clash With Detroit Lions
The regular season goal has been accomplished. The Green Bay Packers are not just kings of the NFC North, but they're officially the top seed in the NFC playoffs as well.
On Sunday Night Football, the Packers beat the Minnesota Vikings, 37-10. That, combined with the Dallas Cowboys' loss to the Arizona Cardinals secured Green Bay the No. 1 seed with one game to go.
One game. In Detroit. Against a pesky Lions team. They're looking to eat some kneecaps.
Aaron Rodgers says he wants to play, but he should ultimately reconsider.
The Green Bay Packers are staring at a rather pointless game against the Lions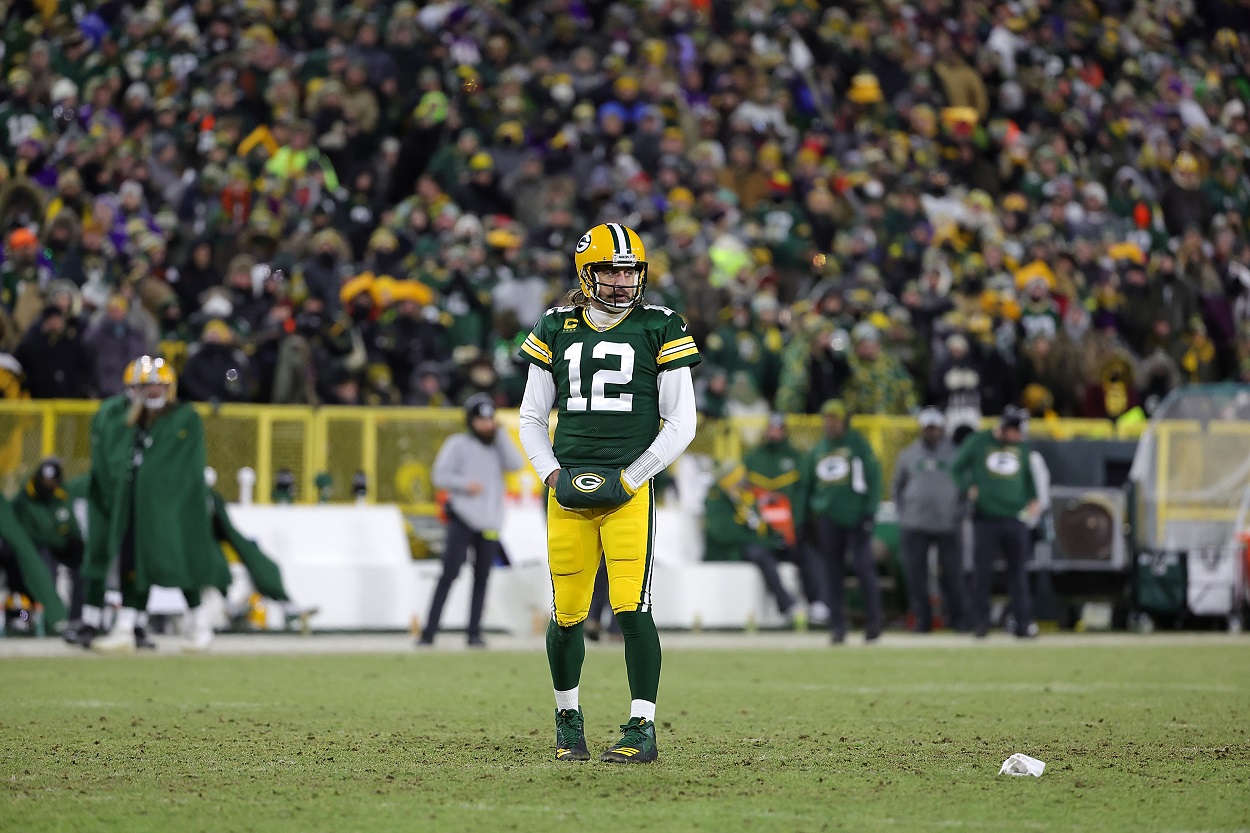 While locking up the No. 1 seed a week early is indeed a noteworthy accomplishment for the Packers, it does effectively render Week 18's clash with the Detroit Lions pointless.
It's not pointless in the sense that it still is NFL football. There will still be paying fans at the game, and the final score will reflect in the win or loss column for either team. It's also certainly not a pointless game for Dan Campell and his Lions. In the midst of trying to establish a winning culture in Detroit, even a Week 18 win over a Green Bay team with nothing to play for would be a nice building block.
In all other ways, this game is meaningless, especially for the Packers.
Whether they win or lose, they're still the top seed. Would notching the 14th tally in the win column feel pretty good, especially for a young coach like Matt LaFleur? Of course.
Would watching a player like Rodgers being carted off the field because of a freak injury feel much worse, though?
Absolutely.
No amount of "getting ready" for the playoffs would be worth that scenario. A 14th win is absolutely not worth heading into the playoffs hobbled, especially considering the lousy injury luck Green Bay has dealt with this season.
Still, Rodgers says he wants to go.
Aaron Rodgers is expecting to play against the Detroit Lions
Rodgers indicated after the win against Minnesota that he's feeling pretty spry. This is despite the fact that he's been dealing with a toe injury for the majority of the second half of the season. It was also extremely cold at Lambeau Field for Sunday Night Football, but apparently, that didn't bother him either.
"This is the first game that my toe got through the game without any issues, no pregame painkiller shot, so I'm feeling good," Rodgers said, via NFL.com. "I'm happy about it. There was definitely a time a few weeks ago when we started to project and think if we could get the one seed, it could be two-plus weeks of rest, but I'm going to play next week and I expect Davante to play and our guys to play, so we're looking forward to finishing off the season on a high note and then getting the bye."
For what it's worth, this wasn't just Rodgers going off and riffing on his own. LaFleur also appears to be ready to play both Rodgers and the rest of his starters against Detroit. He admitted it's a tough decision, but he's essentially not wanting his players getting too rusty.
"I'm sure if you asked a hundred different people, they'd give you a hundred different answers on what we should do. Right now, the mindset is going into this, that we're going to play our guys and were going to approach it like every other game," LaFleur said via Ryan Wood. "I just think the reason behind that is I'm not comfortable having essentially a three-week layoff for our guys. "
Rodgers should not play at all against Detroit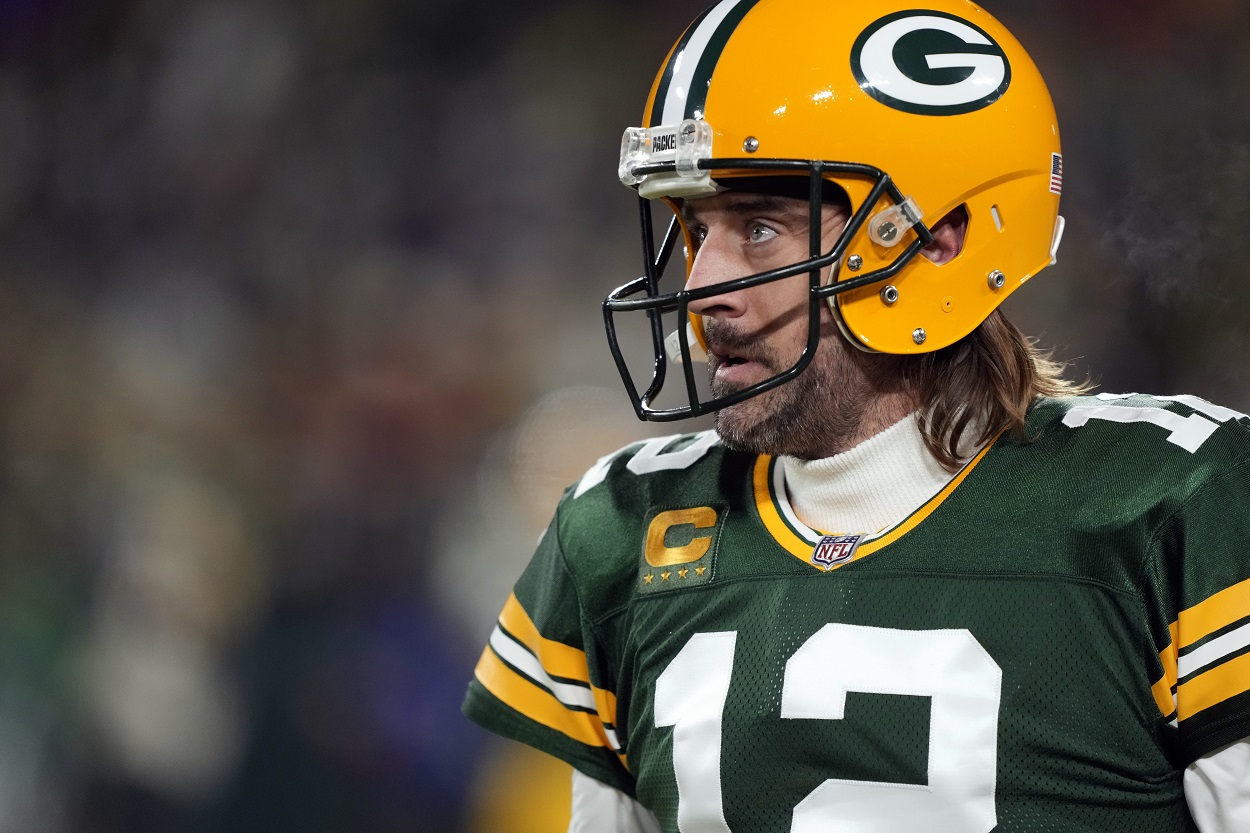 LaFleur is really in one of the tougher positions a coach can be in, and it's a byproduct of his team's success. It's, frankly, a good problem to have, but it's a problem nonetheless.
Should he risk injury…or risk rust?
He seems to know that whichever way he chooses to go, he's risking one thing both ways, and that's criticism.
"I know you can look at it a million different ways, and there's never a right answer unless it works out," he said. "If somebody goes in there and gets injured, then, 'Well, why'd you play your guys?' But if you go out there in that first playoff game and lay an egg, "Well, why'd you rest your guys.' So, there's not a right answer."
There may not be a right answer for a majority of the players on his team, but there is a definitive right answer as it relates to Rodgers, and that's to sit him.
It sounds good for Rodgers to say he wants to play, and it sounds great as a coach to say you want to focus on keeping the competitive juices flowing. With that said, if there's one player in the league who doesn't need that type of "warm-up" game before entering the playoffs it would be Rodgers. The other would be Tom Brady. They are who they are for a reason, and that's because they don't need pointless Week 18 games to perform in the playoffs.
At 38 years old, do you know what would be even more valuable for Rodgers as the playoffs approach? That would be rest.
Rodgers won't need to get himself hyped up. He won't need to shake off the rust. Shoot, he's already missed a huge chunk of practices this season anyhow with the toe injury. He's barely practiced in the second half of the season, but nonetheless, he's led the Packers to a 6-1 record since missing a game against the Chiefs because of a positive COVID-19 test in early November.
Rodgers has proven that he doesn't need the extra reps, so even if he wants them, LaFleur needs to do the wise thing and don't give them to him.
Speaking of the toe injury, that also has to be addressed heading into this game. It's all fine and dandy for Rodgers to say that his toe felt good in the cold at Lambeau Field. Could he even feel his toes, though? It was extremely cold.
Not only that, but Detroit plays on the astroturf of Ford Field, a type of fielding that has been known to cause a toe injury or two. While it's great for speed, the unnatural feel of the turf can lead to stubbed toes. Rodgers feels good now, but if he re-injures the toe against Detroit, he could end up back at square one.
Honestly, even one series could be one series too much. Green Bay knows that truth all too well. Star receiver Jordy Nelson missed the entirety of the 2015 season with a knee injury he suffered in the very first game of the preseason…on the very first drive.
Preseason games have become worthless in the NFL. They're warm-up contests. Nothing more than a backyard scrimmage worth millions of dollars. That's essentially what this Week 18 clash against Detroit will be for the Packers. Let's call it what it is.
If LaFleur is worried about rust, everyone else can play. With that said, it makes no sense for Rodgers to see the field in anything but street clothes.
Stats courtesy of ESPN and Pro Football Reference.