Green Bay Packers Would Continue Bittersweet 16 Trend with Aaron Rodgers Trade
Rumors started swirling just before the NFL draft last week and set the Green Bay Packers and their rabid fan base on edge. Reigning NFL MVP Aaron Rodgers, the franchise's starting quarterback for 13 seasons, wants out of Titletown. The dispute reportedly centers on general manager Brian Gutekunst. Rodgers has been in Green Bay since 2005 and took over as the starter when Hall of Famer Brett Favre retired/came back/got traded to the New York Jets before the 2008 season.
The Packers have had a remarkable run at quarterback for almost 30 years with Brett Favre and Aaron Rodgers. Go back a little further to Bart Starr and there are similar legacies among the three. But Rodgers leaving Green Bay makes the link take on an eerie edge.
Bart Starr spent 16 years with the Green Bay Packers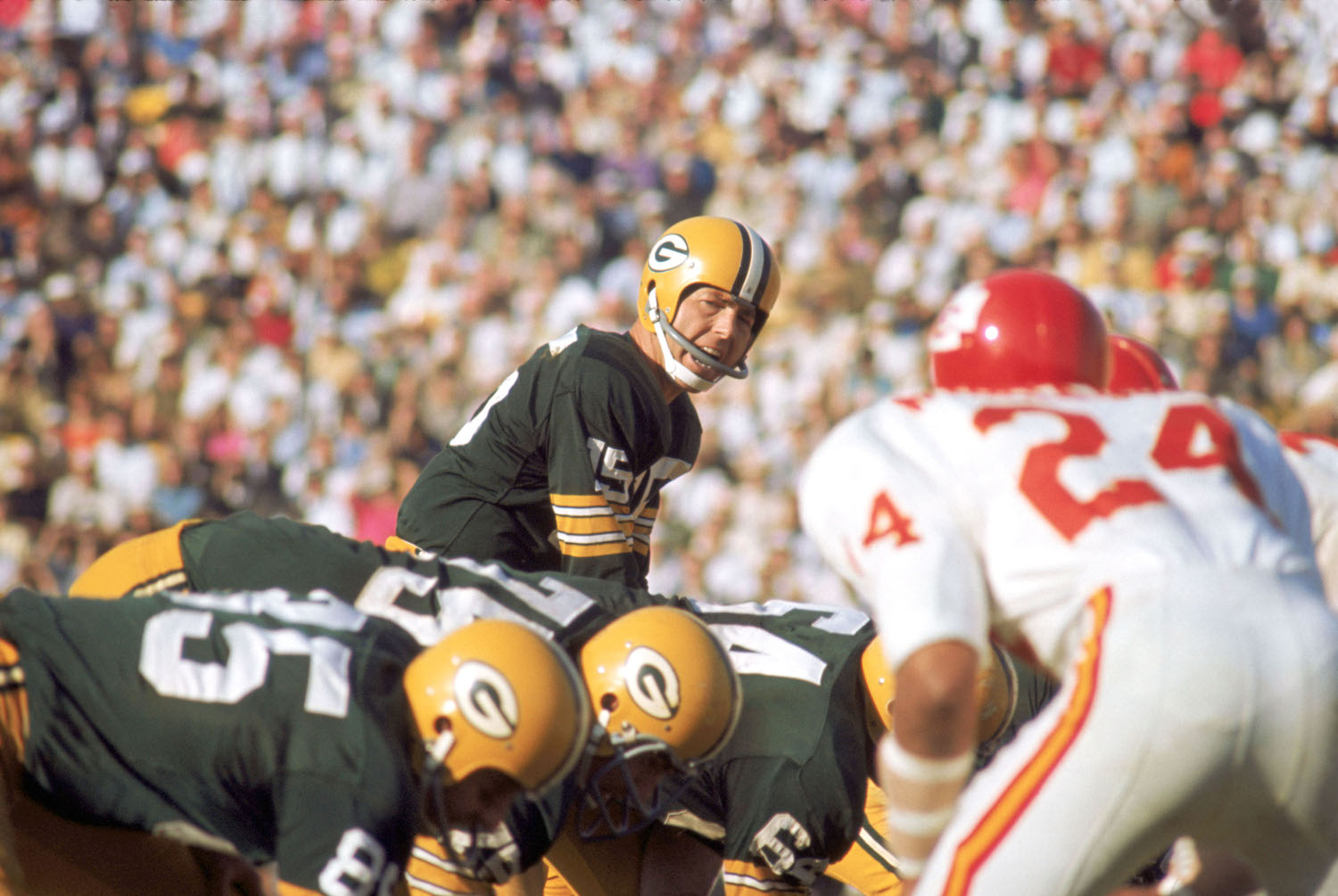 RELATED: Aaron Rodgers Isn't Clutch? This Bizarre 0-42 Stats Says It's True
Starr quarterbacked the Packers to five championships and the first two Super Bowl titles. That's not bad for a player who went one spot later than Tom Brady – infamously chosen 199th in the 2000 NFL draft. Green Bay took Starr 200th overall in the 17th round in 1956. He was a part-time starter until taking the job for good late in the 1959 season, just before the arrival of coach Vince Lombardi in 1960.
Starr made 157 starts for the Packers but retired after the 1971 season. He had surgery on his throwing shoulder before the season, according to the New York Times, and never returned to his old form. Starr was the NFL MVP in 1966, and after the Packers lost his first playoff start in 1960, Green Bay was 9-0 in the postseason with Starr under center over the rest of his career. He completed 61.0 percent of his throws in the playoffs with 15 touchdowns and only three interceptions.
Starr held most of the Packers' career passing records until another legend came to town two decades after Starr's 16-year career ended.
Brett Favre also spent 16 years with the Packers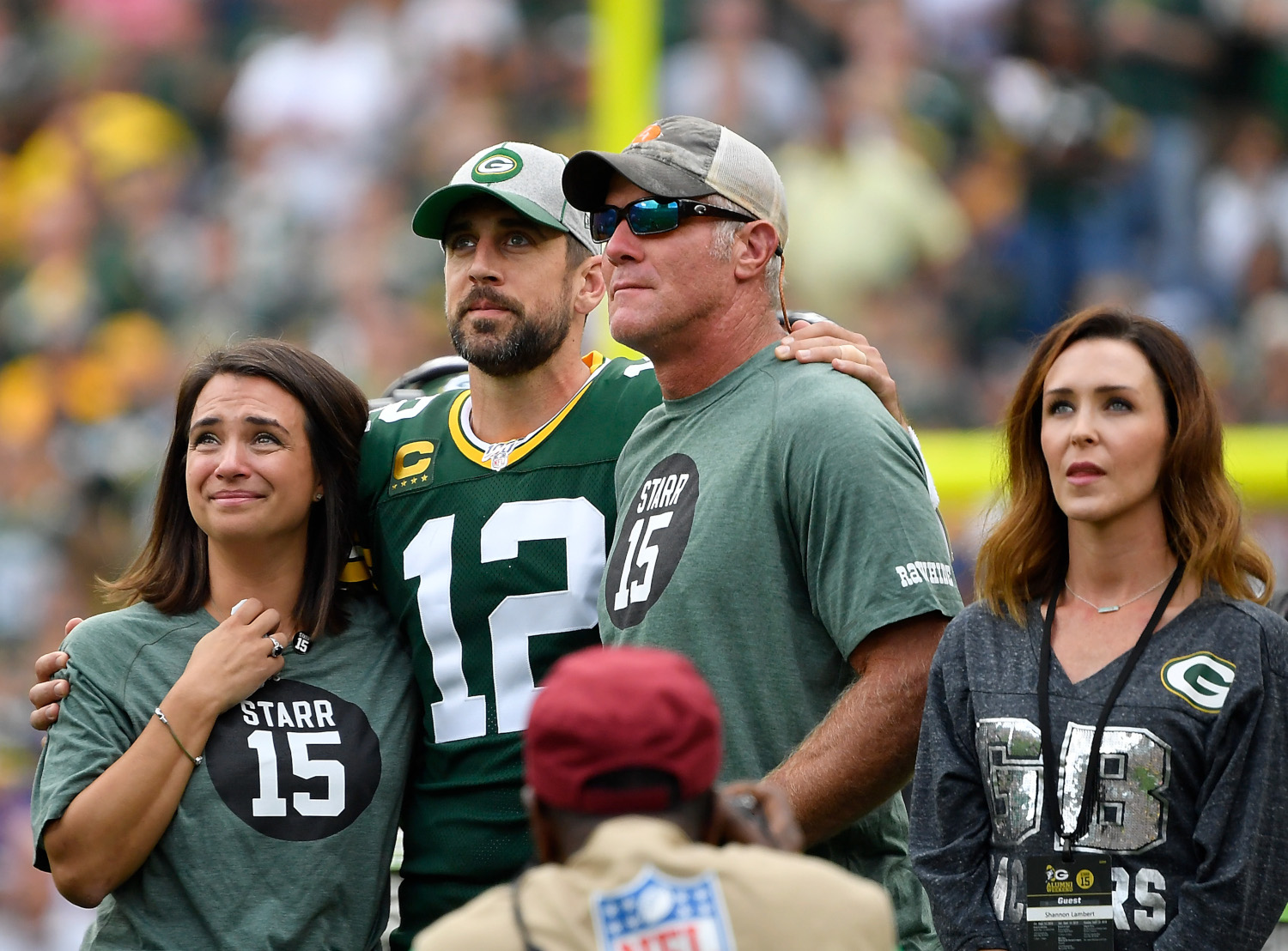 RELATED: Aaron Rodgers Will Play in Green Bay, According to Packers GM Brian Gutekunst
Favre retired in 2010, owning just about every major career passing record in the NFL. His marks for touchdown passes, yards, and completions have since been surpassed by Tom Brady, Drew Brees, and Peyton Manning. He spent all but four of his 20 years in the NFL with the Green Bay Packers.
Favre went in the second round of the 1991 NFL draft to the Atlanta Falcons. He attempted just four passes as a rookie, and coach Jerry Glanville never wanted the Southern Mississippi product. The quarterback partied too much for his coach's liking, and the Falcons shipped him off to Green Bay, according to the Atlanta Journal-Constitution. Favre replaced injured Don Majkowski in Week 4 and started an NFL-record 297 regular-season games, 252 of them with the Packers.
The Packers won a Super Bowl title after the 1996 season and returned as favorites to win in 1997, but Green Bay fell to the Denver Broncos the following year. They never returned to the Super Bowl with Favre, falling just short in 2007. They lost in overtime to the New York Giants in the NFC Championship that season. Favre retired the following spring. Then he wanted to come back, but the Packers had already given the job to his successor, Rodgers. When Favre went to the Jets, it ended a 16-year run in Green Bay.
Aaron Rodgers played his … wait for it … 16th season in 2020
RELATED: The Packers Nearly Missed Out on Brett Favre Twice Even Though 'Nobody Else Wanted Him'
Rodgers is a no-doubt Hall of Famer at this point. Like Favre, he has three NFL MVP awards and a Super Bowl title. Like Starr (1960s) and Favre (1990s), Rodgers was an All-Decade quarterback (2010s) as chosen by the Pro Football Hall of Fame. He's still going strong, throwing for a career-high 48 touchdowns against just five interceptions last season at age 37. Rodgers' 121.5 passer rating in 2020 is the second-best in NFL history, trailing only Rodgers' 122.5 mark in 2011.
Rodgers responded with a great season after the Packers drafted a quarterback in the first round in 2020. They took Jordan Love, and Rodgers was reportedly not thrilled about the pick. Rodgers began his Green Bay career as a late first-round pick in 2005, a move that didn't sit well with the incumbent quarterback at the time either. That's just another parallel in the careers of Rodgers and Favre.
Rodgers reportedly wants Gutekunst out as GM in Green Bay. Gutekunst says the Packers won't trade Rodgers. It's an impasse at this point. Should Gutekunst give in to Rodgers' trade wish or Rodgers decides he's had enough football, the parallels would become even more ingrained. In either of those instances, Aaron Rodgers would end his career with the Green Bay Packers after 16 years … just like Bart Starr and Brett Favre. There's coincidence, and then there's flat-out spooky.