Green Bay Packers Defense Flashes Its Scary Super Bowl Ceiling on Charles Woodson Day
Charles Woodson's name and time with the Green Bay Packers was immortalized Sunday afternoon during halftime between the Packers and the visiting Los Angeles Rams. It was a game the Packers ultimately won, 36-28, and fittingly, Green Bay's defense once again proved its Super Bowl mettle.
That's not to say Matthew Stafford and the Rams didn't get off some shots. An offense with that much talent coached by Sean McVay is going to put up some points. That's a given.
On a day in which one of the greatest defenders in Green Bay history was honored, though, several players on the Pack's defense made a name of their own.
The Green Bay Packers continued to create turnovers
Woodson was known as a great ball-hawk during his time with the Packers. He came away with an incredible 38 interceptions in seven seasons with the Pack, and he also had 15 forced fumbles, six fumble recoveries, 11.5 sacks, and 29 tackles for loss to his name.
The 2021 edition of Green Bay's defense has been borderline elite, much in thanks to turnovers. When the Packers can force their opponent into coughing the ball up, they win more times than not.
That was the case against the Rams. Yes, on paper, it looked like LA's offense rolled a bit. The Rams put up 353 total yards of offense as well as 28 points. That's about all LA had going for it, though.
Stafford looked off all game, much in thanks to Green Bay's relentlessness on defense. The Packers got to their old NFC North foe just twice, but both sacks were huge. One was a strip-sack from Rashan Gary, which was recovered by the Packers. The other sack was courtesy of Kenny Clark on 3rd-and-10 from the LA 30-yard line. With 7:01 to go in the fourth, that sacked forced the Rams out of field goal range, down 11 points, and into a punt.
The Packers also intercepted Stafford in a big spot. Cornerback Rasul Douglas stepped in front of a ball and took it back 33 yards for a touchdown late in the third quarter.
Including a fumble recovery by the special teams in punt coverage, the Packers won the turnover battle, 3-to-1.
"Those plays are huge in the game. The first thing we talk about every week is winning the ball and winning the turnover margin," Clark told the media after the game. "That was huge for us,"
LA got some yards, but the Packers defense made the plays that mattered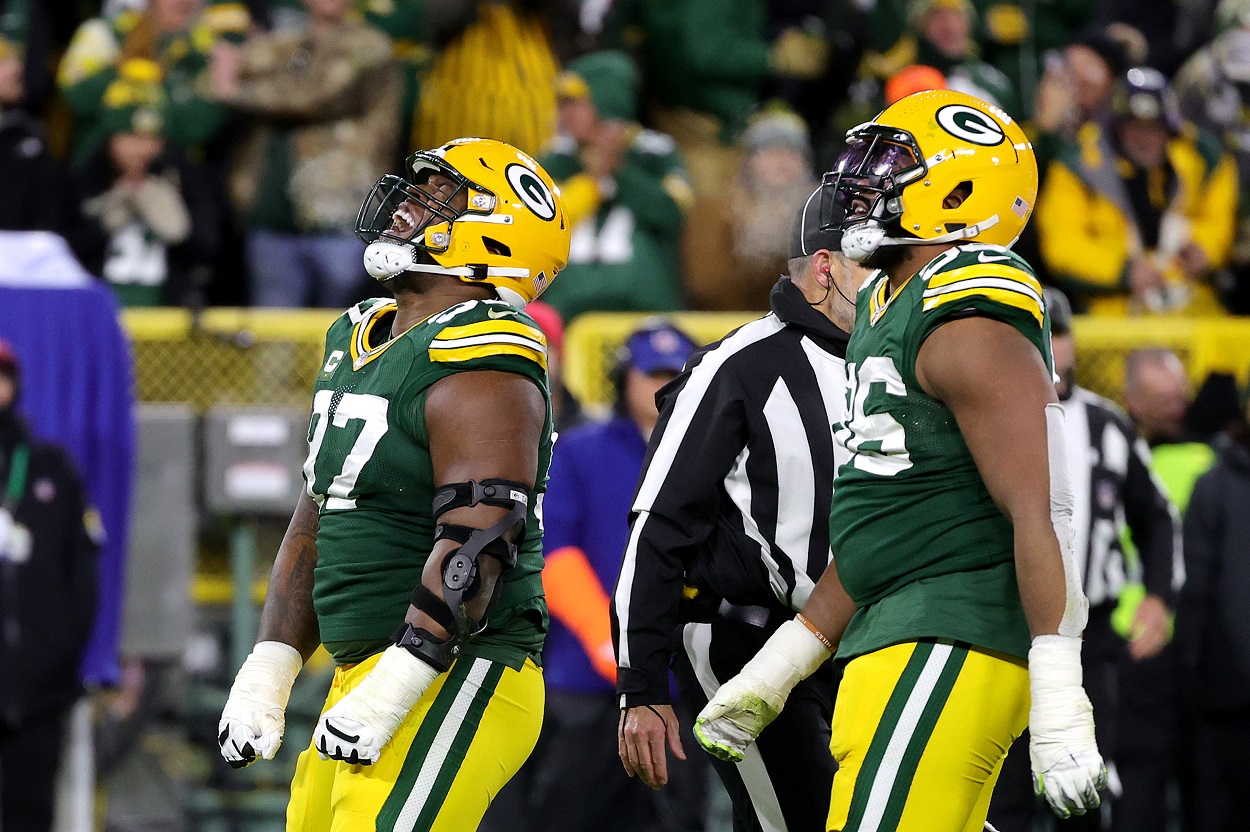 It was overall impressive to see what Green Bay's secondary was able to do against Cooper Kupp and Odell Beckham Jr. Slowing both of those players down was a huge reason behind Green Bay's win.
OBJ did go off for a 54-yard touchdown pass early in the fourth quarter, but that was really all he could muster in his second game with the Rams. He was targeted by Stafford 10 times but came away with just three receptions. Some of that is him still getting used to the system in LA, but a lot of it was tough coverage from Green Bay's secondary.
Kupp, on the other hand, did catch seven receptions for 96 yards, but he was held without a touchdown for the third-straight game. The NFL's leading receiver heading into this contest, Kupp had difficulty getting open for much of the first half and into the third quarter. He did start finding some room as the Rams got down big and started airing the ball out, but in all, Green Bay played a great game against one of the best wideouts in the league. Notably, Douglas' pick-six came when he stepped in front of Kupp and made a play.
The Packers also continued to clean up against the run game. When McVay's offense is really cooking, he likes to set up the pass with a bevy of single-back runs. The Rams couldn't get going on the ground, though, and that played a factor in Green Bay being able to focus on LA's passing attack.
The Rams rushed just 20 times as a team. Darrell Henderson Jr. was held to just 55 yards on 16 attempts, good for 3.4 yards per carry.
Green Bay's defense hasn't even hit its ceiling yet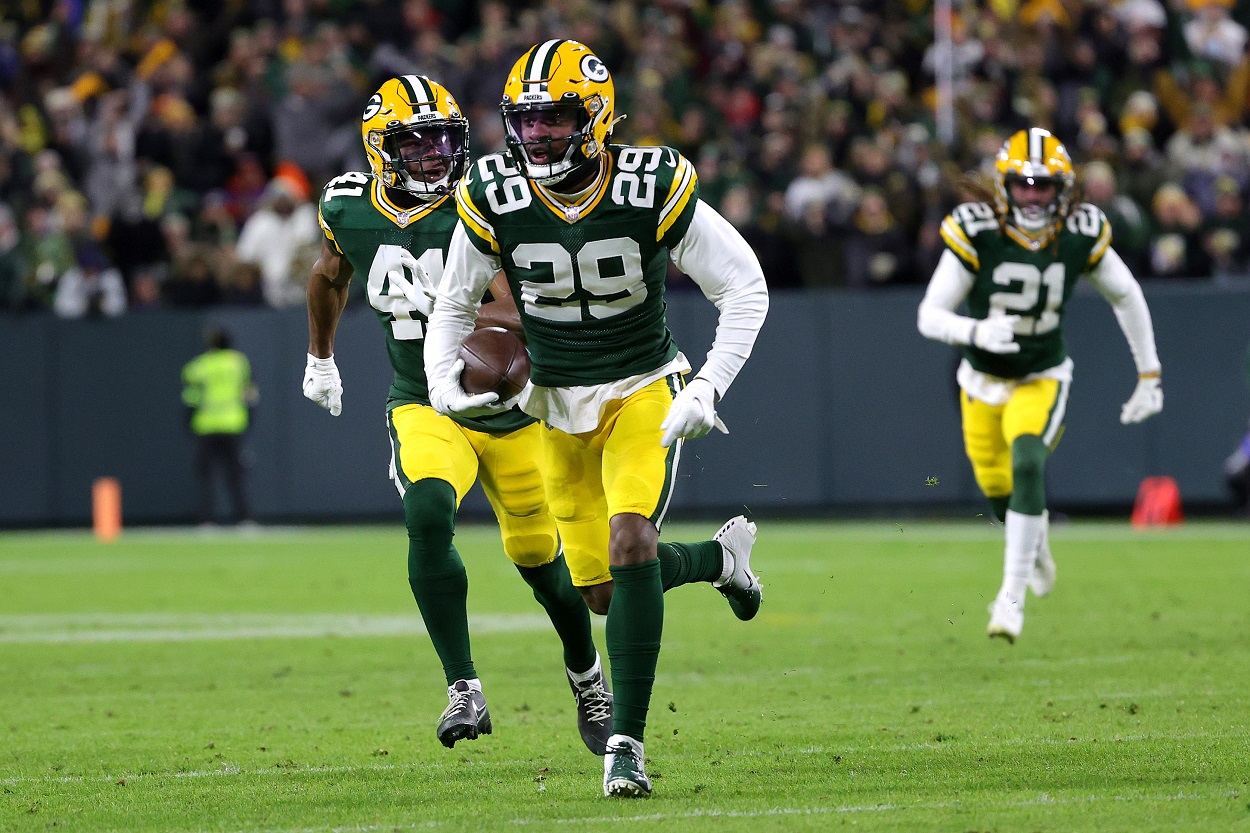 The last time the Packers won the Super Bowl was in 2011. That was a game that saw Woodson injured in the first half against a tough Pittsburgh Steelers' defense, and though he couldn't help his team on the field in the second half, he did play a significant role in helping motivate his teammates to go out and close the game.
The thing about 2021's defense is that it's arguably better than the Super Bowl team's. No, Green Bay doesn't currently have big-name superstar players like Woodson, Clay Matthews, or Nick Collins, but they do have a handful of players who are rounding into Super Bowl form.
Gary notched another sack and now has 6.5 on the season. He's becoming one of the best pass rushers in the league.
Clark has always been a dominant defensive tackle, but he's playing out of his mind this season. He outshined both Aaron Donald and Von Miller on the other sideline, and he's playing like the very best player at his position league-wide.
Linebacker De'Vondre Campbell has been Green Bay's defensive leader all season, and second-year undrafted linebacker Krys Barnes has been playing like a guy who should have been picked up in the second round.
Then there's rookie cornerback Eric Stokes, who is playing well despite being forced into action due to injury. He and Douglas have been playing like they were supposed to be starters all along. Because they've been so good, the Packers have been able to weather numerous injuries to Kevin King and a bad shoulder injury to superstar corner Jaire Alexander.
That's the thing about this defense that should have the rest of the NFC on notice. The Packers are playing at a high level, but there's a good chance they haven't hit their peak yet.
Players will get healthy during the bye week, and the potential return of Alexander is looming large. He's been seen working out at practice and gets closer to coming back every week. Then there's superstar linebacker Za'Darius Smith, who hasn't played since Week 1 due to a back injury. He was on the sideline (in street clothes) against the Rams and even ran out of the tunnel with the defense. There's no official word on when he'll be back yet, but if he can make it back to end the season, Green Bay's defense, and specifically its pass rush, will be so much better for it.
"The ceiling is so high, we have so much talent, we just got to put it together. Because we still haven't put together our best game," Douglas said after the game, according to Ryan Wood.
"It could get scary," he said when asked what Green Bay's defensive potential would look like.
Scary indeed.
Stats courtesy of ESPN and Pro Football Reference.