The Green Bay Packers Defense Has Suffered Early Under Joe Barry
While an offseason standoff between the Green Bay Packers and Aaron Rodgers appeared to put a potential title run in peril, a change to the team's coaching staff has more seriously threatened those championship aspirations. Joe Barry, the defensive coordinator the Packers hired in February, has directed one of the NFL's most staid, ineffective defenses entering Week 3 of the 2021 NFL season.
The troublesome start for Barry underscores concerns regarding the longtime assistant's efficacy running a defense. Barring significant defensive improvements in the coming weeks, the Packers cannot realistically expect to reach a third consecutive NFC Championship Game, let alone Super Bowl 56.
Joe Barry's inauspicious start in Green Bay
Through the Packers' first six quarters of play in 2021, Joe Barry's defense could scarcely have performed worse given the talent at his disposal. In the season opener, the unit yielded 38 points to a New Orleans Saints offense in its first game with Jameis Winston starting under center. The following week, Green Bay gave up 17 first-half points to a talent-poor Detroit Lions offense playing without its No. 1 wideout.
Two major problems have cropped up repeatedly in both games: miscommunications between defensive backs and a lack of pressure on the quarterback.
The former became apparent before the end of the Packers' first defensive series in Week 2. At the goal line, the Lions ran a switch concept between their weakside receivers. Green Bay corners Kevin King and Eric Stokes flubbed the defensive handoff, both converging on the same wideout and leaving Quintez Cephus unattended in the end zone. Jared Goff connected with Cephus for the go-ahead score seconds later.
Coverage breakdowns happen to every defense, but quality units negate those issues by generating pressure.
The Packers have fallen short in that regard, finishing Week 1 with a mere three quarterback hits and adding just one more by halftime of the following game. And while top pass rusher Za'Darius Smith currently resides on injured reserve with a back injury, Green Bay's defensive front also includes field-tilters Kenny Clark and Preston Smith. Add in ascending 2019 first-round pick Rashan Gary, and Barry should have enough manpower to produce results.
Yet so far, the pass rush has largely looked dormant, leaving the backend of the defense exposed.
Slow adjustments and incompatibilities with personnel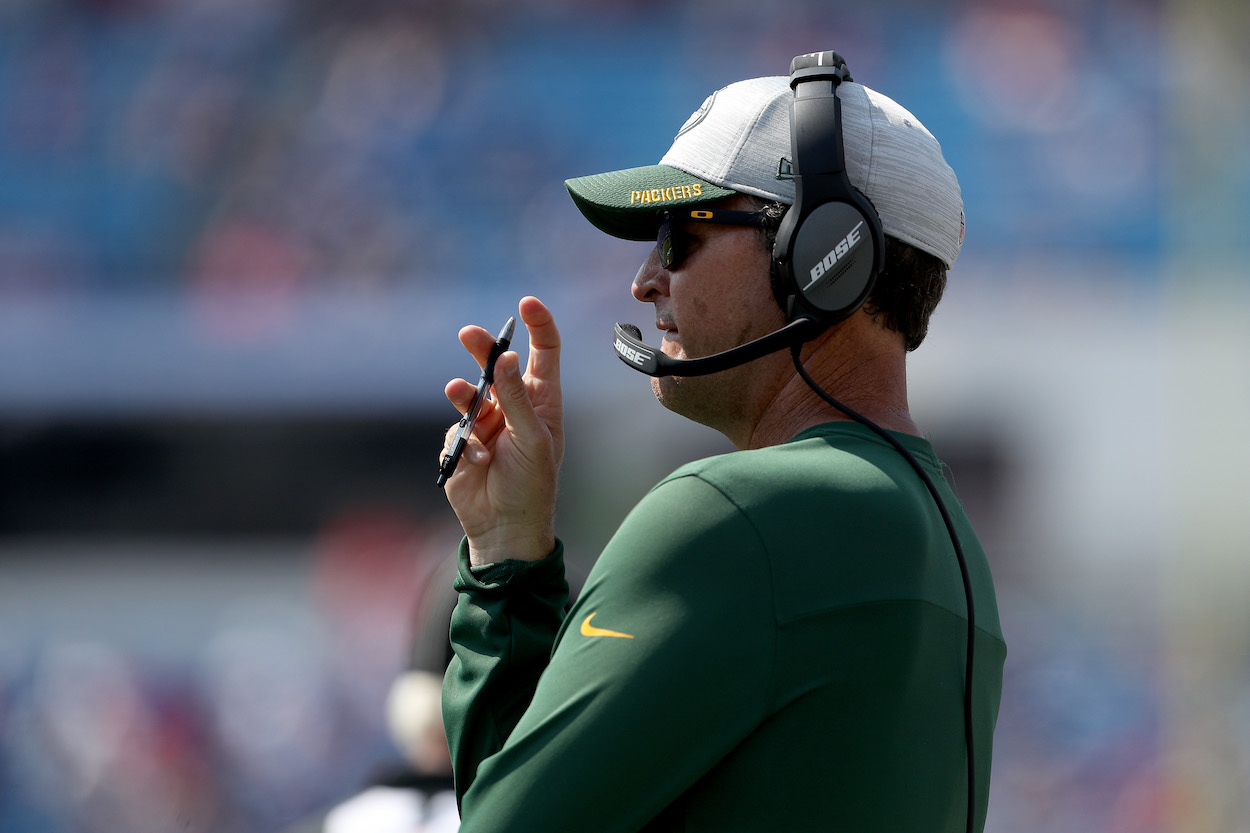 While Barry has made adjustments in each of his first two games with the Packers, those only came after the defense absorbed considerable abuse. After two quarters without registering any meaningful pressure in Week 2, he finally called more blitzes, an approach typically anathema for defensive coordinators running two-high, zone-heavy schemes such as his. That change disrupted Goff's rhythm and contained the bleeding for Green Bay.
However, Barry's defense also benefited from circumstances unique to that game, namely a heavy rain that caused a Goff fumble and a third-quarter Packers lead that removed the threat of the run and play-action. Facing an offense with such a limited menu naturally eased the difficulty for the Packers, but that game script will not arise every week.
More importantly, the strong finish doesn't remove the concerns Barry's defense raised in the previous six quarters.
His scheme, one informed by Denver Broncos head coach Vic Fangio as filtered through former Los Angeles Rams defensive coordinator Brandon Staley, simply hasn't worked for the Packers when not playing with a multi-score lead. The defensive front hasn't harassed the quarterback nearly enough in Za'Darius Smith's absence, and the cornerbacks appear better suited for press-man coverage rather than the zone calls Barry's system prioritizes.
Barry can theoretically pivot his approach to better accommodate his personnel, but that would take him further out of his wheelhouse. Barry's past stops saw him working largely in Tampa 2 schemes and, more recently, the Fangio-Staley system, all of which function differently than the type of defense in which the Packers' personnel seems to thrive.
Barry's unimpressive previous stints as a defensive coordinator
Myriad coaches have started out slowly with new teams and rebounded well. However, in Barry's two previous stints as a defensive coordinator, his units have made little progress or regressed over the course of a season.
During his debut season with the Lions in 2007, Barry's defense finished with the NFL's worst weighted DVOA (a version of the metric which puts emphasis on recent play over season-long performance), per Football Outsiders. The following season saw the unit start near the back of the league and remain there as Detroit went 0-16, a first in NFL history.
A similar backslide occurred during Barry's second run as a defensive coordinator, which came in 2015 with Washington before the team fired him a year later after unacceptable progress.
Given Barry's track record and early struggles with the Packers, the path to improvement remains unclear. His colleagues praise his high-energy approach to coaching, but enthusiasm doesn't fix miscommunications or pass-rush shortcomings. Green Bay needs schematic solutions as the team lacks any real method of improving the roster save for Smith's return later in the year. Absent some meaningful alteration, the defense will continue to give up explosive plays and points in bunches.
RELATED: Bill Cowher and the 'NFL Today' Crew Crush Aaron Rodgers: 'He Looks Very Selfish, He Looks Almost Aloof'