The Green Bay Packers' Defensive X-Factor Finally Has an Opportunity to Shine, and He's Going Into Minnesota Feeling Angry: 'I Definitely Go Into Vikings Games With a Chip on My Shoulder'
The Green Bay Packers took a chance on linebacker De'Vondre Campbell this offseason, and both parties have to be thrilled with the return on their respective investments.
In the Packers, Campbell found a team willing to give him a significant role and trust him to be a key piece of the defense. In Campbell, Green Bay finally found an inside linebacker who can not only run the defense but make big plays within it.
Coming off a shutout win against the Seattle Seahawks, the Packers and Campbell want to keep rolling against the Minnesota Vikings.
The Green Bay Packers trust De'Vondre Campbell to lead the defense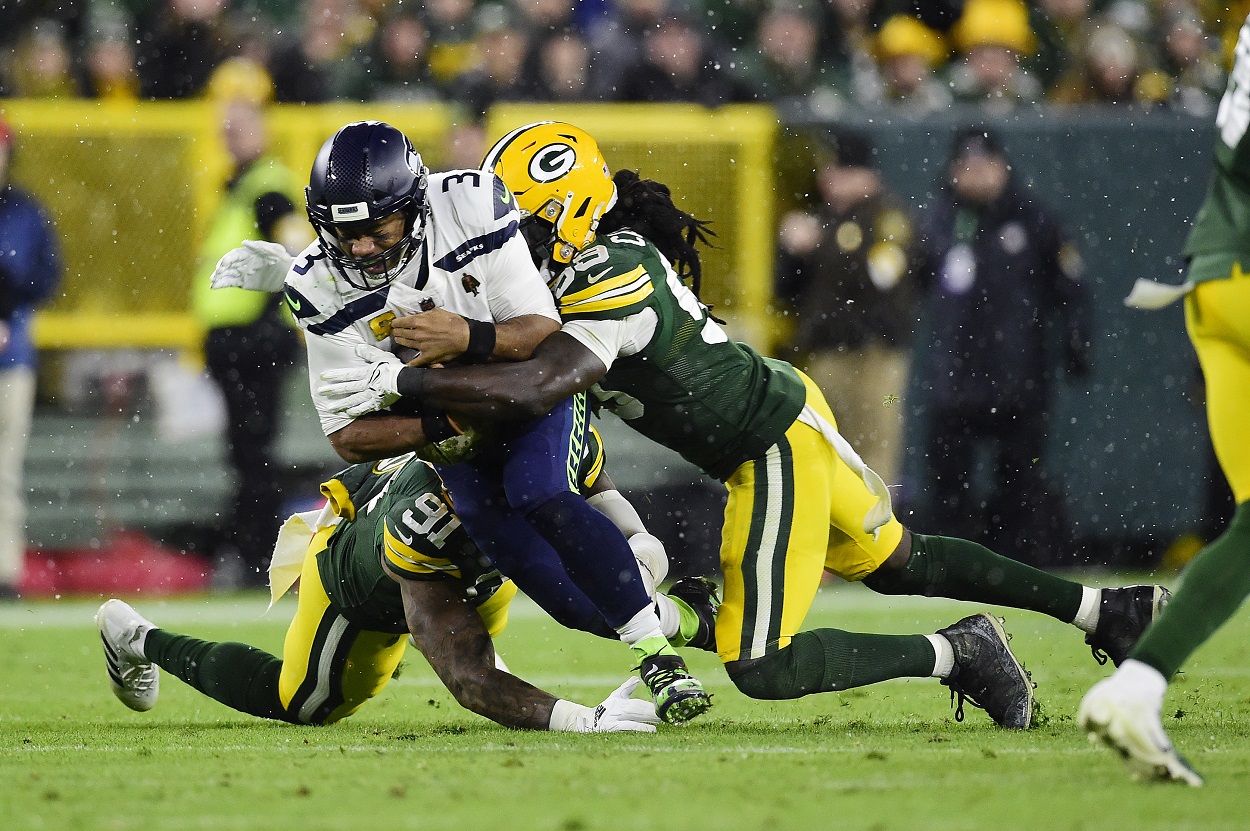 The Packers signed Campbell just a few weeks before training camp with the intention of bringing him in as a veteran linebacker who could help new defensive coordinator Joe Barry steady the ship in his first season.
Campbell was drafted out of the University of Minnesota in the fourth round of the 2016 draft by the Atlanta Falcons and played his first five NFL seasons with the team that drafted him. He accumulated 363 tackles, 18 tackles for loss, three interceptions, and five forced fumbles with Atlanta.
The Arizona Cardinals picked Campbell up in 2020 but only gave him a one-year deal. Hitting the free-agent market earlier this summer, the Packers swooped him up and gave him the keys to the defense.
When Barry calls in a play, it goes right to Campbell's helmet. He then relates it to the rest of the defense.
"I love it, actually," he told Packers analyst Larry McCarren when asked about the pressure of being the MIKE linebacker in Green Bay's scheme. "It's a great responsibility because everybody's looking to you in situations of chaos. I just like to keep everybody cool, calm, and collected. That's my job as the MIKE. To make sure everybody's on the same page, knows their assignments, [and] that we're all cohesive and operating as one.
Campbell is playing a huge role for an elite Green Bay defense
There was some trepidation surrounding Barry's hire in Green Bay, especially when considering the fact that his previous stops as defensive coordinator did not inspire confidence. He was the defensive coordinator for the Detroit Lions when they went 0-16, and he had a poor stint as defensive coordinator in Washington under his belt as well.
Surprisingly, Barry's defense has been elite so far in 2021, though. The Packers are Top 5 in total defense, they're the third-best defense in passing yards allowed per game, and they're also the third-best scoring defense in the NFL this season.
While multiple players have stepped up for Green Bay, Campbell has arguably been the most significant impact player for the Packers.
Not only has he been the leader of Green Bay's defense, but he's consistently made big plays. Through 10 games, he's the Packers' leading tackler (88), and he's also notched two forced fumbles, two interceptions, and a fumble recovery.
"I always say I'm very grateful for the opportunity more than anything," he said. "The only thing you can ask for in this world is an opportunity, and I've asked before. I don't know if it was a lack of belief from other people or what it was but I knew that I could do it; I just needed the opportunity to show it."
Campbell holds a grudge against the Minnesota Vikings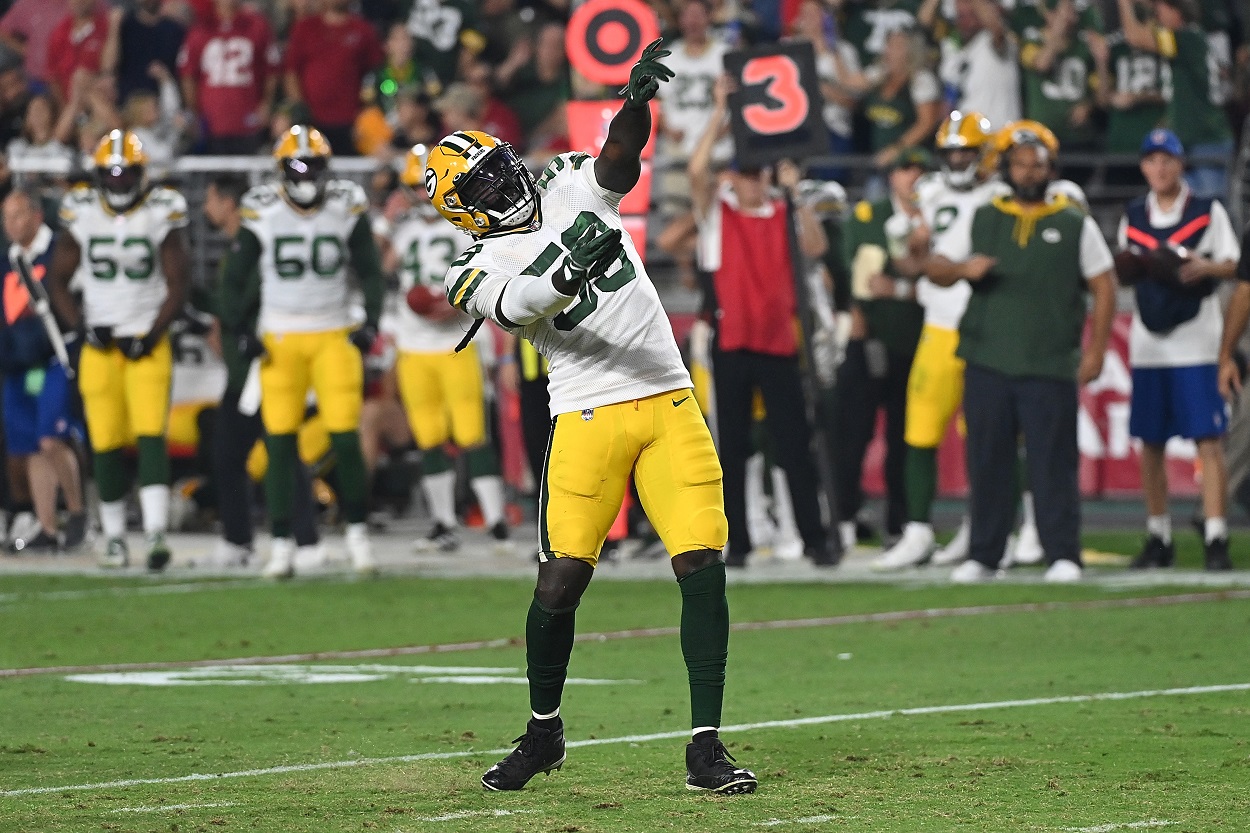 Campbell played for the Minnesota Golden Gophers for three seasons in college. He racked up 206 tackles, 16 tackles for loss, 6.5 sacks, two interceptions, and a defensive touchdown. He was named All-Big Ten Honorable Mention by the Big Ten coaches and media his senior year and, of course, made it to the NFL as a result of his play.
Though that was now many years ago, Campbell still does keep in mind that the Vikings knew of him because he was in their backyard. They decided not to draft him, though, and he still remembers that.
The Vikings passed on drafting Campbell twice, instead opting for wide receiver Laquon Treadwell (pick 23) and cornerback Mackensie Alexander (pick 54). Atlanta drafted Campbell with pick 115.
"I definitely go into Vikings games with a chip on my shoulder because I played in the Twin Cities," Campbell said. "They got a very close look at me personally, and they didn't draft me, so I kind of take it personal when I play against the Vikings."
The 8-2 Packers will take on the 4-5 Vikings Sunday afternoon at U.S. Bank Stadium. Campbell will be tasked with shutting down a Vikings offense that scores 24.6 points per game and is a Top 15 unit league-wide.
No matter what happens on the field Sunday, you know he'll be prepared to handle it for Green Bay.
"It feels good to be the man in my role and have everybody looking to me and me being able to run everything," he said. "You see what happens when you give somebody an opportunity."
Stats courtesy of ESPN and Pro Football Reference.