The Green Bay Packers Are Finally Giving Aaron Rodgers What He's Always Needed
There's a case to be made that Green Bay Packers quarterback Aaron Rodgers has always had to play with one hand tied behind his back, and at least that is what some fans seem to believe. The fact that he won a Super Bowl for the franchise and is a three-time NFL MVP is even more impressive in that light.
Rodgers has supposedly not had enough weapons on offense to get over the hump. Anyone who has watched the Packers in the playoffs since their Super Bowl win in February 2011 will also tell you that the MVP quarterback has consistently been let down by sub-par defenses as well.
As with anything, the truth is probably somewhere in the middle. The Packers did sign Za'Darius Smith and Preston Smith in 2019, after all. With that said, it's undeniable that the Packers are trying to go all-in in 2021 to perhaps utilize Rodgers' skillsets for one final time to make a Super Bowl push.
His future is still up in the air, but the Packers aren't taking any chances.
The Green Bay Packers and Aaron Rodgers are seemingly always the bridesmaid and never the bride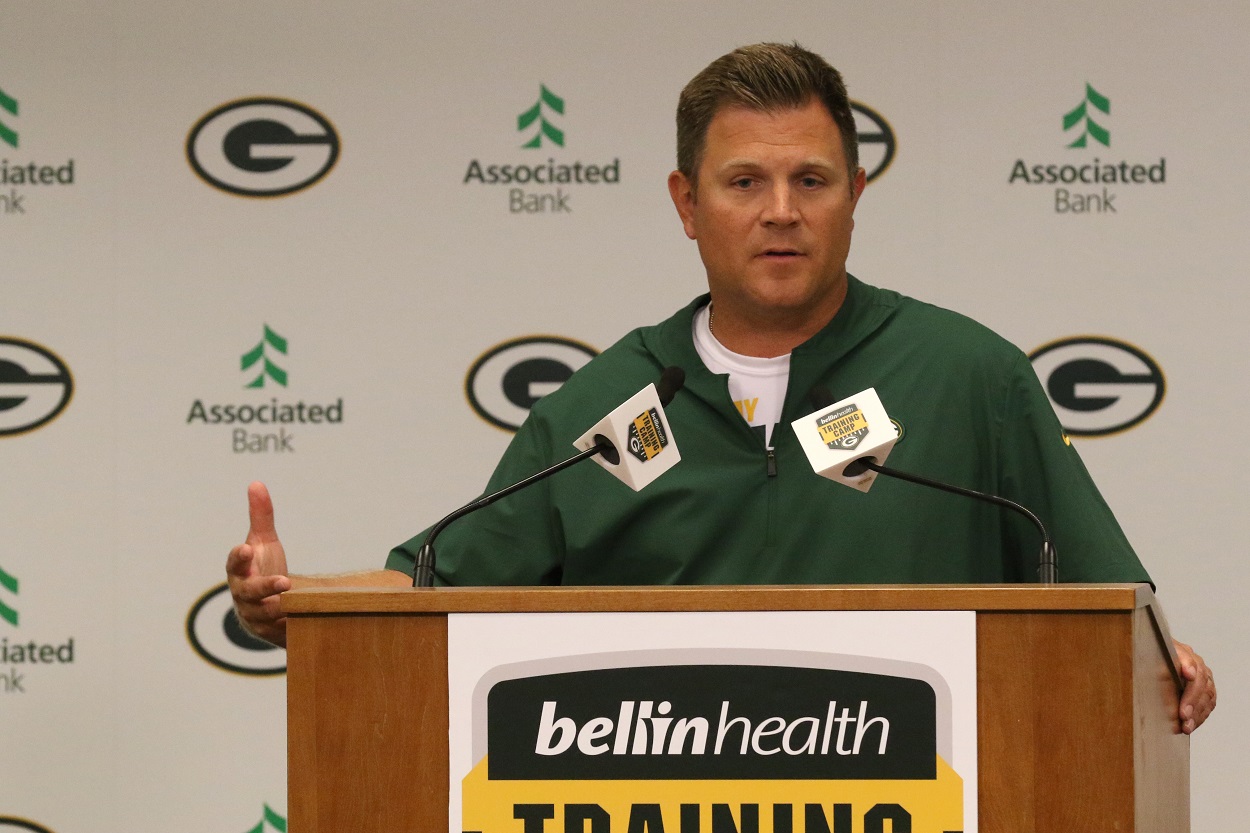 The Packers have, of course, tried to build a Super Bowl roster around Rodgers through two different regimes. The late Ted Thompson was successful once, but he was known for being a draft-and-develop guy and didn't often go get big pieces for the Packers in free agency when Rodgers needed help, especially after the core of the Super Bowl roster was gone.
As far as Brian Gutekunst is concerned, the Packers' quarterback has had clear objections to his roster management. Much of that has had to do with letting veteran players go, but fans have also had qualms about a supposed lack of weapons.
The Packers always seem to be linked to free agents or trade pieces in the Gutekunst era, but history has shown that they don't often bring them in. Usually, the Packers have been in on the conversations but never pull the trigger due to a steep price tag. Green Bay is notoriously conservative when it comes to shelling out money on free agents or the trade market.
Green Bay was famously close to receiving Khalil Mack from the Raiders before he went to the Chicago Bears. More recently, the Packers were in on the J.J. Watt free-agency sweepstakes, but he chose to go to the Arizona Cardinals.
Money has also played a role in the Packers letting current players go.
Stars like Charles Woodson, Jordy Nelson, Clay Matthews, and Julius Peppers all left Green Bay before the ends of their primes due to the Packers not wanting to give one more contract to an aging standout. In some cases, the Packers were proven right, but Rodgers was clear over the offseason that he could have gotten the best out of players he knew well and that they would thrive in Green Bay more than anywhere else.
"I wanted to help the organization maybe learn from some of the mistakes in the past, in my opinion, about the way some of the outgoing veterans were treated, and just the fact that we didn't retain a number of players that I felt like were core players to our foundation, our locker room, high-character guys," Rodgers said, according to Bill Huber, when he finally returned to Green Bay this offseason and opened up about his thought process. "I'm talking about Charles Woodson, Jordy Nelson, Julius Peppers, Clay Matthews, Randall Cobb, James Jones, John Kuhn, Brett Goode, T.J. Lang, Bryan Bulaga, Casey Hayward, Micah Hyde, guys who were exceptional players for us but great locker-room guys, high-character guys, many of them whom weren't offered a contract at all or were extremely low-balled or were in my opinion not given the respect on the way out that guys of their status and stature and high character deserved."
The Packers are finally getting desperate and giving Rodgers some defensive help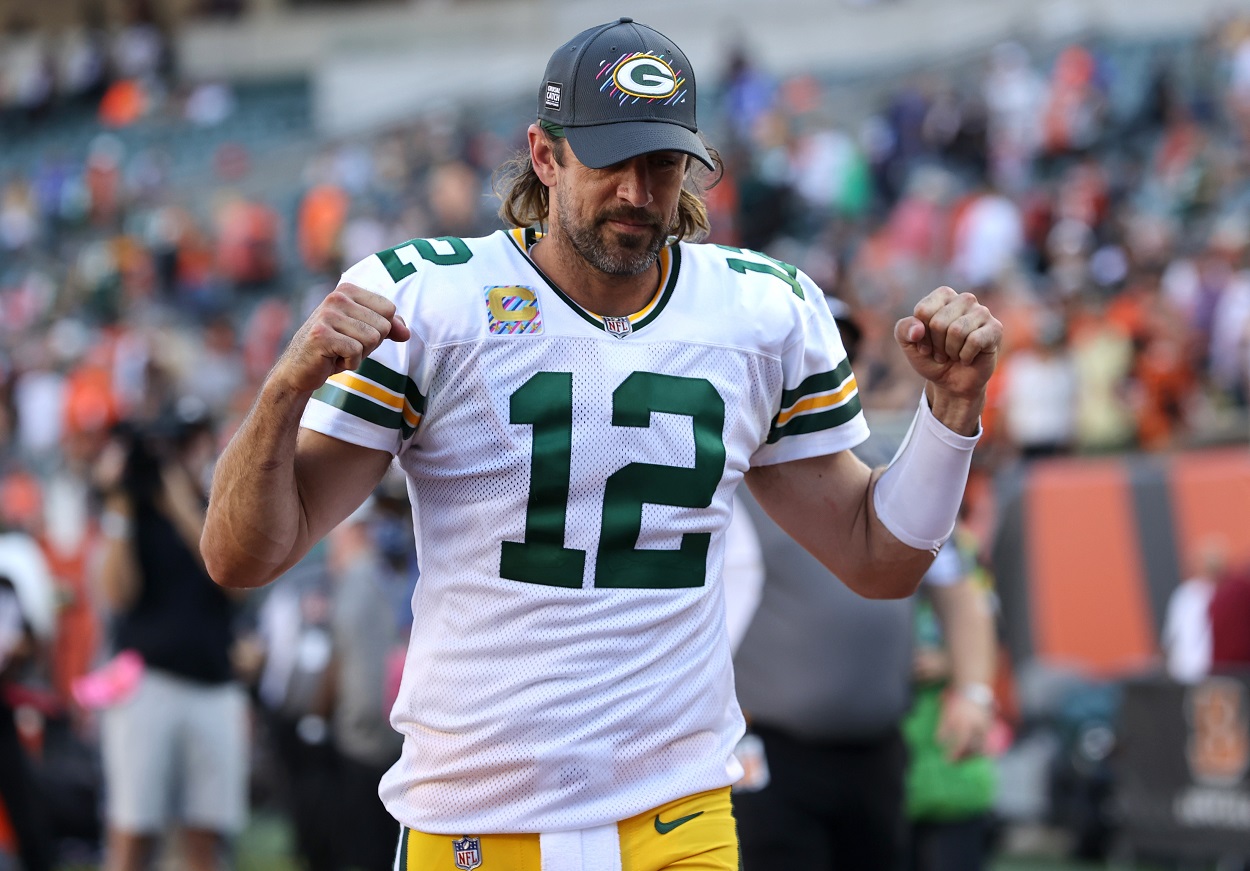 Green Bay has been absolutely tormented by the injury bug in 2021, especially on defense.
The Packers are down star pass-rusher Za'Darius Smith and all-world cornerback Jaire Alexander. There's no timetable on Smith coming back, and Alexander's status is still up in the air. Heading into Week 7's matchup with the Washington Football Team, the Packers also have injury concerns to key players like pass-rusher Preston Smith, cornerback Kevin King, and safety Darnell Savage.
The Packers are amazingly still 5-1 on the season, but with injuries piling up and the Super Bowl being the expectation, Gutekunst has been working hard to bring in the calvary.
ESPN is reporting that Green Bay has signed edge rusher Whitney Mercilus, who was recently released after 10 seasons with the Houston Texans. A first-round pick in 2012, Mercilus has three sacks, four tackles for loss, three quarterback hits, and 12 tackles so far this season. He has 57 career sacks, all coming with the Texans.
The Packers also recently signed linebacker Jaylon Smith to bolster the defense, and they are hoping to find some of his lost potential. Other players the Packers have recently signed for defensive help include cornerback Rasul Douglas and linebacker La'Darius Hamilton.
Gutekunst is doing everything he can to keep the Packers on track while they deal with defensive injuries, and in the meantime, he's giving Rodgers the one thing he needs to go win a Super Bowl.
Rodgers needs a productive defense in order to finally get over the top
Gutekunst is working so hard to plug holes in Green Bay's defense because he knows that as good as Rodgers is and as good as head coach Matt LaFleur is as a play-caller, the Packers need a strong defense in order to get to the Super Bowl.
Time after time in Rodgers' career, he's put on superhuman performances, only to be let down by his defense. That's even happened in multiple NFC Championship games. Rodgers is 1-4 in such contests, with the one win leading to a Super Bowl championship. Since Green Bay beat the Bears, 21-14, in 2011, Rodgers has lost four straight at the doorstep of the Super Bowl.
The Packers lost, 28-22, to the Seattle Seahawks in 2015, with Green Bay's defense and special teams serving as a major reason for Seattle's epic comeback. The Packers were boat-raced in 2017 when the Atlanta Falcons beat them 44-21. Julio Jones went for 180 yards and two touchdowns in that contest. Matt Ryan threw for 392 yards and four scores.
The San Francisco 49ers ran all over Green Bay in an NFC Championship Game win in 2020. Raheem Mostert ran for 220 yards and four touchdowns on the Packers' defense in that game.
And who could forget the Packers' loss to Tom Brady and the Tampa Bay Buccaneers last season? King gave up a touchdown over the top to Scotty Miller with one second to go before halftime and the Packers supposedly playing prevent defense.
Time after time, the defense has led Rodgers down.
The proof is in the pudding. Rodgers needs help from his defense in these big games. It seems that Green Bay's front office is finally seeing that.
Stats courtesy of ESPN and Pro Football Reference.
RELATED: Aaron Rodgers Drops a Major Hint About His Future With the Green Bay Packers After He Broke the Hearts of Bears Fans