The Green Bay Packers Are Forgetting Aaron Rodgers, for Now, and Throwing Their Support Behind Jordan Love: 'We Got Your Back'
Green Bay Packers' second-year quarterback Jordan Love is in a challenging position as the Packers prepare to take on the Kansas City Chiefs.
The Packers drafted Love No. 26 overall in the 2020 NFL Draft, but he has never started an NFL game. Heck, he's never even played in a regular-season game. Backing up Aaron Rodgers can lead to that type of outcome, until now.
He was inactive all of 2020, his rookie season, and played two games in the 2021 preseason. He did get all of the first-team snaps during an offseason that saw Rodgers stay away from the team, but that's about all Love can say regarding his relation to the first string.
He now has a massive test ahead of him. The Packers head to Kansas City, one of the most challenging places to play, to take on Patrick Mahomes and the Chiefs.
Jordan Love is going to have to step up and execute for the Green Bay Packers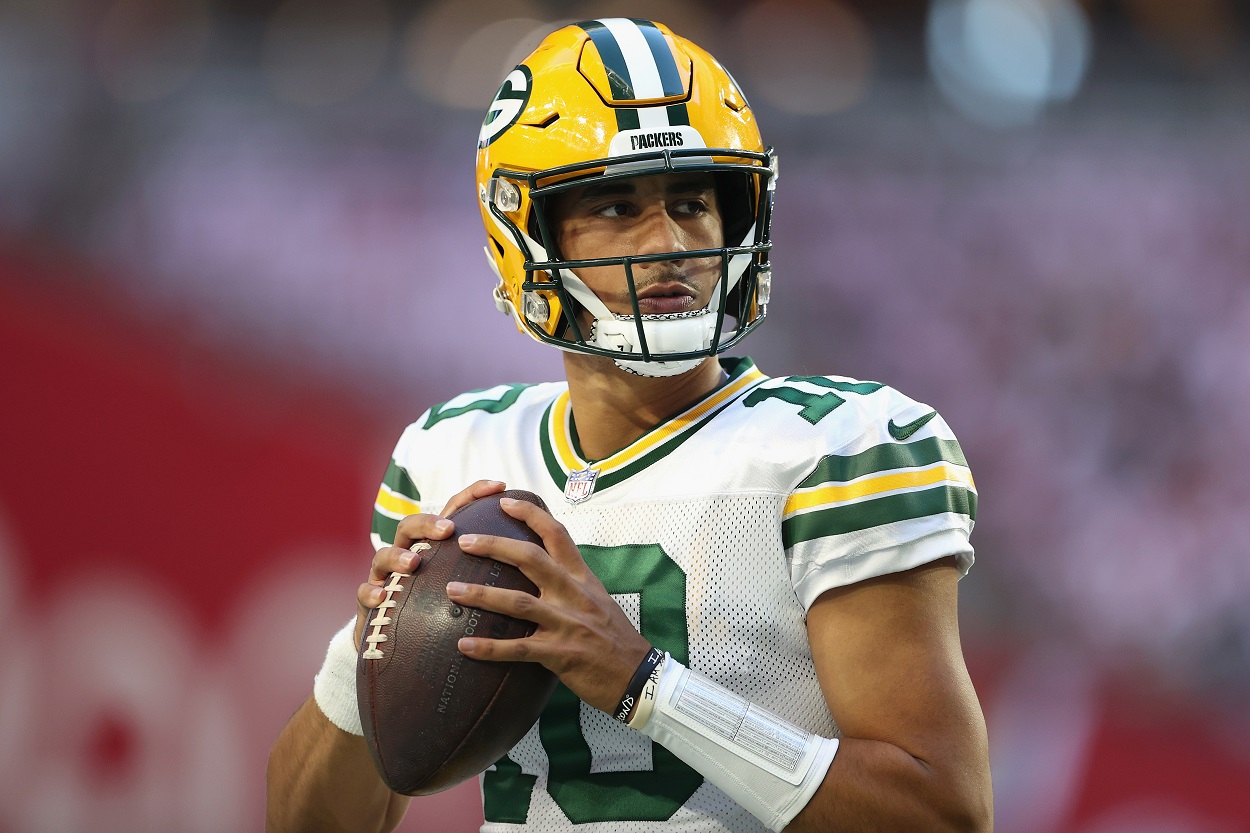 Even though he's in his second year in the NFL, Love is essentially a rookie. Until Rodgers tested positive for COVID-19 the Utah State product watched the game from the sideline as the future Hall of Famer's backup. He's run the scout team in Green Bay, and he's done everything he can do to soak up Matt LaFleur's expansive yet effective playbook.
With Rodgers out for at least one game due to the league's coronavirus protocols, Love will have to graduate from the scout team to the first team.
"There's definitely a comfort level in terms of just being able to spit out the play calls, the whole operation," LaFleur told the team website when asked about Love's readiness to start. "It's going to come down to his ability to go out there and execute."
Executing the plays he at this point knows will be easier said than done against a real NFL defense trying to make his debut a sour one. For what it's worth, though, he is going against a unit that has had its struggles.
Heading into the Week 9 matchup, Kansas City's defense is ranked 28th in the league. The Chiefs give up 27.5 points per game, and they've given up 15 passing touchdowns this season, which puts them near the bottom of the league.
Love will have help in Green Bay's running game
If LaFleur is an intelligent coach, which he's proven to be, he'll do everything he can to get Green Bay's running game started early and often against the Chiefs.
The best way to make life easier for a young quarterback is to allow him to get into the offense's rhythm by handing the ball off and working ahead of the sticks. A strong running game is a quarterback's best friend, and that's doubly true for a quarterback making his first start.
Love does appear to have a strong ally in the form of star running back Aaron Jones. One of the top running backs in the league, Jones spoke about Love's first start and pledged to be there for the young quarterback.
"I'm there for him in any kind of way, just as I know the other nine guys in the huddle will be," Jones said. "We don't know what it's going to be like out there, but to let him know before the game, 'Hey, just go play free, play your game, same thing you've been doing since (you were) a little kid. You don't have to do anything special. We got your back.'"
Having Jones in Love's corner could end up being the secret weapon for the Packers. He's rushed for 463 yards and three touchdowns this season, averaging 4.5 yards per carry. He'll keep the Packers in 2nd-and-short and 3rd-and-short situations because of his uncanny ability to pick up yards even when it looks like nothing is there. That will ultimately make life easier for the young quarterback, and it should also help with his confidence.
Love will have no shortage of offensive weapons around him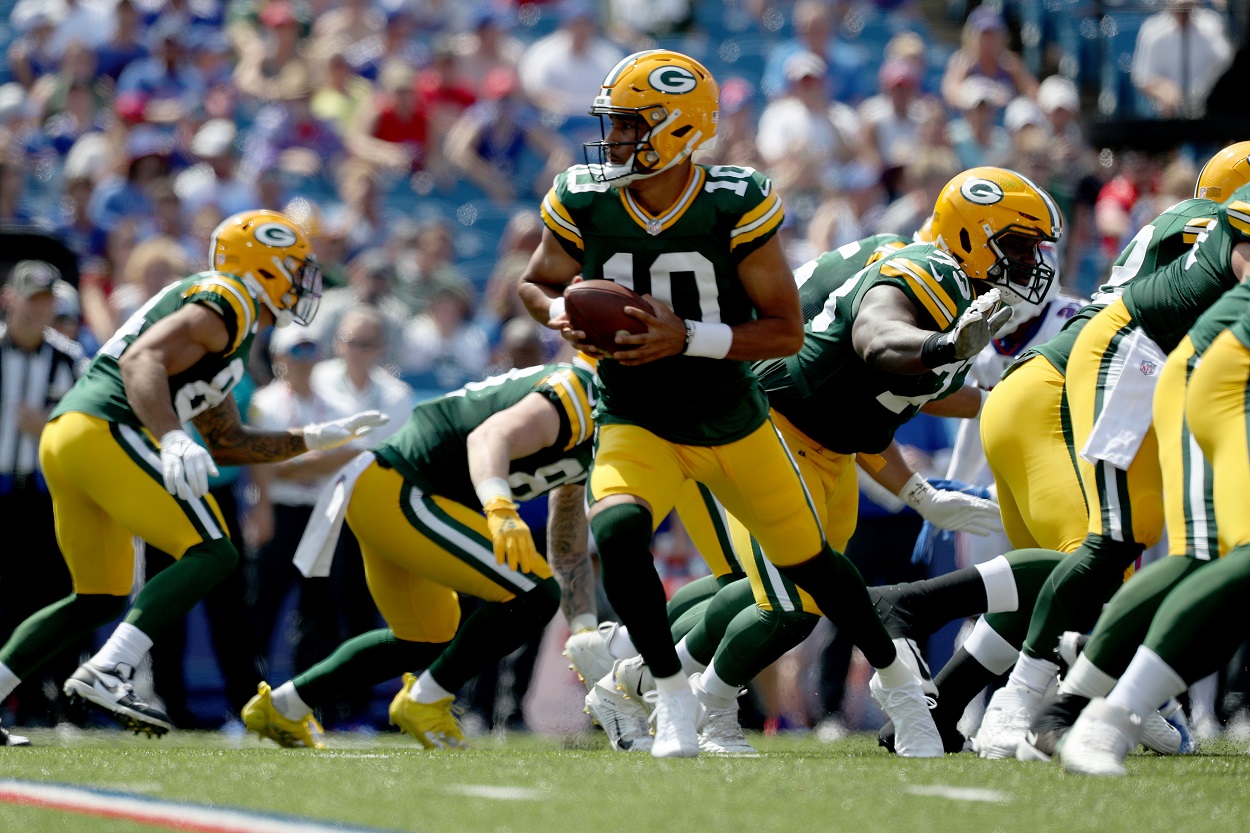 There aren't many young quarterbacks who boast the type of offensive firepower that Love does. Most first-round quarterback picks end up on bad teams in an effort to try to turn a lousy franchise around. Like Rodgers before him, Love was drafted by a strong Packers franchise that had its eye on the future.
The similarities between the two stories are eerie, and though Love may never go on to have a Hall of Fame career, he will have plenty of support in his first-ever start.
Davante Adams is off the reserve/COVID-19 list and is expected to be available to play against the Chiefs. Adams is Rodgers' favorite target, and he's the top wide receiver in the NFL. He's caught 52 passes for 744 yards and three touchdowns this season, and that's despite missing Green Bay's last game. Not many young quarterbacks get to play with a wideout of Adams' caliber, and his talent should go a long way in making Love look good against the Chiefs.
Green Bay also has one of the best offensive lines in football despite having to shuffle players in and out due to injures all season. Green Bay's linemen are absolute road graders in the run game and they've also come a long way against the pass rush. Elgton Jenkins is playing at a high level at left tackle for the Packers, and that's despite the fact that he's naturally a center or guard. Jenkins can play center, guard, and tackle at an NFL level. He was a Pro Bowler in just his second NFL season and is well on his way to another one. Right tackle Billy Turner is also one of the more complete blockers in the game, which gives Love two bookends to rely on when the jitters of going up against his first real NFL pass rush set in. The young quarterback will also have to navigate Arrowhead Stadium, one of the most challenging places to play for any opponent.
"It's not an easy place to play," LaFleur said, looking ahead to the game. "You're talking about one of the loudest stadiums in the National Football League. It's a team that's been to back-to-back Super Bowls, so it's going to be a great challenge for us."
Kansas City will present a significant challenge for the Packers, especially with Love getting his first start.
It does seem as if the young quarterback is being set up for success, though, and he'll have the opportunity to prove a lot of people right with one of the best quarterbacks in the NFL standing on the other sideline and a future Hall of Famer watching from home.
No matter what happens, he'll know his teammates are in his corner.
Stats courtesy of ESPN and Pro Football Reference.
RELATED: Jordan Love Can Prove the Packers Right by Dealing Unexpected Blows to a Foolish Aaron Rodgers and Struggling Patrick Mahomes