Green Bay Packers: 3 Good Things and 1 Not so Great Thing From Meaningless Loss to Detroit Lions
Is it possible to make meaning out of something that was ultimately meaningless? You can bet head coach Matt LaFleur and the Green Bay Packers will find a way to dissect their Week 18 loss to the Detroit Lions to find meaning as they start preparing for the playoffs.
It was a game that didn't matter for Green Bay, as the No. 1 seed was locked up regardless. Finishing the season at 13-4 rather than 14-3 is a bit meaningless when winning the Super Bowl is the ultimate goal.
Still, the Packers can take things (both good and bad) from this game.
Good: Allen Lazard has become a nice No. 2 option for the Green Bay Packers
Davante Adams is always going to be Aaron Rodgers' go-to target, especially when the heat is turned up. With that said, Green Bay's offense becomes extremely tough to stop when another receiver is dangerous enough to draw eyeballs away from Adams, and that is quickly becoming a major role for Allen Lazard.
The role of a true No. 2 has really been in flux all season, with players like Randall Cobb and Marquez Valdes-Scantling both stepping up at different times. Lazard has really seemed to solidify himself as a trustworthy target for Rodgers as of late, though, and that should continue into the playoffs.
He caught five passes for 75 yards and two touchdowns against Detroit, marking the third-straight game that has seen him catch a touchdown pass from Rodgers. He finished the regular season with eight touchdown catches hauled in total.
Lazard is a big body at 6-foot-5, 227-pounds and the Packers love to use him as a lead blocker out on the edges. With that said, he's also usually very sure-handed, and he's quicker than you'd expect a receiver of his size to be. From route running to the ability to go up and make a catch, Lazard really is becoming an all-around receiver for the Packers.
He's built himself a major role in Green Bay, and the Packers will need him to continue to play well.
Good: David Bakhtiari got to knock some rust off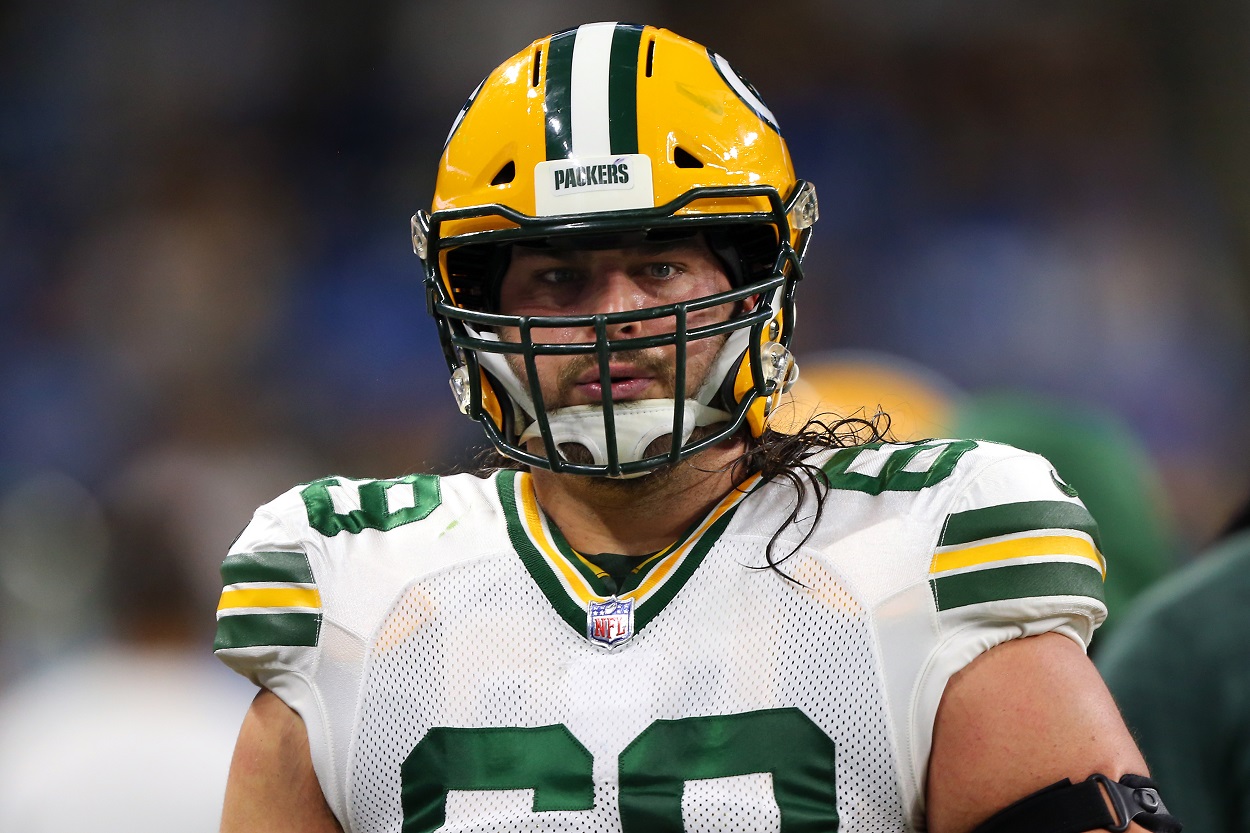 All-Pro left tackle David Bakhtiari hadn't played a game since late December of 2020. He tore his ACL in practice just over a year ago and hadn't seen the field since.
Even though the Packers brought him back off the PUP list midway through this season, Bakhtiari took his first snaps in over a year against Detroit. It's been a long time coming for Bakhtiari. He had the reconstructive knee surgery a year ago but then had to follow that up with arthroscopic surgery in late November to clean things up.
It hasn't been easy. Honestly, his status to play at all this season was firmly up in the air. He was practicing with the team over the last few weeks but was seemingly running into setback after setback.
With that in mind, it was great to Bakhtiari go out against Detroit and knock some rust off. Perhaps even more critical to the Packers is the fact that he went out and played against a live NFL pass rush and didn't re-injure himself.
The next few days will tell if there's any lingering soreness from his first day back on the job, but the Packers will be able to give him ample time to work back into game shape thanks to the first-round bye afforded to the top seed.
That, plus home-field advantage, is why the Packers worked so hard to get it.
Good: A.J. Dillon looks like he's in playoff form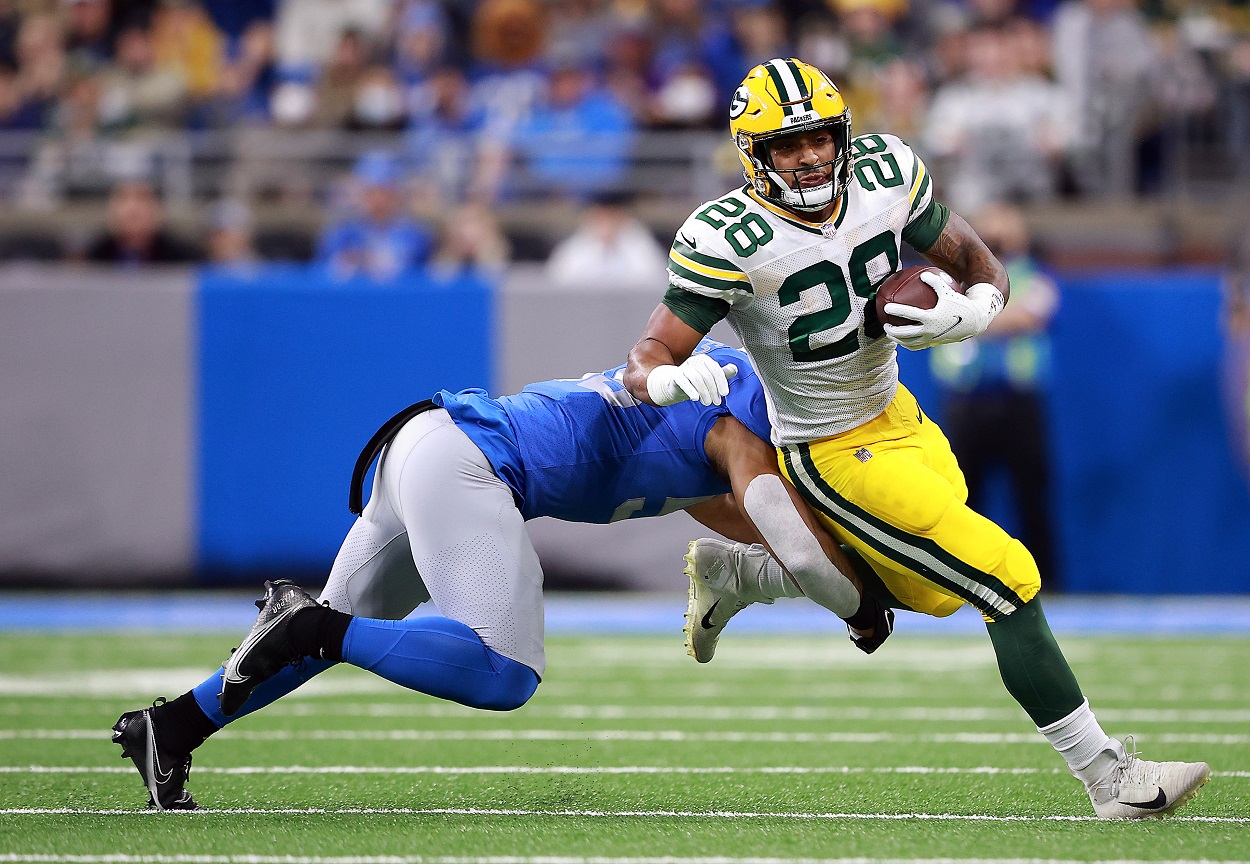 Running back A.J. Dillon is going to be a major part of Green Bay's plans in the playoffs. Speaking of home-field advantage, being able to turn around and hand the ball off to the 247-pound sledgehammer is a huge advantage for the Packers.
No opponent likes to come to Lambeau when the weather gets cold. That task becomes even harder to accomplish when defenders look across the line of scrimmage to see Dillon barreling down at them with a head of steam.
Dillon didn't score against the Lions, but he did rush for an efficient 63 yards on 14 carries (4.5 yards per attempt). He found a few nice gaps and, as always, fell forward on almost every carry.
The Packers have a legitimate one-two punch with Dillon and Aaron Jones (who rested against Detroit) in the backfield. Imagine being a defender and having to sprint to the edge to try to track down Jones on an outside run or as a pass-catcher, only to come back the next play and defend a dive from Dillon up the middle.
They're a true two-headed monster when the Packer utilize them right and focus on the run. Expect that to be the case against whoever the Packers match up with in the playoffs.
Bad: The Packers had terrible defensive discipline against Detroit
The loss to Detroit doesn't mean anything, but there were two plays, in particular, within that loss that will have LaFleur losing sleep over the next week.
The first was a reverse wide receiver pass late in the first quarter that ended with Detroit's Kalif Raymond wide open down the sideline for a touchdown. The Packers did have multiple starters in the game at that point, but they were completely mesmerized by the action in the backfield and gave up an easy 75-yard touchdown.
The Lions went back to the bag of tricks in the second half and once again fooled Green Bay. On 1st-and-10 from the Green Bay 36 early in the third quarter, the Lions again ran a reverse, but this time the ball went back to Jared Goff for a flea-flicker. The Packers once again lost eye discipline and let tight end Brock Wright leak out into the secondary for another wide-open touchdown pitch and catch.
"Defense, football in general, comes down to discipline, and people owning their roles. And when you aren't disciplined, or you go outside the scheme, bad stuff happens," LaFleur said after the game, clearly frustrated. This was according to Zach Kruse of PackersWire. "We cannot have that. We need all 11 doing their damn job. And if they don't, stuff like that happens."
In the context of one meaningless game, two blown coverages against two trick plays deep in Detroit's playbook shouldn't be too worrisome. With that said, Green Bay is going to get every team's best shot from here on out, and the Packers have clearly exposed a discipline issue as it relates to following the football rather than playing assignments.
That's something defensive coordinator Joe Barry can drill into his players over the next two weeks, but it's also something that opposing offensive coordinators are going to make a note of.
Despite finishing the season on a low note, the Packers are the best team in the NFC. They're the kings of the NFC North, and as of right now, they're the kings of the conference.
When you come at the king, you best not miss. Unfortunately, these two plays against Detroit provided at least one way the Packers could be exposed in the playoffs.
Stats courtesy of ESPN and Pro Football Reference.
RELATED: Jordan Love Was Once Again Underwhelming for the Green Bay Packers
Related post url: