The Green Bay Packers' Matchup Against the Arizona Cardinals Just Went From Tough to Nearly Impossible With Joe Barry's Positive COVID-19 Test
Thursday Night Football's matchup against the undefeated Arizona Cardinals was always going to be a tough one for the Green Bay Packers.
The Cardinals, at 7-0, are currently the best team in the league, and Thursday night games are notoriously tough for road teams that have to travel on a short week with little rest. The Packers just beat the Washington Football Team at home this past Sunday to improve to 6-1 on the season, but they'll have to take on the Cardinals just four days later on the road in Glendale, Arizona.
The odds were already stacked against the Packers, especially when considering the number of injuries they've been dealing with in 2021. The recent news of defensive coordinator Joe Barry's positive COVID-19 test has taken things from tough to tougher for Green Bay, though.
Defensive coordinator Joe Barry will likely be unable to attend the game with the Green Bay Packers due to a positive COVID-19 test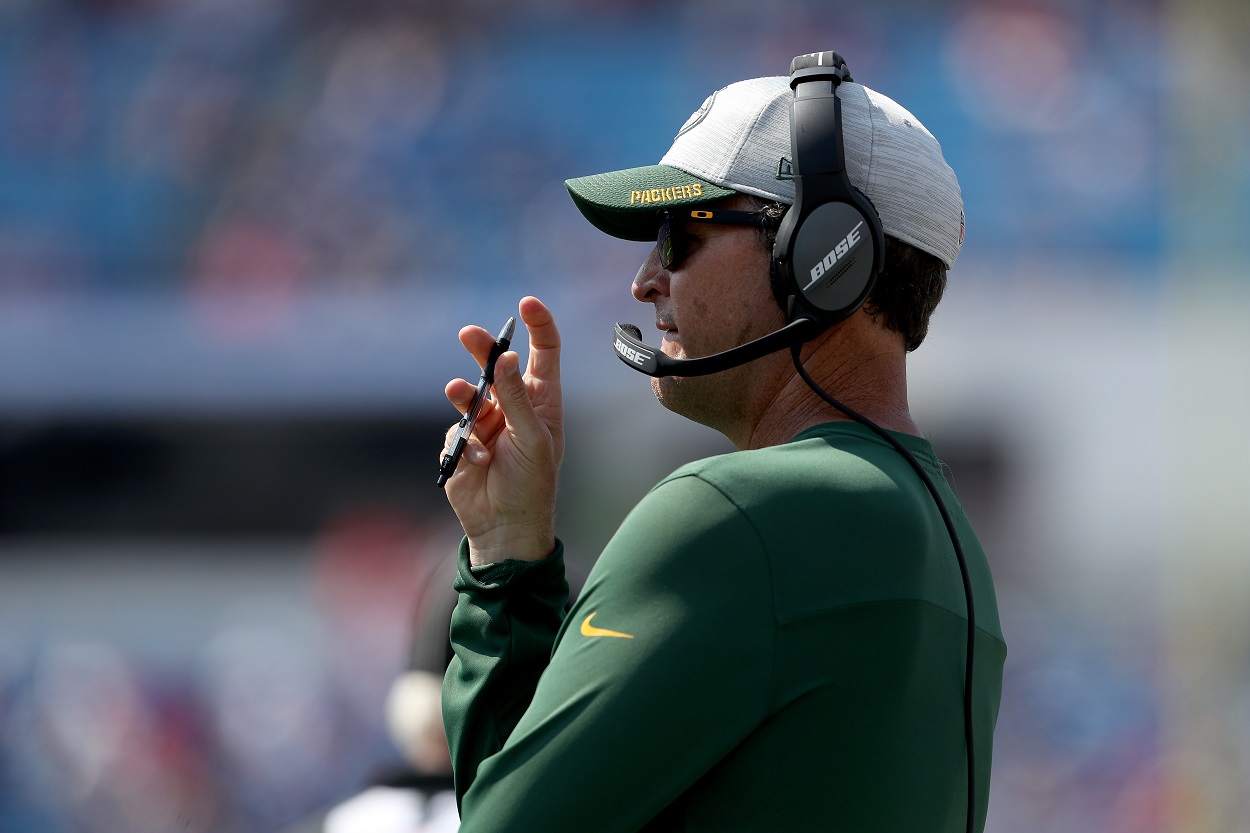 Reports surfacing out of Green Bay state that Barry, the Packers' first-year defensive coordinator, has tested positive for COVID-19. As a result, he's likely to be unavailable for the Thursday Night Football matchup against the Cardinals. Barry has to test negative twice, 24 hours apart, in order to coach. The Packers leave for Arizona on Wednesday, which puts his involvement in the game at major risk.
Barry will help prepare the team virtually, according to ESPN, but the play-calling duties during the game are currently up in the air.
The irony of this news is that Barry's defense is coming off arguably its best performance of the season in Green Bay's 24-10 win over Washington. The Packers gave up more yards to Washington than Aaron Rodgers' offense accumulated (430-304), but their defense finally found its mojo in the defensive red zone. The Packers also continued their ball-hawk ways.
Green Bay had given up 15 straight touchdowns to opponents within the red zone heading into the Washington game. It was a major point of concern for a defensive unit that has otherwise been performing well in 2021, but the Packers ditched that ugly stat in Week 7.
Washington made it into the red zone four times in the second half, but Green Bay's defense was able to force four straight stops. The Packers gave up only three points in the red zone and actually forced Washington into two straight turnovers on downs and a red-zone interception before giving up a field goal on the fourth try.
The embarrassing touchdown streak was broken, and Barry's defense finally seemed to put it all together. The Packers also forced two turnovers and sacked Washington four times.
The Arizona Cardinals have an offense that was already going to test the Packers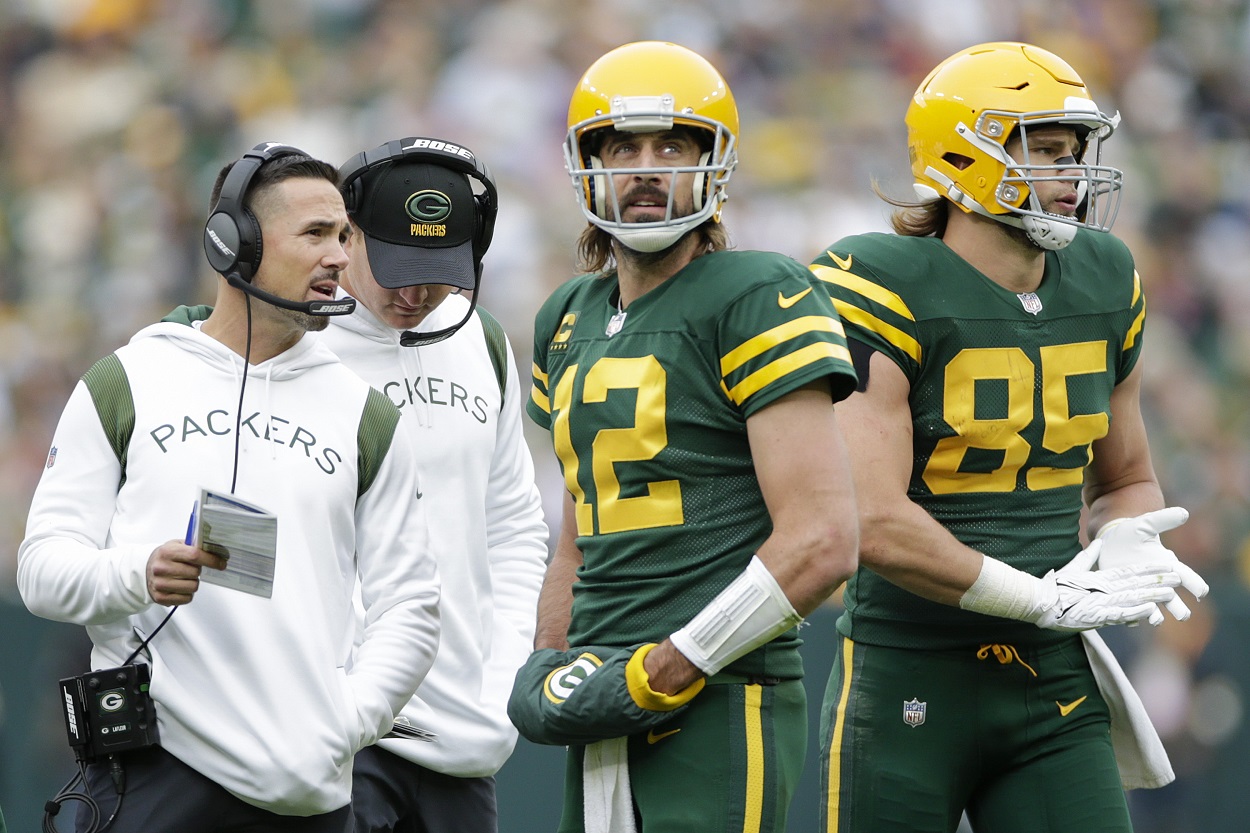 Even with Barry calling plays on the sidelines, this was always going to be a tough matchup for a banged-up Green Bay defense.
The Cardinals currently have the second-best offense in the NFL, putting up 422.6 yards per game through seven contests while scoring 32.1 points per game.
The Packers have the reigning MVP in Rodgers, but the Cardinals may boast the current MVP. Quarterback Kyler Murray has been incredible for Arizona's Kliff Kingsbury-led offense.
Murray has completed 73.5% of his passes for 2,002 yards and 17 touchdowns with just five interceptions. He's also a video game character with his ability to run the football, rushing 43 times for 126 yards and three touchdowns.
For comparison, Rodgers has a completion percentage of 68.3% for 1,710 yards and 15 touchdowns with three interceptions. He has turned back the clock a bit with his legs, rushing for two scores this season, including one that gave him ownership of the Chicago Bears.
Still, Murray has been the better quarterback through seven games.
Murray can hurt any NFL defense on the merit of his talent alone, but he also boasts receivers who are going to give the Packers fits. DeAndre Hopkins is in the midst of another elite season with 420 yards and seven touchdowns to his name. Murray is also getting strong production out of Christian Kirk (408 yards, four touchdowns) and a revived A.J. Green (406 yards, three touchdowns).
With Jaire Alexander dealing with an injury, the Packers' secondary has already been under stress. Rookie Eric Stokes has been a revelation as a first-round draft pick, but this Arizona offense is set up to have its way with Green Bay through the air.
COVID-19 protocols are going to make preparation a chore for the Packers
Practice wasn't going to be a huge thing anyhow for the Packers considering the short week. Head coach Matt LaFleur isn't one to stress his team with a ton of physical practices, but now the Packers have no choice but to take it easy before the Arizona game.
Ian Rapoport reported that Green Bay will need to have virtual meetings and that all players must wear masks. That may not seem like a big deal, but any change in routine can go a long way in throwing a team off before a big game in a short week.
The Packers will also need to be very to ensure that the positive cases don't spread in the locker room. Green Bay is already down multiple star players like pass-rusher Za'Darius Smith, offensive tackle David Bakhtiari, rookie center Josh Myers, and Alexander at cornerback. Spreading the team any thinner could spell disaster for the Packers, especially considering the opponent.
It was always going to be tough because even if Barry does miraculously make it to the game, this would still be a hard matchup for the Packers on paper. Now it looks nearly impossible for Green Bay.
Of course, nothing is truly impossible with Rodgers at quarterback, but the Packers now have an even steeper hill to climb in order to pull off a win on Thursday night.
UPDATE: After publication, news broke that star wide receiver Davante Adams will also be placed on the reserve/COVID-19 list.
Stats courtesy of ESPN and Pro Football Reference.
RELATED: Joe Barry's Green Bay Packers Defense Turns New Page While Sporting Fresh Throwback Threads