Green Bay Packers' 'Padawan' Jordan Love is Glad to Have 'Master' Aaron Rodgers Back
Jordan Love has been under an odd microscope since he was drafted. Love was a surprise pick of the Green Bay Packers at No. 26 in the 2020 NFL Draft. Green Bay traded up from No. 30 select the Utah State product.
Reactions to Love's selection ranged from tempered excitement to surprise to complete uproar.
And then this offseason happened. Aaron Rodgers questioned his own future immediately after the Packers' loss to Tampa Bay in the NFC Championship Game. Things became even more unclear in the ensuing months, and no one had any idea whether last season's MVP would ever be coming back to Green Bay.
Love was drafted in April of 2020. Since then, he's had to listen to hot takes about his draft selection, his talent (or, in some cases, lack thereof), his inexperience, his number of turnovers in his final season with the Aggies, and more. He's even been falsely accused of being the reason for the rift between Rodgers and the Packers' organization.
All while he has yet to play in an NFL game. Not a single one.
Jordan Love is glad Aaron Rodgers is back for the right reasons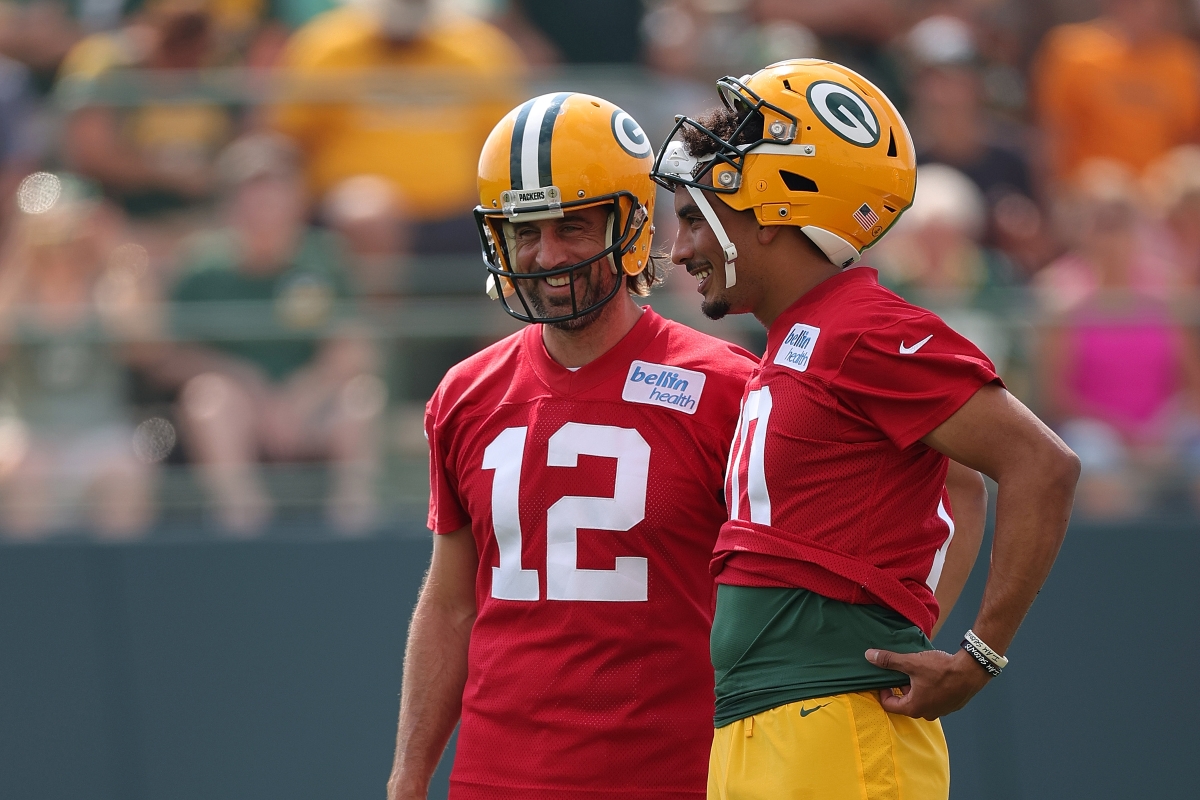 Love believes he's ready to start week one of this season. Now that Rodgers has returned, he's relegated to backup duties. But he also understands that having another learning season behind one of the greatest quarterbacks of all time can only benefit him. According to Packers.com, Rodgers has even said he has no issues with Love and wanted to keep the young quarterback in the loop about his decision to return. There's never been a sense from Rodgers that he will try and halt Love's development.
Now, the 22-year-old has the opportunity to learn for another year before likely taking over the starting job next season.
Love deserved to be a first-round pick
Love has all the physical traits teams look for in a quarterback prospect. He's big, fast, athletic, and has a strong arm. During his breakout sophomore season in 2018, Love threw for a school-record 3,567 yards, 32 touchdowns, and only six interceptions. He completed 64% of his passes.
According to NFL.com, the biggest knock on Love heading into the draft was his play the following year. As a junior, he regressed in almost every area. He threw 12 fewer touchdowns and 11 more interceptions. His completion percentage and total yards dropped. He looked less accurate and more lost despite having another year of experience.
The caveat is that the Aggies' talent level around Love regressed from his sophomore to junior season. When he burst onto the scene as an NFL prospect in 2018, Utah State went 11-2. In 2019, the team finished 7-6. Part of that is on Love, but part is also on a less talented supporting cast. Still, the physical traits were enticing enough to wash away some of the warts.
Love is confident he will be ready to start when he's given the opportunity
The second-year quarterback has shown flashes during training camp and took all the offseason reps before Rodgers returned. His Packers' teammates and head coach Matt LaFleur praised the young QB for his improvements since year one.
After a complicated rookie season affected by the coronavirus pandemic, Love has seemingly settled into more of a rhythm heading into the 2021 campaign. The ability to study under Rodgers for another season will only make him better, and he knows it.
All stats courtesy of Pro-Football-Reference.