The Green Bay Packers Made a Money-Saving Move With the Hopes of Bringing Back a Wisconsin Legend
The Green Bay Packers were one game away from the Super Bowl last season. Their offense was potent all year, led by Aaron Rodgers' phenomenal 2020 campaign. The defense showed up at times but was inconsistent for most of the year.
Giving Rodgers more help on offense is something the team should look into, but Green Bay should seriously consider building their defense. They could be preparing to welcome back a Wisconsin legend by clearing up some cap space.
The Green Bay Packers convert David Bakhtiari's contract
RELATED: How Can the Green Bay Packers Show Their Commitment To Aaron Rodgers?
To help them get closer to the cap, the Green Bay Packers converted David Bakhtiari's roster bonus of more than $11 million into a signing bonus, per Ian Rapoport. The star left tackle is still going to make the same amount of money; it just stretches across the life of his contract now. Bakhtiari's contract is the second-highest on the Packers, only trailing Aaron Rodgers.
The conversion of Bakhtiari's contract provides the Packers with $8.3 million in savings toward their cap. That is good news for the team, primarily because the NFL salary cap will be lower than it was last year. According to Adam Schefter, the league's salary cap will be a minimum of $180 million. Green Bay is expected to be over the cap, so any kind of savings they can find will be helpful.
Coverting Bakhtiari's contract gives the Packers more flexibility in free agency. They will likely be looking to add offensive pieces, but the defense could use some upgrades also. If Green Bay were smart, they would inquire about a former Wisconsin Badger's services and see if he is interested in a homecoming.
J.J. Watt is an NFL free agent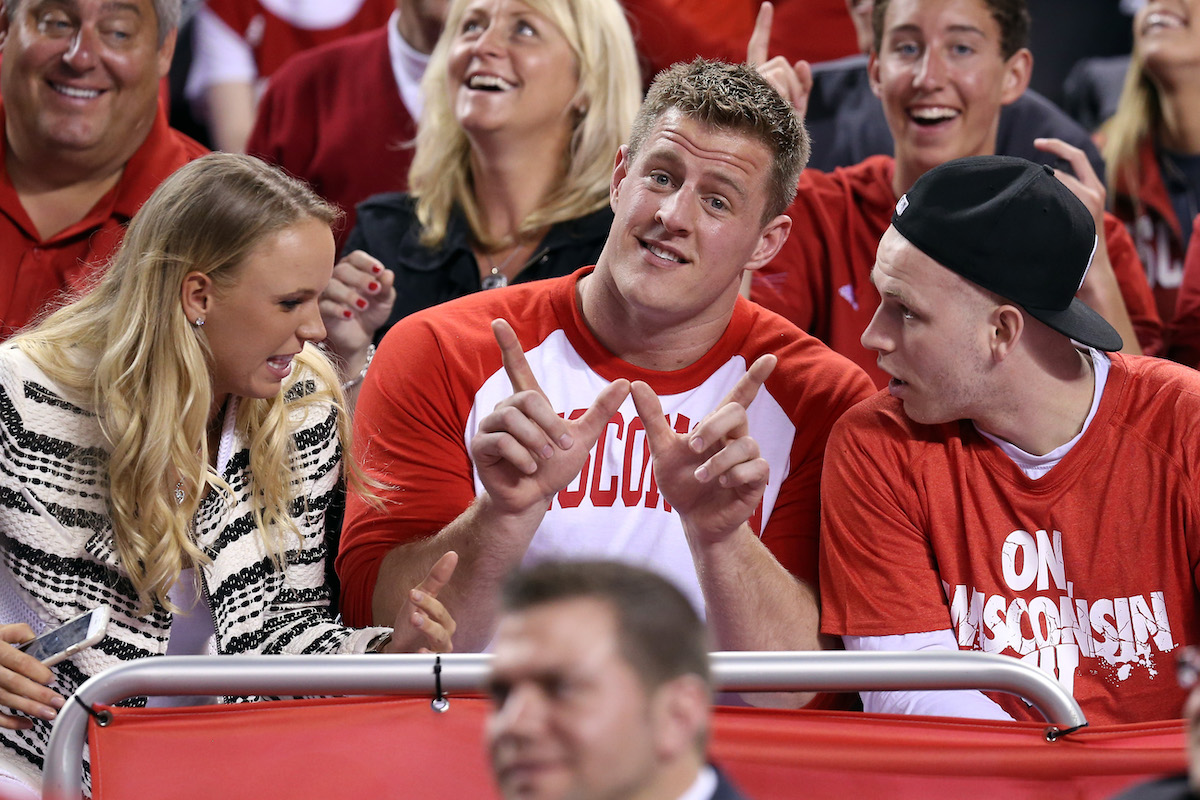 RELATED: DeAndre Hopkins Just Revealed Where He Thinks J.J. Watt Should Play Next Season
The NFL world was surprised when the Houston Texans released longtime defensive star, J.J. Watt. At 31 years old, Watt still has something left in the tank for his football career.
The interest surrounding Watt is plentiful. The three-time defensive player of the year had 52 total tackles, 14 tackles for loss, and five sacks in 2020. Injuries have hampered Watt in recent years, but participating in all 16 games in 2020 makes interested teams confident in his health and durability.
A couple of teams are early front runners to sign the defensive lineman. The Cleveland Browns have a sizable interest in creating a dynamic edge rush duo with Watt and Myles Garrett. The Buffalo Bills are also another potential destination. They have solid guys up front, but Watt would give them that star power they need in their front seven.
People should look out for the Packers as a dark horse to sign J.J. Watt. He would join an impressive defense, but more importantly, a championship contender. A return to the state of Wisconsin could give Watt his best chance at getting something that's avoided him his entire career.
Are the Packers preparing for a J.J. Watt return to Wisconsin?
RELATED: The Green Bay Packers Just Saved $10.25 Million, but What For?
J.J. Watt signing with the Green Bay Packers would be a great opportunity for both sides. He has the chance to return home, being a Wisconsin native. Watt was also a star defensive end at The University of Wisconsin. It would be a perfect homecoming and allow him the chance to win a Lombardi trophy for his home state.
For the Packers, it gives them a talented defensive end to rush the passer. They have Za'Darius and Preston Smith at outside linebacker, but Green Bay lacks a down lineman who can create pressure. Watt's presence on the line with the Smith duo makes it a formidable front seven.
To bring Watt home, the Packers will need to fix their finances. He was scheduled to make $17.5 million with the Texans on his current contract. He likely won't garner that number in free agency, but he will want to sign a decent deal. It will be hard for Green Bay to sign Watt at his price, given their current cap situation and potential free agents. If the team can sell the possibility of a championship, he might accept the veteran minimum. Joining a loaded Packers team might be Watt's best chance to win a ring.
The Green Bay Packers converting Bakhtiari's contract saves them cap space and keeps their hopes alive in the J.J. Watt sweepstakes. Their chances of signing him are low because of their finances, but it's worth a shot. Maybe the allure of home cooking and winning a title for his home state is enough to convince the star defensive end to come home.
Stats courtesy of Pro Football Reference