The Green Bay Packers Could Make a Super Bowl-Sized Statement by Once Again Taking Advantage of the Houston Texans at the NFL Trade Deadline
The Houston Texans appear to be having a fire sale, and general manager Brian Gutekunst of the Green Bay Packers would be wise to once again pick up the phone and give them a call.
Gutekunst and the Pack have had some pretty good luck dealing with the Texans in 2021, and with Houston apparently going all-out in a desperate attempt to trade or dump players for assets and cap space, Green Bay has a chance to really bolster its Super Bowl aspirations.
Houston quarterback Deshaun Watson is reportedly near leaving, perhaps heading to the Miami Dolphins. Running back Mark Ingram has been traded away and is reunited with his old friend Alvin Kamara with the New Orleans Saints.
Houston is clearly looking to unload, so if you're Gutekunst, why not take a shot and see if the Texans will trade away one of their top weapons? He's already unhappy anyhow, so it just makes sense.
The Green Bay Packers need to take a shot and ask the Houston Texans to trade Brandin Cooks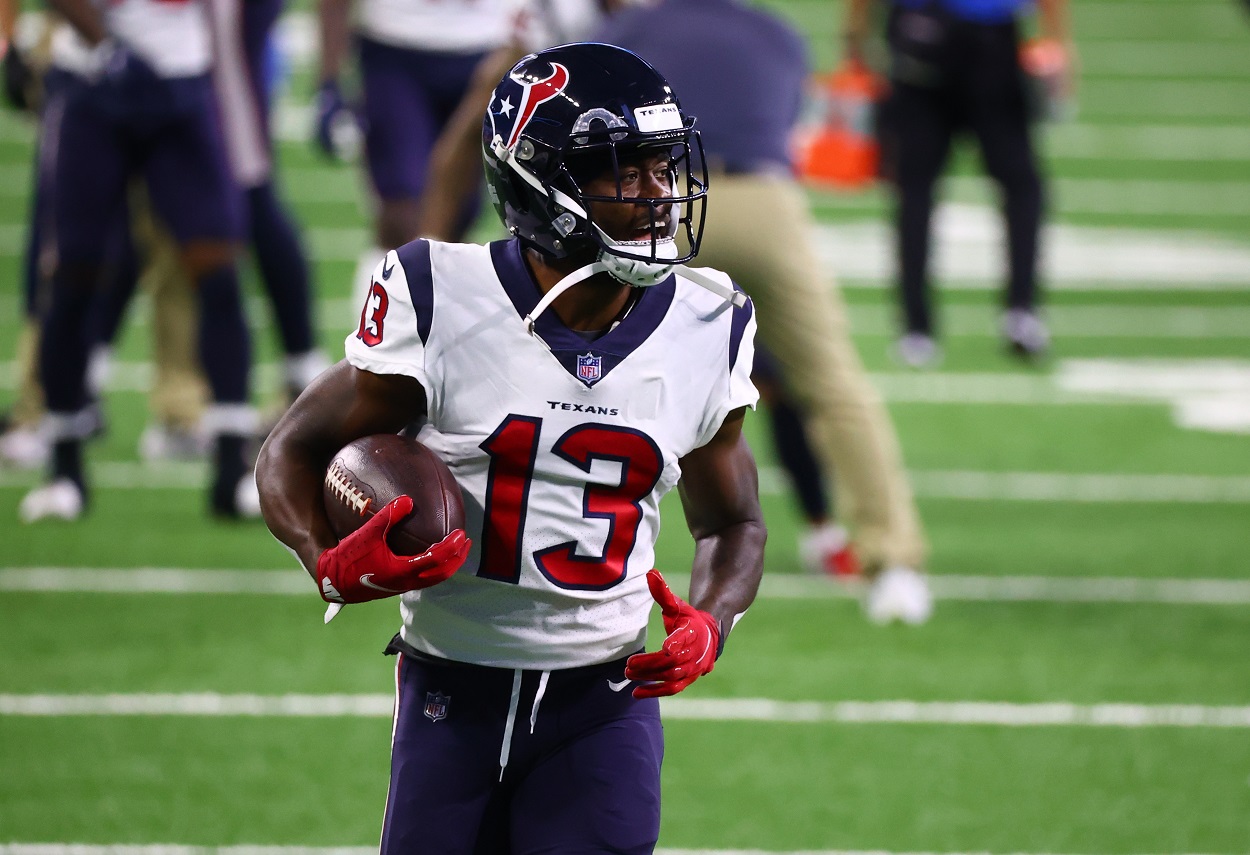 There are no official reports on Brandin Cooks being available for trade just yet, but at this point, Houston needs to consider taking phone calls. The organization is clearly looking to tear everything down to the studs and build back from the ground up. The easiest way to do that is to unload contracts and acquire draft picks.
Cooks won't demand the type of return that Watson will, even with the quarterback's legal issues complicating a potential trade, but he's still an extremely productive receiver at 28-years old. He's not necessarily No. 1 material, but he could easily go to a Super Bowl contender and be the type of second option that can put an offense over the top.
He's caught 45 passes this season for 502 yards and a touchdown. He averages 11.2 yards per catch, and that's with Davis Mills throwing him the football.
Now imagine Cooks with Aaron Rodgers chucking him long balls downfield, and the reason for being interested would immediately make sense for the Green Bay Packers.
Making things even sweeter, the Packers know Cooks isn't happy about Ingram being traded to the Saints, so the Texans have lost some leverage in a potential deal.
The Packers have already taken advantage of the Texans' front office this season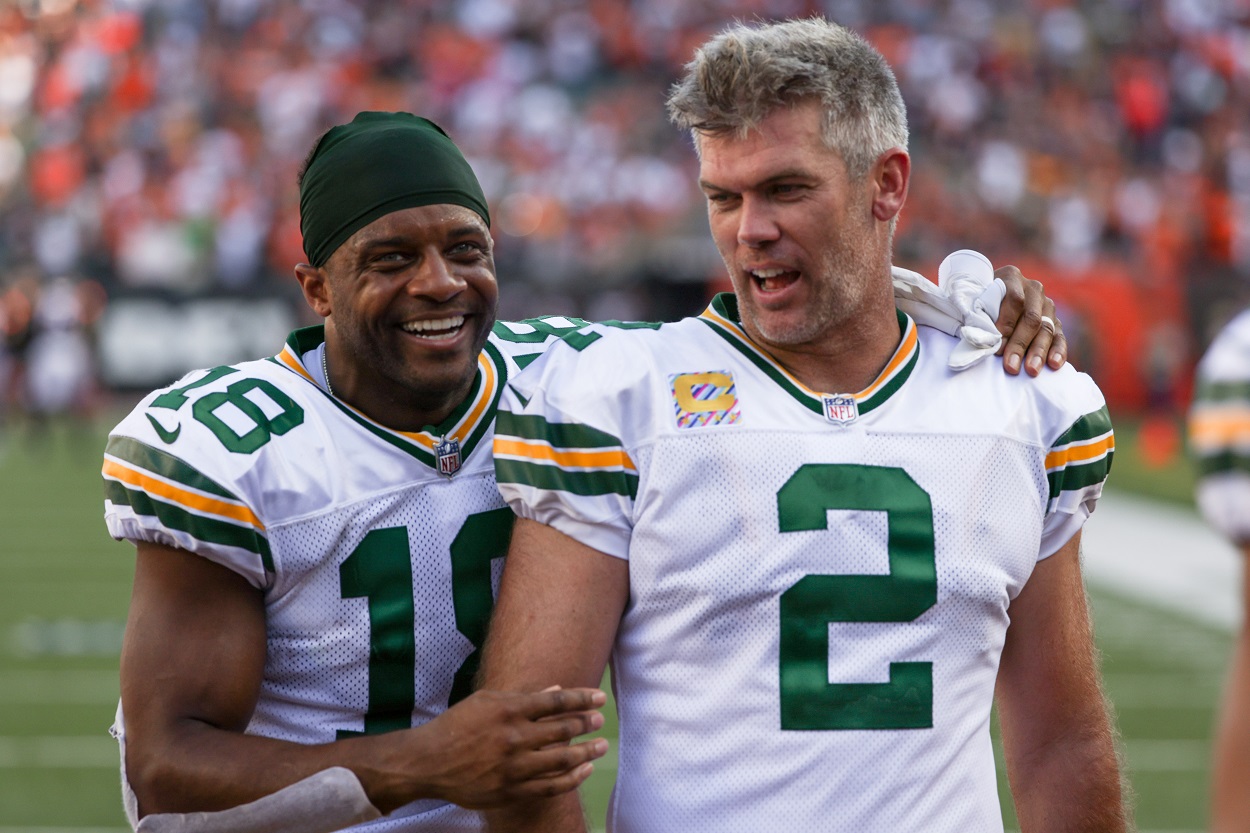 The fun thing about this potential trade is that Green Bay has already worked over the Texans in 2021.
The most important move didn't seem like it at the time, but it has proven to be an important trade for Green Bay. With Rodgers fresh of his "holdout" and back at training camp and demanding change, Gutekunst gave Houston general manager Nick Caserio a call and offered him a sixth-round pick for wide receiver Randall Cobb.
Rodgers got his best friend back, and the icing on the cake for Gutekunst was that Houston agreed to pay $3 million of Cobb's 2021 salary.
While at the time it seemed like a move just to make Rodgers happy, Cobb has proven to be a contributor for the Packers' offense. His chemistry with Rodgers picked up where it left off, and he's caught 14 passes for 179 yards and two touchdowns so far this season.
Green Bay also made a smart move earlier in October when Houston let long-time pass rusher Whitney Mercilus go. He apparently didn't fit the Texans' scheme, but Gutekunst had no problem giving him a call and picking him up to see if he could help the Packers' injury-plagued defense.
In his first game with the team, against Washington in Week 7, Mercilus played 31 snaps and notched four pressures. He proved to be valuable immediately, and he also made Green Bay's quarterback very happy.
"I'm a big fan of the Mercilus signing, for a number of different reasons," Rodgers said, according to Zach Kruse. "Bringing in a stud like Whitney, who is motivated, can still play at a high level, I really like that signing."
A second option like Cooks would solify the Packers' Super Bowl hopes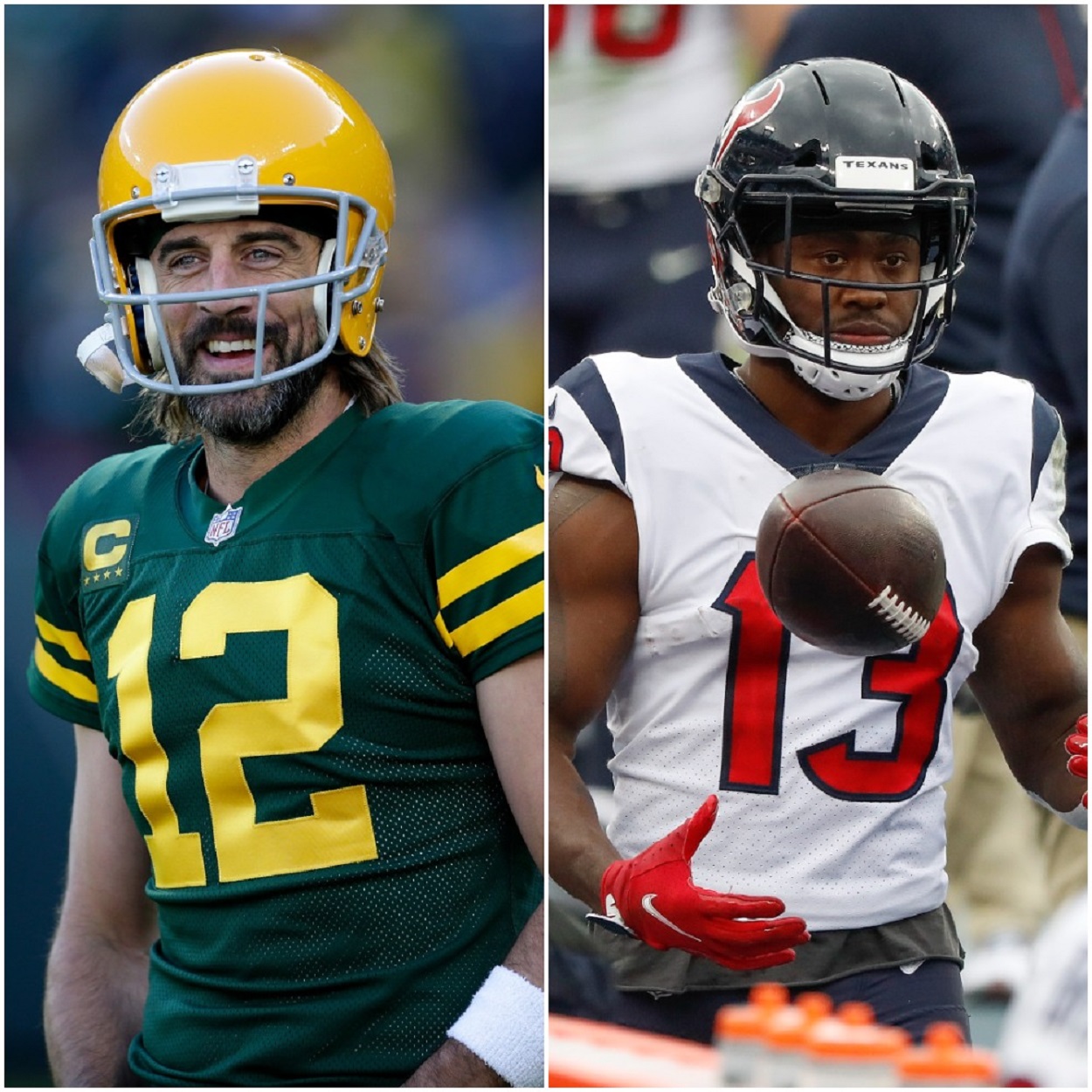 Green Bay is very likely to experience life without Davante Adams on Thursday Night Football against the undefeated Arizona Cardinals. Adams was placed on the reserve/COVID-19 list Monday afternoon after testing positive for COVID, and though there is a slight chance he can still play, it seems likely Green Bay will be without its star wideout against the third-best defense in the NFL.
Adams is without a doubt Rodgers' favorite target, and it makes sense. He's elite in every sense of the word and is playing like the best wide receiver in the league. Rodgers favors him because of course, he does. The Packers' offense does tend to get stagnant at times when Rodgers focuses in on his star receiver, though, so a legitimate second option could really do the trick for Green Bay.
It's not that the Packers don't have talented wideouts behind Rodgers.
It's more so that instead of having a legitimate No. 2 receiver, they have a collection of really good No. 3's in Allen Lazard (also out for Thursday Night Football due to COVID), Cobb, Marquez Valdes-Scantling (who has been injured for the past four games), and rookie Amari Rodgers. In fact, running back Aaron Jones is probably Rodgers' second most reliable option as a pass-catcher out of the backfield.
Green Bay can definitely win a Super Bowl with just Adams as the main option at receiver, but the Packers would be walking a tight rope. Potentially losing Adams on Thursday due to the positive COVID test has been stressful enough for the Packers. Imagine if he, heaven forbid, gets injured.
A trade for Cooks would alleviate a ton of pressure on the Packers. It would also alleviate a ton of pressure on Adams, who is constantly the target of double teams and even triple teams.
Having a legitimate and consistent second option that can stretch the field could revolutionize Green Bay's offense and make the Packers a favorite to win the Super Bowl.
Stats courtesy of ESPN and Pro Football Reference.
RELATED: Aaron Rodgers Shoots Back at Critics Who Say He's Not All-In for the Green Bay Packers: 'I'm Invested Completely in This Season'