The Green Bay Packers Have to Tiptoe Around Aaron Rodgers Because He's a Diva
It's a problem that Matt LaFleur and the Green Bay Packers feel that they have to use kid gloves to deal with their star quarterback, Aaron Rodgers.
If you read between the lines, that's exactly what LaFleur said he has to do with the quarterback, though. And if that doesn't tell you everything that's wrong about Rodgers over the past two offseasons, nothing will.
Aaron Rodgers' future is still up in the air
Rodgers still has no idea what he plans to do this offseason. The options have been covered extensively, but they're worth repeating for clarity's sake: Stay in Green Bay, retire, or ask for a trade.
The Packers don't want to rush him, but with free agency and the NFL draft quickly approaching, Rodgers is only hurting the team the longer he drags this process on.
Make no mistake, Rodgers knows this. He said at the end of the season that he wasn't going to drag this out, but we're already at the NFL Combine stage of the offseason still have no indication which way Rodgers is leaning. In fact, just over the weekend, Ian Rapoport reported that Rodgers is still "torn" on what he wants to do.
And then there was this quote from LaFleur that should make your blood boil if you're a fan of the Packers.
"I told him, I don't wanna be overbearing and tell him every day how much we love him and how much we want him back," LaFleur said at the NFL Combine, per ESPN "So you just wanna be respectful of his space and allow him to think through everything clearly without being annoying, I guess."
The Green Bay Packers need a decision sooner rather than later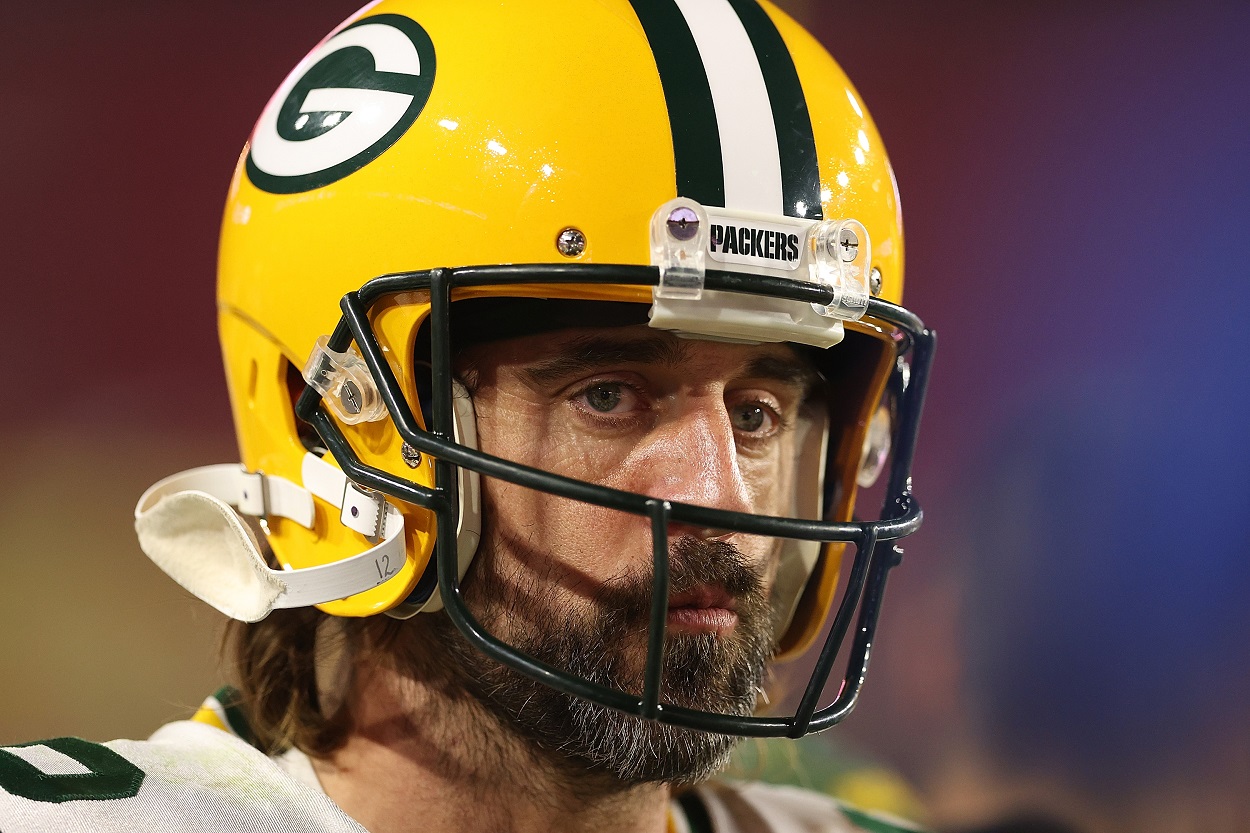 It makes sense that the Packers don't want to apply the screws to Rodgers. They don't want to get in a situation where tensions escalate between the two parties.
With that said, it's time for the rubber to meet the road.
The Packers' offseason plans will drastically change depending on Rodgers' decision. Not only does that include free agency, where Green Bay is still about $30 million over the salary cap and looking at players like Davante Adams and De'Vondre Campbell potentially walking out the door, but Rodgers' future will determine what the Packers do in the draft.
There needs to be urgency right now for the Packers. The direction of the franchise is literally in the balance. The fact that LaFleur feels that he can't even express that to Rodgers without "being overbearing" is really an indictment on the quarterback. Is he really that thin-skinned? Is he really that big of a diva?
For someone who claims to live a peaceful, drama-free lifestyle, he sure seems to revel in the drama. We've seen that now for two offseasons in a row.
Sure, the argument can be made that Rodgers hasn't actually said anything one way or the other, and it's really the media hyping this whole thing up, but he's smart enough to know that saying nothing in this situation is actually saying a lot.
Is he really that fickle that the Packers feel they can't push the issue a little bit? It's only the future of one of the most historic franchises in sports on the line.
If Brett Favre wasn't bigger than Packers, and late general manager Ted Thompson ultimatly put an end to his drama, Rodgers isn't either.
Aaron Rodgers…the diva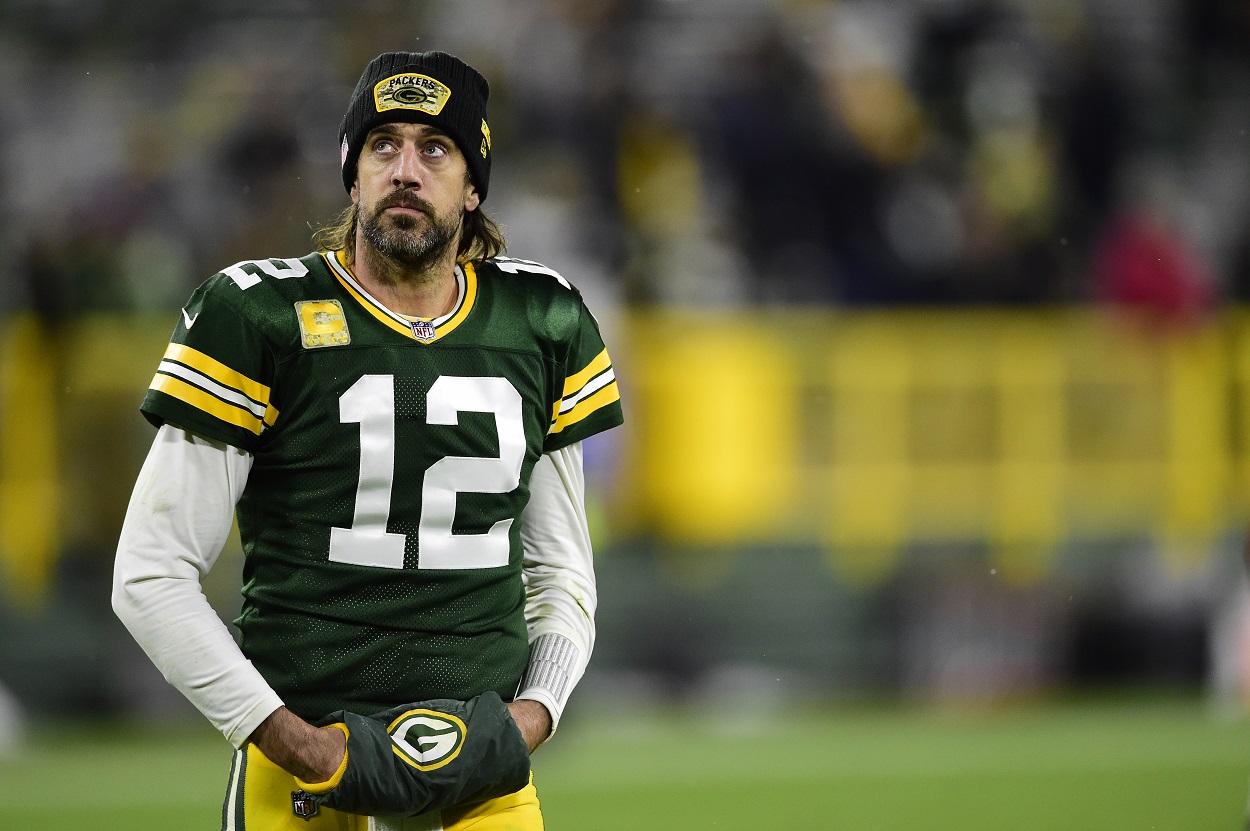 Last offseason, Rodgers referred to his future as a beautiful mystery.
To his credit, he hasn't been that vague this offseason. We know he doesn't want to be a part of a rebuild, but he also wants the Packers to be competitive while taking up 22.11% of their salary cap. How's that supposed to work? Oh, and he's also stumping for a long-term deal for Adams. That's one that will cost Green Bay $30 million a year if they're lucky.
Green Bay is doing what it can to work some salary cap magic, but it looks like the Packers will be hard-pressed to give Rodgers his cake and allow him to eat it too. The Packers appear to be willing to mortgage the future in order to get him back, but at what cost? Does it make sense to make Rodgers the highest-paid player in football only not to have enough money to pay young cornerstone players like Jaire Alexander and Elgton Jenkins in 2023 or A.J. Dillon and Rashan Gary in 2024?
It's easy to say that you should never move on from a back-to-back MVP quarterback in a passing league, but what has that gotten the Packers to this point anyhow?
Rodgers' ceiling now appears to be a great regular season followed by underwhelming in the playoffs. Is Green Bay that desperate to lose in another NFC Championship Game?
Frankly, the Packers need to evaluate whether or not the juice is worth the squeeze with Rodgers.
President and CEO Mark Murphy reportedly had to tell him not to be the problem a few offseasons ago. That was a disputed quote, but isn't it ironic that all the drama and difficulties surrounding the Packers have been Rodgers-centric over the past two seasons?
He somehow found a way to make a ton of public appearances last offseason and even hosted a game show, but he couldn't find time to make it to mandatory OTAs? He then basically lit the front office on fire when he finally showed up to practice.
Then, of course, there was all the drama he stirred up during the 2021 season with his "yeah, I'm immunized" misdirection and then the multiple follow-up rants on COVID-19. 
The same guy who said he didn't want to be divisive had no issues going on The Pat McAfee Show and expressing doubt about science in the middle of a global pandemic. The same guy who said he didn't want to be political has railed against "cancel culture" and the "woke mob." Those are phrases straight out of the political operative handbook. 
On the one hand, Rodgers portrays himself as this "too cool for school", not a care in the world hippie who's too busy doing Panchakarma cleanses to care about the world around him. He's even said that he's "above" the noise. On the other hand, he was seemingly OK being one of the most divisive people in current culture, and he became so engulfed in it that he later had to admit that he was too focused on himself to realize that people around him were being caught up in the crosshairs.
"One thing that I am sad about and definitely apologetic [about] is I didn't realize in the midst of the COVID conversations how much my situation was affecting my loved ones and my people," Rodgers recently told McAfee. "I didn't realize the shrapnel that was being flaked off what I felt like were the bullets coming at me because I was too locked in on me and defending myself and trying to get a message out."
We're now two offseasons into "The Aaron Rodgers Show," and it's safe to say he's a diva. He's not the first diva to play in the NFL, and he won't be the last, but how much longer should the Packers put up with him?
Gutekunst and LaFleur will never admit it, but it has to be enticing to think about shipping him somewhere else. Perhaps they can get a few high draft picks back to help them build a future where the Packers may actually be able to win an NFC Championship Game again someday.
Stats courtesy of ESPN and Pro Football Reference. Contract information via Spotrac
RELATED: Greg Jennings Is Still Bashing 'Very Selfish Guy' Aaron Rodgers