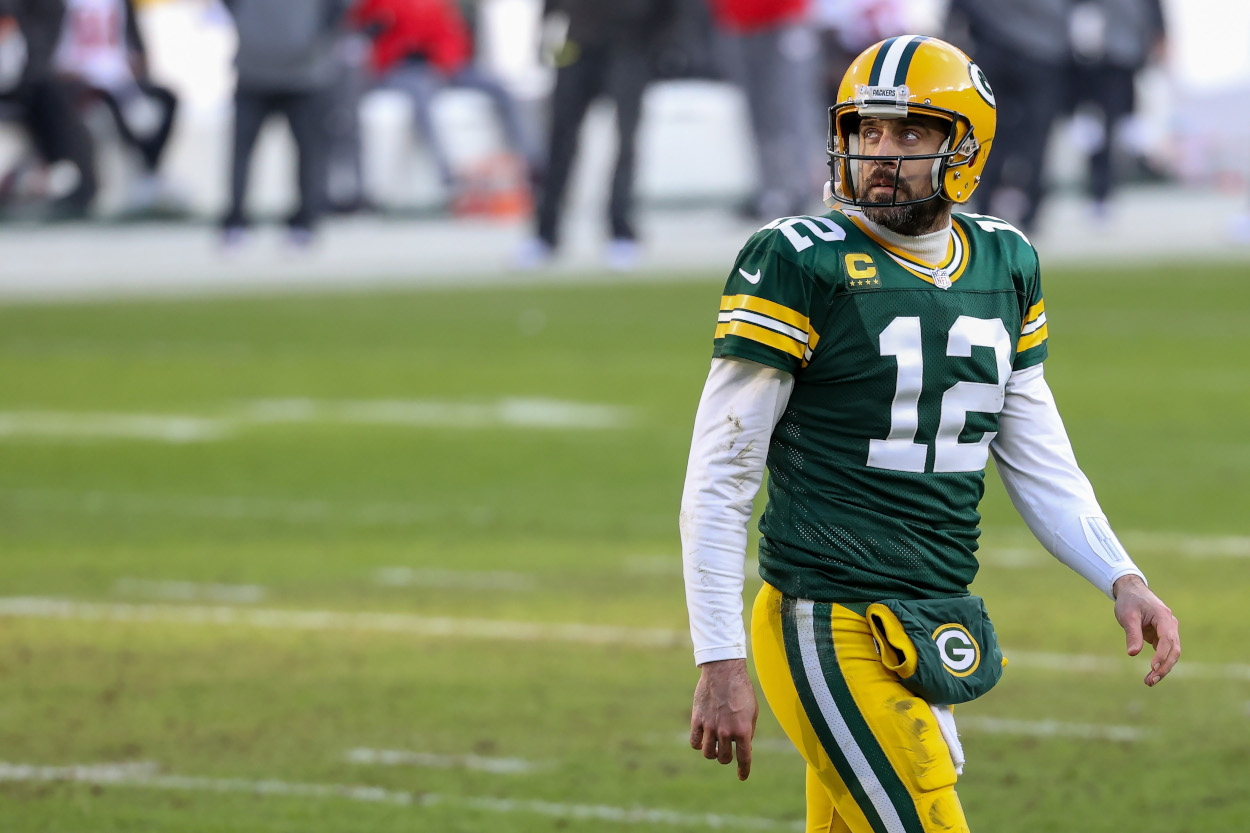 NFL Insider Says the Green Bay Packers Want Aaron Rodgers to Make a Choice
Aaron Rodgers and the Green Bay Packers have continued their stare-down, with the star quarterback sitting out the team's offseason program thus far. Will the Packers keep Rodgers, trade him, or is there another option the team would prefer to either of those scenarios?
Are Aaron Rodgers and the Green Bay Packers teetering toward a bitter divorce? Rodgers skipped the team's mandatory minicamp and has not attended any of the voluntary OTAs. He's cost himself a bit of money to this point, with the big-ticket fines not due to kick in until the start of training camp in late July. Rodgers reportedly wants a change in the Green Bay front office. The Packers have so far dug in and declared it's Green Bay or no way as far as where Rodgers plays in 2021.
There is a mixed buzz surrounding the standoff. Some analysts predict a trade, others a peaceful resolution, and still more don't see an end in sight. But one NFL insider recently said the Packers brain trust has a preferred end game in mind.
Do the Green Bay Packers want Rodgers to quit?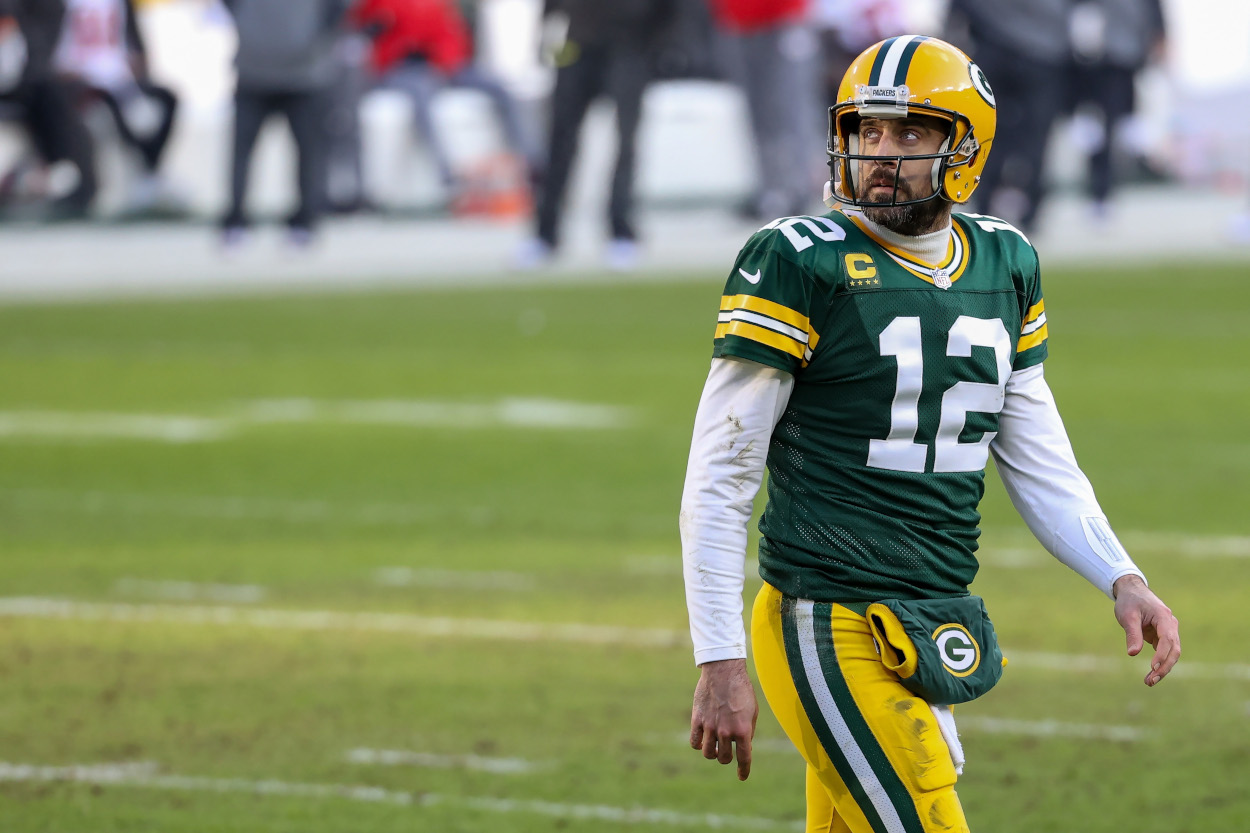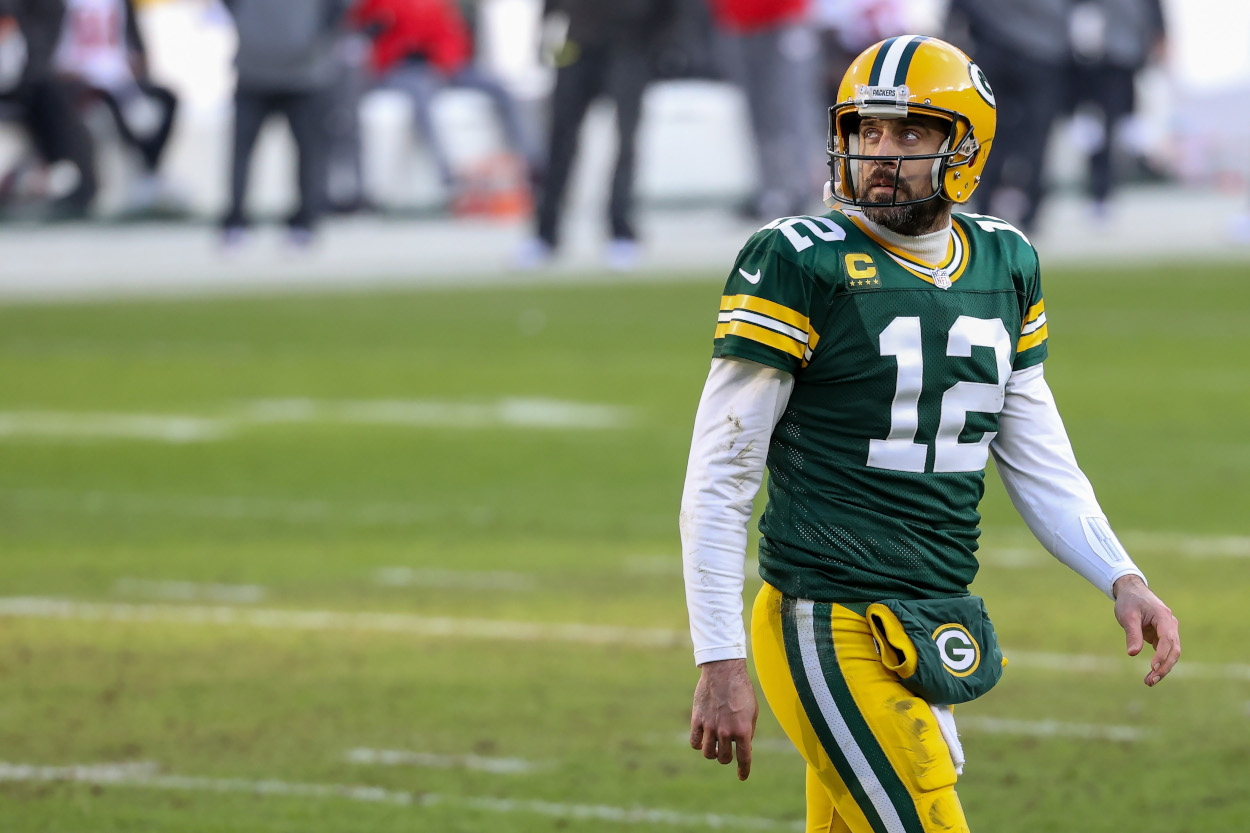 Peter Schrager covers the NFL for Fox Sports and the NFL Network, and what he is hearing may not sit well with fans of the Green Bay Packers. While on The Bill Simmons Podcast recently, Schrager laid out some potential trade destinations but stressed that he doesn't think there's much of a market for the reigning NFL MVP.
"I don't know many teams other than Denver (that make sense for a Rodgers trade). I don't think Green Bay wants to trade him. I think they'd rather see him retire or just not plan than suit up for the Denver Broncos and take them to the Super Bowl. I don't think they're going to do anything based on what Aaron Rodgers wants. After this whole thing, I don't think the Packers are going to say: 'Well, where would Aaron be happy?' That's not their concern at the moment."

NFL insider Peter Schrager
It's worth noting that since The Associated Press began naming an NFL MVP in 1957, none have ever been traded the season after winning it. However, two former MVPs chose to retire after being honored. Norm Van Brocklin led the Philadelphia Eagles to the NFL championship in 1960 and hung them up to coach the Minnesota Vikings. Likewise, Jim Brown left the Cleveland Browns after the 1965 season.
Is an Aaron Rodgers trade in the cards?
The Green Bay Packers have stayed on message since the news of Aaron Rodgers' dissatisfaction with general manager Brian Gutekunst broke. That message has been simple: Rodgers isn't going anywhere.
That's an assessment shared by former Green Bay executive Andrew Brandt. Ultimately, Brandt is correct that Rodgers cannot trade himself away from the Packers. Green Bay, meanwhile, does not seem to be open to the idea of dealing away its franchise quarterback, at least not yet.
Should the Packers decide to move Rodgers, doing it now would make it a bit more palatable financially than such a deal would have been before June 1. Green Bay would incur a salary cap hit of $21.152 million in dead money this year and $17.204 million in 2022. A pre-June 1 trade would have hit the cap much harder, to the tune of a $38.356 million dead-money charge.
Rodgers isn't due to become a free agent until after the 2023 season. The Packers are unlikely to let the situation fester in limbo for three seasons. They will most certainly not want to pay Rodgers $71.5 million not to play football over that span, either.
Is this whole dispute over a single draft pick in 2020?
There has been much speculation that Aaron Rodgers' current disenchantment with the only franchise he has ever played for stems from the 2020 NFL draft. The Green Bay Packers took Utah State quarterback Jordan Love with the 26th overall pick in the pandemic-altered draft. So while Love had to cope with the emotional damage of not beginning his NFL career with a hug from commissioner Roger Goodell, he was going to a stable franchise.
It's been easy for the talking heads to play a game of connect-the-dots. Rodgers is an aging starting quarterback. His team picked a younger quarterback with its first-round pick.
However, Rodgers told SportsCenter host Kenny Mayne that the disagreement isn't about one pick in one draft.
"I love Jordan. He's a great kid. A lot of fun to work together. I love the coaching staff, love my teammates, love the fan base in Green Bay. Incredible 16 years. It's just kind of about a philosophy and maybe forgetting that it is about the people that make the thing go. It's about character; it's about culture; it's about doing things the right way."

Aaron Rodgers
Neither side is ready to blink yet. But is the retirement of Aaron Rodgers the preferred outcome for the Green Bay Packers? It is true, after all, that you can't miss someone if they don't go away first.
Historical data courtesy of Pro Football Reference.