The Green Bay Packers May as Well Wave Goodbye to Offensive Coordinator Nathaniel Hackett
Green Bay Packers offensive coordinator Nathaniel Hackett is a popular man right now. He's been a significant part of one of the most explosive and successful offenses in football for the past few seasons, and now he's getting some major looks as a head coach.
Just about every team that has a head coaching vacancy would like to talk to Hackett, and it's probably safe to assume that sooner or later, something is going to come together.
The Packers may as well wave goodbye.
Nathaniel Hackett has been a big part of the Green Bay Packers' success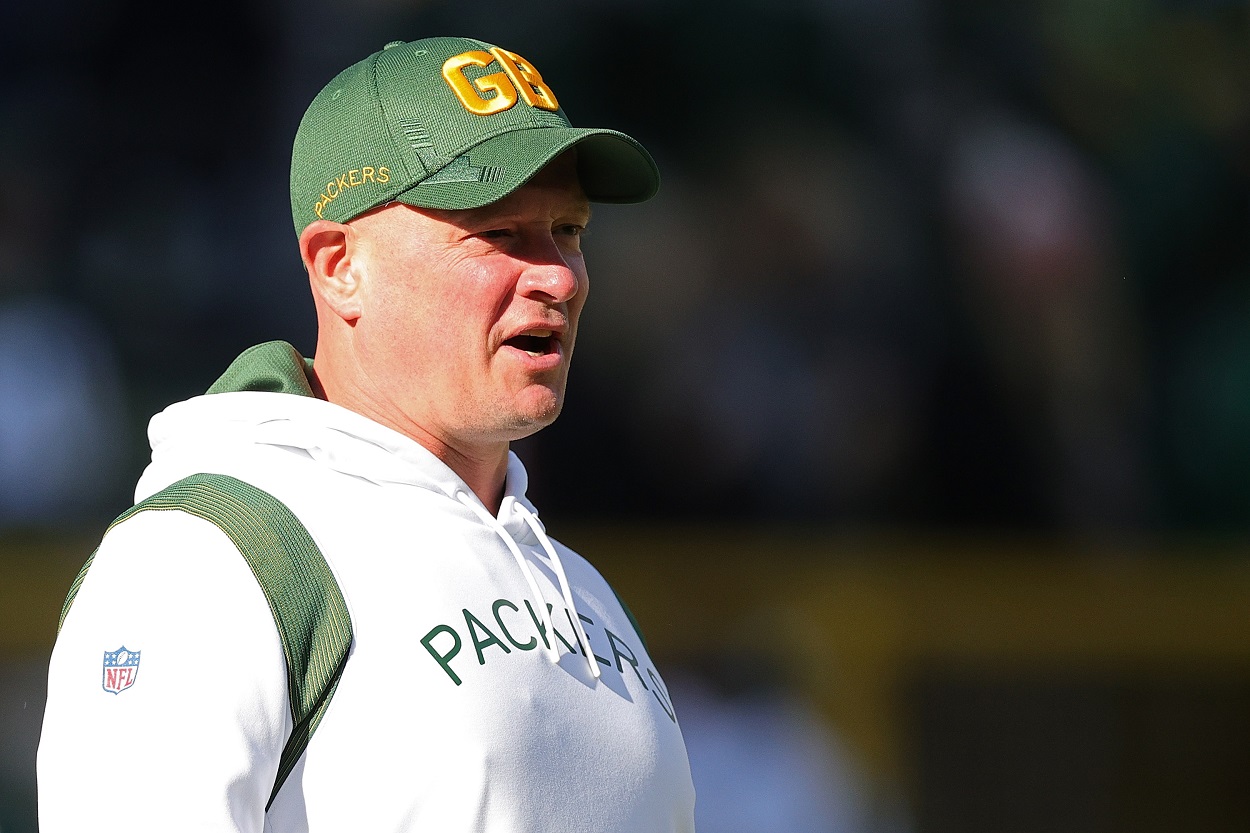 Aaron Rodgers and Matt LaFleur get all the headlines on offense and for good reason, but Hackett has been behind the scenes helping mold one of the top offenses in football over the past few seasons.
Yes, LaFleur calls the plays during the game with plenty of help from Rodgers, but Hackett is a significant part of both the installation of the offense as well as the execution.
LaFleur had this to say about Hackett back in November of 2020:
"He's our 'glue guy,' he puts it all together, man," LaFleur said via Packers.com. "He's one of the most organized guys, people, I've ever been around. He can do the job of about four people. He is a machine that can just knock out work. He's so intelligent, knows everything that's going on, whether it's in the O-line room, quarterback room, tight ends, running backs, doesn't matter.

"I know this: We wouldn't be where we are today without him."

Green Bay Packers head coach Matt LaFleur on offensive coordaintor Nathaniel Hackett
Hackett has racked up plenty of solid NFL experience
The last three seasons in Green Bay have put Hackett on the map, but he has a strong resume as an NFL assistant coach dating all the way back to 2006, when he started as a quality control coach for the Tampa Bay Buccaneers.
Hackett's coaching journey has taken him both to college and the NFL. He cut his teeth as the offensive coordinator at Syracuse for two seasons before jumping back into the NFL in 2013. He was the offensive coordinator for the Buffalo Bills for two seasons and spent three seasons running the offense for the Jacksonville Jaguars before hooking up with LaFleur in Green Bay.
The funny thing is that Hackett and LaFleur had never actually coached together on the same staff before they joined forces with the Packers. They had known each other from shared time scouting prospects at the NFL Combine, but all LaFleur really had to go off of was Hackett's impressive work in 2017, when he helped lead the Jaguars to the AFC Championship thanks to the strength of a running game featuring peak Leonard Fournette.
Though LaFleur was a young and inexperienced head coach who was inheriting Rodgers at quarterback, the true heart and soul of his offensive system starts and ends with the run game. The offense Hackett called in 2017 clearly convinced LaFleur that he could help him install the same thing in Green Bay. The rest, as they say, is history.
"It's funny how things work out in crazy ways. He's not a guy that prior to us working together, I had never worked with him before. But (we're) so fortunate that he's been a part of this staff. He is as big of a reason as anybody of our success here," LaFleur said, according to Jason Wilde.
The Packers, much in thanks to the hybrid offense LaFleur and Hackett have developed around the talents of Rodgers, Davante Adams, and running backs Aaron Jones and A.J. Dillon, are the No. 1 seed in the NFC for the second-straight season and are looking to make their third-straight NFC Championship game.
This time, of course, they're hoping to get over the hump.
Hackett will likely be gone sooner than later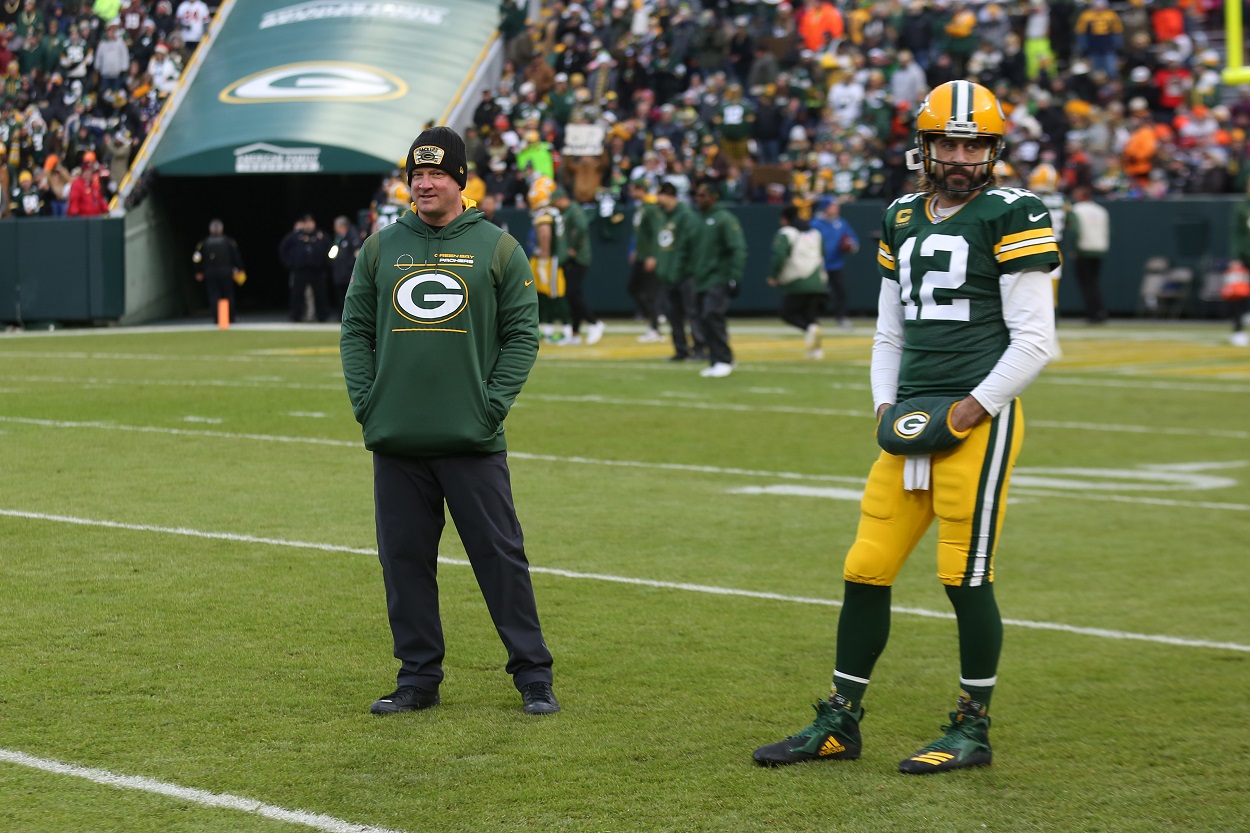 Hackett could pull a Josh McDaniel's and choose to stay with the head coach and franchise that has put him on the map, but it sure seems written in the stars that he'll be a head coach with his own team once the 2022 season starts.
The Jaguars are going to interview him and that's a spot that makes a ton of sense for him, his history with the organization being one of the main reasons. The Denver Broncos also want a shot at Hackett, and the Chicago Bears want an interview as well. How much of that is honest intrigue and how much is trying to take a shot across the bow at Green Bay is yet to be determined.
Ultimately, it makes sense for Hackett to take the next step, and as much as that could hurt LaFleur and the Packers in the long-term, it's honestly a good thing for Green Bay.
If LaFleur wasn't having any success as a head coach, none of his assistants would be getting opportunities. Having an actual coaching tree is a sign of success in the NFL. It's a sign of respect. Hackett getting ready to go out on his own is yet another indicator that LaFleur really is the real deal for the Packers.
If the three-straight NFC North titles and the 39-10 record weren't convincing enough, maybe this will be.
From an unknown and upstart head coach to a guy with a coaching tree, it's been a good few years for LaFleur. With the good comes the bad, though, and the bad in this case is saying goodbye to a major piece of the puzzle for Green Bay's offense.
"I would hate to lose him, but at the same time I would be so happy for him, and I know he's ready for that opportunity," LaFleur said of his offensive coordinator. "I absolutely do (think he's ready), and I'm excited for him. If I was a team out there that had a vacancy, I would absolutely want to get him in a room."
The writing is on the wall if you're LaFleur and the Packers.
Thanks for the hard work, and thanks for the memories.
Just don't go to Chicago.
Stats courtesy of ESPN and Pro Football Reference.
RELATED: Jordan Love Was Once Again Underwhelming for the Green Bay Packers
Related post url: