Greg Norman's Divorce From Chris Evert After Just 18 Months of Marriage Proves He Learned a $102 Million Lesson
Golfer Greg Norman is no stranger to marriage, having tied the knot three times and untied it twice. His most high-profile union, a 15-month marriage to tennis superstar Chris Evert, could've been a low point. However, while the marriage was ended badly, it wasn't nearly as costly as his previous divorce.
When Chris Evert met Greg Norman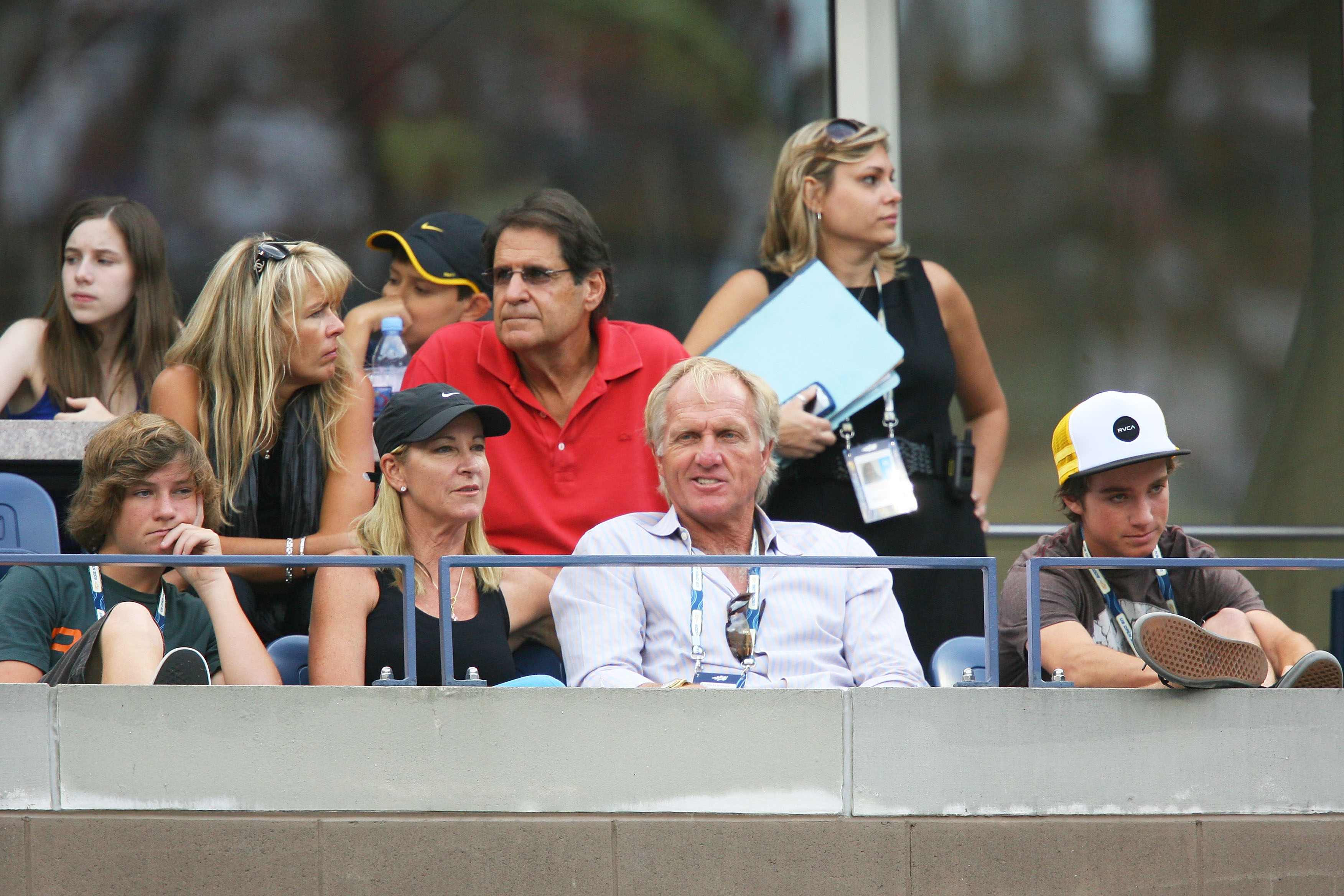 People Magazine reports that both Evert and Norman were still married to their previous partners. Norman was the best friend of Evert's then-husband Andy Mill; Norman had been married to his wife, Laura Andrassy, for 25 years beforehand. However, after both found themselves in troubled marriages, Norman and Evert hit it off.
Naturally, the other spouses found out about it. Evert had a relatively quiet divorce from Mill, who is also the father of her children. Meanwhile, Norman's divorce battle was lengthy. According to TCPalm, it cost him $103 million in cash and millions more in payments to his children. It was a high-profile affair in more ways than one.
After the dust settled, the pair wed in 2009. Unfortunately, the marriage crumbled before it ever had the chance to take off.
Love crumbles for Norman and Evert
RELATED: Why Beloved Golfer Greg Norman Refused to Play the Senior Tour
It didn't take long after their marriage for the pair to realize they were not compatible. They experienced a riff, and the couple secretly divorced after just 15 months as a married couple. Evert claims that the divorce was not ugly. In an interview with Elle, the tennis legend spoke candidly about the ordeal:
Was there passion? Yes. Was there love? Sure, uh, yes — but we had two big worlds. Honestly, we had different priorities. I want roots — I want to be with my kids, live in a nice, comfortable house, and be able to do my work. One of us would have had to give up a big part of our life … I don't want this to be a slam on Greg, but our lifestyles were different. My priority was my kids. His priority was to build his business and travel," she told the publication

Chris Evert on her marriage to Greg Norman
Norman, on the other hand, has remained silent about his second marriage. He since wed his third wife, Kirsten Kutner, although this time it was not as costly as his marriage to Andrassy.
Did Greg Norman and Chris Evert learn from their experience?
RELATED: Jack Nicklaus, Greg Norman, or Arnold Palmer: Which Golfer's Brand Is the Most Successful?
Norman's first marriage ended when Andrassy picked up the phone and heard her husband planning to meet with another woman. She opened up about the dissolution with Women's Day magazine per Now To Love:
It's difficult for my children … They've been through enough, and I really want to keep them from dealing with anything to do with their father. There is a lot to the story. It does have something to do with me, but it doesn't have anything to do with me anymore – and I've moved on.

Laura Andrassy on her marriage to Greg Norman
Evert has not remarried since the Norman split. She remains one of the most successful tennis broadcasters in the world. Norman is one of the most successful golfers-turned-businessmen in history. After a COVID-19 scare, the 66-year-old appears to be in good health, too.
Still, the high-profile nature of these relationships shows how things can get when the public watches their favorite celebrities.