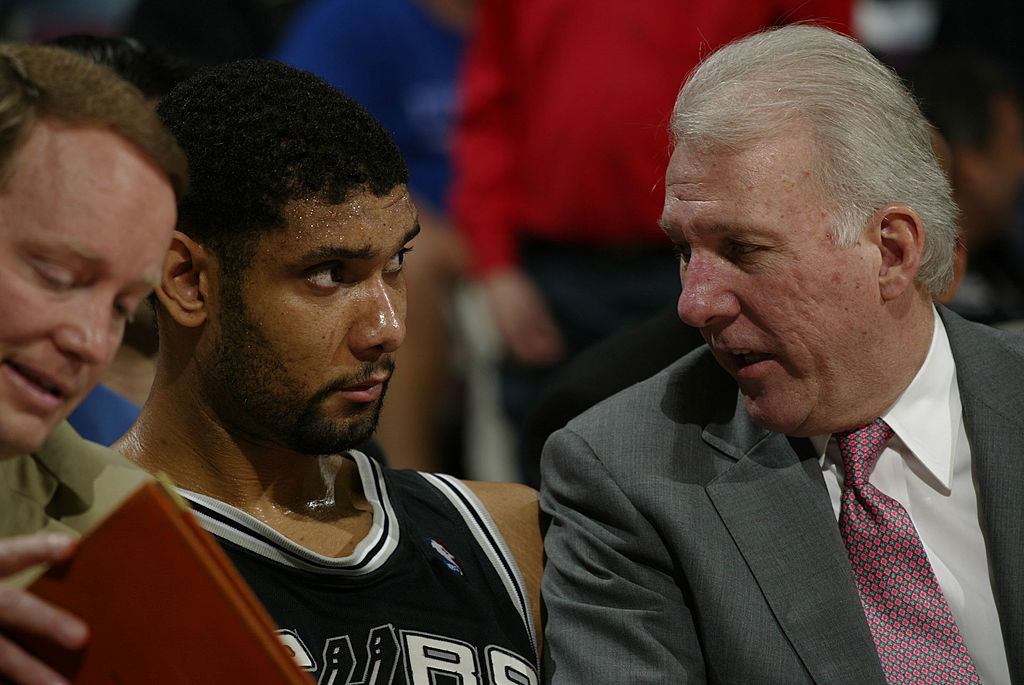 Gregg Popovich Adds Tim Duncan to His Staff in a Fittingly Low-Key Way
Tim Duncan is returning to the San Antonio Spurs, this time as an assistant coach under Head Coach Gregg Popovich.
Gregg Popovich is one of the greatest head coaches in NBA history. Throughout his illustrious 23-year career with the San Antonio Spurs, Popovich has coached some remarkable players including David Robinson, Tony Parker, Manu Ginóbili, and Kawhi Leonard. But only one player was with Gregg Popovich for all five of his NBA Championship runs, and that player is Tim Duncan.
Popovich and Duncan are among the best player-coach duos of all-time across all professional sports. And for the first time since Tim Duncan's retirement at the end of the 2015-16 season, this duo will be professionally reunited; only this time, Duncan will be joining Popovich on the sidelines as an assistant coach.
San Antonio's tongue-in-cheek press release
Tim Duncan was the type of player that always kept his head down and worked hard. He didn't look for any of the fanfare that many superstar players do, instead keeping his focus on the game and his teammates. So what better way to announce the hiring of an understated and classy guy like Tim Duncan than with one of the most understated announcements ever?
The release started by announcing Will Hardy, a video editor with the team since 2013 that is also joining the sideline as an assistant coach, before Duncan. It proceeded to spend all of two sentences on Tim Duncan and his hiring:
Duncan, a 1997 Wake Forest graduate, played 19 seasons with the Spurs before retiring in the summer of 2016.
"It is only fitting, that after I served loyally for 19 years as Tim Duncan's assistant, that he returns the favor," said Popovich.
"A 1997 Wake Forest graduate"
Tim Duncan was the last superstar athlete to finish earning his college degree before going pro. Fulfilling a promise he made to his mother before she passed away when he was only 14-years-old, Duncan earned his college degree at Wake Forest even though he could have potentially been the first overall pick in the NBA Draft had he left college early.
During his four-year career at Wake Forest, the Demon Deacons went 97-31. Duncan averaged 16.5 points, 12.3 rebounds and a staggering 3.8 blocks per game. His 481 career blocks rank fourth all-time among college basketball's career block leaders.
Tim Duncan's decision to stay in college for all four years and a disastrous injury-riddled 1996-97 season in San Antonio put the Spurs in position to draft the greatest power forward in NBA history.
"19 seasons with the Spurs"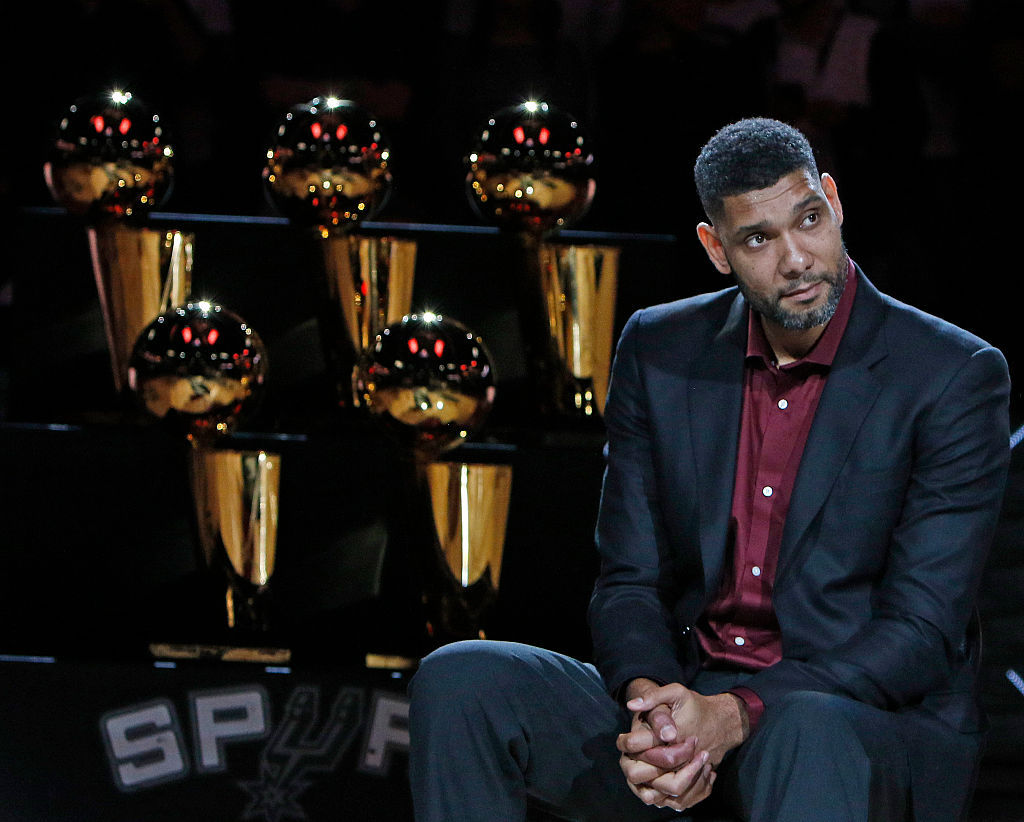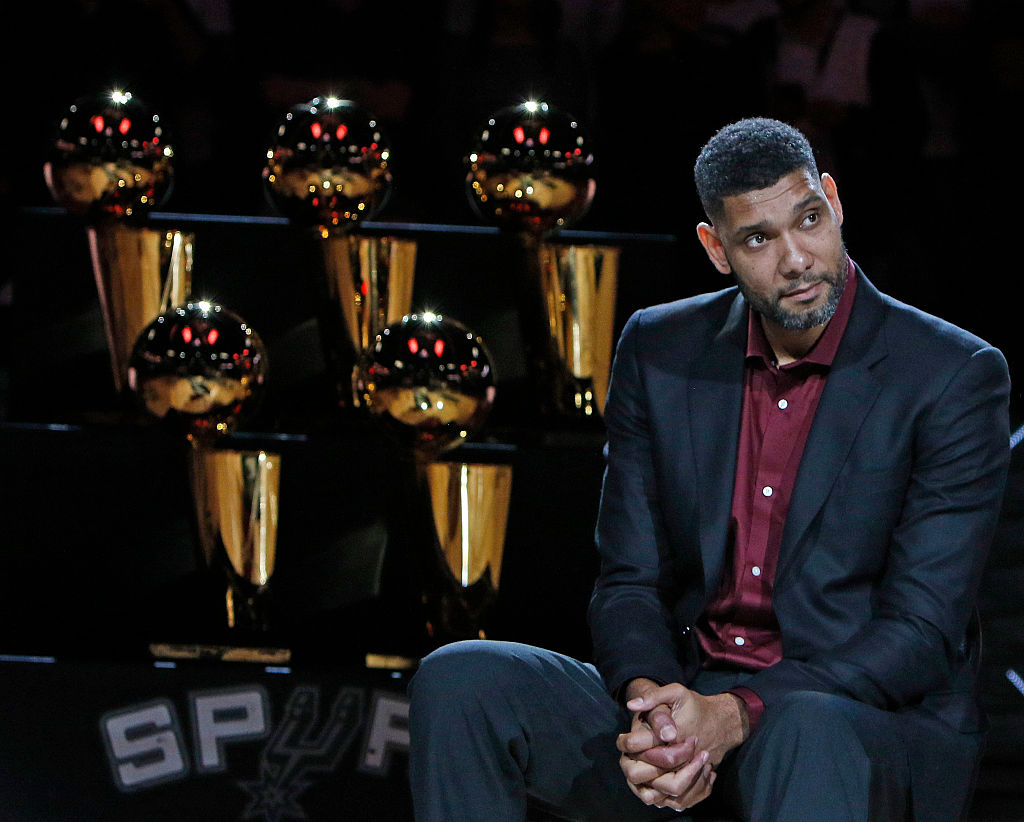 It's true, Tim Duncan played 19 seasons with the Spurs before retiring in the summer of 2016. He even had a couple of accomplishments along the way that the coaching release failed to mention:
Five NBA Championships. Three NBA Finals MVP Awards. Two regular-season NBA MVP Awards. Fifteen selections to the NBA All-Star Game. Ten selections to the All-NBA First Team. NBA Rookie of the Year. Career totals of 26,496 points, 15,091 rebounds, 4,225 assists, and 3,020 blocks.
Okay, maybe it was more than just "a couple" of accomplishments.
Tim Duncan earned the nickname "The Big Fundamental" due to his remarkable commitment to playing the game of basketball the right way. Now, he'll have the opportunity to pass those fundamentals along to a new generation of players in a mentorship role.
It's far too early to know what the future holds on Duncan's coaching career, but one thing is for sure; it's great to have him back in the NBA on a day-to-day basis.