Gregg Popovich Heaps Enormous Praise on Nikola Jokic by Earnestly Comparing Him to Larry Bird: 'The Way He Reads Things, He's Incredible'
It took all of two games for Nikola Jokic to show why he's the reigning MVP. The Denver Nuggets superstar dropped 32 points and grabbed 16 rebounds in Denver's 102-96 win over the San Antonio Spurs. After the game, Spurs head coach Gregg Popovich shared his thoughts on Jokic, headlined by an honorable comparison to three-time MVP and all-time great Larry Bird.
Nikola Jokic dominated the San Antonio Spurs
During Jokic's season debut against the Phoenix Suns, the 26-year-old scored a modest 27 points to go with 13 rebounds and a pair of assists. But Friday's game against San Antonio represented the best of the Joker.
The 6-foot-11 center scored 32 points on 14-of-19 shooting, a 73.7% clip. His final two points came via a 14-foot fadeaway with 1:32 remaining to help ice the game for Denver. In addition, Jokic's 16 boards are his most since pulling down 20 against the Suns in Game 3 of the Western Conference Semifinals.
"I've never seen anybody play his pace. The slow Euro-step is unstoppable," teammate JaMychal Green said of Jokic. "A lot of stuff he does is unstoppable. He's going to be the MVP again."
Jokic, who also had seven assists to go with three steals and a block, is used to bringing his A-game against the Spurs. The three-time All-Star averaged 28.7 points, 10.7 rebounds, and 9.7 assists in three bouts with San Antonio last season.
Gregg Popovich compared Jokic to Larry Bird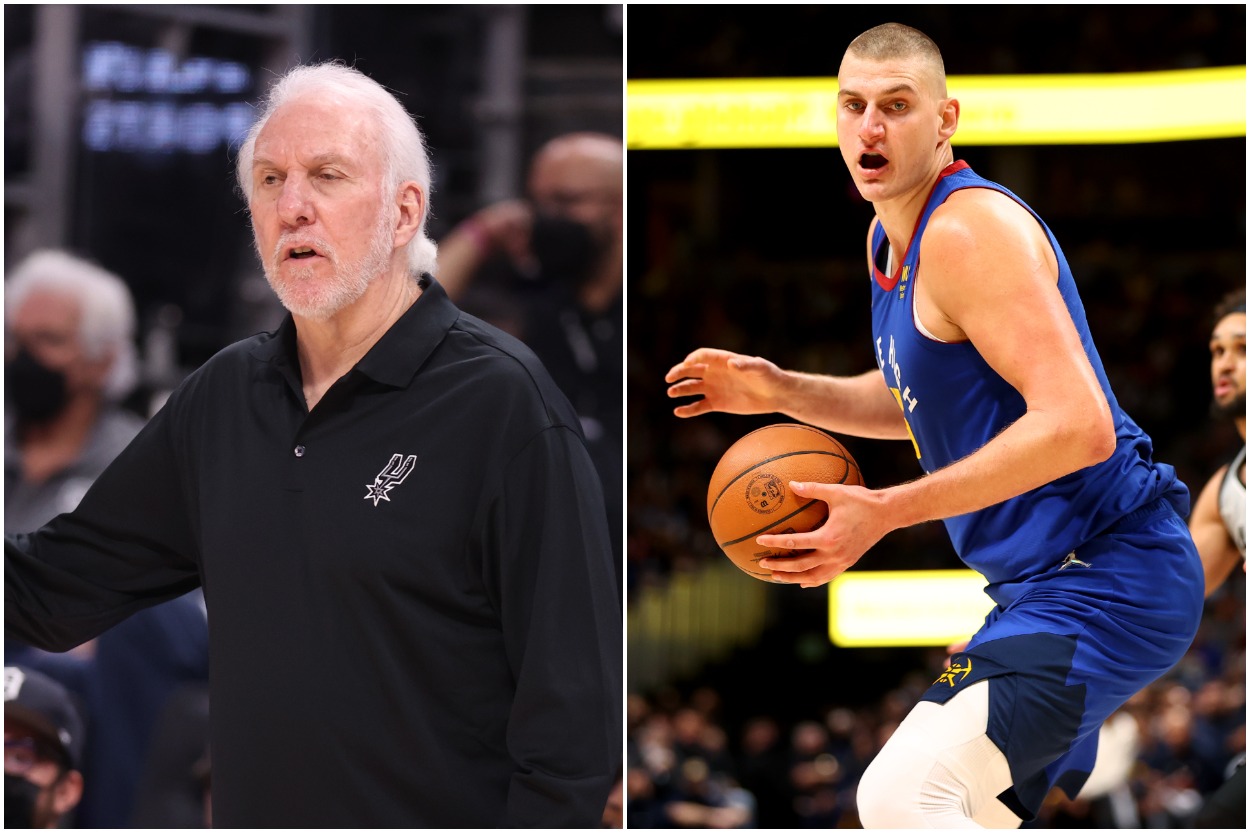 Jokic is a certifiably unique player, who at close to seven feet tall is a nightly triple-double threat. One of the many to appreciate him is the five-time champion Popovich.
"Jokic is just great, and he was too much for us," Pop told reporters after the game. "He's a really spectacular, interesting, different player."
The longtime Spurs boss then compared the Joker to a legend — Larry Legend, that is.
"He's like a 7-foot Larry Bird type guy, you know? The way he can pass and the way he reads things, he's incredible."

Gregg Popovich
The 6-foot-9 Bird was as dangerous of a playmaker as he was a scorer, similar to the reigning MVP. Over 13 seasons, the Boston Celtics great averaged 24.3 points, 10.0 rebounds, and 6.3 assists. Compare that line to Jokic, who in his seventh season has career averages of 18.5 points, 9.8 rebounds, and 5.9 assists.
Can Nikola Jokic repeat as MVP?
As mentioned earlier, Green is one person who believes Jokic will win his second MVP in a row. So far, he's certainly the early front-runner.
Entering the NBA's first weekend of regular-season action, the Joker is one of 12 players averaging 29 points or more. He's also second to Utah's Rudy Gobert in rebounds with 14.5 per game. Additionally, the three-time All-NBA selection has led Denver to a 2-0 start, as he'll be carrying his squad while running mate Jamal Murray continues to recover from a torn ACL.
Historically, voters aren't shy about handing out an MVP award to the reigning winner. In the last 20 years, all five players with multiple MVPs won their second MVP the year after their first. If Jokic can repeat last season's success, it would be a surprise if he didn't receive substantial consideration.
Regardless, earning a comparison to Larry Bird, bestowed by one of the game's all-time best coaches, is another highlight of Jokic's impressive career.
All statistics courtesy of Basketball Reference.
RELATED: Nikola Jokic Just Received Some Serious Disrespect That Should Motivate the Reigning MVP and the Denver Nuggets