Gregg Popovich Says Jayson Tatum Could Be as Good as Kawhi Leonard and Paul George
Jayson Tatum might only be 21 years old, but he is already taking the NBA by storm. With his prowess on both ends of the court and ever-expanding game, Tatum has the tools to become truly special. That isn't a belief that is just held by Celtics fans and teammates, however. Tatum has some of the biggest names in basketball singing his praises. The latest to praise Tatum has received from Gregg Popovich, however, might be the most meaningful yet.

Gregg Popovich on Jayson Tatum
Tatum has already proven his worth as a role player on two playoff teams. As a rookie, he averaged 14 points and five rebounds to go along with a steal. With other, older All-Stars on his team, however, Tatum was insurance. His role expanded the following year as he grew into an NBA body, and with Kyrie Irving out for many games throughout the season, Tatum's role became more defined. Now, with Irving and Al Horford gone, Tatum has a bigger burden on his shoulders.

Gregg Popovich got a good look at Tatum over the summer and had plenty of time to work with Tatum in the process. As head coach of Team USA, Popovich worked side-by-side with some of the best young players in the United States. Despite the team's eventual underachievement, the time they spent with the surefire Hall of Famer could be what puts them over the top.
Tatum saw that firsthand when Popovich brought him aside and gave the forward high praise.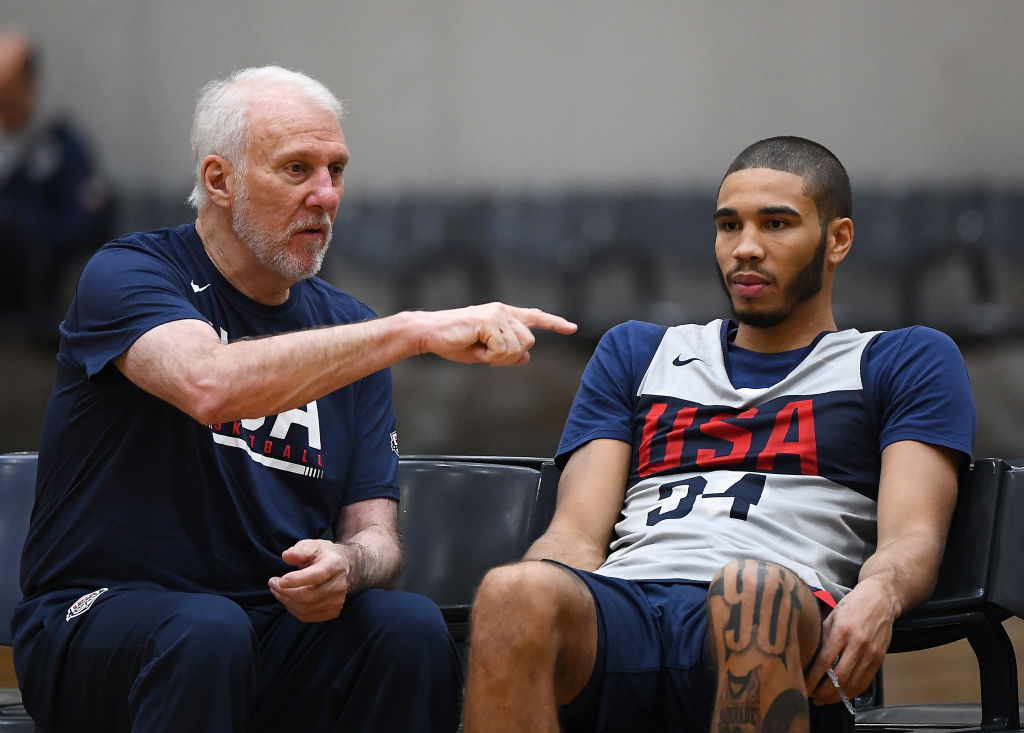 "Do you know how special you can be?" Popovich asked Tatum, according to ESPN's Jackie MacMullan. "There are very few two-way players in our game, and you have the opportunity to be one of them. You could be like Kawhi [Leonard] and Paul George."

That's right. Gregg Popovich, one of the best NBA coaches ever, believes Jayston Tatum could eventually be as good as two of the brightest stars in the game.

Kawhi Leonard and Paul George?
Kawhi Leonard, like Tatum, got to learn under Popovich from an early age. Leonard's less-than-amicable exit from San Antonio shouldn't shroud the fact that Popovich had him playing like a star early in his career. Leonard's long build and huge wingspan at 6-foot-7 make him a force offensively and defensively, which is why a 21-year-old won Finals MVP on the back of his defense on LeBron James.

Paul George, while not on the level of a Kawhi Leonard, is a similarly gifted two-way player. His size is more deceptive, as he stands one inch taller than Leonard, but his ability to guard the other team's best players makes him an asset to his team. George is consistently regarded as one of the league's best defenders, and having he and Leonard next to each other is a treat for basketball fans everywhere.

Popovich wasn't using this comparison lightly. He never speaks about players in ways he doesn't mean. It might seem like a brash comparison, but it makes sense when you look at Tatum under a microscope.

Jayson Tatum's greatest gifts
Now back with his Celtics, Tatum is further realizing Popovich's comparison with a defined role as a Celtics' star next to new teammate Kemba Walker. Through 46 games, Tatum has put up 22 points and nearly seven rebounds, both career numbers. When Popovich said that Tatum could be on par with those two stars, he was talking about Tatum's ability to play both sides at an early age.

Tatum has a perfect combination of length, speed, and talent to play the game in ways that most could never dream of. Celtics head coach Brad Stevens spoke on that:

"Jayson's length is a major factor, and he uses it effectively," Stevens said (per ESPN). "Some guys have the length and aren't necessarily active with their hands. Jayson is, not only on the ball but off the ball as well."

All of this puts the Leonard and George comparison into perspective. He has the size of a small forward, but the reach of someone much larger. At just 21, he is already one of the league's most fearless defenders. To prove Popovich right, all he has to do is keep on expanding his game on both ends and watch as the accolades rain on top of him.

Who knows? Jayson Tatum might even get to test these players in an NBA Finals match — if things end up well for both of them.