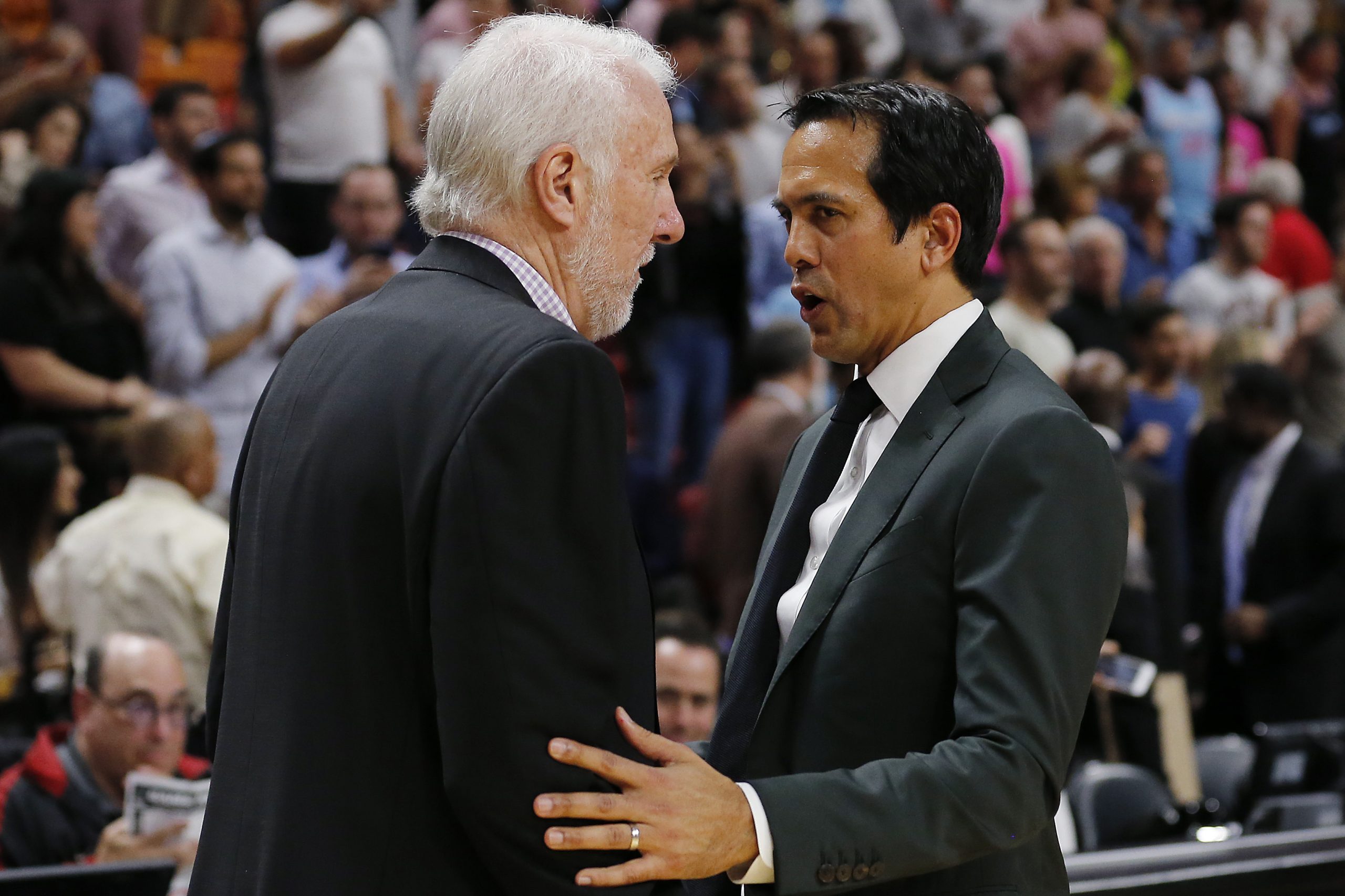 Gregg Popovich Sent Erik Spoelstra a Backhanded Compliment After a Recent Olympic Practice
Team USA men's basketball coach Gregg Popovich had a backhanded compliment for Erik Spoelstra, his assistant coach who also coaches the Miami Heat.
Erik Spoelstra and Gregg Popovich have put a lengthy history behind them to work together at the 2020 Summer Olympics.
Spoelstra, the Miami Heat's longtime head coach, is an assistant under Popovich on Team USA. Years after the two clashed in the 2013 and 2014 NBA Finals, Popovich sent Spoelstra the picturesque definition of a backhanded compliment.
Gregg Popovich called Erik Spoelstra a 'fantastic young coach'
At 72 years old, everyone is young to Popovich. He's been an NBA head coach since 1996 — remember, we now play in a time where more and more players were born in 2000 or later — and he's won five championships along the way.
Still, there are some instances where Popovich reminding people about his own age can lead to some uncomfortable moments. According to the Associated Press, Popovich recently called Spoelstra, who turns 51 on November 1, a "fantastic young coach."
Now, as we said, everyone is naturally young to Popovich. The days of Phil Jackson and Larry Brown coaching on the NBA sidelines are long gone. Even Miami's Udonis Haslem, the oldest active player at 41 years old, didn't play his first NBA game until 2003.
So what's wrong with what Popovich said about Spoelstra? Well, don't forget that Spoelstra is the second-longest tenured active NBA coach, only behind Popovich. With respect to those who are 50 and older, it doesn't seem right to call someone who just finished his 13th season as an NBA head coach a "young coach."
Spoelstra has quietly accomplished a great deal in the NBA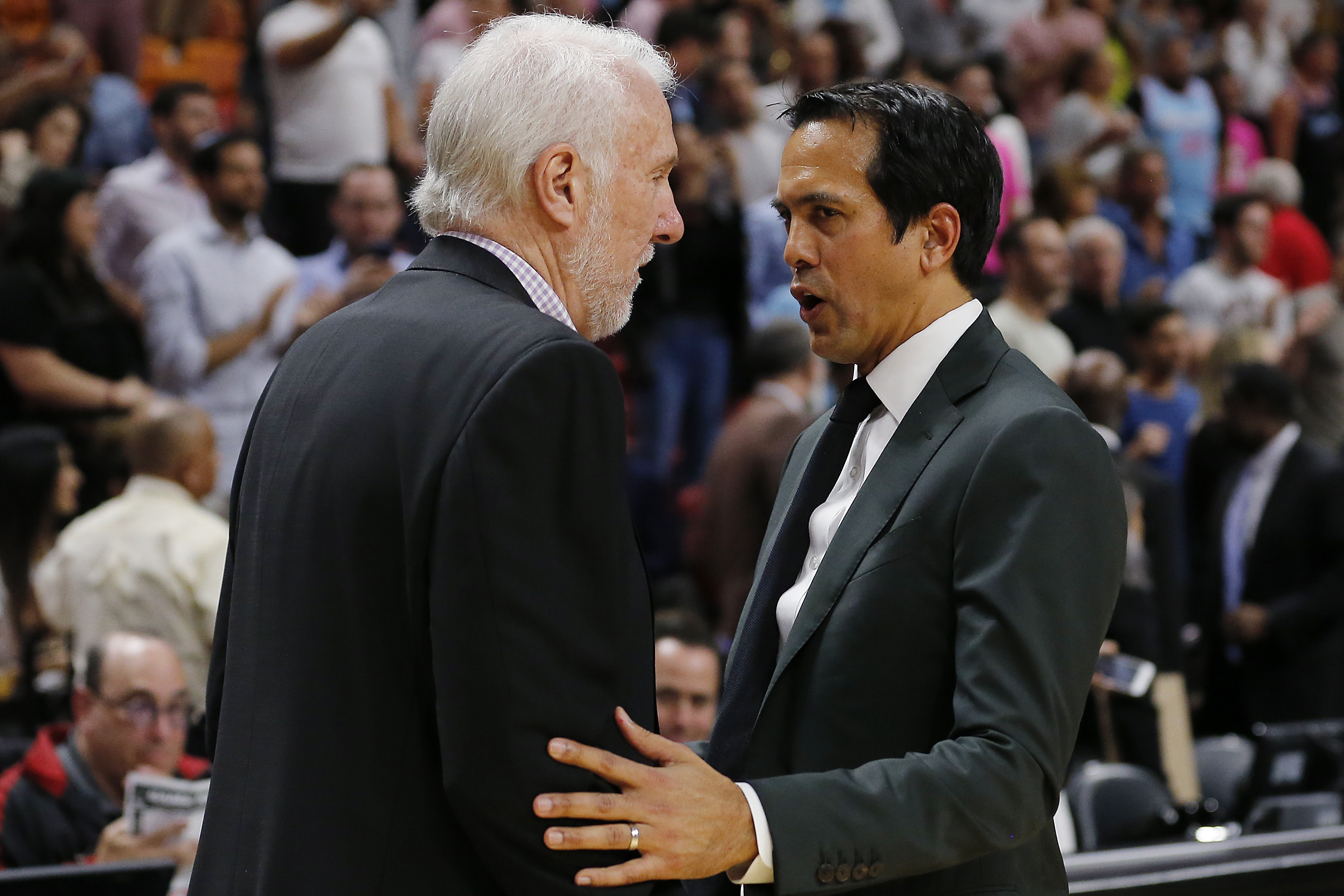 Popovich likely didn't mean anything by his comments, and they are relatively harmless. But it's definitely a backhanded compliment, even if it's unintentional.
If Popovich said that about Oklahoma City's Mark Daigneault (who turns 36 in August) or Memphis's Taylor Jenkins (a year older than Daigneault), there'd be no issues. And even if Popovich used that term for Brooklyn's Steve Nash, who turned 47 in February, it'd still work because Nash just finished his first season as a head coach.
Compare that to Spoelstra, who holds a career 607-424 record to his name. He's won two NBA Finals as a head coach and is 85-58 in the postseason. That isn't the resume of a young and inexperienced coach.
The Heat have won the Eastern Conference five times in his 13 seasons. Yes, LeBron James and the Big 3 are responsible for four of those Finals appearances, but who gets credit as the head coach? That would be Spoelstra, of course.
Spoelstra hasn't shown any indication of retiring anytime soon, and he's set to coach a talented Heat team for the 2021-22 season. It doesn't sound so unrealistic to think that a third championship could earn him enshrinement to the Naismith Memorial Basketball Hall of Fame one day. Popovich, with his five titles, is all but a lock at this point.
Could Spoelstra eventually coach the United States in the Olympics?
Popovich turns 73 in January 2022, and he's not going to coach the Spurs forever. The same is true for Team USA, which he's coaching in the Olympics for the first time.
Popovich has not yet named his successor, though Spoelstra is an intriguing candidate. He's a proven head coach who is getting experience in the Olympics now. If the Olympics are played as intended in 2024, he'd be 54 and could coach multiple games and international events.
It'd be a natural next step for Spoelstra and Team USA as a whole. However, we'll admit that going from a "fantastic young coach" to an "excellent, middle-aged coach" doesn't have the same ring to it.
Like Sportscasting on Facebook. Follow us on Twitter @sportscasting19.