Gregg Popovich's Team USA Finally Played Like the Best Program in the World in Rout of Iran
USA Basketball had an emphatic response to their critics after opening the 2020 Tokyo Olympics men's tournament with a loss to France. That response was essential for coach Gregg Popovich because it marked the first time since Popovich took over the program that it looked like the Team USA we've come to expect.
Iran led for 53 seconds in the contest, and there were five early lead changes, but USA Basketball put the pedal to the metal and didn't let up for 40 minutes. The 120–66 rout improved Team USA's group record to 1–1 and all but assured them a spot in the medal round. Even with an unlikely loss to the Czech Republic on July 31 to close the group stage, the plus-54 scoring differential from the victory over Iran leaves USA Basketball at a plus-47 for the tournament.
The Czechs are 1–1 with a minus-14 differential following their 97–77 loss to France in the other Group A game on July 28. Team USA faces off with the Czech Republic at 8 a.m. Eastern on July 31, while Iran and France play at 9 p.m. Eastern on July 30. After a dominating performance against Iran, USA Basketball officials (and Popovich) must be breathing a bit easier.
Team USA was dominant in all phases
The victory over Iran was the sort of victory USA Basketball has made us accustomed to in international play. Six players scored in double-figures, the shooting was lights-out, and the defense was spectacular. Iran was overmatched, and Team USA played like it.
USA Basketball shot 55.3% after mustering just 36.2% against France. They were 19-of-39 (48.7%) from long range after a rough 10-of-32 (31.3%) showing against the French.
But Team USA also cut its turnovers in half, from 12 to just six against the Iranians. Defensively, the U.S. dominated as well, forcing 23 turnovers while holding Iran to just 37.3% shooting. The Iranian roster features just one player with NBA experience. Hamed Haddadi, a 7-foot-2 center, played 151 games for the Grizzlies and Suns from 2008–13. Now 36, Haddadi had 14 points and seven rebounds in the game.
Damian Lillard paced Team USA with 21 points, hitting 7-of-13 from 3-point land. Zach LaVine and Khris Middleton each made 2-of-4 from the great beyond. The smaller USA contingent hung with the bigger Iranian squad on the glass, battling to a 39–39 draw. And USA Basketball never let up, putting up 60 points in each half.
Yes, Gregg Popovich's USA Basketball team had a blowout win at the FIBA World Cup
Yes, Team USA indeed scored one blowout victory during its seventh-place run at the 2019 FIBA World Cup in China. USA Basketball never trailed in a 98–45 victory over Japan in group play. However, there were some critical differences between that win and the victory over Iran in Tokyo.
That Team USA group was 6-of-12 at the foul line, shot 48.1% overall, and made 14-of-41 (34.1%) from deep. They also turned the ball over 14 times. They were dominant, yes, but also very sloppy.
USA Basketball also got pushed hard in China. They needed overtime for a one-point win over Turkey, which did not qualify for the second round, much less the elimination stage. Team USA lost to France and Serbia in the medal round before salvaging a bit of dignity with a 13-point win over Poland.
The competition in Tokyo is good, but some of the top national programs in the world aren't there.
USA Basketball is ranked No. 1 in the world by FIBA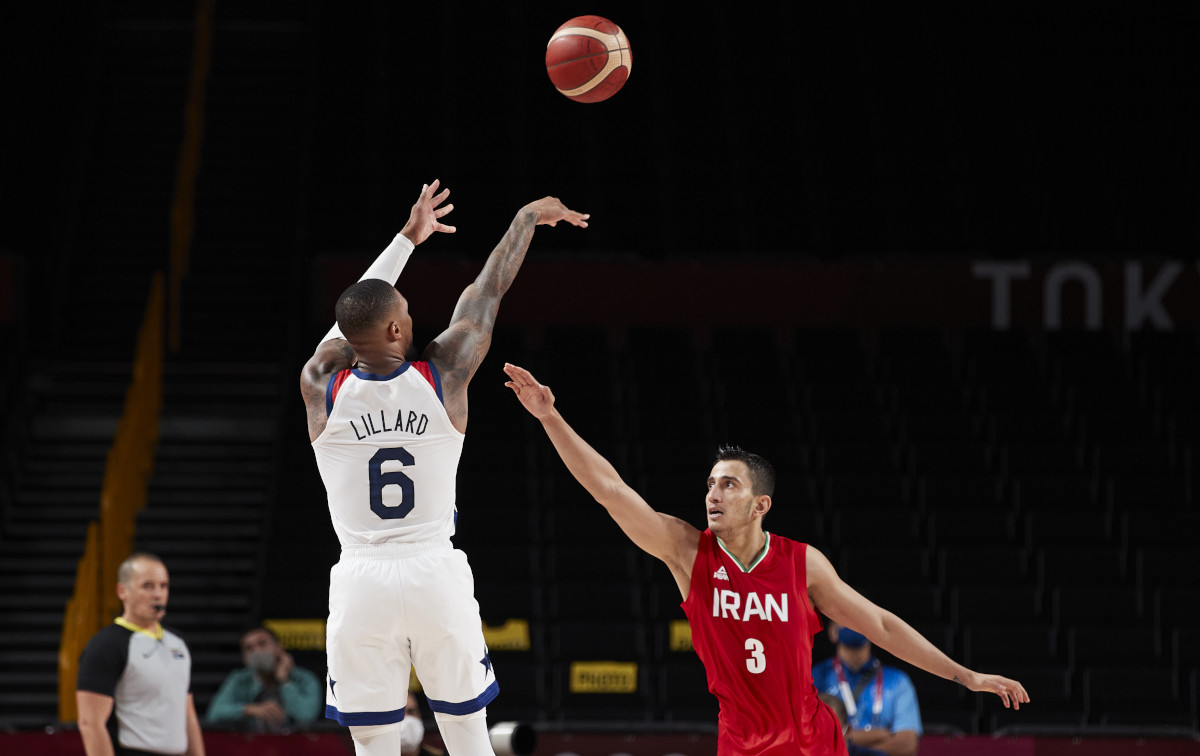 Despite the poor showing in China, USA Basketball retained its No. 1 spot in the FIBA World Ranking. Seven of the top 10 nations are in the Tokyo Olympics, including each of the top five (Team USA, Spain, Australia, Argentina, and Serbia).
But Greece (No. 6), Lithuania (No. 8), and Russia (No. 9) couldn't get through qualifying. Russia lost both of its group-stage games in Split, Croatia, and Brazil fell to Germany in the final there. Homecourt advantage wasn't enough for Lithuania as they lost in Kaunas to Luka Dončić and Slovenia.
FIBA switched its world rankings from a competition-based formula to a game-based one in 2017, beginning with qualifying for the 2019 FIBA World Cup, and USA Basketball has been at the top the entire time.
In Olympic play, Team USA is now 139–6 in Olympics play, with three of those losses coming in Athens in 2004. Men's basketball has featured in 19 Olympic Games, and USA Basketball has won 15 gold, one silver, and two bronze medals in that span, beginning in 1936. The only miss was when the U.S. boycotted the 1980 Games in Moscow.
Statistics courtesy of FIBA.