Daryl Morey Lays out a Grim Timeline for Ben Simmons Saga but the Philadelphia 76ers Hold All the Cards
Philadelphia 76ers president of basketball operations Daryl Morey appeared on Philadelphia's 97.5 The Fanatic on Oct. 21. The timeline he laid out for resolving the team's ongoing standoff with star point guard Ben Simmons won't make fans happy. The situation got murkier on Oct. 22 when Simmons met with team officials and teammates.
Simmons requested a trade during the offseason and went incommunicado for weeks. He followed that by holding out of training camp, putting a couple of Philadelphia-area properties on the market, and getting booted from a practice. That resulted in a one-game suspension for the team's opener in New Orleans.
Friday's meeting might have melted some of the ice for the Philadelphia 76ers
According to Adrian Wojnarowski of ESPN, Ben Simmons met with coach Doc Rivers at the team's practice facility. He later spoke separately with the team's medical staff and his teammates.
The upshot is Simmons is reportedly not mentally ready to play. That may stop the ongoing financial hemorrhaging since failing to report for camp. The Philadelphia 76ers put a scheduled $8.25 million payment due to Simmons on Oct. 1 into escrow. They have fined him almost $2 million for missed games, practices, and meetings.
But under the collective bargaining agreement, the organization can't dock Simmons' pay if his absence is related to a "mental disability."
Whether these developments will result in a thawing between the opposing sides or a return by Simmons to play for Philadelphia is unknown.
But Morey made clear on Thursday he doesn't plan to trade Simmons for anything less than equal value.
Morey holding the line on Ben Simmons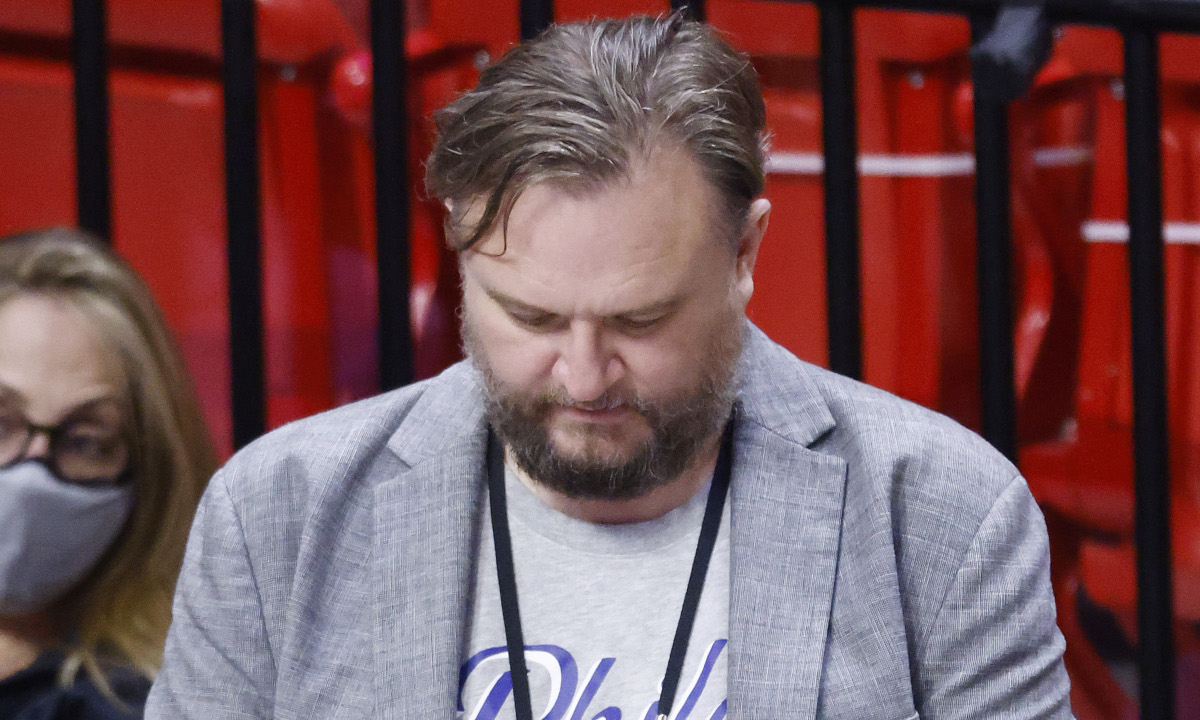 During his radio appearance, Morey responded to a question about his timeline for resolving the Ben Simmons drama, per a tweet from Derek Bodnar of The Athletic:
"You're going to think I'm kidding; I'm not. This could (go on for) 4 years. … We're in the prime of Joel (Embiid)'s career. … Either Ben Simmons is playing for us, or we have to get back a difference-maker."
There were reports throughout the offseason that Morey was vastly overestimating Simmons' trade value, demanding a star player and up to three first-round picks in return for the troubled three-time All-Star.
Morey's position is that he wants to maximize the Philadelphia 76ers' championship window with Embiid.
"Would you rather eliminate what people perceive to be a distraction, or would you rather have better playoff odds?" Morey said. "I'll take playoff odds. … Whatever we have to deal with that helps the Philadelphia 76ers win the title, we'll do it."
In one respect, Morey is correct. Philadelphia has leverage that Simmons does not. The 2020–21 Defensive Player of the Year runner-up signed a five-year, $177 million extension in 2019. The first year of that new deal was last season.
With four years and $147 million left on his contract, Simmons doesn't have much bargaining power beyond his current plan. That appears to be playing the role of a significant pain in the collective gluteus maximus of the Philadelphia organization until he gets what he wants.
Ben Simmons playing for the Philadelphia 76ers isn't coming soon
Ben Simmons requested time away to deal with personal issues. The official reason stated on the Philadelphia 76ers availability report for their Oct. 22 home opener against the Brooklyn Nets was "personal reasons. So, it will likely be later rather than sooner when we see Simmons on the court again.
And while it is true Morey and the organization hold the cards, the hand remains less valuable than Morey estimates.
A point guard who avoids the ball and won't shoot in crunch time is a liability. Throw in that his free throw shooting has gotten worse instead of better over his career and the situation doesn't exactly scream "let's make a deal" to opposing general managers.
Simmons got his feelings hurt when he felt blamed for Philadelphia's shocking loss to the fifth-seeded Atlanta Hawks in the second round of last season's playoffs. It's probably not fair to say that defeat was entirely on Simmons. However, it's hard to deny a significant chunk of the blame lands on him.
If there's a winner in all of this, it's the other contenders in the Eastern Conference. The 76ers had the best record in the East last season. The Nets are the preseason title favorites, and they have the Kyrie Irving drama ongoing.
Championship windows are extremely delicate things. It doesn't take much of a rock to shatter it. Right now, Ben Simmons is playing the role of a 6-foot-11, 240-pound stone repeatedly hitting the pane belonging to the Philadelphia 76ers. It's not a situation that can wait four years, despite what Morey may believe.
Contract information courtesy of Spotrac.
RELATED: A Simple Act of Solidarity Helped the 76ers Foil Ben Simmons' Spiteful Attempt to Burn the Franchise to the Ground