The Grossest Part of Alex Smith's Return the NFL After Contracting Flesh-Eating Bacteria: 'They Literally Cut the Whole Thing Out'
One of the most feel-good storylines of the 2020 NFL season was the Comeback Player of the Year performance turned in by Washington Football Team quarterback Alex Smith. In six games as a starter, Smith compiled a 5-1 record and put up solid passing numbers. Yet what made his season so impressive was the fact that it nearly didn't happen at all.
After gruesomely breaking his leg in a 2018 game against the Texans, Smith faced a dangerous battle with flesh-eating bacteria. The fact that he recovered and returned to football is nothing short of a miracle. Let's look at Smith's injury and the medical issues he finally overcame last season.
Alex Smith's gruesome leg injury
RELATED: Alex Smith Reveals Going No. 1 Overall 'Added to My Anxiety'
Smith's freak leg injury occurred in a November 18, 2018 home game against the Houston Texans, per ESPN. In the third quarter, Smith was sacked by opposing defensive end J.J. Watt. During the play, Smith's ankle bent back at an unnatural angle, breaking both his tibia and fibula. It was instantly clear to everyone involved that Smith's season was done.
Moreover, it was the kind of injury that can easily end a player's career for good. Former Washington Redskins quarterback Joe Theismann never managed to recover after suffering an oddly similar injury back in 1985. Not only that, but Theismann was actually in attendance for Smith's injury, which he described as "just an eerie moment."
Smith's initial surgery
The good news for Smith was that sports medicine has improved vastly since Theismann's day. Still, the fractures in Smith's leg were particularly bad. In 2020, Smith's wife Elizabeth told ESPN that the doctors described the injury to her as a "spiral fracture that starts down in the ankle joint and spirals all the way up through the tibia to the knee."
Still, the doctors offered a fairly cheery prognosis, telling Smith's wife he would "maybe be in the hospital for two days, do a little bit of rehab and then you're on your way." The initial surgery went well enough. Because of the way the bone was fractured, however, the surgeons had to install three plates and a whopping 28 screws and pins, as Elizabeth Smith told SB Nation.
Alex Smith goes from bad to worse — and then better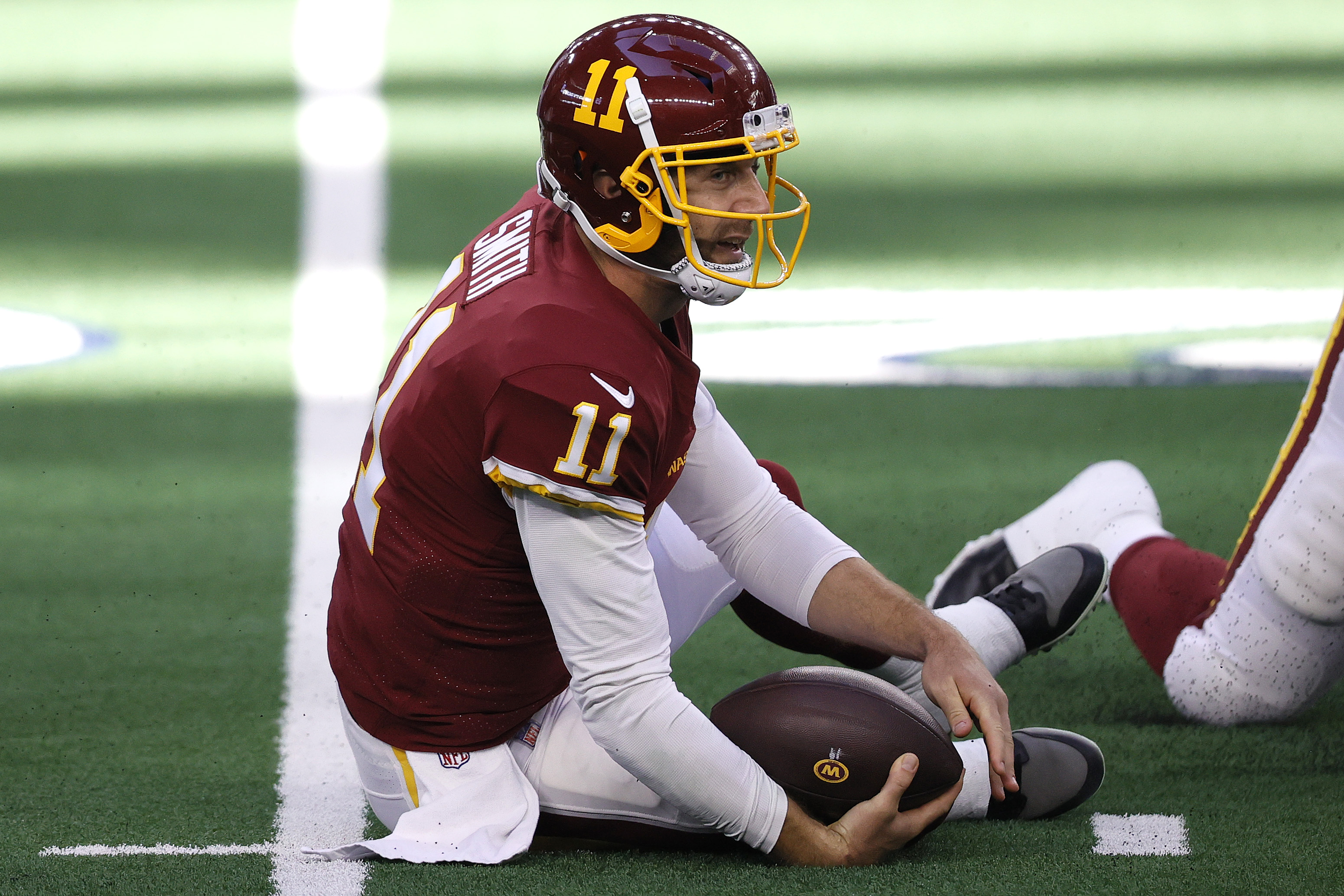 That initial surgery was just the beginning of a life-threatening medical saga. Smith's leg soon became infected with necrotizing fasciitis, a type of flesh-eating bacteria. From there, Smith developed sepsis, an immune response to infection that causes the body to begin attacking its own tissues.
As Smith explained recently to GQ, he suddenly had to decide whether to amputate his leg or undergo another series of surgeries to try to save it. Smith chose the latter, though neither option looked great at the moment. Months and months of hospital life followed. Smith received treatment at the same place where military veterans go to recover from blast wounds.
While the doctors were able to remove the deadly infections, Smith's leg suffered serious tissue loss. The only way doctors could rebuild it was to remove muscle tissue from elsewhere in his body. Initially, they wanted to use muscle from his lat, but Smith vetoed it. Instead, they used tissue from the quad muscles in his left leg to repair his right calf. "They literally cut the whole thing out," as Smith put it, referring to his left quad muscle.
In the end, doctors defied the odds by saving Smith's leg. Months and months of rehab later, Smith was able to build up enough strength to make a truly improbable comeback to the NFL. Not only that, but he showed himself still capable of performing at a high level on the field — a truly remarkable accomplishment for a man who nearly lost his leg completely.