Guanyu Zhou Pays Tribute to Kobe Bryant With '24' Formula 1 Car Number
History-making Formula 1 rookie driver Guanyu Zhou wanted to pay homage to the "Black Mamba." A Kobe Bryant fan, Zhou jumped at the chance to grab the No. 24 for Alfa Romeo machine when it became available.
As China's first-ever F1 competitor, much attention will be on No. 24 in 2022.
Zhou can always rely on "The Mamba Mentality."
Guanyu Zhou will look to Kobe Bryant's 'Black Mamba' philosophy as a rookie aid
Bryant's laid out his philosophy in his book, "The Mamba Mentality: How I Play." The late five-time NBA champion and two-time Olympic Gold medalist detailed how he achieved athletic and business success. It is about prioritization, working, playing without fear, and remaining obsessive over practicing and refining your skills.
Bryant details how once, after a poor playoff performance against the Utah Jazz, he gained access to a local high school gym and spent the night working on his shot.
Zhou will face pressure most other rookie F1 drivers will never meet. He is a national curiosity and could look to Bryant's example to overcome potential obstacles.
Zhou is joining a new-look Alfa Romeo team, featuring a bona-fid No. 1 driver in Valtteri Bottas. With just 13 points, Alfa Romeo placed ninth of 10 teams in the 2021 constructors' standings.
Zhou: 'Kobe Bryant was a big inspiration to me'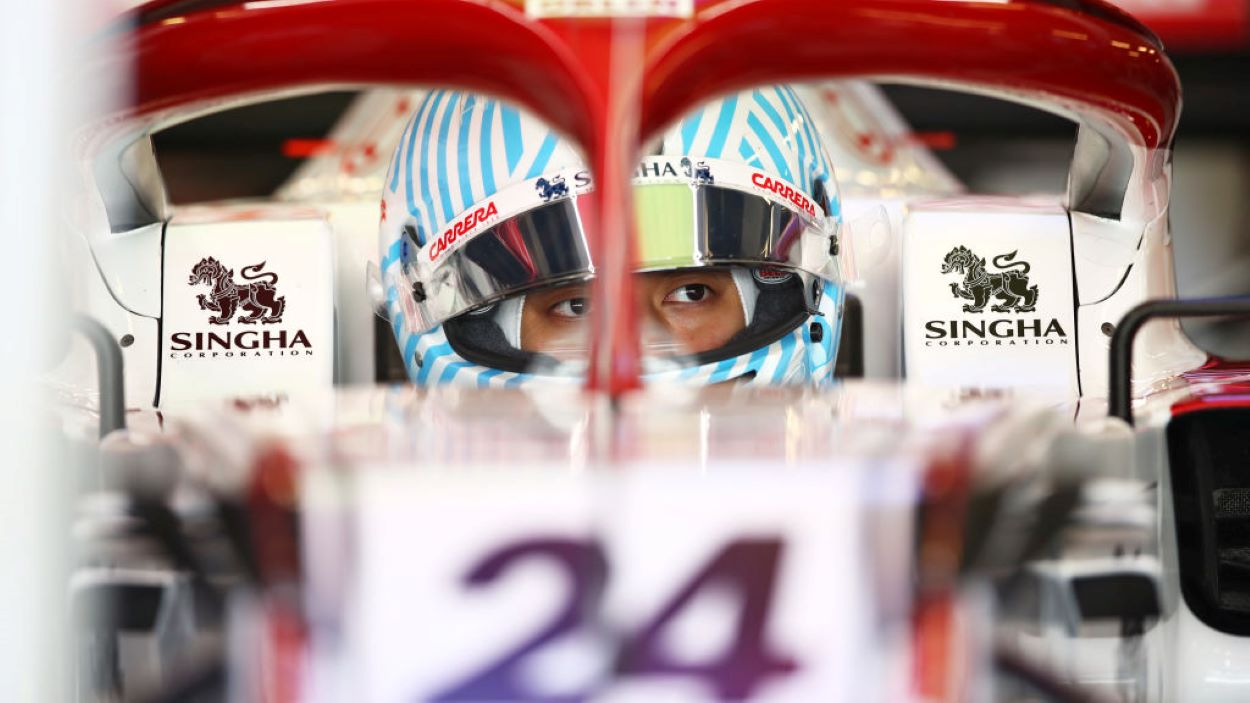 Bryant died following a helicopter crash in 2020, but his inspiration lives on in Zhou. 
Speaking to Speedweek and reported by planetfi.com, he pointed to "The Black Mamba" for providing a mental road map for him to follow as he climbed the ranks for professional racing. Above all, he learned he has to be willing to work harder than his opponent.  
Of course, a lucky number helps, too. 
"Kobe Bryant was a big inspiration to me when I was more interested in basketball than motorsports," Zhou said. "What impressed me most was his work ethic. Even though he was considered the best player of his era, he worked tirelessly on himself. He would get up at four in the morning, start training, then take his kids to school and keep training. 
"Also, 24 is four times six, and six is a lucky number in my country." 
As F1 car numbers turn, Leclerc covets No. 7 and Verstappen gets No. 1 
Zhou initially wanted No. 6 for his team, but Williams driver Nicholas Latifi has it.
Around the F1 garages, other drivers plan to change their teams' identities.
Ferrari's Charles Leclerc, an avid chess player, reportedly wants No. 7, but it won't become available until 2024, two years after its previous driver, Kimi Raikkonen, retired.
Max Verstappen likely will execute one offseason number change, going from No. 33 to No. 1, an offseason option provided to F1 reigning champions. 
Like Sportscasting on Facebook. Follow us on Twitter @sportscasting19.