Hailie Deegan Says Her Racing Career Has Been 'More Rough and Edgy' Than Danica Patrick's
Hailie Deegan won't even be 20 years old until July, but her motorsports stock is already soaring. Deegan posted her best finish to date on the NASCAR Camping World Truck Series last weekend, finishing 13th in the Wise Power 200 at Kansas Speedway. She is keeping busy on the track, announcing she will also drive on the new Superstar Racing Experience (SRX) last month.
Deegan faced inevitable comparisons to retired driver Danica Patrick because she is a woman who races cars for a living. She doesn't shy away from those comparisons, either. But Deegan is also quick to point out some significant differences between her early career and that of Patrick.
Hailie Deegan has had a 'more rough and edgy' start to her career
Danica Patrick began her career in open-wheel racing and did not drive stock cars until she was in her late 20s. She went from go-karts to Formula 1 to Indy car before she hit the NASCAR stage. Deegan's background couldn't be much more different.
Deegan started racing on dirt bikes when she was 8. She then graduated to off-road racing at 12 and was in a stock car before she was old enough for a license to drive on a highway. She told Dave Caldwell of Forbes how different that path was from Patrick's.
"Stock-car racing is a little more rough and edgy, but off-road racing is the roughest and edgiest," Deegan said. "I came from that total opposite side of racing that she did. I came from the side where you bang doors and hit people, and she came from this preciseness, so she had to almost backtrack. That was really hard for her – and I believe her."
Deegan learning to take the lumps earlier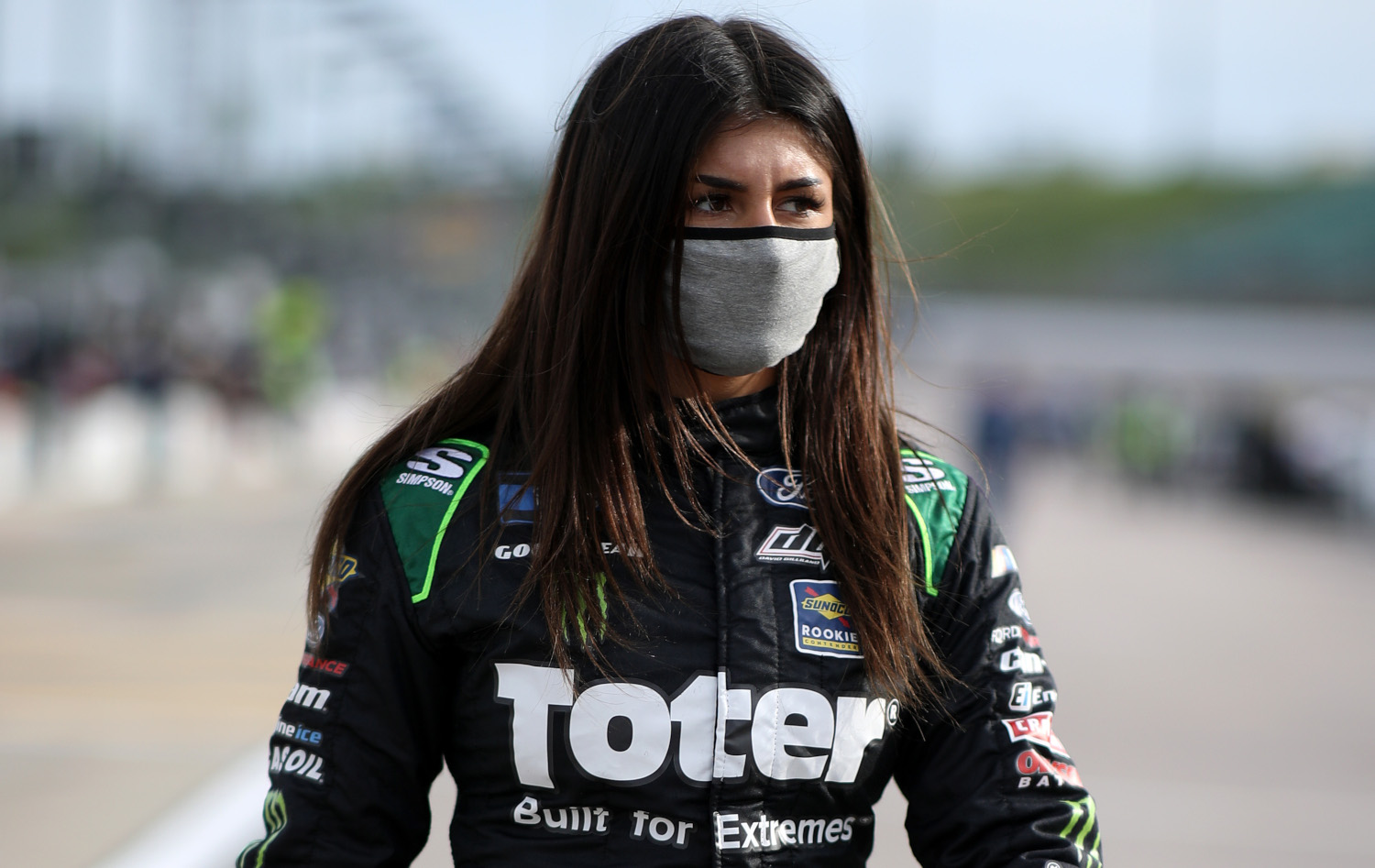 Patrick struggled at times with the rough-and-tumble side of stock-car racing. It is a less precise discipline of motorsports than open-wheel racing, to be sure. She reached significant milestones for women racers. She was the first woman to lead the Indianapolis 500 and to win a race in an Indy car. Patrick also made history as the first female driver to win the pole for the Daytona 500 (known as NASCAR's Super Bowl).
Deegan won three times in her first 40 starts on NASCAR's K&N Pro Series West and was Rookie of the Year on the ARCA Menards Series in 2020. The plan is for Deegan to make her debut in SRX at Knoxville Raceway in Tennessee on June 19, the week after the series launches June 12 at Stafford (Connecticut) Motor Speedway, per Frontstretch.com.
Her 13th-place finish at Kansas moved her up to No. 16 in the Truck Series points standings, 55 points behind the playoff cutoff, per kickinthetires.net. Deegan is third in the Rookie of the Year race behind Chandler Smith and Carson Hocevar. She will be at Darlington Raceway in South Carolina for the Liftkitsforless.com 200 on Friday.
Hailie Deegan has a racing pedigree
Deegan's father, Brian, raced motorcycles and won four gold, two silver, and eight bronze medals in X Games competition between 1999–2019, according to Xgames.com. He was injured in a crash 14 years ago, an experience Hailie used to grow up in a hurry.
"From a young age, I just had to be at a high maturity level, just because of the sport I was in," Deegan said. "Most kids in high school don't know what they want to do with their lives. I knew what I wanted to do in my life in middle school. I had my whole life planned out."
And even at a young age, Deegan knows how to survive on the track.
"Stock-car racing has taught me that there's tough racing in people," Deegan said. "Either you swing, or you be swung at. And I was always getting swung at in the beginning, and I didn't know why. I literally could be going straight and be put into the wall. … I had a turning point where it was like, 'Screw that.'"
Hailie Deegan has a plan, and she's executing it. Getting an earlier start in stock cars could position her to make motorsports history with victories on the NASCAR circuit.