Hailie Deegan Following Ford Performance's Path for Future, Eyes Xfinity Series in 2023
Ford has plans for the outspoken Hailie Deegan.
Big plans.
For her driving talent, and, let's face it, her sex appeal, which will only enhance her marketing potential.
If Deegan shows modest improvement during her second spin on the NASCAR Camping World Truck Series this season, a promotion to the Xfinity Series is waiting right over the rainbow.
Hailie Deegan has 'high expectations' to start strong on NASCAR Truck series
The first step Deegan must take is compiling more playoff points. Or any playoff points. Deegan earned a seventh-place finish at a road course but failed to produce a playoff point as a rookie.
Ford Performance Motorsports Global Director Mark Rushbrook told NBC Sports that the pressure is on Deegan.
Ford is "expecting a lot," Rushbrook said.
At least more.
The daughter of Motorcross icon Brian Deegan, Hailie started 2021 with a 28th-place finish at Daytona International Speedway. She followed that up with another 28th at Las Vegas Motor Speedway and a 21st at Atlanta Motor Speedway.
In 22 starts, Deegan's average finish was 20.91. That needs to improve. She knows it.
"I feel like we definitely did get that solid base last season, even if it did take longer," she said.
Deegan's preseason goal: 'To be able to go into this season, into 2022, and be better right off the bat'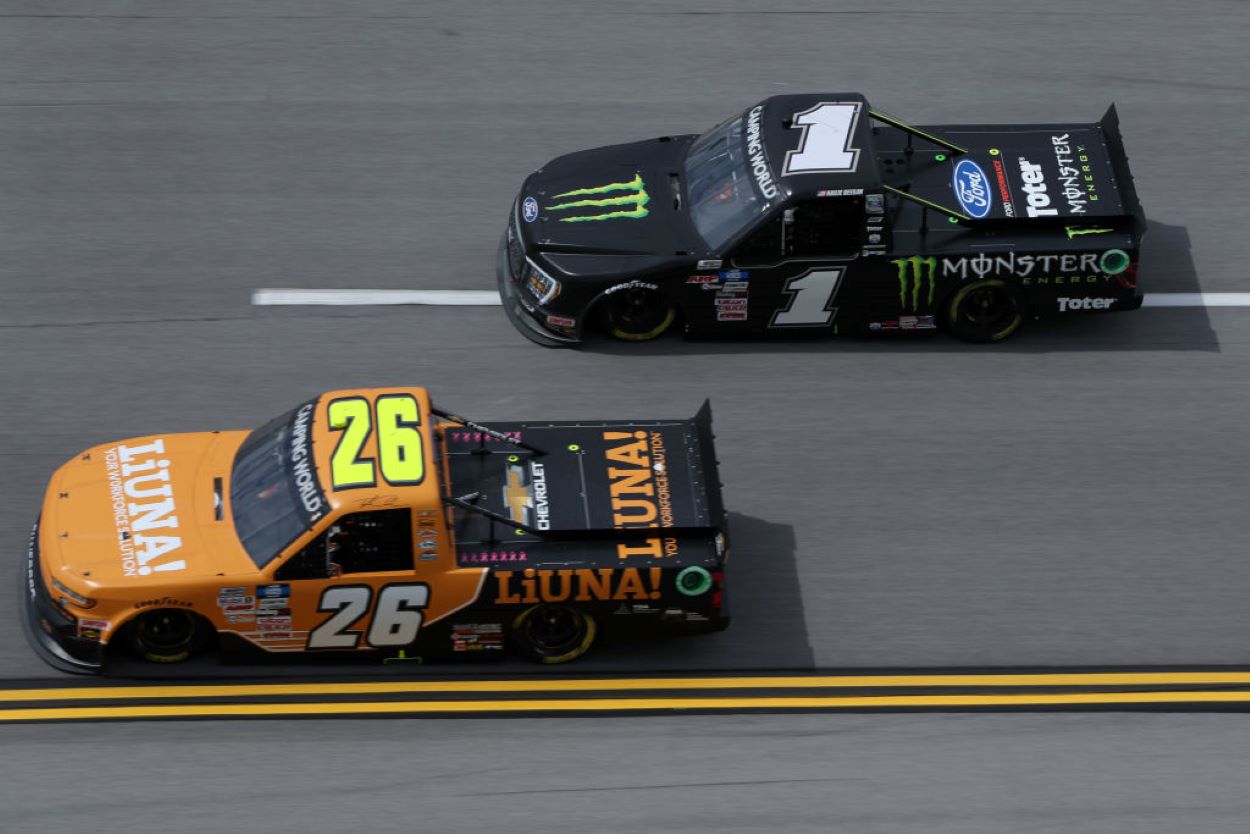 Deegan drove with a disadvantage last season. Because of coronavirus (COVID-19) restrictions, practice laps for drivers nearly evaporated. She couldn't put in extra "seat time" to help end the skid. And become better acquainted to racing a Truck. She grew up racing mostly sports cars.
Without practice, her adjustment stalled. Now, as a sophomore, Deegan, at least, knows what to expect.
And get her first playoff point.
"I would say last year it took me probably twice as long as it would normally just to get comfortable and to figure out the ropes in the Truck Series, just for the sole fact that there was no practice my first time," she said, listing her preseason goals. "To be able to go into this season, into 2022, and be better right off the bat, not have to work up to things and just the practice side of things this year, will be able to help me now that I know the changes that we need to make to the truck and really know how to affect the truck — to be able to make those decisions during practice in the short amount of time span that we do have."
Nothing beats practice. The series will loosen its restrictions a bit in '22. Extended practice sessions are scheduled for eight of the circuit's 23 events.
Deegan on starting second season with team: 'I feel like we mesh really well and built a good relationship'
Deegan, 20, will return to Daytona International Speedway a more seasoned competitor. The Truck season opens on Feb. 18.
It will prove to be her first real test in a new F-150 racing truck. Her comfort level appears to be growing behind the wheel of the new technology.
"I'm hoping that is going to help out a lot," Deegan said. "It seems like from the data that they have, it looks to be a lot better, so I think we're going to go out there and be a lot more competitive as a whole team.
"From a team standpoint, we do have a lot of the same guys back on my program that were there last year. I felt like they were really good. I feel like we mesh really well and built a good relationship."
If the chemistry shows and Deegan demonstrates an ability to compete consistently, Rushbrook said: "We would expect that she would go into Xfinity for 2023."
As one of Ford Performance's top prospects, she joined NASCAR Cup Series driver Chase Briscoe for the Michelin Pilot Challenge at Daytona. Ford rookies Austin Cindric and Harrison Burton teamed up in another Mustang GT4.
Deegan is in good company.
She understands that her combination of driving ability and sex appeal could become a commercial bonanza.
Ford fully understands her two-tier potential. The manufacturer needs her to succeed.
Fast.
Like Sportscasting on Facebook. Follow us on Twitter @sportscasting19.
RELATED: Hailie Deegan Will Not Win Rookie of the Year, but Her NASCAR Debut Is Still Impressive