Hailie Deegan Gets Her Racing Prowess From Her Dad, Motocross Star Brian Deegan
If you're looking to become a champion motocross/X Games competitor, few are better tutors than Brian Deegan. So, it's unsurprising that his daughter, NASCAR racer Hailie Deegan, is being touted as the next big thing. She's already being compared to pioneering racer Danica Patrick and has developed a sizable fan base. Hailie has also developed a penchant for controversy, again, perhaps unsurprising given her pedigree.
Brian Deegan's career triumphs and setbacks
Her father, Brian Deegan, began competing professionally at a young age. He made waves by ghosting his bike across the finish line as he took first place in the 1997 AMA 125cc West Region main event in the LA Coliseum. 
That year, Brian and fellow freestyle motocross rider Larry Linkogle created Metal Mulisha, a team of motocross riders who flaunted a rebellious image. Metal Mulisha also inspired an American clothing brand associated with the bad boy image of its founders. In those early days, Deegan, along with many X Games riders, were hypercompetitive and known for aggression off the course, too.
Some two decades later, Brian is the most celebrated Freestyle Motocross racer in X Games history, winning 14 medals. He transitioned in 2009 from two to four-wheel races. Brian won a championship that year in the Unlimited Lites division of the Lucas Oil Off Road Racing Series, two second-place finished in 2010 in LA Coliseum racing events, and two championships in 2011. Since then, he's won multiple Lucas Oil Off-Road Series (LOORS) titles and continues to compete in Rallycross races.
Brian's victories have not come without a cost. In 2004, he broke both his wrists and a femur at the Winter X Games while attempting a twisting backflip 360 over a 100-foot snow double. He was back in competition within six months. However, the following year, Brian lost a kidney and suffered a lacerated spleen while attempting a backflip during a taping of the MTV reality television show Viva La Bam. 
As he was treated for this near-fatal accident, Brian made a pact with God that he would become a Christian if he survived, reports the New York Times. And after his recovery, he indeed became a born again Christian. Initially, Brian wondered about how his newfound faith would translate to fans. But many members of Metal Mulisha and motocross at-large also found faith. And this does not seem to have dulled his popularity.
Hailie Deegan, the next big thing
At 45, Brian remains active. But much as he commanded the spotlight in the late '90s and early 2000s, all eyes are now on his eldest child Hailie Deegan. At just 19, she is a pro NASCAR racer, competing regularly in the NASCAR Camping World Truck series. And Hailie inherited her father's winning ways. She became the first female driver to win races in the NASCAR K&N Pro Series West (in 2018 and 2019).
Hailie's also got her father's trademark aggression. She's made sports headlines for her rough driving — and been penalized for it more than once. Having made contact with drivers in multiple races, she's been criticized for her bump drafting by other racers and sports critics as per a New York Times profile of the young driver. 
But Hailie shrugs off this criticism, attributing her style to both her initial foray into off-road racing, where contact is more common. She started racing at just eight years old in the Mickey Thompson Tires/Kal Gard Lubricant SXS Stadium Series. Perhaps unsurprisingly, Hailie took first place. At 12, she became the first girl to win a LOORS championship by taking first place in the Junior 2 Karts. 
The Deegan family edge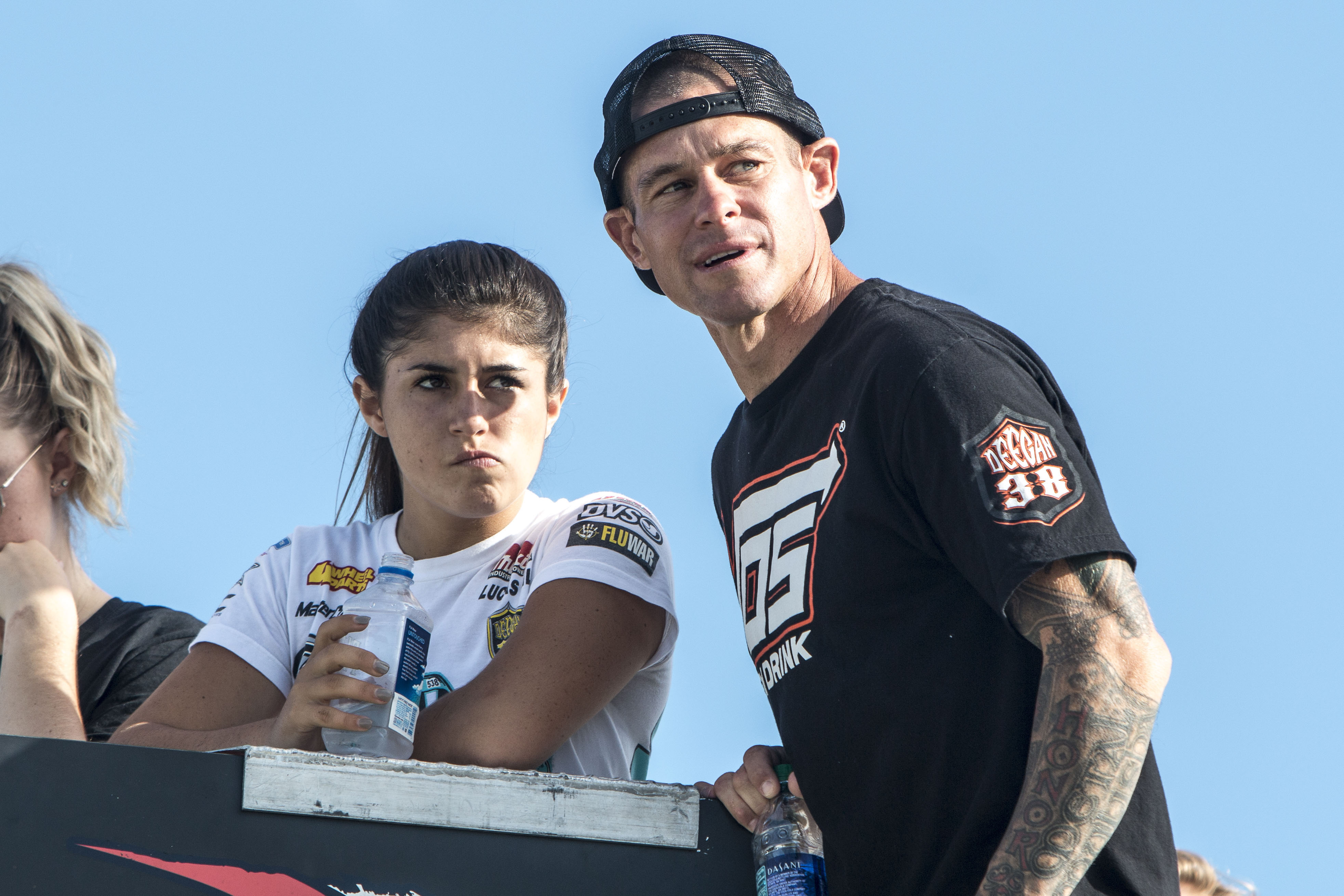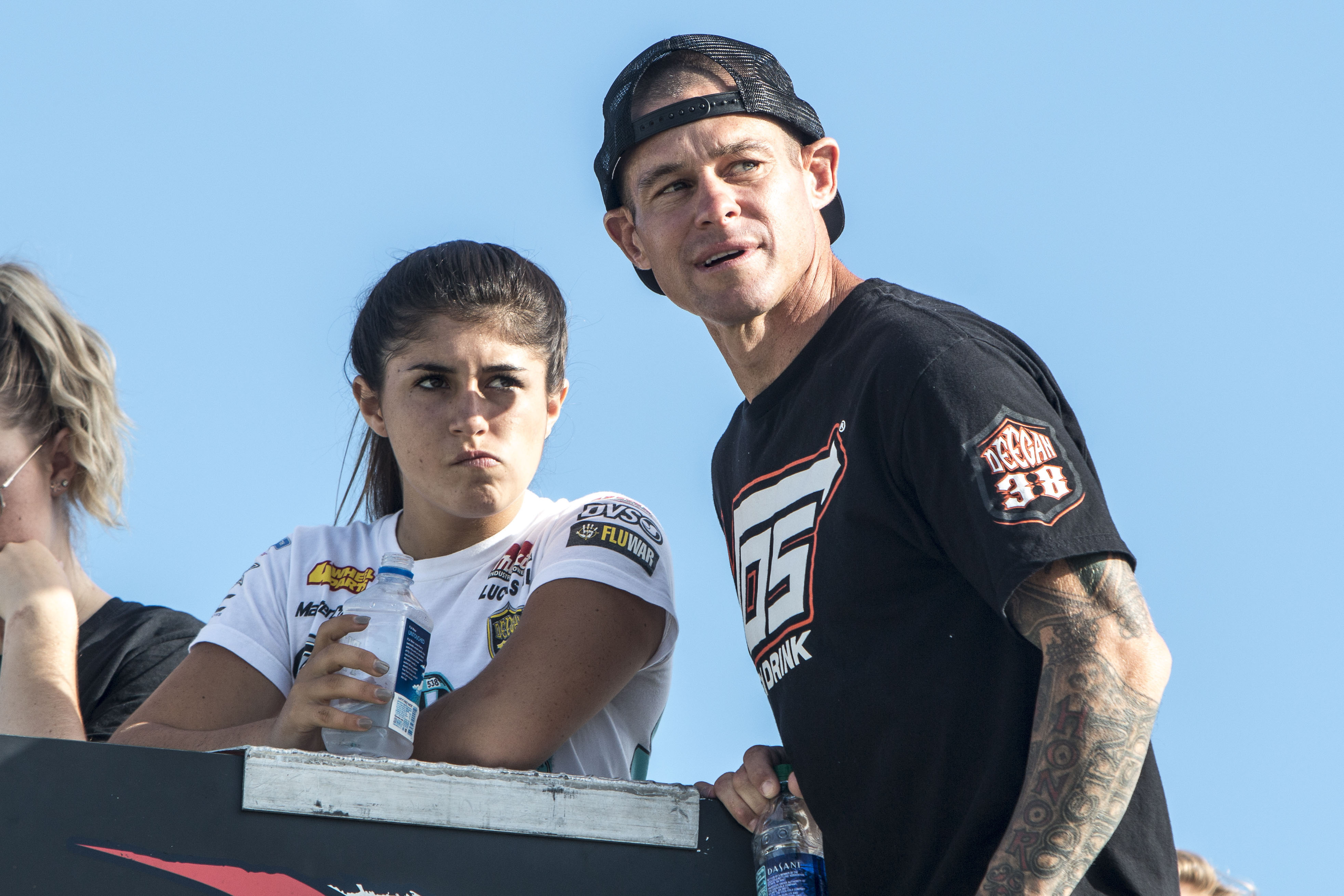 Multiple off-road wins followed by the time Hailie turned 17. This attracted the attention of racing magazines and enthusiasts. At a young age, Hailie has amassed a sizable social media following. Her aggression has mostly been an asset (even if a controversial one) in a male-dominated industry that rewards fearlessness and risk-taking. And undoubtedly, much of it is due to her father's influence. 
After all, Hailie didn't just fall into the sport. Brian got her into racing and has worked with her every step of the way. His goal, he told CNBC in early 2019, is for her to surpass his accomplishments. To that end, Brian trains her, working to pass on every trick he knows. Hailie describes their training sessions and even regular go-kart races between them as competitive. He's developed her as an off-road racer and racecar driver. And he's helped her hone her bump-and-run style among other tactics.
Hailie's clearly dedicated to her racing career. She even held her high school graduation ceremony at Sonoma Raceway in her fire suit. With the elder Deegan's hands-on approach, Hailie is truly becoming a force to be reckoned with. And she not only has a champion trainer but, at just 19, she also has time on her side.