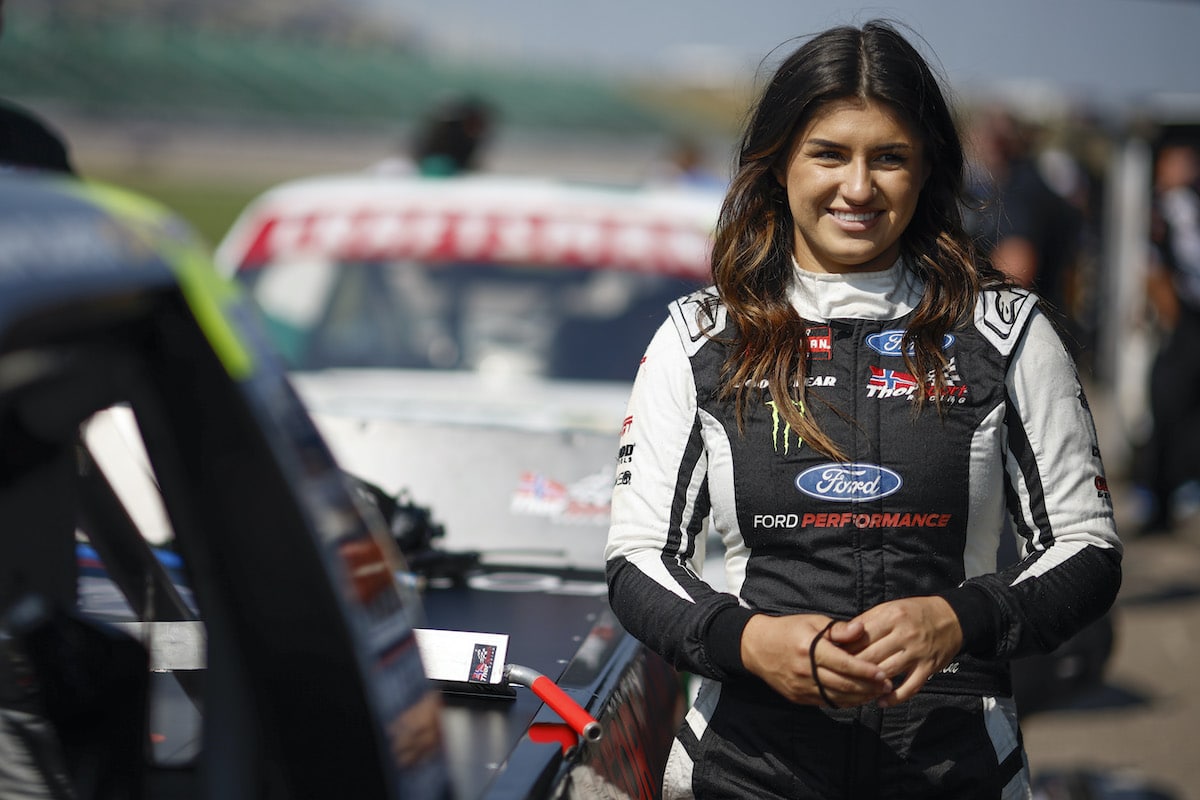 Hailie Deegan Angry and Threatens to Pay Back Her 2023 Nemesis
Hailie Deegan wasn't happy with how another driver raced her at Kansas and vowed to get revenge. It never happened.
Hailie Deegan and Dean Thompson have several things in common. Both NASCAR Truck Series drivers are 22 years old. They're both from California. They're also similar in performance, which often means the pair run near each other in races.
That was the case at Kansas. And for the third time this season, one was upset by the actions of the other. The ThorSport Racing driver, who has initiated contact in the past, was on the receiving end this time and didn't hesitate to voice her displeasure with the move and plans for payback.  
Hailie Deegan spins Dean Thompson earlier this year
Hailie Deegan hasn't been shy throughout her Truck Series career in complaining about how other drivers have been aggressive and moved her. However, this season, she's done that a couple of times to Tricon Garage driver Dean Thompson.
The first time, it happened at North Wilkesboro late in the race when the No. 13 spun the No. 5 truck, sending it for a big impact into the outside wall and ending the day. 
"My parents taught me that if I didn't have anything good to say to not say anything at all," Thompson said in his post-race interview. "On to Charlotte."
Fast forward a few months later to Richmond. Same thing happened. Deegan initiated contact. The Tricon driver didn't talk to the media after the race but addressed the situation with his fellow competitor in a animated conversation on pit road. 
Deegan upset and threatens revenge
In Kansas, the two trucks were, unsurprisingly, running near each other late in the second stage and battling for 14th position when the Tricon driver made a move that the No. 13 crew didn't like and made it clear on the team radio.
"Coming back inside of you. He's going to try and drag you back as well," Deegan's spotter told her. "Get him back. Still even. Drag him back a little bit. You're going to get him around exit. Outside. Alright. Come on, Dean."
"I'm junking the mother f*****," an agitated Deegan said.
"Sent us up the track a little bit," the spotter reported. 
"You got to follow him in the corner and loosen him up and drive underneath him," crew chief Rich Lushes conveyed to his driver. 
"Alright. Come on. Let's go get him back for that," the spotter said. 
Deegan never did anything. Instead, the pair went opposite directions after the ThorSport driver got a pit road speeding penalty. She finished 30th. Thompson ended 15th. 
This brewing conflict likely isn't over, with four races remaining on the schedule. It's just a matter of who makes the next move.  
To stay up to date on the latest happenings in NASCAR, including breaking stories you can't find anywhere else, follow Kyle on YouTube and Twitter.