A Hall of Fame Head Coach Admitted He Would Have Selected Brian Griese Over Peyton Manning In the 1998 NFL Draft
Legendary NFL head coach Bill Walsh had bold ideas involving Brian Griese and Peyton Manning in the 1998 NFL draft. The Colts luckily didn't listen.
The first selection of the 1998 NFL draft came down to two quarterback choices: Peyton Manning or Ryan Leaf.
The Indianapolis Colts, as we know now, went with Manning, who became one of the greatest quarterbacks in NFL history. Leaf, the star Washington State standout who went second overall to the San Diego Chargers, struggled with poor play and behavior in four NFL seasons.
At the time, seemingly every analyst chose either Manning or Leaf with the top pick. Legendary NFL head coach Bill Walsh had a different idea on what to do, however.
Bill Walsh had bold ideas involving Brian Griese and Peyton Manning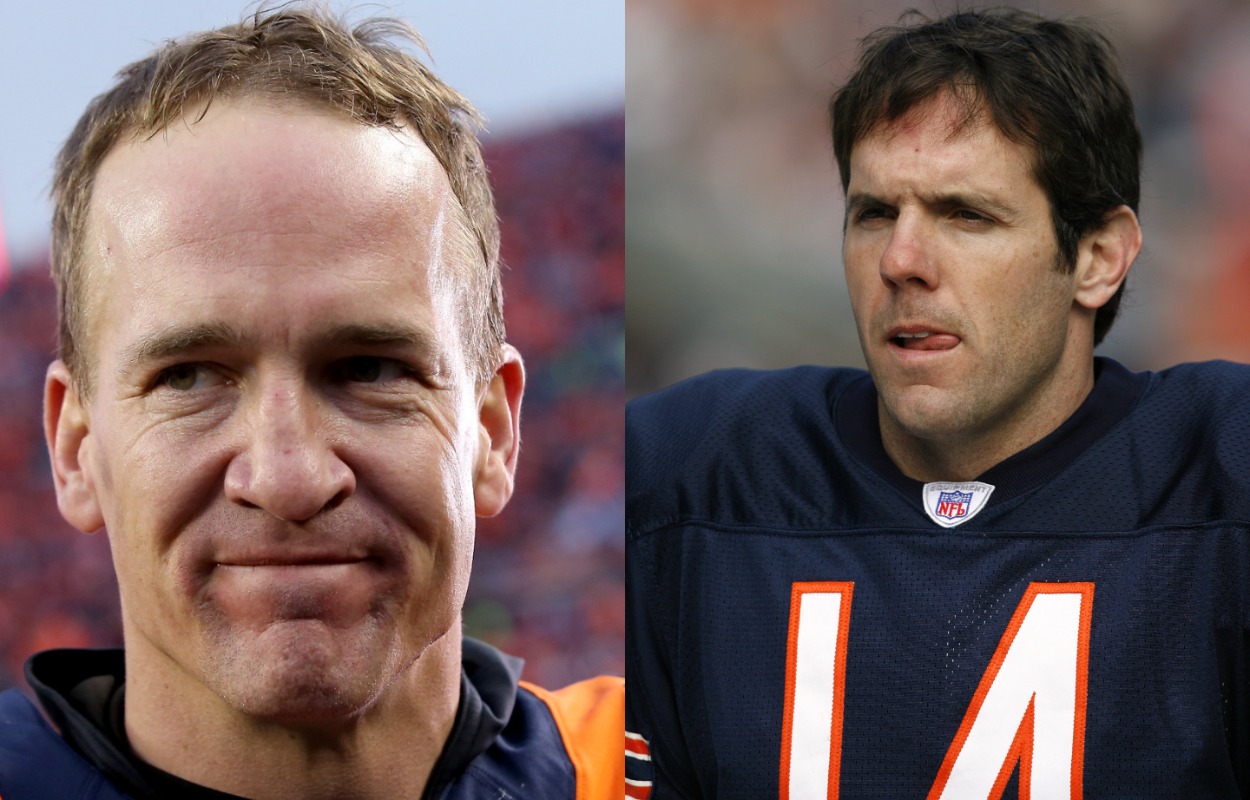 The Indianapolis Colts went with their gut in April 1998 and selected Peyton Manning over Ryan Leaf with the first overall pick.
Fifteen years later, Manning — then with the Denver Broncos — won Sports Illustrated's Sportsman of the Year. Longtime SI columnist Peter King wrote a feature on Manning to celebrate the occasion. 
During that story, King recalled meeting with several high-profile football figures, including legendary 49ers head coach Bill Walsh, in 1998 to discuss if they'd take Manning or Leaf with the No. 1 overall pick.
Walsh, who at that point was retired from any football activities, certainly had a bold take on what he'd do with the top pick.
"After we watched tape in northern California, [Walsh] thought for a few moments and told me he favored Manning but said if it were his pick, he'd take a different position player with the first choice then snag Michigan quarterback Brian Griese in the second round."

Peter King
Had the Colts done that, they likely would have selected Florida State defensive end Andre Wadsworth (the third overall pick) or Michigan cornerback Charles Woodson (No. 4 overall). Woodson, at least, had a career with the Raiders and Packers that earned him a spot in the Pro Football Hall of Fame.
The Denver Broncos drafted Brian, the son of Dolphins legend Bob Griese, with the 91st overall pick.
Manning became one of the greatest quarterbacks in NFL history
The Indianapolis Colts did not listen to Walsh, and that proved to be the correct call.
Manning overcame a 28-interception rookie season to become one of the greatest quarterbacks in NFL history. When Manning retired in March 2016, he had set NFL records in passing yards (71,940) and touchdowns (539) in 17 seasons, the first 13 of which he spent in Indianapolis.
Manning won the NFL MVP on five different occasions and earned first-team All-Pro honors in seven seasons. He won two Super Bowl rings, one with the Colts and one with the Denver Broncos.
Voters inducted Manning into the Hall of Fame in February 2021.
Griese had a lengthy career and even won a Super Bowl
Considering that he was a third-round pick, Griese had a far better career than football fans may remember.
Griese completed 62.7% of his passes for 19,440 yards, 119 touchdowns, and 99 interceptions across 11 NFL seasons for four different teams. He made the Pro Bowl in 2000, his second season starting for the Broncos, and went 45-38 as a starter in the NFL. 
Griese also won an NFL championship as a rookie, backing up John Elway on the Broncos team that won Super Bowl 33. Denver didn't win another Super Bowl until February 2016, when Manning started under center against Cam Newton and the Carolina Panthers.
Now, both former quarterbacks do television work for ESPN. Griese is a color commentator on Monday Night Football, while Manning hosts Peyton's Places on ESPN+.
Like Sportscasting on Facebook. Follow us on Twitter @sportscasting19.