Hall of Fame RB Edgerrin James Is Making the World a Better Place After the NFL
Edgerrin James was the greatest running back to ever play for the Indianapolis Colts. He was also one of the best backs in the entire NFL during his prime. While James certainly made a lot of football fans happy throughout his NFL career, he has made the world a better place since retiring from football after the 2009 season.
Becoming a star out of Miami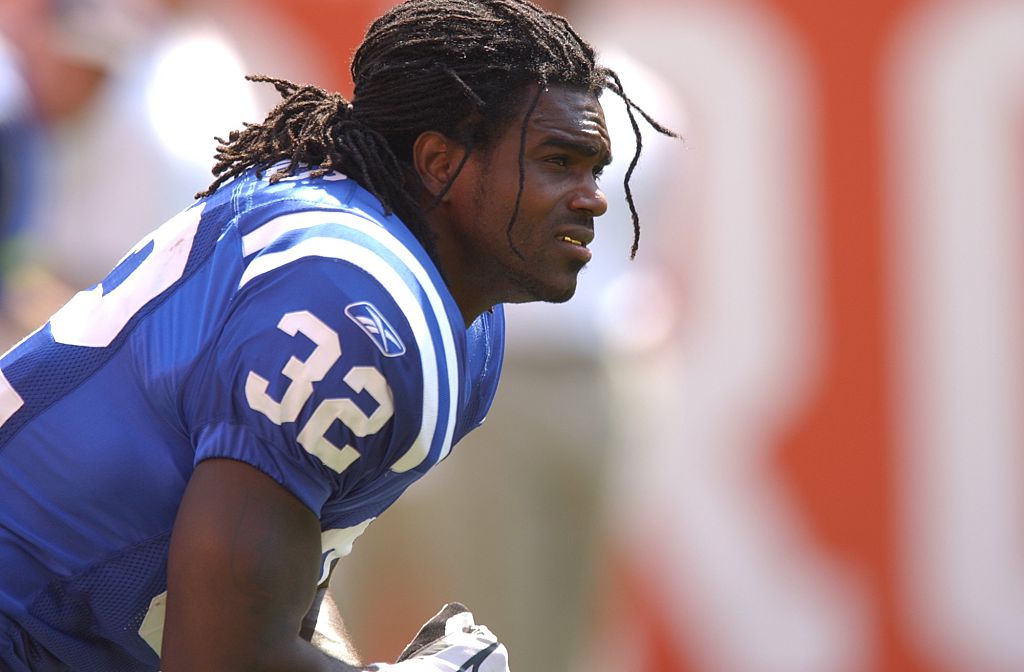 In college, Edgerrin James was one of the best running backs in the entire country. In his final season at Miami in 1998, James ran for 1,416 yards and 17 touchdowns for the Hurricanes. He is currently third all-time in school history with 2,960 career rushing yards. James is also second in career rushing touchdowns at Miami with 32.
This led to the Indianapolis Colts selecting him with the fourth overall pick in the 1999 NFL draft. He was then immediately a beast for the Colts. James led the league in rushing yards with 1,553 during his rookie season in 1999. He earned Pro Bowl and first-team All-Pro honors that season in addition to winning the AP Offensive Rookie of the Year award. James then led the league again in rushing yards in 2000 with 1,709.
After rushing for 989 yards in 14 games for the Colts in 2002, James ran for 1,000 or more yards in five straight seasons (three with the Indianapolis Colts, two with the Arizona Cardinals). He also ran for over 1,200 yards in four of those five seasons. 
James concluded his 11-year career with 12,246 rushing yards, the 13th-most in NFL history, and 80 rushing touchdowns. He also earned four Pro Bowl selections throughout his career. James ultimately played seven seasons with the Colts, three with the Cardinals, and one with the Seattle Seahawks in 2009. He also played in Super Bowl XLIII with the Cardinals during the 2008-09 season.
James has helped the next generation since retiring 
In April 2009, James' longtime girlfriend and mother of four of his children Andia Wilson died of leukemia. While juggling being a father and a football player, James was also there for her during her battle with leukemia towards the end of his career. When he could, he would travel from Arizona to Tampa Bay during the season to be by her side at the Moffitt Cancer Center, according to FOX59.
She did even get the opportunity to see him play in the Super Bowl as Tampa Bay hosted Super Bowl XLIII.
"That was special because I had been going back there during the season," James said, according to FOX59. "I had my whole family at the game, and she was able to come to the game. It was pretty cool."

Edgerrin James
Wilson passed away shortly after the Super Bowl.
After that, James played one more season with the Seahawks but only played in seven games. He retired following the 2009 season and has since been a devoted father to his six kids, in addition to being there for other kids. In February 2018, James said to FOX59, "You get a chance to put some good people in this world, and you're responsible for them. You want to make sure you give them all the lessons you learned along the way."
Additionally, Colts.com reported in July 2017 that James owns five acres of land in Orlando where he hosts football camps and other special events. He told Colts.com, "It doesn't even come across like a camp. We do it effortlessly. We're always out there. I always have the kids with me. We just have fun and try to give them any kind of insight into what they're about to do or what they're trying to do going forward."
Heading to the Pro Football Hall of Fame
Earlier this year, James learned that he will be inducted into the Pro Football Hall of Fame a part of its Class of 2020. This is mostly because of his great seasons with the Colts. He is the franchise's all-time leading rusher with 9,226 yards. He also leads them in rushing touchdowns, rushing yards per game, rushing yards in a single season, and most seasons with 1,000 rushing yards, according to Colts.com.
"Being in the Hall of Fame is something I expected. I'm right where I'm supposed to be," James said, according to FOX59.

Edgerrin James
James' is getting the ultimate reward for being a great football player by getting that gold jacket this summer. He will also be rewarded for being a great father and mentor to other kids by seeing those kids have success of their own. Edgerrin James has become equally as good of a person as he was a football player since retiring from the NFL.