Hall of Fame Safety Ed Reed Has Received a Special Title From Tom Brady After Clashing 7 Times in NFL
During his over two decades in the NFL, seven-time Super Bowl champion Tom Brady has played against generations of defensive backs. Only one player earns the title of Brady's most hated defensive back to play against, though, and that is Ed Reed.
A legendary safety who spent most of his career with the Baltimore Ravens, Reed established himself as a player no quarterback wanted to see across the line of scrimmage.
Ed Reed's Hall of Fame career
Reed's NFL career began in 2002 when the Ravens drafted him with the 24th overall pick. As a rookie, he immediately made an impact, as the Pro Football Hall of Fame states he had five interceptions and 85 tackles in his first season.
Impressive stats like these carried on throughout his entire NFL career. During his 12-season career, Reed had 64 interceptions and 643 tackles. According to ESPN, Reed has the seventh-most interceptions in league history. He earned nine Pro Bowl selections, the NFL Defensive Player of the Year title in 2004, and a spot in the Hall of Fame in 2019, which was the first year he was eligible.
Outside of his individual achievements, Ed Reed won a Super Bowl ring with the Ravens in Super Bowl XLVII. The team won in a close 34-31 game against the San Francisco 49ers, and Reed was an important part of the victory. He intercepted a pass, deflected another pass, and had five tackles.
Why Tom Brady feared facing Ed Reed the most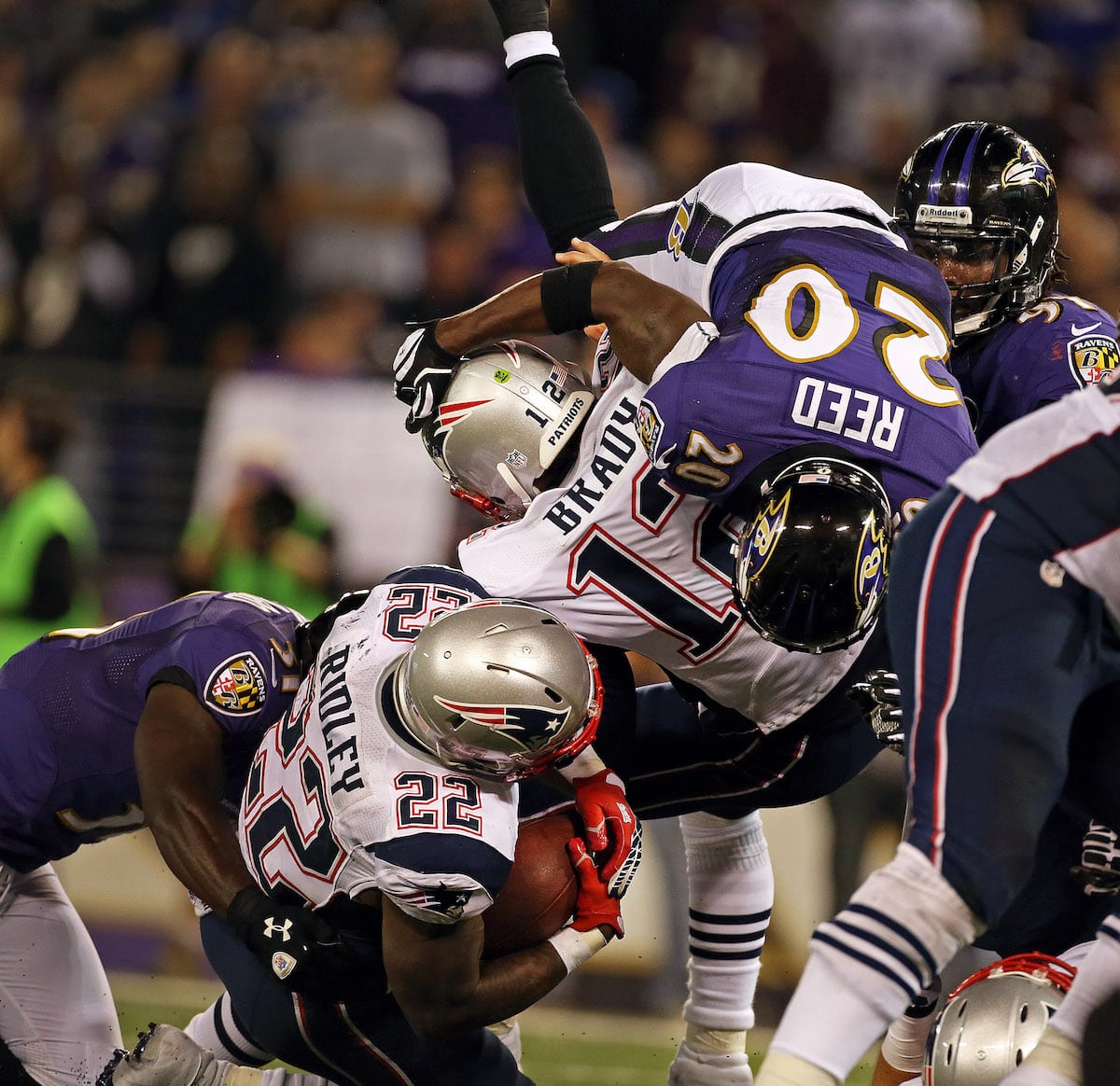 Quarterbacks across the NFL feared Ed Reed during his decade of dominance with the Ravens, and even Tom Brady was not immune to Reed's skill at safety. Yahoo Sports states that Brady listed Reed as the defensive back he hated playing against the most. This question to Brady came during The Match, a golf event with Brady and other quarterbacks Aaron Rodgers, Patrick Mahomes, and Josh Allen.
Brady and Reed played against each other in seven games during their careers, with four in the regular season and three in the playoffs. Brady was 3-1 against Reed in the regular season and 1-2 in the playoffs. Reed had two intercepted two of Brady's passes, with one of these interceptions coming during the playoffs.
Other quarterbacks also mentioned who they feared most
Buffalo Bills beat reporter Matt Parrino states that when Patrick Mahomes was asked which defensive back he feared most, he answered Jalen Ramsey of the LA Rams. Ramsey plays at cornerback and is currently one of the most dangerous defensive backs. As Pro Football Reference reports, since entering the league in 2016, Ramsey has been selected to the Pro Bowl five times and been named First-Team All-Pro three times.
Aaron Rodgers and Josh Allen had more interesting answers, as they selected teammates or former teammates. Rodgers picked Hall of Fame defensive back Charles Woodson, the only defensive player to win the Heisman Trophy.
Woodson spent several seasons with Rodgers in Green Bay, including the 2010 season that ended with the Packers winning the Super Bowl. In his final seasons, Woodson was a member of the Raiders, and he and Rodgers finally played against each other.
Josh Allen, meanwhile, picked Tre'Davious White, a cornerback for the Buffalo Bills. Both Allen and White have spent their entire careers in Buffalo, so they have not gone against each other in an NFL game. They have practiced against each other, though, and this is apparently enough to show Allen that White is a cornerback that should not be messed with.
RELATED: Patriots Fans Can Officially Blame Someone Else Other Than Bill Belichick for Tom Brady's Heartbreaking Exit