Hall of Famer Calvin Johnson Hilariously Reacts to Rams WR Cooper Kupp Nearly Breaking His Record: 'Had Me Over There Sweating'
The Detroit Lions franchise hasn't had much to hang its hat on over the years. However, Calvin Johnson still holds the NFL record for the most receiving yards by an individual player in a single season. The Hall of Fame wideout's record was in danger during the 2021 season, though.
Los Angeles Rams wide receiver Cooper Kupp put together a monster year, leaving Megatron on the edge of his seat.
Cooper Kupp almost broke Calvin Johnson's receiving record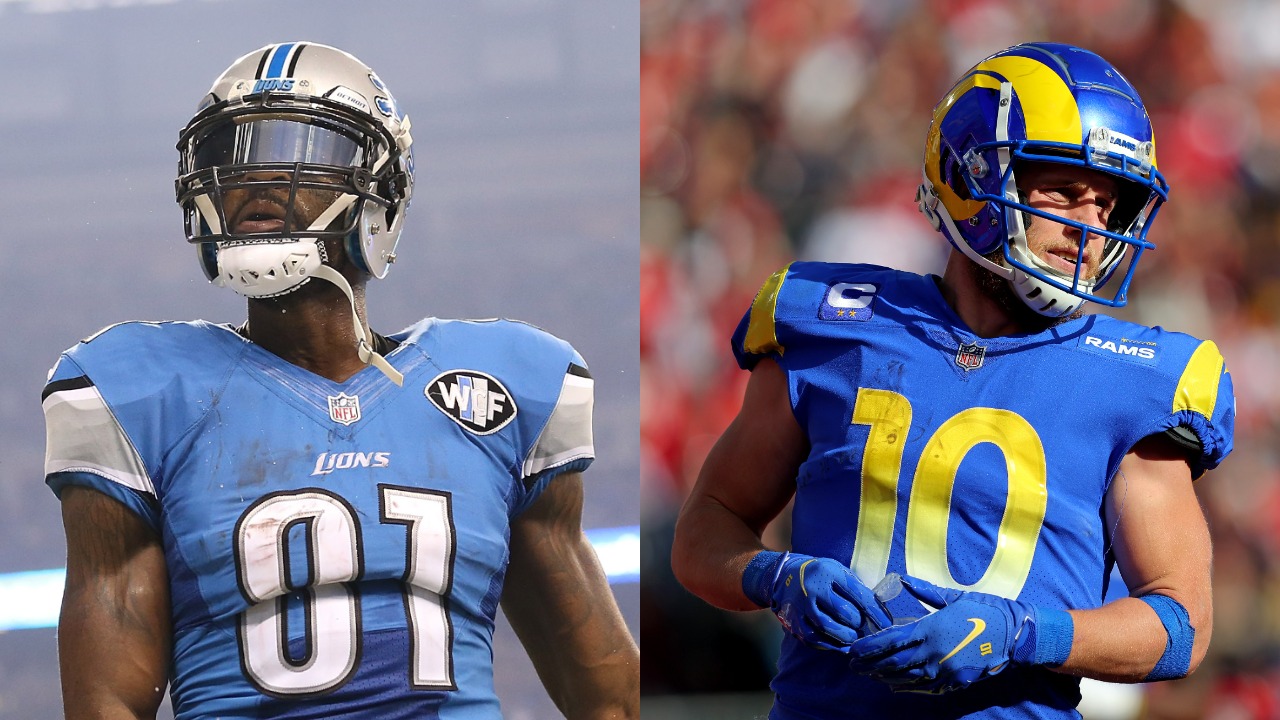 LA Rams Pro Bowler Cooper Kupp enjoyed the best season of his career in 2021. He broke several records and even came close to taking down Calvin Johnson's single-season receiving record. However, the fifth-year receiver finished just 17 yards shy of the mark.
Johnson's record has been safe since 2012, but the Rams wideout was so close to setting a new mark. The former Lions star recently joined The Rich Eisen Show to discuss Kupp's historic season and his thoughts on the record.
"That had me over there sweating," said Megatron. "I was like, 'Oh Lord, he's gonna get this thing.' Cooper's not the only guy, but Matthew [Stafford] knows he's the guy that's going to make the play when it's third or fourth down, and you've got to throw the ball. He's that guy."
The six-time Pro Bowl selection has seen noticeable growth in Kupp's development from when he first entered the league.
"When Robert Woods went down, he had to take on that extra load," Johnson added. "He was the man for the job. I'm sure Cooper works his tail off in everything that he does. He's in the playbook, he's in the film room, and he communicates with his quarterback, obviously, because they're on the same page a lot."
The Rams wideout took the NFL by storm in 2021
If Cooper Kupp were able to record 18 more receiving yards in the regular-season finale against the San Francisco 49ers, he would've taken down Calvin Johnson's elusive record. Even though he fell short, you can't discredit Kupp's impressive season.
The Eastern Washington product recorded 145 receptions for 1,947 yards and 16 receiving touchdowns. He led the NFL in all three categories.
Kupp had been solid in LA before the 2021 season. He caught 288 passes for 3,570 yards and 24 touchdowns across his first four seasons. Jared Goff was his quarterback from 2017 to 2020. However, the trade that saw the Rams acquire Matthew Stafford from the Lions seemed to take Kupp's game to another level.
Stafford was a definite upgrade over Goff. The veteran built an early rapport with the 28-year-old receiver, targeting him 191 times on the season. The second-most targeted receiver on the Rams was Van Jefferson with 89.
Ironically, Stafford tried to help Cooper Kupp break the record he helped Calvin Johnson set in 2012. Like his relationship with Johnson, the 13th-year quarterback trusts Kupp as his top target and makes it a point to get him the football.
Could any receiver break the record in 2022?
Cooper Kupp had a historic 2021 season and still fell short of Calvin Johnson's receiving record. If the LA Rams All-Pro couldn't break the record, will anyone ever break it? Well, records fall all the time, and there's more than enough talent in the NFL right now to make it a real possibility.
As Kupp and Matthew Stafford proved, the key to getting within striking distance of the record is volume. The Rams receiver's 191 targets led the NFL. The closest player to him was Green Bay Packers wideout Davante Adams with 169.
Looking ahead to 2022, a few players come to mind as potential candidates to threaten Megatron's record.
The aforementioned Adams is a high-volume receiver. He and Aaron Rodgers have the most chemistry of any quarterback-wide receiver tandem in the league. If both players return to Green Bay in 2022, Adams will have as good a chance as anybody.
Justin Jefferson could also have a legitimate shot. The second-year stud has been a force in the Minnesota Vikings offense. Jefferson has posted at least 1,400 receiving yards in each of his first two seasons. New head coach Kevin O'Connell was the Rams' offensive coordinator and could help Jefferson take another leap in year three.
Jefferson's college teammate, Ja'Marr Chase, is another name that comes to mind. He caught 81 passes for 1,455 yards and 13 touchdowns in his first season with the Cincinnati Bengals. Chase is an explosive playmaker who doesn't necessarily need insane volume to rack up yardage.
Calvin Johnson's record stands for now, but the NFL is full of young and hungry receivers coming for the crown.
All stats courtesy of Pro Football Reference
RELATED: Matthew Stafford Fulfills Rams' Super Bowl Request Exactly One Year to the Day — and Nearly the Minute