Hall of Famer Cris Carter Blasts Urban Meyer and Jaguars GM Trent Baalke for Discrediting His Attempt to Help Right the Ship in Jacksonville
Urban Meyer undoubtedly would like to forget his brief tenure as the head coach of the Jacksonville Jaguars. It was a complete disaster from the jump. The former college coach's time in Duval County was short-lived, but Hall of Famer Cris Carter suggests it didn't have to end that way.
The former Minnesota Vikings star wideout called out Meyer and Jags general manager Trent Baalke for shortchanging his attempts to help the franchise.
Cris Carter calls out Urban Meyer and Trent Baalke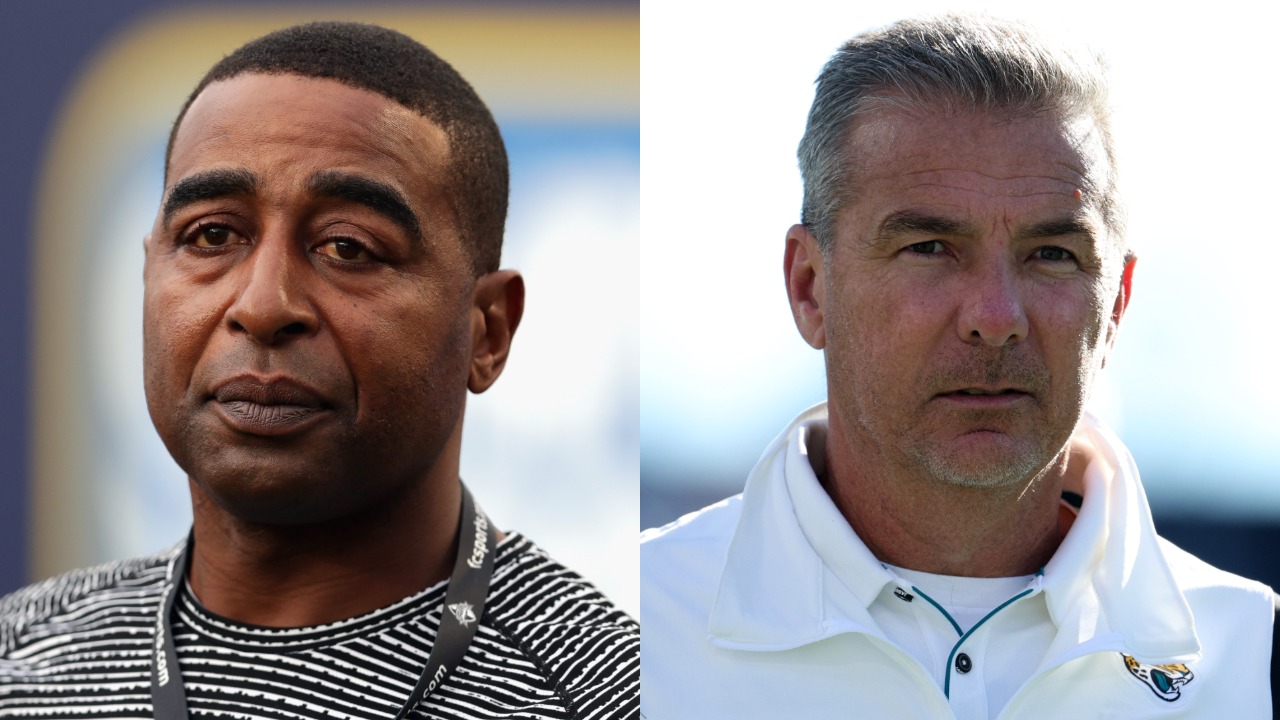 Cris Carter played 16 seasons in the NFL, mainly for the Minnesota Vikings. He made the Pro Bowl eight times and went into the Pro Football Hall of Fame in 2013. Even after retirement, Carter has been an NFL analyst and is still well-connected around the league.
Unfortunately, the Jacksonville Jaguars didn't seem to value Carter's opinion very much. The two-time All-Pro wide receiver recently appeared on NFL Network's Good Morning Football. The crew discussed the team hiring Doug Pederson as its new head coach when Carter went into a story about general manager Trent Baalke and former coach Urban Meyer.
"Urban Meyer coached me at Ohio State," Carter said. "Last year, he gets the Jacksonville job. Me and Urban have extensive conversations about me joining his support staff."
Carter suggested Meyer told him that he was keen on the idea and to write up a proposal so he could take it to Baalke.
"Urban likes it," he said. "He said, 'In a couple of weeks, we're gonna bring you up here to meet the owner and Trent Baalke.' Urban calls me back two days later and goes, 'Trent killed it. He didn't see the skill set, and he didn't see the value you would bring to the organization.'"
That response didn't sit well with Carter. "I said, 'Well, Urban, I don't know what you and Trent Baalke been doing since 1987, but the last five decades, I've been associated with the NFL. It wasn't about a coaching position. It was to support the head coach, who didn't know about pro football."
Cris Carter added that he would've advised Urban Meyer to ride back on the plane with his team after the Week 4 loss to the Bengals. He suggests that's just one of many mistakes he could've helped prevent.
The Hall of Fame WR criticizes the Jaguars' head coaching search
Cris Carter clearly has a history with Urban Meyer, Trent Baalke, and the Jacksonville Jaguars organization. He didn't appreciate how they discredited his ability to bring value to the struggling franchise.
The Hall of Fame wideout also had strong feelings about Jacksonville hiring Doug Pederson as its new head coach.
"I think Doug Pederson is a quality coach," Carter said. "I think he deserves to be a head coach in the NFL. But for me, given the climate that we're in right now, it's hard for me to have any positive energy toward any franchise that would not look at any African-American or pass over an African-American to go to another candidate."
The retired receiver added that the Jaguars should've made it work with Byron Leftwich.
"He was a perfect fit there," said Carter. "What other offensive coordinator could be the coordinator for Tom Brady, straight off New England, take them to the Super Bowl, and then come back, and Tom Brady has another year. I do have a problem with this."
While Cris Carter says he doesn't mean to discredit Pederson, he also doesn't think the former Eagles head coach will be an instant success story.
"I don't think next year, we'll be sitting and charting that this is the road to building a champion," he said. "I don't think they'll be on it. For me, I got huge problems. I left the league 20 years ago, and there were three Black coaches. What happened? Are we going backward?"
Can Jacksonville turn things around in 2022?
The Jaguars posted a 3-14 record in Urban Meyer's lone season as head coach. Trent Baalke saw something in Meyer to give him the job, but that was a mistake.
From a football perspective, Jacksonville made minimal improvements after the 1-15 finish in 2020. One could easily argue that the 2021 season was worse because of the baggage the former Ohio State coach brought with him. He lost the team and the respect of a lot of his peers.
Turning this team around won't be an easy task for Doug Pederson. He led the Eagles to a win in Super Bowl LII, but this is a different beast. Urban Meyer left things in disarray.
However, Pederson does have the coaching chops to help the Jaguars moving forward. Jacksonville hopes the new coach can help develop rookie quarterback Trevor Lawrence as he heads into year two. The No. 1 overall pick struggled throughout the 2021 season (3,641 yards, 12 touchdowns, 17 interceptions). Lawrence is immensely talented, but Meyer failed him.
Jacksonville lacks the talent to pose a legitimate threat in 2022. However, Doug Pederson can be part of a much-needed culture change within the Jaguars organization.
Like Sportscasting on Facebook. Follow us on Twitter @sportscasting19.
RELATED: Jaguars' Circus Continues After Byron Leftwich Removes Himself From Head Coach Consideration Following Failed Request