Hall of Famer Cris Carter Suggests the Steelers Should Force Ben Roethlisberger Into Retirement: "His Play Has Dictated That"
The Pittsburgh Steelers suffered a crushing defeat to the Minnesota Vikings on Thursday Night Football in Week 14. Ben Roethlisberger showed heart despite the loss. However, you can watch him and tell his NFL career is coming to an end. Hall of Fame wide receiver Cris Carter weighed in on Big Ben's future and suggests retirement may be his only option after 2021.
Cris Carter believes Ben Roethlisberger is done no matter what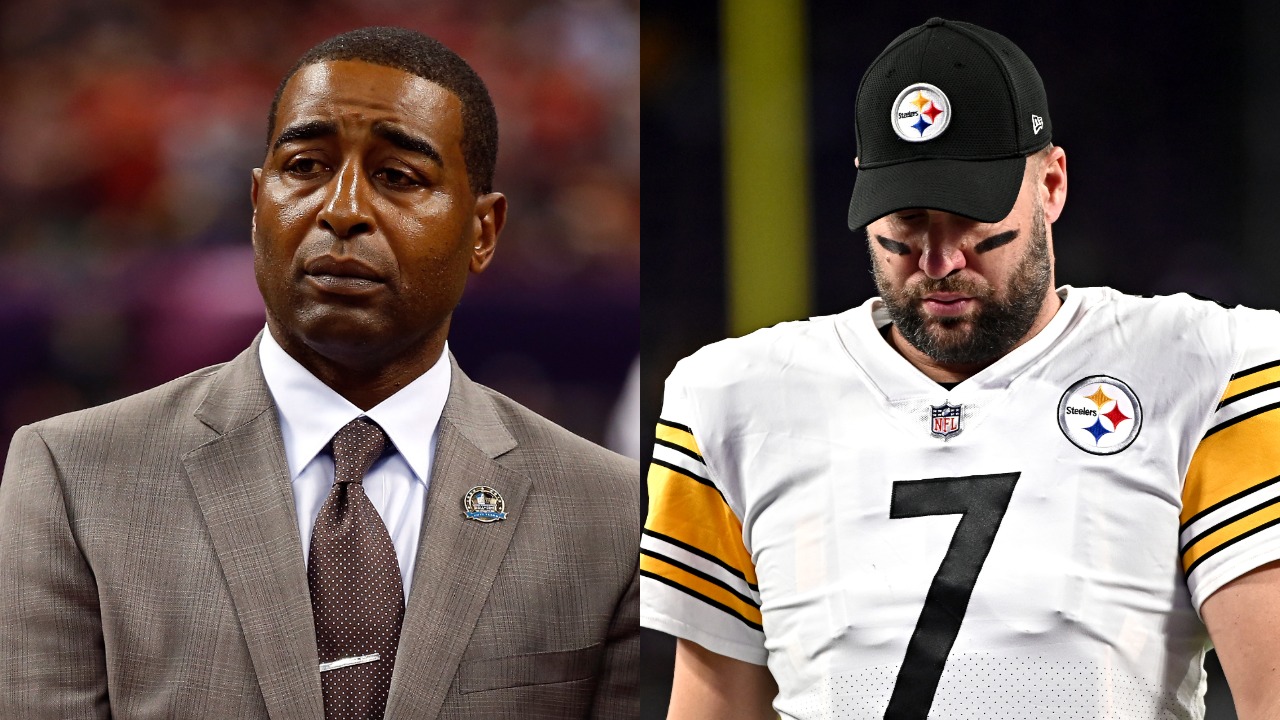 Ben Roethlisberger is in his 18th season with the Pittsburgh Steelers, and it could be his last. Reports recently surfaced that Big Ben advised people close to him that he would be retiring after the 2021 season, per ESPN. While the veteran hasn't confirmed the reports, the move would make a lot of sense.
Neither Roethlisberger nor head coach Mike Tomlin wants to address the rumors until the season is over. However, many former players are addressing them head on with thoughts of their own.
Former Minnesota Vikings wideout Cris Carter joined The Rich Eisen Show and discussed Big Ben's future in Pittsburgh.
"Even if Ben Roethlisberger has a three-year contract, his play has dictated that he's going to be moving on," said Carter. "His overall play, Ben is not in the top 25 quarterbacks that we have in the NFL. So why would he continue?"
The Hall of Famer suggests that Father Time has caught up with the Steelers' signal-caller.
"It's time to give that spot up," he added. "The NFL is a young man's game. It happens to all of us. But his play has dictated that his tenure in Pittsburgh is over."
Roethlisberger's performance has been up and down in 2021, but the signs of decline are evident.
The Steelers desperately need to move on
Some may suggest that Mike Tomlin bench Ben Roethlisberger. However, that wouldn't be wise if the Steelers want to make a push for the playoffs.
Simply put, Roethlisberger gives Pittsburgh the best chance to win football games. Still, he doesn't have what it takes to carry this team to glory at this stage of his career.
Big Ben is 39 years old and has taken plenty of punishment throughout his career. Watching him play, it's easy to tell that he no longer has the mobility to extend plays, and his passes don't have the zip they once had.
There's no way the Steelers believe in Dwayne Haskins Jr. or Mason Rudolph enough to enter the 2022 season with either as the starter. Therefore, the front office will need to attack free agency or try to grab one of the best quarterbacks in the draft.
Whatever the case, Roethlisberger cannot be under center beyond 2021. Some nice pieces are in place, including Diontae Johnson and Najee Harris. But Big Ben can't maximize their potential the way he's played thus far.
Pittsburgh must do everything it can to ensure life after Ben Roethlisberger is smooth.
Carter knew his time was coming when the Vikings drafted Randy Moss
Cris Carter is adamant that Ben Roethlisberger needs to retire, but he sees nothing wrong with accepting when your time comes.
The 8-time Pro Bowler understands that Father Time is undefeated unless your name is Tom Brady. Carter admits the moment he knew the clock was ticking for him.
"That's something we all have in common," he said. "One day, there's going to be a guy to show up and sit in your locker who's bigger, faster, stronger than you."
Carter reveals that Randy Moss was that player for him.
The Minnesota Vikings selected Randy Moss in the first round of the 1998 NFL Draft. Carter was 33 years old and in his 12th NFL season. The 2-time All-Pro selection knew that the front office was bringing Moss in to be the guy.
"I'm trying to play three of four more years," Carter told Moss. "Go to a few more Pro Bowls, catch 80/90, catch 10 touchdowns. Yeah, have you drag some of that coverage away from me. But the bigger, stronger, faster is here."
Both Carter and Moss have joined the Pro Football Hall of Fame. However, each knew when it was time to bow out gracefully.
Ben Roethlisberger's play in 2021 should be enough for both sides to want to pull the plug.
All stats courtesy of Pro Football Reference