Hall of Famer Dick Butkus Blasts the Bears for Mishandling Justin Fields: 'They're Going to Get That Quarterback of Ours Killed'
The Chicago Bears have mishandled rookie quarterback Justin Fields from Day 1. The former Ohio State standout falling to the Bears at No. 11 in the 2021 NFL Draft was a gift. However, the team has done little to make sure it protects its investment. Hall of Famer Dick Butkus weighed in on the situation in Chicago, and he's not happy about it.
Justin Fields played his best game against the Steelers despite loss
Justin Fields enjoyed his best game of the 2021 NFL season against the Pittsburgh Steelers under the bright lights on Monday Night Football.
The first-year signal-caller made his seventh start of the season, and he appeared to be much more comfortable. The Bears traveled into a hostile environment at Heinz Field, but the rookie didn't seem to be too rattled.
Fields completed 17 of 29 pass attempts for 291 yards, one touchdown, and one interception. He also added 45 yards on the ground. While it wasn't a flawless performance, the Kennesaw, Georgia native showed poise against a physical Steelers defense.
After a slow start, Fields and the offense picked things up in the second half. He began to gain some confidence, and it showed. He connected with Allen Robinson II for multiple big plays. The wideout had been struggling, so his emergence was a positive sign of things to come.
Fields was the most impressive rookie quarterback in Week 9. He made some beautiful throws, including a late fourth-quarter touchdown pass to Darnell Mooney. Pro Football Focus gave Fields a grade of 90.5 for the week, which was the highest of any quarterback in the NFL.
The Bears might have won the game if it weren't for some questionable officiating.
Dick Butkus isn't a fan of the Bears' protection plan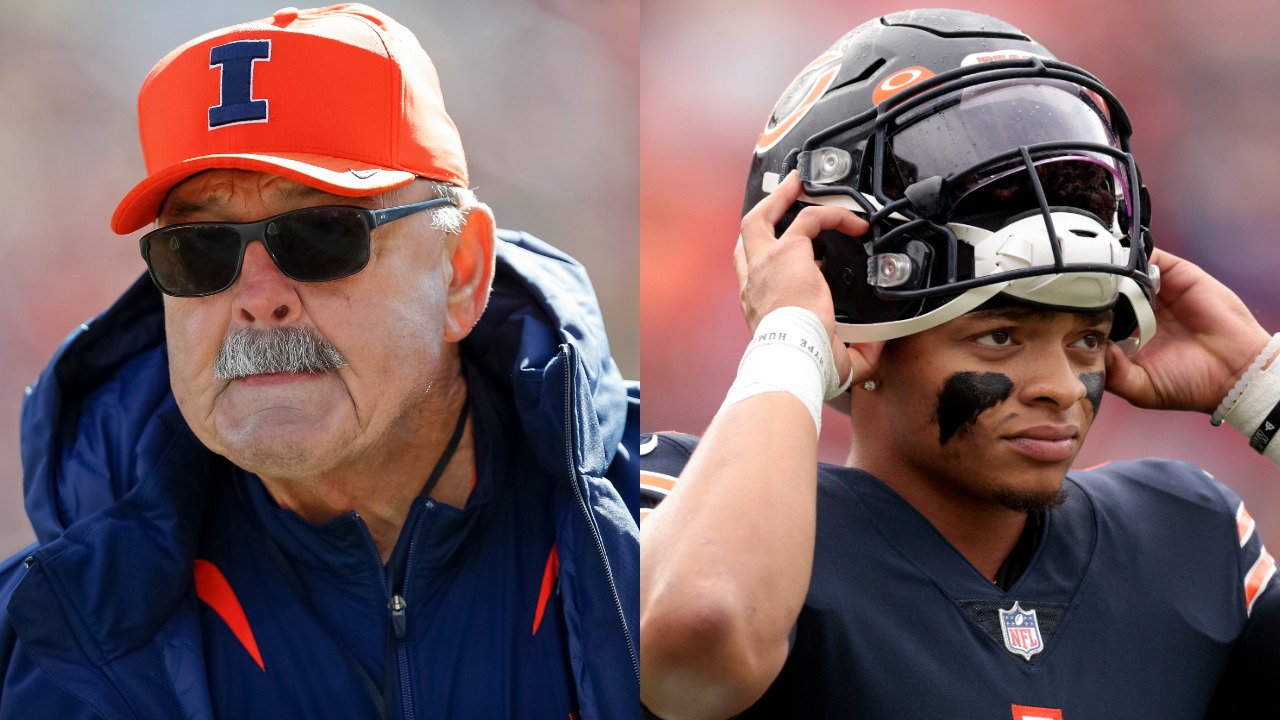 Dick Butkus is a Chicago Bears legend, so his opinion carries a good deal of weight. Well, he has some strong feelings about the team right now.
Butkus recently joined The Rich Eisen Show to discuss Chicago's loss to Pittsburgh. He was none too pleased with some of the things he saw.
"I was a little bit more agitated than usual watching the Bears of late," said Butkus. "I just don't understand what's going on there. They ought to sue that offensive line for attempted murder. They're going to get that quarterback of ours killed."
The Pro Football Hall of Fame linebacker notices how often opposing defenses are getting pressure on Justin Fields. The Steelers sacked the rookie quarterback three times and hit him another eight times. Fields has been sacked a league-high 29 times in 2021.
"I think he's our guy, Justin," said Butkus. I think they have to do a better job of getting him some surrounding help because they're going to kill that kid."
Butkus later praised Fields' growth since the beginning of the season. "I saw his maturity over the past three or four games and watching him," he said. "He can make the throws. I'm certain about that. They ought to have a little bit better play-calling and just help the kid out…He's doing a great job with not much help up front."
Chicago must do a better job protecting its investment
Even though Matt Nagy made Andy Dalton the starting quarterback for the season opener, it was clear the Red Rifle was a temporary placeholder. It was Justin Fields' job to lose.
It's been an up-and-down season for the former Buckeyes star, but mostly down. The Bears' offensive line has struggled to keep the rookie quarterback upright. Fields cannot succeed while getting hit as often as he does.
The 2020 Cincinnati Bengals should be a cautionary tale for Chicago. The front office failed to build a front line that could competently protect Joe Burrow. His rookie season was cut short by a gruesome knee injury.
The Bears need to get their act together. It's not like there's no talent at all on this roster. Allen Robinson II, Darnell Mooney, and David Montgomery are solid building blocks. However, questionable play-calling and horrendous offensive line play will always hold Fields and the offense back if not corrected.
Chicago's front office failed to properly plan for the start of the Justin Fields era. The 22-year-old has done a good job considering the circumstances, though.
The Bears spent high draft capital to take Fields. Now they must construct a roster with which their investment can grow.
All stats courtesy of Pro Football Reference