Hall of Famer Isiah Thomas Told Kevin Garnett He Would Play in the NBA One Day After He Watched the Big Ticket Shut Down Scottie Pippen as a High Schooler: 'Scottie's the Best Player in the League. Boy, You Could Play in the League Right Now'
When Kevin Garnett entered the NBA draft straight from high school in 1995, he became the first player to do so in 20 years. It certainly helped that The Big Ticket was never short on self-assuredness, which came in handy when an NBA Hall of Famer watched a teenage Garnett successfully D-up Scottie Pippen (who's been in the news lately, if you haven't heard).
Detroit Pistons legend Isiah Thomas watched from afar as KG played a pickup game alongside Michael Jordan and Pippen. Once Garnett got lathered up and started guarding Pip one-on-one, Thomas saw the lanky big man's NBA future flash before his eyes.
And once it was over, Zeke told him so.
Kevin Garnett is one of the most legendary basketball figures of all time
KG was a McDonald's All-American at Farragut Academy in Chicago and was named the National High School Player of the Year in 1995.
He made the controversial decision to skip college and enter the draft after his senior season. The Minnesota Timberwolves grabbed Garnett with the No. 5 overall pick in the '95 draft.
The 6-foot-11 forward quickly developed into one of the most dominant players in the NBA. He was a member of the 1995-96 All-Rookie Team after posting 10.4 points and 6.3 rebounds per game as a 19-year-old. He also averaged 1.6 blocks, and 1.1 steals as a rookie, foreshadowing what he would become — one of the greatest defenders in league history.
The T-Wolves made the playoffs each of Garnett's first eight seasons. However, he developed the unfortunate "can't win the big one" moniker as Minnesota only made it out of the first round once.
Everything changed in 2007, though. KG was dealt to the Boston Celtics (almost to the Los Angeles Lakers, ironically), along with Ray Allen as the two helped form a Big Three alongside Paul Pierce.
The Celtics immediately beat the Lakers in the 2008 Finals and proved that anything is possible.
KG received a confidence boost after Isiah watched him hang with Scottie Pippen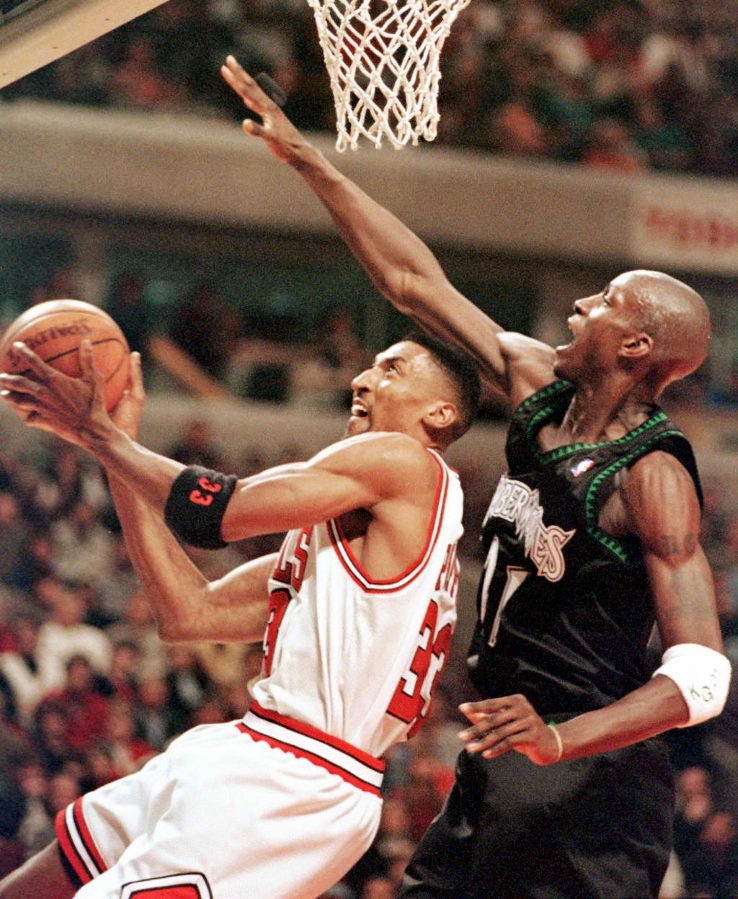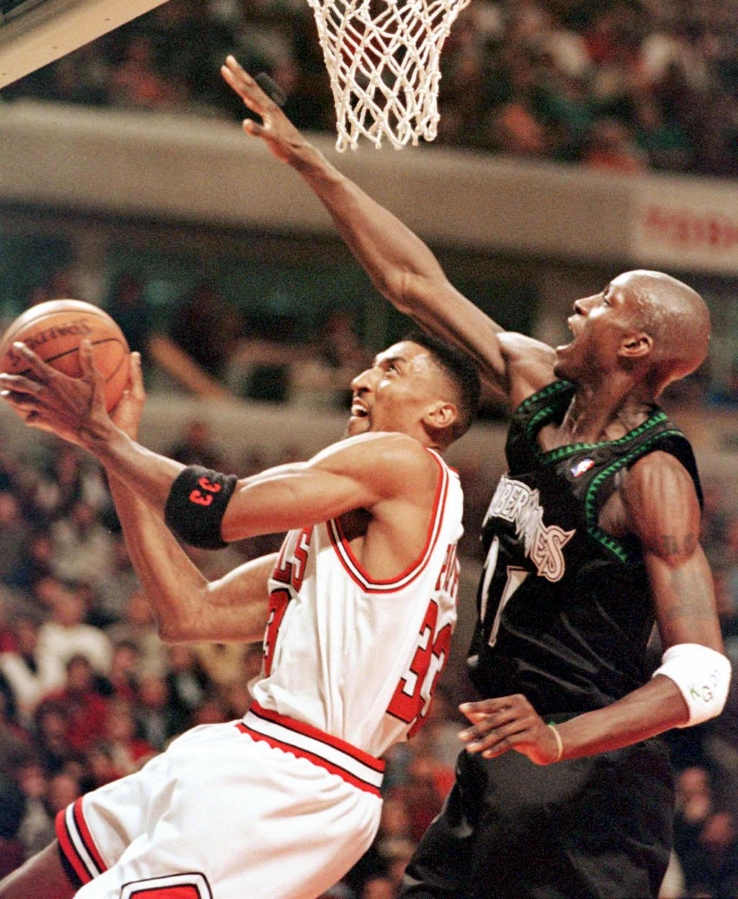 Garnett and a friend wanted to catch a pickup game that night. But instead of heading to a nearby playground or gym, the two decided it would be fun to sneak into a Chicago Bulls practice.
Jordan had just returned to the Bulls one month before KG played in the McDonald's All-American Game. So when he and his buddy found their way in, there the two were — MJ and Pippen, practicing together.
As the 15-time All-Star explained, he eventually got "dragged" into one of the team's runs that night after a security guard saw him sitting on the other end of the court.
Garnett was shocked at first, but as we eventually learned about the 2003-04 MVP, he wasn't afraid of much of anything. Once he shook off some quick jitters, KG went right at Pippen, who was coming off a season in which he had scored a career-high 22.0 points per game.
Coincidentally, Isiah happened to be in the same gym on the same night, as Garnett wrote in a piece on The Undefeated. After the two-time NBA champ saw what the then-18-year-old did against Scottie, he had a few words for KG:
He came up to me and said something. There wasn't a hint of hype in his voice. It was just a matter-of-fact, kind statement.

"Kevin," he said to me, "you just took on Scottie Pippen. Scottie's the best player in the league. Boy, you could play in the league right now."

When those words came out of his mouth, the world stopped turning. Time stopped ticking.

But maybe I was hearing him wrong.

"What'd you say?" I asked.

"Boy," he repeated, this time his eyes getting bigger, "you could play in the league right now."

Kevin Garnett on what Isiah Thomas said to him after a pickup game against Michael Jordan and Scottie Pippen
Garnett heeded Zeke's advice. The following year, he was playing against Pippen, Jordan, and their peers in the NBA.
Thomas saw what we all came to discover about Garnett
Even before he entered the league, KG showed his dominant defensive potential. He was both tall and long, but he had a level of athleticism most players his size didn't possess.
And that's not counting the attitude that drove him to become one of the most feared players in the league for the two-plus decades he played.
A member of the Naismith Memorial Basketball Hall of Fame's Class of 2020, Garnett averaged a career double-double with 17.8 points and 10.0 rebounds. He had a career-high 1.7 steals in the 1997-98 and '98-'99 seasons and a career-high in blocks (2.2) during the 2003-04 season.
He was a four-time rebounding champion, a member of nine All-NBA Teams, and 12 All-Defensive Teams. The Kid won the 2007-08 Defensive Player of the Year Award – the same season he won his title with the Celtics.
KG became one of the best defenders in basketball history. And Isiah saw it coming when Garnett stifled Pippen at age 18.
All stats courtesy of Basketball Reference.