Hall of Famer Jerry Rice Reveals the Unique Pregame Ritual That Gave Him an Edge in 49ers' Super Bowls
Jerry Rice is one of the greatest players in NFL history and arguably the best to ever play the wide receiver position. He helped lead the San Francisco 49ers to three Super Bowl championships (1988, 1989, 1994). The Hall of Famer recently revealed a unique routine he implemented to give himself a competitive advantage before the big game.
Jerry Rice didn't sleep the night before the Super Bowl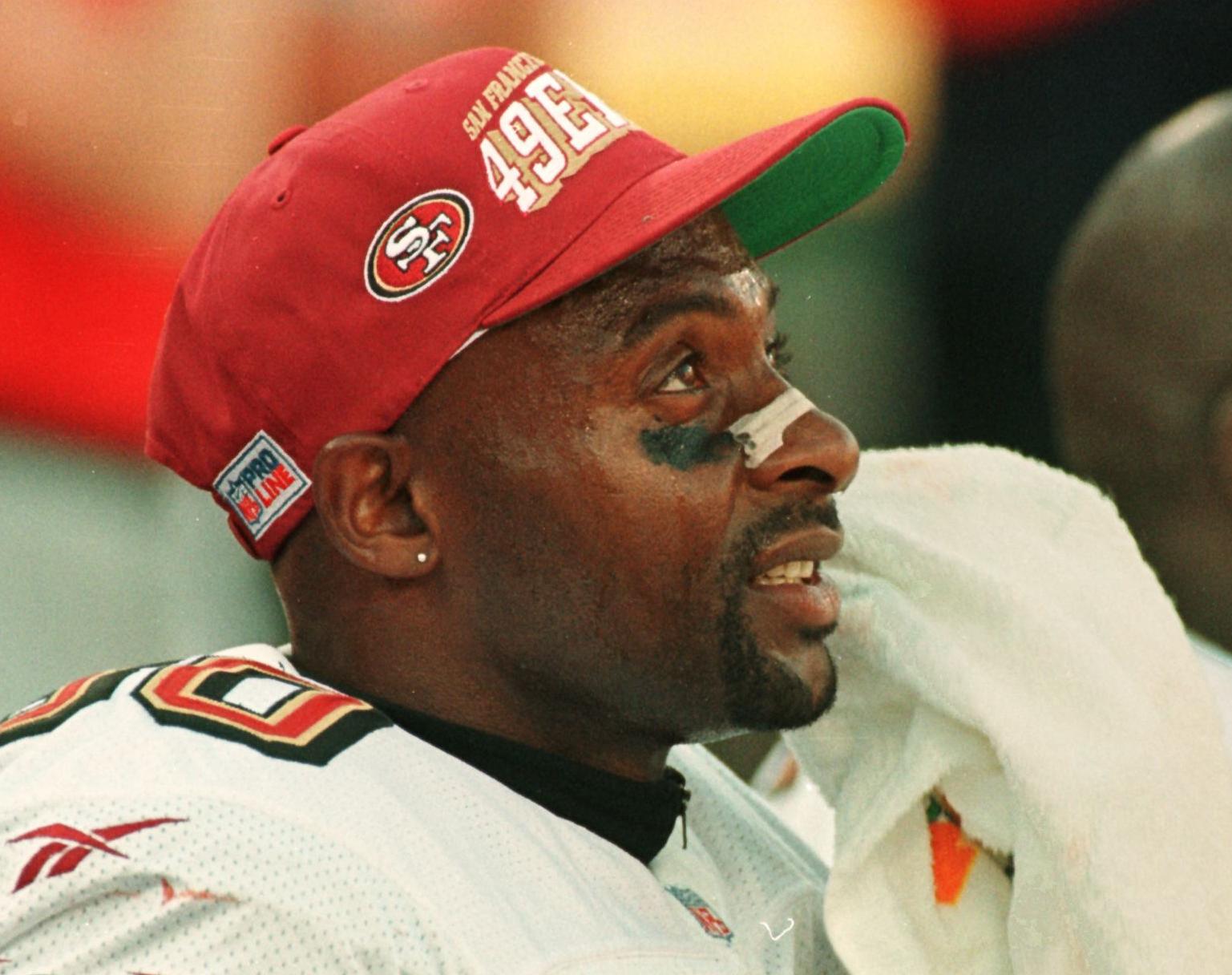 Jerry Rice didn't become great by following the pack. He preferred to blaze his own path. In preparation for Super Bowl Sunday, the 13-time Pro Bowler found an unorthodox pregame routine to give him an edge.
Rice revealed that he never slept the night before a Super Bowl. According to Insider, the San Francisco 49ers would draw up 15 unique plays the night before the game.
"So I'm up looking at those 15 plays, and I'm processing the opportunities I'm going to have," said Rice. "So I pretty much already know what was going to happen during that ball game when my number is called."
It sounds strange that Rice would deprive himself of sleep and then play an entire football game. It's not that he couldn't sleep. It was his choice.
The wideout admitted that he fell asleep on a table in the locker room before Super Bowl XXIII, though.
"I could hear my teammates walking by, and they would be like 'what is going on with Jerry? This is the Super Bowl, and he's asleep," said Rice. "But I didn't sleep the night before because I was up processing and playing the game over and over."
Sleep deprivation was just step one of Jerry Rice's routine.
The 49ers legend also fasted the day of the big game
Surely, Bill Walsh and George Seifert couldn't have been thrilled about Jerry Rice not sleeping the night before the Super Bowl. However, that was just the tip of the iceberg for the Hall of Fame wide receiver.
Rice also revealed that he never ate anything the day of the game. He believed he could get to a target weight of about 189 pounds by fasting.
"I pretty much just trained myself to do that," said Rice. "I'm one of those active guys that catch on the move a lot, so I didn't want anything to weigh me down."
The 10-time All-Pro selection added that he had a plan if he couldn't reach his target weight by fasting.
"If my target weight was 189 lbs and I was 192, I would work out the night before to get down to 189," he said. "I felt that if I was at my target weight, I could run all day, and there was no way anyone was going to be able to keep up with me."
Rice knew he had all the skills to dominate his opponent. Still, he wanted to give himself that extra edge to make him unstoppable.
"I wanted to go into that ball game and be able to run all day, and I had the endurance," he added. "I didn't have to have food or anything like that. I conditioned my body to function at a certain level."
Rice sacrificed to become a Hall of Famer
Not many wide receivers have produced stat lines like Jerry Rice has in the Super Bowl. He put up video game numbers in the three Super Bowl victories with the San Francisco 49ers.
In 1988, Rice caught 11 passes for 215 yards and one touchdown against the Cincinnati Bengals. The following season, the Niners met the Denver Broncos in the Super Bowl. He recorded seven receptions for 148 yards and three touchdowns.
When San Francisco returned to the promised land in the 1994 season, star wideout caught 10 passes for 149 yards and three scores. Rice also appeared in one Super Bowl with the Oakland Raiders, recording five receptions for 77 yards and a touchdown.
In four Super Bowl appearances, Rice averaged 17.7 yards per reception. That is absolutely insane.
As bizarre as Rice's pregame ritual was, it worked for him. Sacrificing sleep and food isn't exactly the ideal recipe for success in the NFL. However, the Hall of Famer did something extraordinary to set himself apart from the competition.
All stats courtesy of Pro Football Reference