Hall of Famer Terrell Davis Reveals His Top 5 NFL Running Backs Right Now
Whether some old football fans want to admit it or not, there's plenty of phenomenal talent in the NFL today. The league has several running backs who deserve consideration to be in elite conversations. Former Denver Broncos tailback Terrell Davis is still an avid football fan and suggests the game is in good hands.
The Pro Football Hall of Famer believes it's difficult to declare one running back the best in football. However, a handful of guys stand out from the pack in Davis' eyes. He suggests that five players are the cream of the crop and are changing how people view the position.
Terrell Davis names his 5 favorite running backs in the NFL
While Terrell Davis enjoyed a successful career with the Denver Broncos, he loves giving flowers to the players of today's generation.
In a recent episode of Getcha Popcorn Ready with T.O. and Hatch, the three-time Pro Bowler delivered his thoughts on the state of his favorite position on the football field. Terrell Owens and Matthew Hatchette asked Davis to name his top five running backs in the NFL right now.
Here are the five players the Broncos legend named:
Christian McCaffrey, Carolina Panthers
Derrick Henry, Tennessee Titans
Jonathan Taylor, Indianapolis Colts
Saquon Barkley, New York Giants
Alvin Kamara, New Orleans Saints
Davis further elaborated on the Saquon Barkley nod, as the Giants star has struggled with injuries throughout his young career.
"I still like watching Saquon," said Davis. "It hasn't worked out, and he's had the injuries. I think he's still struggling from the injury and trying to get back to that. When Saquon first came into the league, he was special."
Terrell Davis admits he might have left out a player or two, but he was pretty confident that those five running backs are the best of the best (when healthy).
The former Broncos star enjoyed a productive career himself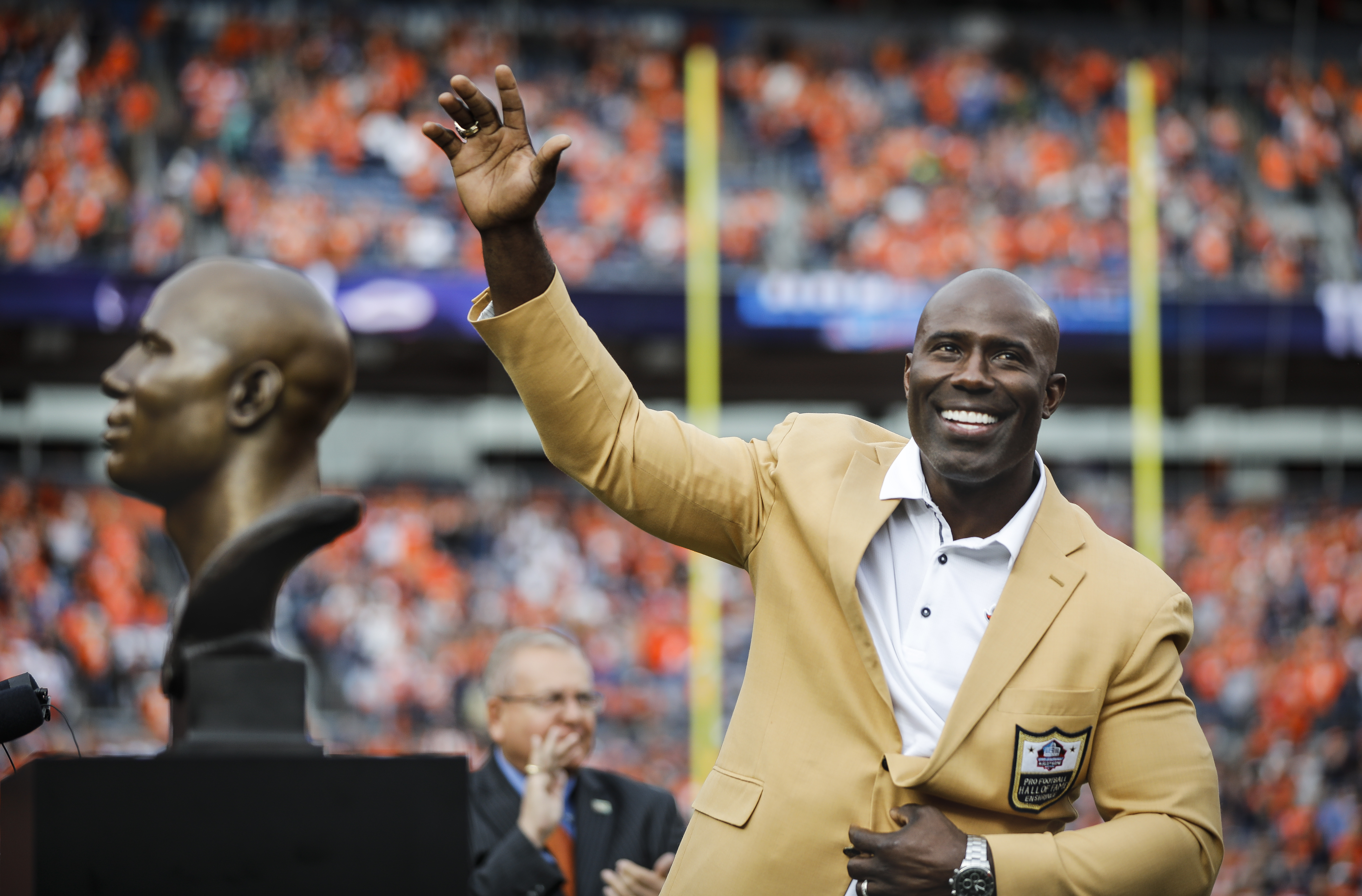 While it's easy to take some opinions with a grain of salt, Terrell Davis has been there and done that. He was one of the best running backs in the NFL throughout his career.
Davis spent his entire seven-year career with the Denver Broncos. The Georgia product finished his career with 7,607 rushing yards and 60 touchdowns on 1,655 carries. He led the league in rushing in 1998 (2,008 yards), and he led in rushing touchdowns twice (1997 and 1998).
The San Diego, California native was at the top of his game. He eclipsed the 1,000-yard mark in each of his first four seasons. Davis earned First-Team All-Pro honors in three consecutive seasons (1996-1998). He also won the NFL's Most Valuable Player Award in 1998.
Injuries derailed the tail end of Davis' career. The Broncos running back suffered a knee injury early in the 1999 season. Davis never fully recovered from the injury and didn't play an entire season for the rest of his career.
Even though his NFL career was brief, Terrell Davis made enough of an impact to earn a spot in the Pro Football Hall of Fame.
Davis reveals which legendary RB should be in the Hall of Fame
Terrell Davis was only dominant in four of his seven seasons in the NFL but still made the Pro Football Hall of Fame. Surely, those two Super Bowl championships added significant value to his case.
The Broncos great believes other retired running backs deserve more credit, including Fred Taylor. The former Jacksonville Jaguars tailback has been out of the league since 2010 but hasn't gotten the call for the Hall of Fame. Davis opened up on why Taylor deserves a bid.
"Oh, this is easy," David said. "Fred Taylor. Fred Taylor deserves it. He was playing with Jacksonville all this time but never got name recognition out there. Obviously, the team had a few moments where they had success. But when you watched that guy play, he was special. Put him in the Hall."
Taylor rushed for 11,695 yards and 66 touchdowns across 13 seasons. He also recorded 290 receptions for 2,384 yards and eight scores.
As Terrell Davis suggested, playing for the Jaguars didn't do Taylor any favors. Still, the former Pro Bowl running back deserves stronger consideration for the Pro Football Hall of Fame.
All stats courtesy of Pro Football Reference
RELATED: Broncos Hall of Famer Terrell Davis Buys the Aaron Rodgers to Denver Hype